Pet Plate Dog Food Review
This page contains affiliate links. We may earn money or products from the companies mentioned in this post through our independently chosen links, which earn us a commission. Learn More
Many pet parents are choosing fresh food for their furry friends. Fresh food is generally recognized as more nutritious than dry food, though there are some concerns about cost and convenience.
Pet Plate addresses both of these concerns by delivering regular subscriptions of fresh dog food right to your door with customizable meal plans and plenty of opportunities for discounts.
Price and convenience aren't the only thing to consider, however, which is why we evaluated the brand for ourselves.
At a Glance: Pet Plate Dog Food Reviewed
Pet Plate Dog Food
Brand

Pros
We liked that the meals were shipped in resealable containers – it saved us the hassle of having to scoop the remaining portion into a bag for later use.
The quality of the ingredients was evident as well and we appreciated the variety of recipes, including grain inclusive options.
Cons
Though we liked the resealable containers, it was a little more challenging to find room for them in the freezer since they weren't flat.
The cost was on the upper end of the companies we've tried as well and it was a little more difficult to determine the ideal portion size.
Pros
We liked that the meals were shipped in resealable containers – it saved us the hassle of having to scoop the remaining portion into a bag for later use.
The quality of the ingredients was evident as well and we appreciated the variety of recipes, including grain inclusive options.
Cons
Though we liked the resealable containers, it was a little more challenging to find room for them in the freezer since they weren't flat.
The cost was on the upper end of the companies we've tried as well and it was a little more difficult to determine the ideal portion size.
On first glance, the Pet Plate website provides a little more easily accessible information than some companies. Their FAQ section is fairly extensive, and you can view pricing and recipe information without creating an account.
We tested all four of their dog food recipes to bring you this honest review.
Overview Of The Pet Plate Dog Food
Pet Plate describes their products as, "Real food cooked fresh for your dog." They offer personalized meals that are delivered right to your door in convenient resealable packages.
Pet Plate has consulted veterinary nutritionists to formulate their meals and they use a proprietary blend of vitamins and minerals to ensure complete and balanced nutrition.
They offer flexible subscription plans that make it easy to meet your dog's nutritional needs in a healthy, convenient, and often affordable way.
Here are some of the key points Pet Plate makes about their foods on the website:
Made with real ingredients in a human-grade kitchen
No rendered meats or by-products
Made with USDA meats, fruits, and veggies
No artificial preservatives, colors, or flavors
Formulated by a veterinary nutritionist
Complete and balanced for all life stages
In addition to guaranteeing the quality of their ingredients and dog foods, Pet Plate makes sure their customers know how their meals are produced.
They kettle-cook their recipes instead of subjecting them to high-heat processing methods and flash-freeze them after cooking to lock in freshness and nutrients. Every delivery you receive will be customized according to your dog's calorie needs with clear-cut instructions on how to prepare and feed the food.
Where Is The Food Made?
Fresh pet food is typically of higher quality than commercial dry food, though not exclusively so. Pet Plate ensures their customers that their products are made with USDA meats, fruits, and veggies and kettle-cooked in USDA facilities.
After cooking, their products are flash-frozen to lock in freshness and delivered frozen right to your door. Every batch of food is tested for safety and made with human-grade ingredients like real meat, fresh vegetables, and whole grains.
What Dog Food Products Do They Offer?
Pet Plate currently offers four different dog food recipes, each made with a single source of animal protein. Choose from common proteins like chicken and beef or opt for something a little bit different like turkey or lamb.
Three of the four recipes are grain-free (the turkey recipe is the exception) and all are made with fresh fruits and vegetables as well as essential nutrient supplements.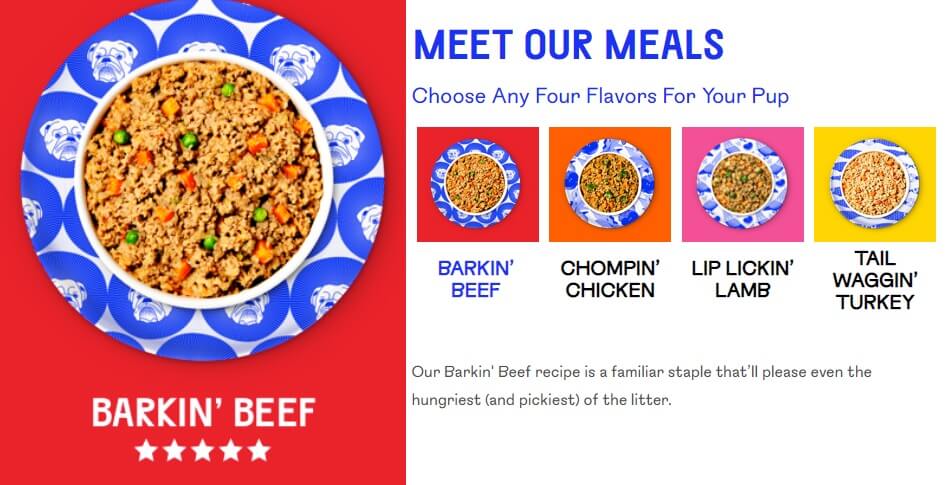 Here are the four dog food recipes PetPlate has to offer:
| | | | | | |
| --- | --- | --- | --- | --- | --- |
| Recipe | Protein % | Fat % | Fiber % | Moisture % | Calories (kcal/oz) |
| Barkin' Beef | 7.9 | 5.5 | 0.9 | 74.7 | 41 |
| Chompin' Chicken | 7.1 | 3.2 | 0.8 | 79.9 | 38 |
| Lip Lickin' Lamb | 6.4 | 3.5 | 1.1 | 75.5 | 40 |
| Tail Waggin' Turkey | 8.1 | 4.5 | 0.9 | 66.8 | 38 |
In testing Pet Plate, we ordered the meal topper plan with all four recipes. We received six 16-ounce containers that were resealable which made it very easy to store the leftovers.
The containers were a little more difficult to find room for in the freezer than the flat bags many companies use, but we appreciated the reusable containers.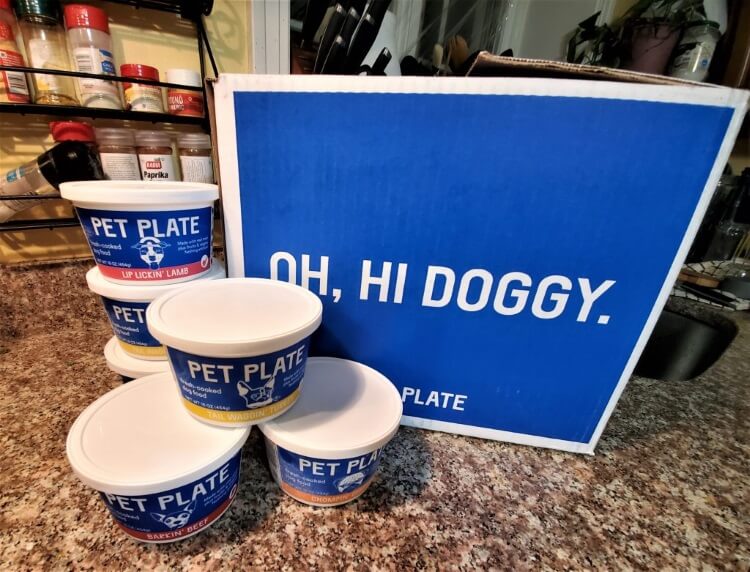 Is Their Packing Environmentally Friendly?
When it comes to their packaging, Pet Plate uses recyclable pre-portioned containers instead of plastic bags for their meals. Everything is safely packaged and refrigerated prior to shipping and sent in environmentally friendly boxes right to your doorstep. Dry ice and insulation keep the food fresh for up to 5 days during the transit process.
As soon as you receive your delivery, you should place the containers in the freezer (one in the fridge to thaw) and recycle the packaging materials.
How Much Does It Cost?
The cost of fresh dog food is a concern for many pet owners. Though it is significantly more expensive than commercial dry food, its cost is often similar to that of a very high-quality canned food diet.
The benefit is that the nutrient quality is higher because the food isn't cooked at high temperatures and you can customize your dog's meal plan according to his calorie requirements.
Pet Plate meal plans start around $1.50 per day with free shipping, though daily pricing will depend on your dog's weight and calorie needs.
Our test dog Archie weighs about 30 pounds and needs roughly 640 calories per day, about 8 ounces of food per meal. For a full meal plan, the daily cost is about $6.50 or the more limited meal topper plan is a little over $3.00 daily.
Check below to see how Pet Plate stacks up against other dog food brands for cost:
Fresh Dog Food Price Comparison

Food Type
Brand
Average Price
Price Per
Premium Dry Food
Canidae Grain-Free PURE Limited Ingredient Dry Dog Food
$74.99 for 24lbs.
$0.20 per ounce
Premium Wet Food
Instinct Original Grain-Free Wet Dog Food
$22.14 for 6 (13.2oz.) cans
$0.28 per ounce
Raw Food Subscription
Raws Paws Signature Blend Complete Beef for Cats and Dogs Roll*
$10.99 for 1lbs.
$0.68/ounce
Raw Food Subscription
Darwin's Natural Pet Products Biologics Raw Dog Food
$36.55 for 1 week
$0.46/ounce
Fresh Food
The Farmer's Dog*
$45.57 per week
$6.51 per day
Fresh Food
Nom Nom*
$48.51 per week
$6.93 per day
Fresh Food
Spot and Tango*
$47.59 per week
$6.79 per day
Fresh Food
Ollie*
$58.00 per week
$8.28 per day
Fresh Food
Pet Plate*
$44.94 per week
$6.42 per day
*Subscription price based on a 40-pound, neutered male dog 4 years of age
What Did Our Test Dog Think?
Before ordering Pet Plate, we spent some time reviewing the company website and noticed some differences from other fresh food companies.
Several of the other brands we've reviewed require you to create an account before viewing specific information about plans, pricing, and even the ingredients and calorie content of their recipes.
Pet Plate makes this information available right off the bat, playing up the flexibility of their meal plans as a selling point.
We ended up ordering the meal topper plan with all four recipes and received six 16-ounce containers. We immediately noticed that the food came in resealable containers, not flat plastic pouches.
The containers were a little more difficult to fit in the freezer, but the resealable feature more than made up for that slight inconvenience.
The food took a little longer to thaw as well, but it was much easier to scoop it out of the container than to have to cut open a bag.
When it came to testing the product, our test dog Archie dug in immediately. The food had a more consistent texture that some other brands we've tried, so it took him a little longer to eat it (we considered this preferable to him scarfing down the food as fast as possible).
We tried all four recipes and found that he loved each and every one. What we found most surprising is that the cats were interested in it too – one kept trying to sneak bites while Archie was eating. We can only assume this had to do with the meaty aroma of the food.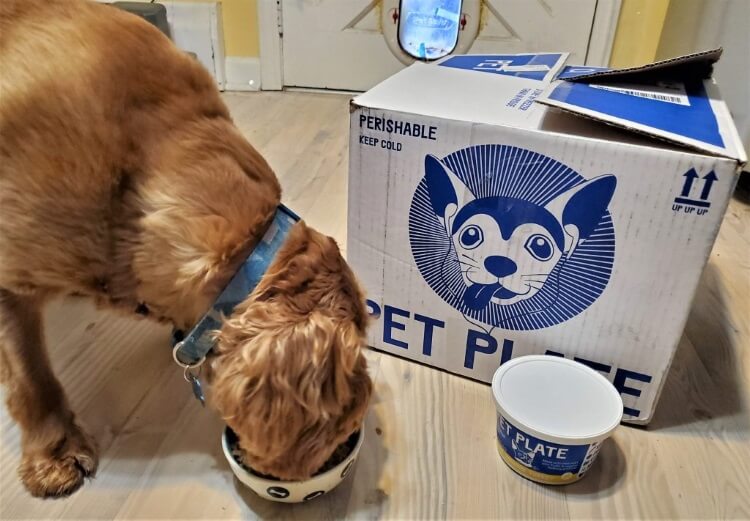 Pet Plate Dog Food Recalls
Many pet owners are concerned about dog food recalls, and with good reason. A recall is issued when there is a problem with the food or a packaging issue that might comprise safety.
Companies can choose to voluntarily recall products if they discover a problem, otherwise the FDA issues them in response to customer complaints or independent testing.
A recall isn't always an indication of a low-quality dog food, but lack of recalls is definitely a good thing. We didn't find any information about Pet Plate dog food recalls to this date.
Is Pet Plate Really Worth The Cost?
If you're concerned about the cost of Pet Plate, you need to ask yourself what's really important: your dog or your wallet.
Fresh food is certainly more expensive than the average dry food or canned food, but its cost is similar to some of the highest quality canned foods on the market. When it comes to fresh food, you also need to consider that the long-term benefits could end up saving you money.
Quality nutrition is important to maintain your dog's optimal health. You can save money in the short-term by choosing a cheaper dog food, but you might end up paying more in the long run.
Low-quality food often leaves gaps in your dog's nutrition which can lead to deficiencies and may contribute to chronic health problems.
That means more vet bills down the line and potentially pricy treatments for health issues that could have been avoided with a higher quality diet.
Subscribing to Pet Plate could be an investment in your dog's current and future health.
Here are some additional benefits of feeding your dog premium dog food:
Improved and regulated digestion, less gas and diarrhea
Reduced stool volume and odor
Healthier coat with less shedding
Increased energy levels and vitality
Healthy weight loss (when needed for overweight dogs)
Improved dental health and oral hygiene
Better urinary health, reduced risk for urinary tract infections (UTIs)
Not all fresh dog food companies are created equal, but we're impressed with Pet Plate and think you will be too. This company is very clear about their ingredients and manufacturing processes, plus they offer an extensive FAQ section on their website as well.
How Do You Order It?
Because Pet Plate is a subscription service, you need to order it online. All you need to do is visit the website and click on the "Create Your Plan" button at the top of the page.
From there, you'll fill out your dog's profile to provide basic information Pet Plate will use to calculate his calorie requirements.
You'll need to provide your dog's name, age, and body weight as well as his breed and spay/neuter status.
Pet Plate also collects information about your dog's activity level and body condition, plus they offer a space where you can insert your dog's ideal body weight if you want him to lose or gain weight.
After submitting this information, you'll be able to select your meal plan and recipes before making a payment and scheduling your first delivery.

Customer Service
Pet Plate does a good job of keeping things as clear and simple as possible, but they are available for support if you need it. You can contact their support team at [email protected] as needed or log on to the website to use their Zendesk Chat function. You can also call customer support if needed Monday through Friday between the hours of 10am and 5pm EST.
Another benefit that makes Pet Plate a little different than some fresh food companies is that there are more options to change your account yourself without having to contact customer service.
You can adjust your meal plan, skip or change deliveries, and even pause or cancel your account all through the online portal. Customer service is, however, still available through chat or email if needed.
Tips for Making the Transition
When changing your dog's diet, it is important to make the transition slowly to prevent digestive upset. Pet Plate includes a transition guide in your dog's first Welcome Kit that comes with his first box but you can also find instructions on their website.
The idea is to mix small amounts of Pet Plate with your dog's current food, increasing the ratio of Pet Plate over the course of 7 to 14 days. For the first few days, use 25% Pet Plate for each meal.
After a few days, increase it to 50% and then 75%. As long as your dog isn't experiencing digestive issues, you should be able to increase the amount of Pet Plate every few days.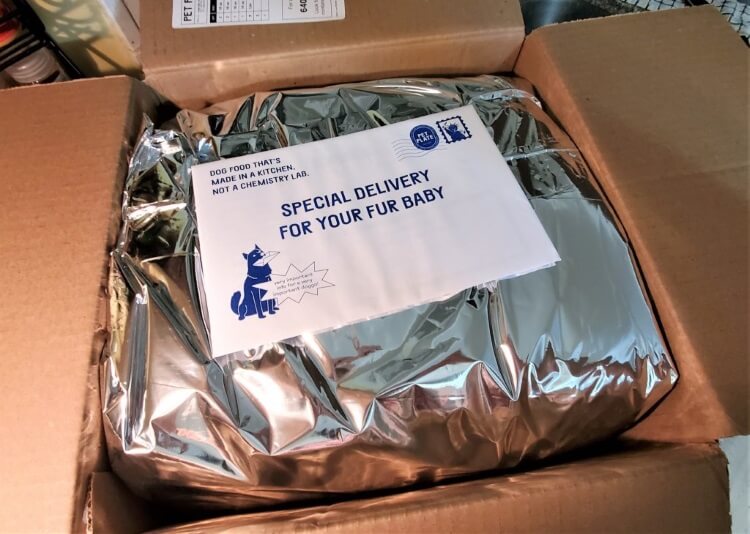 Pros and Cons
Many pet nutrition experts agree that fresh food is one of the most nutritious options for dogs and cats. That being said, not all fresh food companies are created equal.
It's still your job to evaluate the quality of anything you're thinking about feeding your dog – fresh food included. Every dog food brand has its pros and cons, even Pet Plate.
Here are some of the things you need to know about Pet Plate:
Pros for Pet Plate:
Recipes are formulated by veterinary nutritionists and made with human-grade ingredients in USDA food facilities.
Foods are kettle-cooked in small batches and flash-frozen to preserve freshness and shipped within days to your door.
All food comes pre-portioned according to your dog's daily calorie needs in resealable, recyclable containers.
You can choose from a full meal plan or meal topper plan and change, pause, or cancel your subscription at any time through the online portal.
Cons for Pet Plate:
Fresh food is more expensive than commercial dry food and many canned diets – meal plans start at $1.50 per day but may be higher depending on your dog's calorie needs.
Pet Plate food comes frozen, so you'll need to thaw the first container for a day or so before feeding to your dog and keep the rest in the freezer.
Customer profile doesn't automatically include options to note specific dietary issues or preferences (you can still contact customer service about them).
Regardless what we think of Pet Plate, it's your choice in the end whether you think it's the right fit for you and your dog. What matters most is that you feed your dog the highest quality food you can consistently afford. If that means fresh food, Pet Plate is definitely worth considering!
Is Pet Plate a Good Dog Food Brand?
All in all, Pet Plate is a great option for fresh pet food. We found it easy to order and loved the ready availability of specific info on the website.
Archie loved the food and we appreciated the resealable packaging. Pet Plate offers four recipes which is one more than some brands we've reviewed, and we liked that you can adjust or cancel your account directly through the customer portal.
If fresh dog food is within your budget and you want to give it a try, we can heartily recommend Pet Plate!
Get 30% OFF your First Order at petplate.com
Frequently Asked Questions
Has Pet Plate ever been recalled?
To our knowledge, Pet Plate foods have never been recalled.
Is Pet Plate food grain-free?
Pet Plate offers grain-free and grain-inclusive recipes. If your dog has a specific food allergy, you may be able to customize his meals even further.
Pet Plate food organic?
No, Pet Plate foods are not organic, but they are made with USDA ingredients. Their meats are sourced from USDA farms, as are their fruits and veggies.
Is Pet Plate food raw?
No, Pet Plate foods are kettle-cooked to destroy potential pathogens and flash-frozen to maintain freshness.
How many calories per cup for Pet Plate food?
The chicken and turkey recipes contain about 38 calories per ounce while the beef recipe contains 41 calories per ounce. The lamb recipe contains 40 calories per ounce.
Can I cancel my Pet Plate food subscription?
Yes, you can cancel or pause your Pet Plate subscription by logging into your account. You don't need to contact customer service to start, stop, pause, or change your subscription which is different from some fresh food companies.
Where can I buy Pet Plate food?
Pet Plate is only available online through subscription.
Can you heat up Pet Plate food?
You could, but there is no reason to. Once the food is thawed you can simply put it in your dog's bowl. If he likes his food at room temperature, you can let it warm up for a few minutes but don't leave it unrefrigerated for more than 2 hours.
Was this article helpful?
Let us know what you think.