Best Cat Food for Kittens
This page contains affiliate links. We may earn money or products from the companies mentioned in this post through our independently chosen links, which earn us a commission. Learn More
Kittens are definitely among the cutest animals, and they can be a real joy to care for. But do you know what to feed yours in order to keep it healthy and happy?
As with any kind of animal, there are foods that are right for it and foods that would be unhealthy, and you need to know what is best for your kitty.
You can't just trust its cravings and wants, as kittens will often try to eat things that are not good for them, as any child would.
We are going to show you what you should be feeding your kitten as well as what to avoid. Then we will look at some of the best kitten foods on the market today so that you can make a smart choice when it comes to shopping for your little friend.
At a Glance: Best Cat Food for Kittens To Buy
We highly recommend looking at the comparison table we have below where we highlighted the features of each product. You'll also find more detailed information about each product later in the article.
IMAGE
PRODUCT

Very nutritious
Lots of flavors to pick from
Human grade food

VIEW LATEST PRICE →

Made with a lot of meat
Packed with vitamins and minerals

VIEW LATEST PRICE →

High quality ingredients
Contains no fillers
Does not include grains like most cat food does

VIEW LATEST PRICE →

One of the cheaper options
A few different flavors to pick from
No animal byproducts

VIEW LATEST PRICE →

Sourced in the USA
Cats love it
Quality components you can trust

VIEW LATEST PRICE →
The Top 10 Best Cat Food for Kittens
We have shown you what is good to feed your kitten and what you should stay away from. Now, lets look at the best cat food products out there that are safe to feed your kitten.
Here are our top picks for the best cat food for kittens you should consider:
1. Weruva Grain-Free Canned Wet Cat Food
Pros:
Very nutritious.
Lots of flavors to pick from.
Human grade food.
High quality ingredients.
Cons:
Contains potato starch, which may cause excessive weight gain.
Weruva has a ton of different options for you to choose from with its canned cat food product line. They are all grain free as well as MSG free and free of other unnatural components. This is a natural food-based canned cat food that is packed with nutritional value and designed to be healthy for kittens as they are growing. You should make certain that you feed your cat more than just this food, though, as it contains potato starch, which can lead to quick weight gain.
2. Instinct by Nature's Variety Grain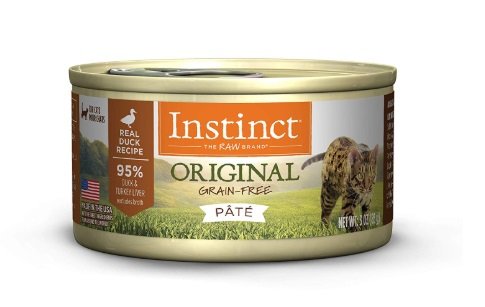 Pros:
Made with a lot of meat.
Packed with vitamins and minerals.
Cons:
A little expensive.
Made with some fillers.
While this cat food is mostly healthy meat for your cat, it does contain fruits and veggies in small amounts, which basically serve as fillers. Your cat is better off without those, but they are in such small quantities that it isn't a big deal. Most of this cat food is very healthy and will be great for a growing kitten who needs lots of protein in its diet.
3. The Honest Kitchen Grace Grain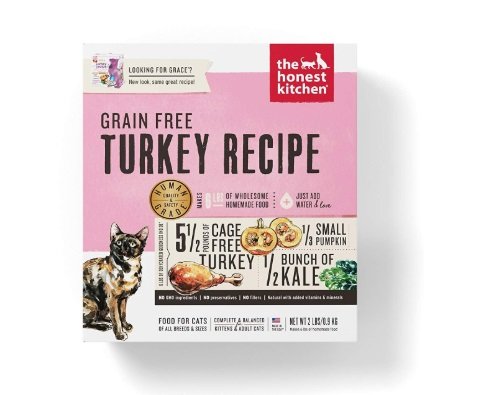 Pros:
High quality ingredients.
Contains no fillers.
Does not include grains like most cat food does.
You can't just feed your cat Honest Kitchen food right out of the box. It needs to be prepared, which you do by mixing it with some water. This minor inconvenience is not enough to pass on this cat food though. You need to know that this is very nutritious and healthy for your cat. It is made without grains and other fillers, which makes it healthier than most of the other cat foods on the market and even most of what is on our recommended list.
4. BLUE Wilderness High Protein Grain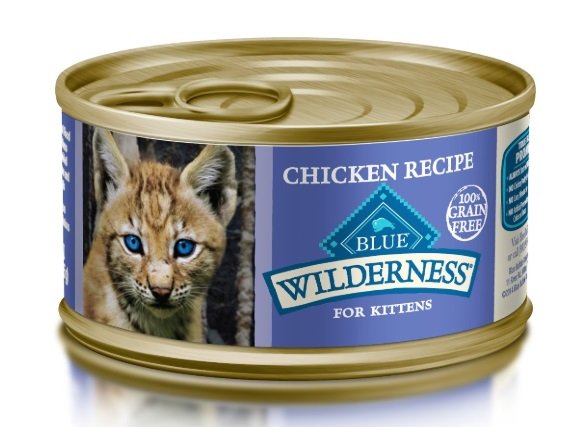 Pros:
One of the cheaper options.
A few different flavors to pick from.
No animal byproducts.
No artificial flavors.
Cons:
Doesn't often smell very nice.
Cats may not like it. The smell can be too strong for the picky eaters.
You know by the name of this particular cat food that it contains no grains. However, you might not realize until you take a closer look that it contains no artificial flavorings, additives, major allergens or animal byproducts either. The company sells this cat food at a very affordable price and offers a few different flavor options to choose from. One thing to be wary of with this cat food though, is that it can be strong smelling, and not all cats are going to put up with that odor.
5. Stella & Chewy's Freeze Dried Food for Cat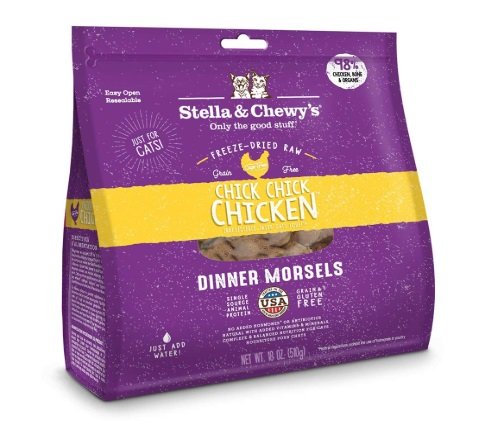 Pros:
Sourced in the USA.
Cats love it.
Quality components you can trust.
This is one cat food that most kittens will adore. Its easy for them to eat and digest, and the flavor is one they usually like. It's also made with wholesome ingredients, like raw meat, which is awesome for growing kittens. All of the ingredients contained in this cat food are sourced from the US, so you know that they have been carefully collected and manufactured under strict quality assurance. It's important to get food for your kitten from single and reliable source, if you want to ensure healthy products. This will reduce the risk of your cat having any adverse effects by consuming this product.
6. ZiwiPeak Canned Cat Cuisine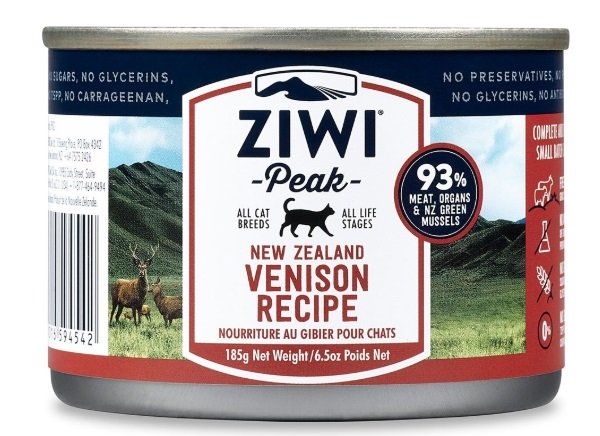 Pros:
Made with healthy and wholesome ingredients.
Meat comes from a single source.
Made with limited ingredients.
Cons:
Not all cats like the new recipe's taste.
ZiwiPeak uses single sourced meat, which means that you can feel better about what your cat is eating and that it is safe for it. This is cat food that is made primarily from natural ingredients and that cats love the taste of. Since it is wet canned food, kittens will be able to handle it just fine. It is the preferable food type for kittens, since they can have trouble eating larger, tougher kibbles and dry food. It is also worth noting that this is a limited ingredient food, ensuring there are fewer risks of allergens with this product.
7. Wellness CORE Natural Grain Free Wet Canned Cat Food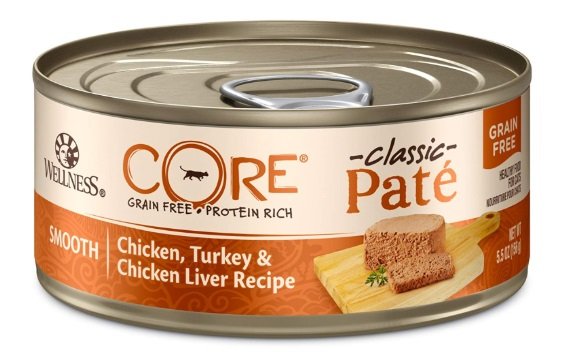 Pros:
Made with very healthy ingredients.
Uses natural components that reduce risk of allergic reactions.
Several flavors to choose from.
The first thing you probably notice about this cat food is how expensive it is. There are few cat food products on the market that are pricier, but few can be compared to the same standards of quality as this product by Wellness CORE. You get natural, healthy ingredients, raw, unprocessed meat, lots of nutrients and a balanced diet for your kitten when you use this cat food.
8. Halo Holistic Grain Free Natural Dry Cat Food for Kittens
Pros:
No processed meat or meat byproducts.
Very easy to digest.
No artificial components.
Packed with nutrients your growing cat needs.
Cons:
Kind of expensive.
Not every cat will love the taste.
If you want to give your kitten whole, raw meat that isn't processed or does not come with meat byproducts, then you should try this option by Halo. This is specially formulated with DHA and other nutrients that are essential for growing cats, giving them what they need to develop properly into mature, healthy cats. One of the key factors of this cat food that makes it stand out from the competition is its digestibility, and even sensitive cats or those with irritable stomachs will benefit from its palatability and specialized ingredients.
9. Hill's Science Diet Dry Cat Food, Adult, Chicken Recipe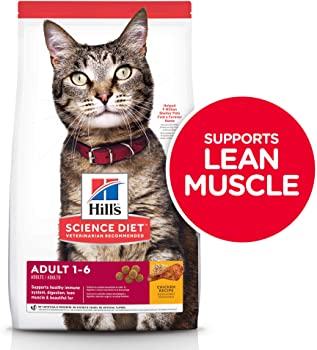 Pros:
Very cheap compared to other healthy cat foods.
Contains no allergens.
Great for your cat's coat and skin.
This is a fairly inexpensive cat food that still manages to be healthy and offer some great value to the consumer. It's not as healthy as some of the other choices here, and you do get a bit of fillers in it, but it still is a decent cat food for an affordable price. It contains rice, which has no real nutritional value for your cat, but other than that it is made from natural components that are very healthy for your cat, including nutrients that give it healthy skin and a shiny, silky coat.
10. Wellness CORE Natural Grain Free Dry Cat Food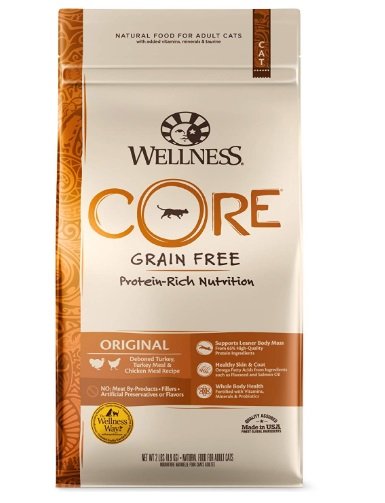 Pros:
Great price.
Made without any grains.
Made without allergens.
Uses only USA-sourced ingredients.
Cons:
Some cats may not like the new formula taste.
If you want real value, then this is a great cat food to pick. It's healthy and made from natural foods, without using grains or other fillers and allergens. On top of that, it is very affordably priced, yet it doesn't sacrifice quality or content. Most cat foods as cheap as this contain either rice or some other filler to make up for a lack of meat, but you'll find plenty of meat and protein for your kitten with this selection. Just be warned that the formula changed recently, and not all cats are going to like it as they used to. It may also be harder to acclimate a picky cat to it who has never had this particular brand before.
Nutritional Requirements
So, what is it that kittens need to eat? Well, they are going to need plenty of protein. Kittens need the same amount of fat, vitamins and fatty acids as adult cats do. Their protein needs are significantly higher, though, compared to their mass. About a third of your cat's energy needs to come from protein, so that should make up most of its diet.
They also need to eat often. You should give your kitten about three full meals a day, and it's okay for them to snack a bit in between meals as well. They are growing rapidly, and they need lots of food to keep up with their appetite and their body's proper growth. Your cat is growing in those first few weeks of life at such a rate that they may be two or three times as big as when they started growing. You're going to have to feed your cat a lot to fuel that rapid growth.
Kittens need a variety of foods as well, so that they don't become picky eaters. It also ensures that they don't miss out on important vitamins and minerals. Your little cat needs a balanced diet, so be careful about feeding it the same food over and over again. It's okay to add a few things from your table to feed the cat, as long as it meets its nutritional requirements and is not something it will be allergic to or have trouble digesting, such as onions, garlic, seeds, fatty meat, chocolate or caffeine.
What to Consider Before You Buy Food for Your Kitten
You do need to be careful about what kind of foods you feed your kitten. If you want to make sure you get the best food for your little friend, then factor these things in as you shop for food:
Made for Kittens- It's important that you by food for your kitten that is appropriate for it. Now, just because something is labeled for kittens, that does not mean that it contains what they need, so do your research and make sure that laboratory tests back up any claims that the manufacturer is making.
Natural Food- Is what you are feeding your kitten made from natural components? Is the meat raw and unprocessed? According to RSPCA.org, it is vital that you feed cats raw meat and food made from raw, whole meat early in their life to give them the nutrients they need for healthy growth.
Human-Grade- It's also a good idea to ensure the quality of the food your kitten eats is at or about the same level of quality as human food. Only a few cat food manufacturers will put in the effort to ensure that their food is human grade, and they will promote that on their product's packaging and in their marketing. Just look for human-grade on cat food you buy as a sure sign that you are getting quality food.
Moist Foods- Canned cat food is usually more expensive than dry cat food, but it is also necessary for small cats. It contains water, which they need plenty of, and it is easily digestible. If you feed them only dry food, then they may become irritable and not like the food or may have trouble getting all the nutrients they need.
What to Avoid
When you shop for your kitten or feed it at home, you need to be aware that some foods are too dangerous for it or simply inadvisable to buy for the little one. Here are the foods to avoid:
Generic Kitten Food- You'll find that most generic food is made from fillers and artificial ingredients. It is better to buy name brand cat food, even if it is more expensive. It is more likely to be made from natural, wholesome ingredients.
Excessive Fish- Cats love fish at any stage of their life, but it isn't good for them to have too much fish. You can feed you kitten salmon and tuna occasionally, but you need to avoid making it a regular occurrence, especially with kittens, since they need nutrients that fish don't offer, and they need them more than adult cats do.
Dairy- You have to be careful about what you feed kittens. They have sensitive stomachs, and dairy products are rough on their tummies. Contrary to popular belief, they don't get any nutritional value from milk, and so eating dairy products or drinking plain milk regularly is like a small child eating junk food often. It's simply unhealthy.
Cooked Bones- Now it's okay to give your kitten some raw bones every now and then. They can get some nutritional value from that. However, if you give them cooked bones, a lot of the nutrition has been cooked out of them. Plus, the bones could splinter and injure the kitten severely.
Summary
You have lots of choices when it comes to healthy food for your kitten. We have covered only a small portion of what is out there. If you want something different, just remember the guidelines we discussed, about what to factor in and what to avoid. Remember that not all cats are the same, and what may be good for one cat, may not be suitable for another. Therefore, if your cat didn't like the product you bought, just try another one. If you that, then you should have no problem finding something decent and healthy for your kitten to eat.