Best Dog Life Jackets
Even though dogs are able to swim well, dog life jackets are must-haves for dog parents who sail with their pets or just like to take their pooch to the occasional swim at the beach.
There is a limit to the swimming capability of even those dog breeds that are natural swimmers, besides the fact that not all dogs love the water. Aging and joint pains may also reduce the ability of dogs to swim. How rough the sea is,  is another factor to account for. Therefore, life jackets are essential safety equipment when  as they are what keep your pup afloat in times of crises. They can also provide the extra buoyancy when he gets tired of the doggie paddle during a swim in the pool.
When you are on the market looking for one that is suitable for your buddy, there are certain factors you must consider. In order to help you make a good buying decision, we have researched and reviewed a few products in this article.
Quick Look: Top 5 Best Dog Life Jackets
Best Rated Dog Life Jackets Reviewed
There are many dog life jackets available on the market to fit every budget, size, and type of activity. However, picking out those that are good in quality is not an easy task. We have come up with a list for you reviewing the ones we consider the best buys
1. EzyDog Life Jacket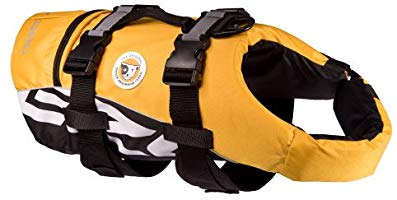 Specs:
Adjustment Points: 3
Neck float: ✓
Handles: 1
Leash ring: ✓
Reflective Strip: ✓
Price Range: $$$
Pros:
Strong, adjustable straps
Padding under straps to protect dog's belly
Ring to attach leash
Very positive reviews regarding provided buoyancy.
Cons:
The neck strap may need to be extended for some dogs, in which case the padding does not cover the whole neck/chest area
Difficult to grab hold of handle quickly
EzyDog claims that this Life Jacket has 50% more flotation material than most other pet life jackets., The jacket has adjustable neoprene straps for a custom fit, and a nylon leash ring. There is a reflective trim, so that you can easily sight your dog, both day and night. The handle on top allows you to guide your pet in the water and lift him out. This jacket is available in 5 sizes ranging from Extra Small to Extra Large.
2.Outward Hound Granby Dog Life Jacket
Specs:
Adjustment Points: 3
Neck float: ✓
Handles: 2
Leash ring: ✗
Reflective Strip: ✓
Price Range: $
Pros:
Neck float does a good job of keeping head above water
Velcro provides snug fit and also prevents straps and buckles from rubbing against belly
It is lightweight
Cons:
The size descriptions are confusing
The handles and buckles are not strong enough to lift large dogs
The Outward Hound Granby Dog Life Jacket features dual rescue handles, foam panels, and ripstop material. While, the foam panels give buoyancy, there is also a neck float that will keep your dog's head out of the water. Buckles and straps for the belly and chest provide a well-secured fit. Moreover, the jacket has a bright orange color and a reflective piping. Rated by Outward Hound as all-around for dogs with all skill levels, this life jacket is available in sizes ranging from XS to XL to fit dogs of all builds perfectly.
3. Paws Aboard Neoprene Doggy Life Jacket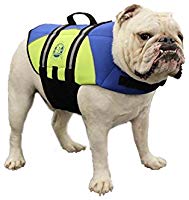 Specs:
Adjustment Points: 3
Neck float: ✓
Handles: 1
Leash ring: ✓
Reflective Strip: ✓
Price Range: $$
Pros:
The Velcro fastening system is reliable
Lightweight
Neoprene provides warmth and buoyancy without being bulky
Fits securely
Cons:
Needs more floatation to keep the dog's head out of water
May wear out quickly with regular use
The Paws Aboard Neoprene Doggy Life Jacket provides a cozy fit with a Velcro fastening system around the belly and neck. Adjustable nylon straps allow custom size adjustments, while heavy-duty buckles secure it in place. A breathable mesh under belly keeps your dog from getting too warm and uncomfortable, and also prevents chaffing. In addition, it allows the jacket to drain and dry quickly. The jacket comes in bright colors, with reflective strips, to provide good visibility during the day and at night in order to keep your dog safe. The handle on top of this life jacket allows easy grabbing and leading your dog in and out of the water.
4. Kurgo Surf N Turf Dog Life Vest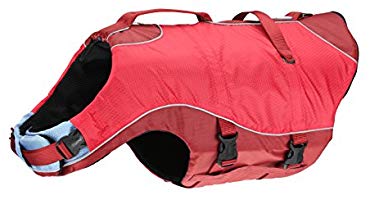 Specs:
Adjustment Points: 3
Neck float: ✓
Handles: 2
Leash ring: ✓
Reflective Strip: ✓
Price Range: $$$
Pros:
Can serve as both a life jacket and a raincoat
Machine-washable
Two rings for leash connection
Two handles
Cons:
Seam for strap loops not durable
Handle not sturdy for regularly lifting large dogs
Kurgo has designed the Surf N Turf Dog Life Vest to serve both as a life jacket and a raincoat. By removing the floatation layer, you can convert it to a raincoat for outdoor activities in the wet season. It is ruggedly made with ripstop material for durability.
The waist comes with 2 adjustable straps, while the neck has a combination of Velcro and strap. Two transverse handles will provide quick control so you can guide the dog in water. The vest comes with a bright color and reflective trim to aid with visibility and security. Also featured are 2 metal D-rings to connect leashes, and a bonus bottle opener. This jacket can be easily machine-washed for cleaning.
5. Ruffwear K9 Float Coat Dog Life Jacket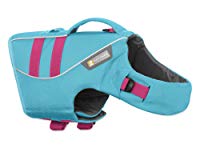 Specs:
Adjustment Points: 3
Neck float: ✓
Handles: 1
Leash ring: ✓
Reflective Strip: ✓
Price Range: $$$
Pros:
Well padded, including under belly straps and on neck
Handle is sturdier than most other life jackets
Velcro secures the ends of straps
Loop for safety light
Cons:
The neck is adjustable but does not open (jacket must be slipped on)
Slightly difficult to adjust and may take a while to put on
The Float Coat from Ruffwear is definitely the Rolls-Royce of dog life jackets, but if your budget allows it, it is worth the price. With abrasion-resistant webbing and foam padding throughout the vest, it is both durable and provides excellent buoyancy.
The jacket has an adjustable neck and two adjustable belly straps, with ends that can be tucked away and secured with Velcro. Like the rest of the jacket, the neck is padded well to keep the dog's head out of the water. The padded handle is sturdy enough to lift the dog and is very secure. A leash attachment, a loop to clip a light, and reflective trim are features on this life jacket that ensure your pet's safety.
Key Considerations When Buying the Best Dog Life Jacket
There are certain things you need to look out for in a dog life jacket before you part with your money. Since you cannot afford to risk the life of your canine buddy due to a cheaply made jacket, you will want to seek out the best quality and fit. The following factors are worth considering before purchase:
Fit and Size – Find out the size of your pet before choosing a particular vest for him. Dogs have difficulty staying afloat if they have an incorrectly sized vest on. If the vest is too small for your dog, it will lack the ability to keep him afloat. There are some life jackets that are one-size-fits-all, but it is always better to buy a dog life vest that is of the exact size for your buddy.
Handles – Handles are what you can use to help your pup in and out of the pool, since dogs can't climb stairs in water. Also, during emergency situations, handles are very useful, as you can easily hold on to them to rescue your pooch. Ensure that the material the handles are made of is of a high quality and that they are secured on to the vest properly, since it is extremely dangerous for them to snap off in the process of getting your pet out of the water.
Comfort – The material used in making the outer layer of a life jacket largely determines how comfortable it is for your pup. You will want to avoid vests with rough textures that can easily scrap or scratch his skin. Another thing you need to consider here is the size of the straps. Look for a vest with straps that are wide enough, so that they distribute pressure evenly around his torso.
Material – Material determines the floatability, durability, and comfort of the vests. The materials usually used in making vests include neoprene, nylon, and oxford. Generally, 50% of the materials in a standard life jacket should be floatable, like foam. Also, most good life vests have the chest side made with breathable mesh to prevent your dog from getting too hot and exhausted.
Visibility – It is likely that you are using life jackets as a precaution in case of emergency situations, such as when a boat capsizes. Brightly colored life vests will be necessary when sailing on high seas or a large lake. This is to make your pup visible for rescue if the need arises. Make sure the vest also has reflective trim for visibility at night.
Effectiveness – What makes the jacket life-saving gear is that it is able to keep your canine friend afloat on the water. Materials used in making these vests are what determine their buoyancy. Furthermore, any jacket you want to buy must not obstruct your dog while swimming.
Security – Apart from the factors considered above, there are other vest parts that contribute to the overall security of your dog while on water. These security features include the buckles and straps. They work hand in hand to ensure the life vest stays secure on your dog. Also, as we have stated before, a life vest should have sturdy handles with which you can move your pet in and out of water.
Jacket Type – You should make sure the type of life vest your dog is wearing is appropriate for a particular swimming activity. Requirements for swimming in pools are usually not as strict as those for open waters and lakes.
Safety Measures When Using a Life Jacket
Having considered the various factors that will enable you to make the best buying decision, there are other precautionary measures that will guarantee the ultimate security of your pup while on water.
Train your pup to wear the life jacket and swim with it. With a little practice, a typical dog can easily learn how to swim with a vest on. You should not only train him to use it but also make him used to wearing it.
Before you set sail, ensure you have your pup wear his vest with the straps and buckles well-fitted.
Always check the life jacket before putting it on your dog. It is essential to check for tears in the fabric, and the condition of the straps, buckles, and handles. Also check for lumpy or hardened floating material.
Never allow your dog to swim without supervision. Whether you are at the swimming pool or on the lake, always be close by when he is swimming.