The 20 Best Toys For Guinea Pigs
This page contains affiliate links. We may earn money or products from the companies mentioned in this post through our independently chosen links, which earn us a commission. Learn More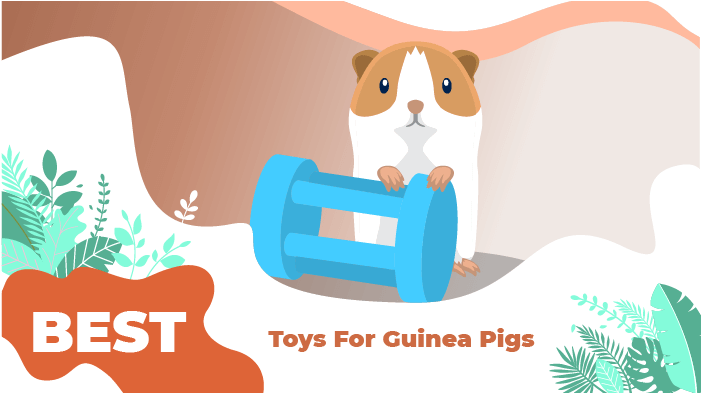 Guinea pigs are very active pets, so they need a spacious cage that gives them ample room to exercise. What many people don't know about guinea pigs is that they are also very smart, so they need mental stimulation as well as physical exercise.
Providing your guinea pig with an assortment of toys is a simple way to keep its mind active, so it doesn't become bored or depressed.
In this article, we'll talk about your guinea pig's needs for mental stimulation and how important it is to provide a variety of toys. We'll also show you our top picks for the best toys for guinea pigs.
At a Glance: Best Toys For Guinea Pigs To Buy
We highly recommend looking at the comparison table we have below where we highlighted the features of each product. You'll also find more detailed information about each product later in the article.
What To Look For In Toys For Guinea Pigs
When it comes to choosing toys for your guinea pig, there are many different options. Guinea pigs love to pick things up and throw them around, but they also love to chew.
The most important thing to keep in mind is your guinea pig's safety – make sure whatever the toy is made from is non-toxic and that it won't do your guinea pig harm. Aside from that, there are many types of toys to consider.
Here Are Some Important Things To Look For In Guinea Pig Toys:
Safe, non-toxic materials-The safest option is to buy toys specifically made for guinea pigs but can also use other things as long as they are non-toxic. Untreated wooden blocks, for example, are a good option as is plain cardboard, paper bags, and fabric tents.
Chewable or edible-Guinea pigs love to chew, so provide some toys that are edible (like woven hay mats) or chewable (like wooden blocks). Your guinea pig's teeth never stop growing, so chew toys help keep them ground down to an appropriate length.
Easy to move around-Your guinea pig's toys should be appropriately sized and light enough that the guinea pig can pick them up and toss them around.
Variety-Your guinea pig is a curious, intelligent animal so it will appreciate having a variety of toys to choose from. If you don't want to buy a big stock of toys, buy a few and rotate through them throughout the week to keep your guinea pig engaged.
Now that you have a better idea what to look for in guinea pig toys, it's time to start shopping! Keep reading to see our top 5 picks for the best toys for guinea pigs.
In addition to providing your guinea pig with plenty of toys to play with, you should also make sure it has companionship.
Guinea pigs are social creatures that do best when they live with others of their own kind. If you can't keep more than one guinea pig, make the extra effort to play and interact with your guinea pig at least once a day to meet its needs for companionship.
Here Are Our Top 20 Picks For The Best Guinea Pig Toys:
Chew toys are important for guinea pigs because they help keep the guinea pig's teeth from growing too much. This multi-pack of toys is the perfect way to see what your guinea pig likes because it includes a variety of options including sticks, balls, ropes, and more. Each toy is made from non-toxic, natural wood, so it is completely safe for your pet.
Guinea pigs love to chew on wood, but wooden blocks and sticks can be tossed all over the cage where they might become soiled.
This chew toy hangs on the wall of your guinea pig's cage where it can easily access it, but it will stay in place. Made from non-toxic wood in several shapes, this toy is the perfect chew toy for guinea pigs.
Some guinea pigs love picking things up and tossing them around. These fun balls are made from all-natural materials like rattan, seagrass, and water hyacinth, which are very lightweight and easy to pick up. This toy encourages your guinea pig to be more active while also satisfying its urge to chew.
Guinea pigs love to explore, and this pet tunnel is the perfect way to make that happen. Available in medium and large sizes, this tunnel folds up for easy transport, and it can be attached to a tent or to an additional tunnel to maximize play. It can be used in your guinea pig's playpen for exercise or added to his cage for sleeping.
Guinea pigs like to explore, but they also like to feel safe and secure. This wooden bridge serves the dual purpose of being a chew toy as well as a safe structure your guinea pig can hide under. Made from natural wood sticks and held together with wire instead of glue, this tunnel has it all.
All good pets deserve a treat now and then.These Kaytee baked apple and hay treats come in a variety of sizes, shapes, and flavors for your guinea pig's enjoyment. Besides providing a tasty treat for your little furry pet, these biscuits are rough and hard in texture, which will give your guinea pigs hours of chewing satisfaction. Because guinea pigs have a natural instinct to chewand doing so is also good for their dental health. And at less than a dollar and a half per package, there really is very little reason to pass these treats up.
The Liiyzychew toy is made of natural herbage, that is both non-toxic and nutrient-rich. This natural,teeth grinding toy is made with a sweet, pleasing taste, that your guinea pigs are sure to enjoy.Since guinea pigs have growing teeth and a need to chew for optimal oral and teeth health, a tasty chew toy such as this is the perfect way to keep your guinea pig happy and healthy. The chew toy hangs from your guinea pig's cage and comes with a jingle bell for them to play with.
Are you trying to find new ways to get your guinea pigs excited about their hay? This cool little hay roller may be just the thing you are looking for.
Made of tightly rolled cardboard, this roller comes stuffed with delicious Timothy Hay, and is held together with non-toxic glue. Even after your guinea pig has consumed all of the hay, you can reuse the roller – simply stuff it full with your own hay, and provide your guinea pig with hours of enjoyment while he gets exercise and engages in his foraging instint.
This enrichment toy's unique design is rolled tight and then pushed out which makes it more difficult for your pet to chew and destroy. All in all, a great way to keep your guinea pig fed, entertained, and happy!
If you are looking for a variety of toys and items to keep your guinea pig happy and occupied, then you can't do much better than the Seven Pack of JanYoo Chew Toys. This package comes with seven different items to push, pull, chew, and generally keep your guinea pig happy, healthy and entertained.
Made of wood and other all-natural materials, the JanYoo will also contains no pesticides, so you won't have to worry for your piggies' safety as they chew away. These toys are also handmade and aesthetically pleasing, so both pet and pet-owner alike can enjoy them.
These chew toys from Kaytee are perfect for your guinea pigs dental health and natural desire to chew. The pack comes with five different styles of chews: an "apple slice," "whole apple," a treat cage, a hanging chew toy, and a ball.
All materials are made of natural wood and loofah, and are dyed a beautiful red, to give it an authentic apple appearance. While the red dye is certainly aesthetically pleasing and safe for you guinea pigs to chew on, some pet owners may be put off by it.
Soaked in water, much of the dye comes off. Either way, these chews are sure to be a hit for you furry friends.
This 3-Way play tunnel is a great way to provide your guinea pig with hours of entertainment. Even larger guinea pigs can easily fit through this fun tunnel, and while guinea pigs love to chew, this tunnel is made of tear-resistant, non-toxic polyester, and keeps its shape with a flexible steel spring with protective ends, which keeps it from poking through the fabric.
The tunnel is fully collapsible, making it easy for storage and travel. In addition to the three tunnels, there is a peephole, which gives your guinea pig more ways to entertain himself, keeping him happy and healthy as he plays.
This brightly colored treat ball is a wonderful way to keep your guinea pig entertained, exercised and happy to receive a healthy treat. This interactive treat ball is designed to be pushed and rolled by your furry friend, which makes it a great boredom busting enrichment activity while encouraging your pigs to engage in their natural foraging instincts.
It is an eye-catching bright yellow color with orange decorative carrots, which pet owners are sure to find cute. The treat opening is adjustable, and can be filled with kibbles, flakes, small diced carrots, dried herbs or dried fruits.
As your pet rolls and pushes the treat ball, food falls out, encouraging more play, making it also fun for pet owners to watch.
If you have been concerned in the past by artificial materials, chemicals or dyes that may commonly be put into their pet products, rest assured, there is no need to worry with the SunGrow Guinea Pig Coco Fiber Toy. The fibers and twine that have been used to make this ball are 100% natural and contain no other additives, dyes or chemicals.
Great for guinea pigs and other small rodent friends, this ball will provide your pet with hours of chewing satisfaction to help keep their teeth strong and healthy. It is also lightweight, making it easy to be pushed and pulled, so your pets will be happy to play with it when they are not happily chewing away.
These chew sticks come in a package of three different types and flavors for your guinea pig's chewing enjoyment. Made with all-natural material, your guinea pig will enjoy the variety of flavors she gets to indulge in, all from one package.
A great way to see what type of wood your particular guinea pig enjoys, you can think of these as a sort of sampler for future chewing stick purchases. All in all, a sensible and fun toy to add to your guinea pig's selection.
This all-natural willow branch ball is both a ball used for fun and exercise but is also useful as a chew toy. Made of willow branch that has been tightly wound into the form of a 4-inch ball, this toy is also a fun item for your guinea pigs to play at dismantling and disentangling.
For most guinea pigs, it will take some time to pull and chew it all apart. However, if you have a more determined guinea pig that can make short work of it in a smaller amount of time, rest assured, that he still had a good time playing with it!
Vitakraft Carrot Slims Treats are crispy, baked, vitamin-enriched bars made with carrots and other grains. While these treats are certainly considered "snacks," when indulged in moderation, they are still a healthy treat that your guinea pig will appreciate.
In addition to giving your piggies something tasty, these snacks are hard enough that they will satisfy your pet's natural gnawing instinct. While guinea pigs are sure to enjoy these, other rodent pets can also partake, making them a well-rounded, fun treat for many different types of furry friends.
It is a good idea to take your guinea pigs out of the confines of their cages once in a while and let them roam and play. Of course, free roaming can present a safety problem if you do not have the proper way to pen the little guys in, so they can play and explore without you worrying if they are safe.
The pen is foldable and collapsible, making it easy to transport and travel with. It is made of tear-resistant polyester, mesh and wire framing, and provides plenty of room for more than one guinea pig at the same time.
While it is a good idea to keep an eye on the piggies while they play to make sure they don't chew on the sides of the pen, the material is still strong and well-made. For stress-free playing outside of the cage, your guinea pigs will appreciate this.
These natural and toxic-free chew toys are fun, cute and engaging for your guinea pigs to both play with and chew on for their dental health. The chews are made of apple wood, wood vine, water grass, and other natural materials that are suitable for other similar rodents as well. In addition to chewing, these toys also provide roughage to your guinea pigs' diet, which is good for digestion.
As with other, similar rodent toys, they provide activities that combat boredom, anxiety and stress. One of the toys also hangs from the cage by a metal hook, to make it fun for your guinea pig.
This adorable guinea pig house/hideout is designed by guinea pig expert Saskia from the Los Angeles Guinea Pig Rescue, who really understands what a guinea pig wants to have in his environment. Providing a sturdy and spacious place for your piggies, this house creates some space in their cage, while providing a fun place to for them to climb and perch.
In fact, this house can comfortably fit three full grown, normal sized guinea pigs! Non-toxic paint and natural wood give this guinea pig home a natural aesthetic and feel that pet-owners will also appreciate and enjoy. Overall, this house is a fun and sensible addition to your guinea pig's home.
GuineaDad started initially as an Instagram account, belonging to guinea pig enthusiasts and their furry friends. They created the Crunchy Condo for their own guinea pigs, and it became a hit for other guinea pig lovers around the world.
While it looks like a simple cardboard box with some holes cut into it, and cute logo on the side, the Crunchy Condo has a surprising amount of versatility to it. This all-in-one activity center for your guinea pigs acts as hideout/house,doubles as a tunnel that you can use as an entrance to GuineaDad Liner pocket by inserting it under the pocket, and is made from non-toxic cardboard, promoting healthy and normal wear on their teeth. Not bad for a simple cardboard cutout!
Tips For Playing With Your Guinea Pigs
Playtime is important for your guinea pig. Not only does it provide an opportunity for exercise, but it also provides mental stimulation to keep your guinea pig's mind shop and to stave off boredom. These little animals are surprisingly smart, so don't underestimate the importance of play time!
Here Are Some Tips For Playing With Your Guinea Pig:
Spend time near your guinea pig even when you aren't playing, so it gets used to you.
Play with your guinea pig in a safe space like a playpen or a room with the door closed.
The floor is the best place to play with your guinea pig because there is no risk of falling.
Do a sweep of the space before you put your guinea pig down to make sure there aren't any hazards like power cords or dropped pieces of food.
Try out a number of different toys at first to see what your guinea pig responds to.
Once you figure out what your guinea pig likes, create a playtime routine to keep things feeling both familiar and safe.
As you play and interact with your guinea pig, you'll get a feel for its personality – you'll also learn what kind of toys and games it likes. Always keep your guinea pig's safety in mind, but don't be afraid to switch things up once in a while with a new toy or a new place to play.
Final Remarks
Your guinea pig's safety should always be your primary concern, so be careful when choosing guinea pig toys. When you buy toys from the pet store, you can be relatively sure that they are safe, but it never hurts to check.
If you're getting creative with household objects like cardboard boxes or wooden blocks, just make sure they very clean and untreated with any kind of paint or chemical.
If you're still not sure where to start in looking for guinea pig toys, try out one of the top 5 best toys for guinea pigs we've reviewed above. Good luck!