The 6 Best Cat Foods For Sphynx Cats
This page contains affiliate links. We may earn money or products from the companies mentioned in this post through our independently chosen links, which earn us a commission. Learn More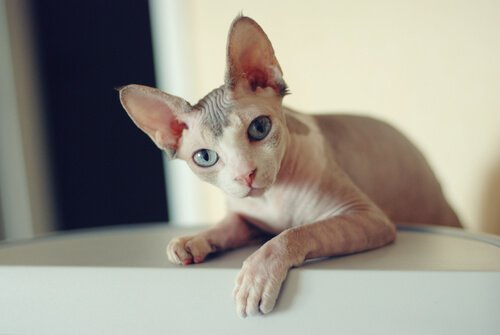 To satisfy his metabolism and keep his gut healthy, feed your Sphynx cat a diet that delivers a big energy punch without a lot of fillers and waste. The best cat food for Sphynx cats is minimally-processed, made from animal ingredients, and isn't weighed down by plant ingredients.
Because it's a nutrient-dense food that helps support healthy digestion, we recommend Stella & Chewy's Duck Duck Goose Dinner as the overall best cat food for Sphynx cats.
Keep reading to learn more about this freeze-dried food and our other top 6 picks.
At a Glance: Best Cat Foods For Sphynx Cats To Buy
We highly recommend looking at the comparison table we have below where we highlighted the features of each product. You'll also find more detailed information about each product later in the article.
What Is The Best Cat Food For Sphynx Cats?
Fundamentally, Sphynx cats need the same food as every other breed. His lack of a furry coat doesn't alter the Sphynx's carnivorous nature and low thirst drive. However, the Sphynx is a bit different from other breeds in both the way he needs to be fed and what he should eat.
What does that mean? Let's go into a little more detail.
The Best Cat Food For Sphynxes Is Slow-burning And Satisfying.
Just like you burn more calories when you're shivering, the Sphynx burns more to make up for the lack of a fur coat. In fact, a Sphynx's skin temperature sits about 4 degrees higher than the average cat's. It takes a lot of calories to keep that inner heater running.
As a result, Sphynx cats are enthusiastic foodies and, compared to their furrier friends, tend to be less choosy about what they eat. Sphynx cats will often eat anything they can get and as often as they can get it.
Because they burn through calories so fast, Sphynx cats do best on three or four small meals a day.
Because dry food is so convenient and safe to leave out all day, it's tempting to opt for it instead of a high-moisture diet. Some even say that dry food is ideal for Sphynx cats.
But I'll argue that dry food is not ideal for any cat, regardless of breed. A low-moisture diet increases your cat's risk of becoming chronically dehydrated and developing urinary tract disease. If possible, avoid kibble and find a way to give your Sphynx three or four mini-servings of wet food each day. This is easy if you're at home all day. Those who are out of the home during the afternoon might invest in an automatic feeder or just give their Sphynx two meals a day.
Regardless of how many daily meals you choose, opt for a high-moisture, moderately fatty, low-carbohydrate food for a slow, sustained release of energy.
In addition to providing long-lasting energy, this type of food adheres to a species-appropriate dietary blueprint. Cats are natural carnivores and can thrive on nothing but the animals they catch outside. Though they can metabolize carbohydrates and plant ingredients, their bodies are optimized for flesh, fat, and bone. A prey-inspired diet is the most efficient fuel for your cat's body.
The Best Cat Food For Sphynx Cats Is Clean And Efficient.
The Sphynx cat's bathroom problems are the subject of contention. While experts insist that there's no reason why a Sphynx cat should have any more intolerances or digestive issues than one of any other breed, Sphynx cat guardians disagree. The community has some legendary stories to tell about their Sphynx cats' digestive issues. They talk about reeking litter boxes. Poop-stuffed paws. Smeary backsides. Chronic diarrhea.
Digestive issues like these are common among all breeds, but judging from the conversations in the Sphynx community, it seems that Sphynx cats have it worse than others. If your Sphynx cat stinks more than his furry housemates or has a chronically messy litter box, a low-residue diet can help.
By cutting the fluff from your cat's diet and reducing it to only the most nutritious ingredients, you can make sure that more of his diet is nourishing him and less of it is going to waste.
Best Cat Food For Sphynxes: Our Top 6 Picks
Overall Best: Stella & Chewy's Duck Duck Goose Dinner Grain-Free Freeze-Dried Cat Food
Product Info:
Protein: 40% Min
Fat: 30% Min
Fiber: 5.0% Max
Life Stage: Adult
Type: Freeze-Dried
Made In: United States
Pros:
Rich in highly-digestible animal ingredients
Made without fillers for a cleaner litter box
Contains probiotics to support digestive health
Low carbohydrate content
Cons:
May contain too much bone for some cats
You'll have to rehydrate the freeze-dried food before you give it to your cat
This Stella & Chewy's food is a freeze-dried product that delivers everything we look for in the best food for Sphynx cats. It's made from a nutrient-dense mix of duck with ground bone, turkey with ground bone, turkey liver, goose meat, and turkey gizzard.
Such nutrient-dense, protein-rich ingredients provide the nutrition your Sphynx needs in its most digestible form. Biologically-available animal ingredients work in concert with a mix of probiotics to keep your cat's gut working smoothly.
As a freeze-dried product, the food is rich in the nutrients naturally present in fresh animal parts. Because your cat's body utilizes so much of it and there is so little waste, the food is a good option for cats with smelly waste or chronic digestive issues. Low carbohydrate content may help to reduce inflammation.
Less waste is normal, but if your Sphynx becomes constipated on this food, you may want to switch to a lower-bone product. Like all Stella & Chewy's freeze-dried foods, this recipe appears to have more bone than cats require. Excessive bone intake can contribute to constipation and contributes minerals, including phosphorus and magnesium, that can worsen the symptoms of kidney disease.
Upgrade Pick: Smalls Fresh Ground Bird
Product Info:
Protein: 21% Min
Fat: 8.05% Min
Fiber: 0.4% Max
Life Stage: Adult
Type: Fresh
Made In: United States
Pros:
 Packed with real animal protein and moisture
Highly digestible, no artificial additives
Balanced with healthy fats for calorie density
Cons:
Not portioned individually for specific cats
Must start a subscription to order
Sphynx cats burn a lot of calories, so they need a food that provides plenty of protein and balanced nutrition with nothing wasted. Smalls Fresh Ground Bird is an excellent option because it contains a limited number of high-quality ingredients and it is served fresh which makes it irresistible to cats. It's also packed with moisture which is good for your cat's skin.
This recipe features fresh chicken thighs and chicken breast as the top two ingredients with chicken organs for additional nutrition. Fresh veggies like green beans, peas, and kale help balance out the nutrition while Smalls Supplement Mix fills in the rest. No artificial additives, fillers, or by-products in sight!
What makes Smalls truly unique is that it is a subscription service. Simply fill out your cat's profile to receive customized recommendations then start getting fresh cat food delivered right to your door. Nothing could be simpler.
Best Dry: Ziwi Peak Air-Dried Mackerel & Lamb Recipe Cat Food
Product Info:
Protein: 43% Min
Fat: 25% Min
Fiber: 2.0% Max
Life Stage: Adult
Type: Air-Dried
Made In: New Zealand
Pros:
Contains highly-digestible, efficient-burning nutrition from muscle meat, organs, and bones
Contains omega-3 fatty acids for soft, healthy skin
A low carbohydrate, meat-rich alternative to traditional dry foods
Cons:
Doesn't have enough water to keep your cat healthy
Expensive
If you can't be at home to give your cat several meals throughout the day, you might prefer to give him a non-perishable food that can sit out for hours, allowing your Sphynx to eat at will.
Though it still has the moisture depletion problem shared by all dry foods, this air-dried food from Ziwi Peak goes against the kibble grain, delivering virtually plant-free nutrition with a hearty mix of muscle meat, organs, and bones.
While most dry foods are extruded, this product is air-dried. The air-drying process leaves the nutrients in raw meat intact while destroying pathogens. This gives you food that is both intensely nourishing and safe to leave in your cat's bowl or an automatic feeder all day.
The food is rich in protein with low carbohydrate content. It features mackerel, lamb, lamb heart, lamb tripe, liver, lung, kidney, and bone. New Zealand green mussel serves as a source of omega-3 fatty acids, which keep your Sphynx's skin and coat healthy while reducing inflammation.
Altogether, this is an exceptional option for those who want to feed their Sphynx dry food but don't accept carbohydrate-laden kibble.
Best for Kittens: Nulo Freestyle Turkey & Chicken Recipe
Product Info:
Protein: 11% Min
Fat: 6.5% Min
Fiber: 0.75% Max
Life Stage: All Life Stages
Type: Wet/Canned
Made In: United States
Pros:
Rich in highly-digestible protein
Contains menhaden fish oil as a source of DHA
Formulated for both kittens and adult cats
Low carbohydrate content
Cons:
Contains some plant ingredients
Sphynx cats need even need more calories, more protein, and more fat during the first 12 months of their lives. That's why most kittens need a specially-formulated product that was designed to support this rapid growth stage.
This canned cat food from Nulo's Freestyle line is formulated for all life stages, meaning that it has the nutritional gusto to keep your Sphynx sprinting whether he's five months or two years old.
It's a good fit for kittens of any breed, with turkey, chicken, turkey liver, and tuna heading up the ingredient list as highly-digestible sources of protein. Menhaden fish oil serves as a source of omega-3 fatty acids vital for brain and eye development.
The food contains a sprinkling of plant ingredients, but it's a low-carbohydrate food that generally adheres to a carnivorous dietary plan.
Best for Seniors: Feline Natural Chicken & Lamb Feast Freeze-Dried Cat Food
Product Info:
Protein: 9.0% Min
Fat: 5.0% Min
Fiber: 0.2% Max
Life Stage: Adult
Type: Freeze-Dried
Made In: New Zealand
Pros:
Contains anti-inflammatory omega-3s for senior cats
Green-lipped mussels may help to support joint health—vital for arthritis-prone senior cats
Rich in muscle meat, organs, and blood
Minimal carbohydrate content
Cons:
One of the most expensive cat foods on the market
As your Sphynx cat enters his teen years, the importance of highly-digestible, high-quality protein becomes ever more apparent. This kind of protein helps to support lean muscle mass and may be the key to reducing strain on the organs.
Any fresh, meat-focused food without excessive phosphorus is appropriate for most senior cats. This freeze-dried food checks those boxes and more. It provides plenty of nutrients from animal sources and not a lot of animal by-products and mystery meals. It's minimally-processed, leaving more of meat's magic intact.
It contains green-lipped mussel, an ingredient rich in several types of omega-3 fatty acids. These fatty acids have multiple benefits, helping to keep your Sphynx's skin supple, reducing inflammation, and potentially supporting joint health.
Finally, the food is low in phosphorus, especially compared to other freeze-dried products. It is about 1.5% phosphorus with roughly 0.03 grams of phosphorus per 1000 calories. Even if your senior cat doesn't have any symptoms of kidney disease, it's a good idea to make sure he doesn't get excessive phosphorus.
Best for Sensitive Stomach: Primal Turkey Formula Nuggets Grain-Free Raw Freeze-Dried Cat Food
Product Info:
Protein: 57% Min
Fat: 23% Min
Fiber: 2.0% Max
Life Stage: Adult
Type: Freeze-Dried
Made In: United States
Pros:
Rich in nourishing, easy-to-digest animal ingredients
Low carbohydrate content
Single-protein recipe may help to identify or avoid allergens
Contains cod liver oil and sardine oil as sources of omega-3 fatty acids
Minimally-processed meat delivers plenty of nutrition in a bioavailable form
Cons:
Some cats don't like the way this food tastes
Freeze-dried food must be rehydrated before your cat can eat it
This freeze-dried food has several features that make it a good option for the sensitive Sphynx. First, it's a single-protein food, reducing the chances that it will irritate your cat. It features turkey, turkey necks, hearts, and livers as the primary ingredients.
Secondly, the food follows a prey-inspired recipe. With species-appropriate ratios of muscle meat, organs, and bone, it honors your cat's biological needs.
Though it contains a mix of fruits and vegetables that help to make it nutritionally complete, it's a low-carbohydrate food and appears to minimize potential irritants.
To help reduce inflammation and keep your cat in top condition, the recipe includes both sardine oil and cod liver oil as sources of omega-3 fatty acids.
Most Sphynx cats need the same carnivore-appropriate food we'd recommend for any other cat.
When it's time to choose what to put in the bowl, your Sphynx's species-specific needs should come before any breed-focused considerations. Sphynx cats are, first and foremost, carnivores, and they should be fed as such.
Keep this in mind when continuing your search for the best cat food for your Sphynx, then use your unique feline's preferences and needs to center in on the food that's right for him.