Our Mission: wereallaboutpets.com aims to be one of the only dedicated pet news sources (news about pet–not necessarily for pets). This includes pets in the media, news-worthy events, product recalls, celebrity pets, and anything else in the news that involves pets.
We deploy a team of contributors with a wide array of backgrounds to provide expert insight (and a dose of fun) on current, in-depth content. Their backgrounds include veterinary science, pet training, pet culture journalism, journalistic research, essay writing, and biology. If you'd like to learn more about our team, please complete the form below.
Our Team:
Kate Barrington
Kate Barrington is avid pet lover and adoring owner of three cats and one dog, her love for animals has led her to a successful career as a freelance writer specializing in pet care and nutrition. She has been writing about pet care and pet products since 2014
Mallory Crusta: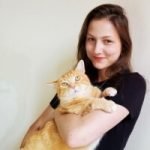 Mallory Crusta is a blogger and adventurecat enthusiast who brings you the facts about cat products, wellness, and care. She's the co-founder of Wildernesscat, a resource for savvy cat guardians who want to give their felines richer, healthier lives. Visit Wildernesscat for product reviews, radically natural nutrition tips, and lifestyle inspiration
Amy Brown:
Amy has volunteered at several pet shelters for over 15 years. She has had pets as far back as she can remember and is currently the owner of two rescue cats and a rescue dog. Amy is currently a freelance writer and contributes to several pet related websites.