The 5 Best Cat Foods for Constipation
If your cat is not eating like it used to or does not seem to be able to use its litter box like it usually does, then it could be suffering from constipation. This can be tough for your cat, and if you want a way to treat this problem by changing your cat's diet, then we have just what you need. We'll show you what to look out for, what foods to give your cat and what ones to avoid to get it back on track to a healthy, happy life.
Quick Look at Our Top Picks:
The Top 5 Best Cat Food for Constipation
You've read about the risks, the foods you should avoid and what factors can help you pick the right cat food for constipated felines. Now, it is time to look at some reviews for cat food that is good for your cat when it is suffering from digestion issues like constipation.
Here are our top picks for the best cat food for constipation you should consider:
1. Merrick Limited Ingredient Diet Grain Free Wet Cat Food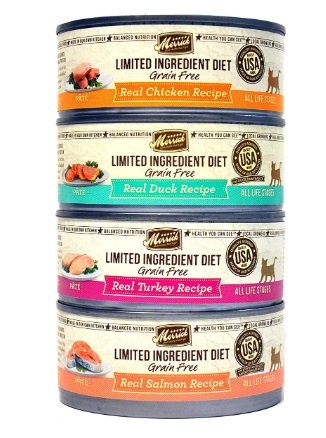 Pros:
Made with healthy, wholesome ingredients.
Wet cat food that helps with constipation.
Avoids grains and other products that are not very good for your cat.
Cons:
Consistency may not be to your cat's liking.
Cats love this natural food, even though it is made without grain and only a few ingredients. It contains all the nutrition a healthy cat needs for a balanced diet. It is also wet canned food, which makes it ideal for treating constipation. You'll be cutting out a lot of the unnatural products that clog up your cat and fill the average cat's diet, all while giving it extra water and nutrients to help deal with the blockage.
2. Natural Balance Limited Ingredient Dry Cat Food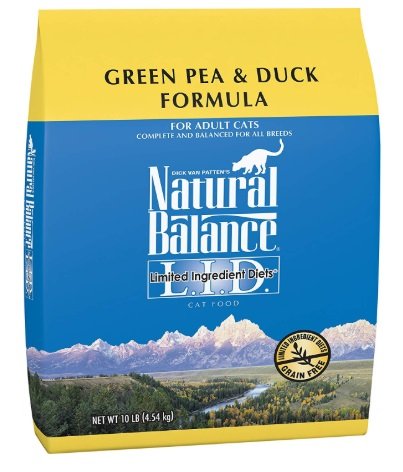 Pros:
Very healthy for your cat.
Only contains few ingredients.
This cat food offers balanced nutrition and is made from few ingredients. That means it is safer for cats that are struggling with constipation. It consists of high quality meat products that have not been processed or raised with antibiotics and other potentially harmful methods.
3. BLUE Basics Limited Ingredient Diet Adult Indoor Grain Free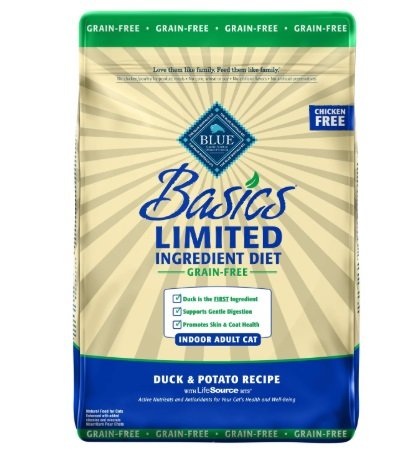 Pros:
Made naturally.
High quality food.
Tested to be safe.
This cat food is quite costly, but you are getting the BLUE seal of quality and benefiting from their meticulous attention to detail and balanced nutrition. The food here has been rigorously tested to be safe and healthy for your cat, which makes it a good choice for constipated cats, since it contains no artificial fillers or flavorings and uses whole, wholesome ingredients.
4. Honest Kitchen the Grain Free Chicken Cat Food Recipe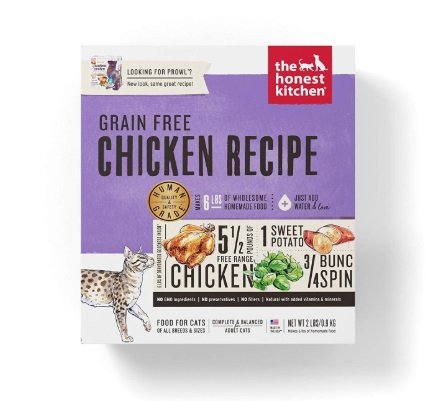 Pros:
Affordably priced.
All-natural ingredients.
Made without grain.
High water content is excellent for constipation.
Cons:
Your cat may not like it right away. Takes some getting used to.
You'll get wholesome, whole foods for your cat with this product. It uses human-grade ingredients that have been carefully and ethically sourced to ensure quality. The raw, unprocessed meat is excellent for your cat, and the grain-free formula can help with constipation.
It's a wet food that is made without additives and unnatural ingredients, so it's ideal for treating this medical problem swiftly and effectively. Your cat may need a while to get used to it, since it is not like conventional cat foods, though.
5. Stella & Chewy's Freeze Dried Food for Cat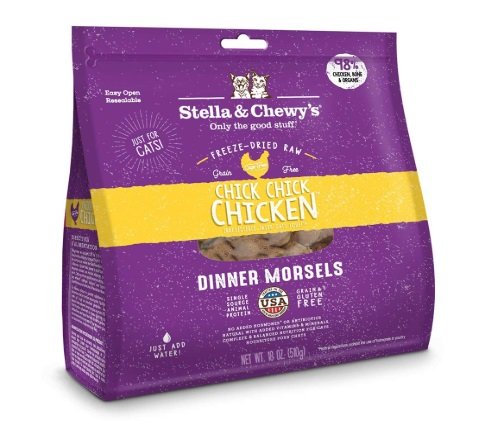 Pros:
Natural and safe.
Wholesome ingredients.
Cats love it.
Cons:
Very expensive.
New formula includes some extra veggies.
Stella & Chewy's cat food products are often among the most expensive natural cat food offerings available, but they are also some of the safest and healthiest.
Here you will find a cat food product that is very safe for your cat, that is palatable and easily digestible and that is loved by all kinds of cats- even picky eaters.
Causes and Risks for Constipation in Cats
What is it that leads to constipation? You should know that constipation doesn't have to be a normal occurrence for your cat. It is often the result of a poor diet, and insufficient fiber, medication side effects, blocked anal sacs, dehydration and obesity can be some of the most common causes. There are others as well, and it can be difficult to pinpoint what is causing the issue, which is why it's a good idea to take your cat to a veterinarian if the problem persists and if you want to get to the bottom of it.
The risks associated with constipation vary based on what is causing the problem in the first place. Constipation over time can cause your cat to become irritable, lethargic, sick and malnourished. If there is a medical problem that is to blame though, then that problem can get worse if the constipation continues.
Probably the most common risk for your cat is pain while trying to defecate. It will strain, and you may hear it crying as it tries to use the litter box. It may make regular visits to the litter box but not be able to do anything, and that can make for a very unhappy cat.
What to Consider Before You Buy Food for Constipation
One of the best ways to deal with constipation is to change your cat's diet. Dietary problems are the leading cause of constipation, and if that is the issue, then you want to be careful about what you buy your feline friend to eat. Here are a few things to keep in mind as you shop for food:
Food with high fiber content- In most cases, constipation can be cleared up by feeding your cat something with a bit more fiber in it than what it has been eating. Check the packing information of the food you plan to buy to see if it has a decent amount of fiber. Compare the fiber content of what you are getting to what you have been feeding your cat to see if there is a difference.
Extra water- Since constipation can be caused by dehydration, you should be giving your cat more water to compensate. The extra water will ease bowel movements which is great solution to the problem. You can do this by putting out extra water for your cat or feed it wet cat food, which contains more water than dry food, obviously.
Fatty foods- If you give your cat more fat in its diet, that can help with the constipation. You don't want to increase the fat content by a lot, but a small increase may make all the difference your cat needs to feel healthier.
Natural content- The more natural the food is, the better. If your pet is eating a lot of manufactured, processed and artificial ingredients, that can cause a variety of health problems, including constipation. Ensure that the food you give it is made from mostly or entirely natural products.
What to Avoid
In an effort to keep your cat healthy and to prevent constipation, you need to avoid giving your cat certain foods. Here are our top picks for food to keep away from constipated kitties:
Dairy- This has to go at the top of the list, not only because dairy is known to cause constipation in the first place, but also because people tend to give a lot of dairy to their cats, even though cats cannot digest it very well. In fact, your cat may be allergic to dairy, even if it likes to consume it, so keep this to a bare minimum in your cat's diet.
Plant fiber- Yes, you want to give your constipated cat some fiber, but it really should not be plant fiber, in general. Cats don't get much nutritional value from plants and eating veggies and other plant-based foods is not good for their digestion.
Artificial substances– Anytime you give your cat additives, artificial flavors, processed foods and other unnatural items, you are basically feeding them junk food. As you know, junk food can cause health problems over the long term, and it could be making your cat's situation worse. Avoid foods that contain artificial ingredients as much as possible and opt for raw, whole foods instead.
Grains- We want to specifically point out grains here because they can be found in a lot of cat food products. A small amount of grain in your cat's diet will not harm it and can simply be expelled by the body, but if your cat is constipated, then it would not be expelling unnecessary foods as well, so feeding your cat grain at this point can make things worse.
Final Thoughts
Those were our top choices for cat food to try for your constipated cat, and now you know what to look for when you are trying to find something to change your constipated cat's diet. It is important to remember that not all cats are the same. What suits one cat, may not be good for another.
This is why you should just try a different product, if your cat happens to not like what you got it. Eventually, you will find something that will keep your cat happy and healthy.