Best Limited Ingredient Cat Food
Not every cat can handle all the artificial flavors and complex ingredients of most cat foods you find on store shelves these days.
There are all sorts of additives, man-made ingredients and things that simply are not natural in many cat foods, and it doesn't always sit well with cats and their stomachs.
Limited ingredient cat food cuts down the number of ingredients to the bare essentials, stripping the food of a lot of additives and unnecessary components.
Quick Links: Best Limited Ingredient Cat Food
A lot of what is being taken out is simply filler, meant to pad out the food and cut costs for the manufacturers.
Limited ingredient cat food therefore tends to be more expensive than regular cat food. It contains the same amount of content as conventional cat food, but what it contains is of higher quality and therefore more expensive.
Since getting what you pay for holds true with this kind of product, the fewer and higher quality ingredients typically provide a healthier and more filling meal for your cat.
This kind of cat food is a little harder to find, but we will show you some of the best options available to you to help you make an informed decision.
Why You Should Buy Limited Ingredient Cat Food
There are a number of benefits to buying limited ingredient cat food for your pet:
Reduce allergic reactions: Not every cat will have allergies to food, but for those that do, using limited ingredient foods is the best way to deal with the problem.
Healthier diet for your cat- Limited ingredient cat food tends to be much more wholesome than conventional cat foods, mainly because it lacks fillers and artificial content that can cause health problems over time.
Better weight control– With fewer ingredients, the food is less likely to contain fattening content, such as oils and gravy that lacks nutritional value but is full of empty calories.
Uses hydrolyzed proteins- These are broken down proteins that are so simplified that, according to KittyCatter.com, the cat's body won't be able to recognize the allergen. Many limited ingredient cat foods use these to reduce allergic reactions.
More energy for your cat– Healthier food that your cat enjoys is going to boost your cat's energy levels. The feline is more likely to eat more of the food and to be in better shape because they are keeping their food down and feeling better all the time. Even if you aren't seeing some of the problems their food may be causing, switching to limited ingredient cat food can help your cat in lots of ways.
The Top 5 Best Limited Ingredient Cat Food
Here are our top picks for the best limited ingredient cat food you should consider:
1. Natural Balance Limited Ingredient Dry Cat Food Green Pea & Chicken
Pros:
Relatively inexpensive.
Made with no grains.
Uses high quality meat.
Cons:
High carb content.
Relatively low protein content.
When creating this specialized cat food, Natural Balance opted for as few ingredients as possible. They also chose to only use high quality ingredients, such as duck, and then break those ingredients down to make them easy for cats to digest and to reduce the risk of causing an allergic reaction.
The formula they used is designed to help cats have a healthy, shiny coat and to meet their nutritional needs, so cat owners don't have to worry about the lack of ingredients providing little nutritional value for their pets. The company tests their food thoroughly to ensure that it is safe for cats, and that allows consumers to buy their products with confidence.
It's also worth noting that they post their testing results in their website for consumers to examine for themselves. This transparency makes them one of the most popular healthy cat food brands. The formula used to craft this product resulted in a dry cat food that is high in carbohydrates but low in protein. In some cases, cat owners may need to subsidize this with another protein option.
2. Natural Balance Limited Ingredient Dry Cat Food Duck Recipe
Pros:
One of the least expensive limited ingredient options.
Packed with nutrients.
Uses only the finest quality ingredients.
Cons:
Protein levels are low and carbohydrate levels are high.
This is another Natural Balance product that limits how many ingredients it contains to reduce allergen triggers. It uses no grains whatsoever and is made from high quality chicken. It is packed with nutrients that enable cats to grow full, shiny fur coats and to get a proper dietary nutrition.
It can be a little light on protein and heavy on the carbs, but unless your cat is either overweight or incredibly active, it should not be a problem. Some pet owners just add a little extra protein into the meals to go along with this cat food and ensure that their cat has a balanced diet. Natural Balance made sure to craft this product without any artificial flavors.
That means no man-made chemicals and no food coloring- both of which are basically providing empty calories. Only the highest quality ingredients were used, and that generally results in an expensive product. However, this is one of the cheaper options for limited ingredient cat food.
3. BLUE Basics Limited-Ingredient Grain Free Mature Dry Cat Food
Pros:
Includes Omega-3.
Uses natural ingredients.
Nutrients are processed to preserve their potency.
Cons:
Potatoes in the food could cause sensitive cats some allergies.
This limited ingredient product is made from potatoes, turkey, peas and pumpkin, as well as some other wholesome ingredients. It contains no soy, eggs, dairy or wheat, which are all common allergy triggers. The manufacturers packed it with Omega-3 fish oil to ensure cats develop a shiny coat and healthy skin. The kibble bits that make up this product are designed to provide your cat with lots of antioxidants, ensuring a healthy immune system.
The vitamins and minerals in this product are processed in a different way from the rest of the ingredients. Because they could lose their potency if they were just added to the cat food just like everything else, they are prepared separately. A lower temperature is used when processing them during preparation to ensure that they do not degrade and that they remain effective.
BLUE Basics made this product specifically for older cats, but they have similar selections available for kittens, so make sure that you give your cat the right kind of food- something that is made specifically for that cat.
4. Best wet cat food with limited ingredients-Natural Balance Limited Ingredient Diets Duck & Green Pea Formula Wet Cat Food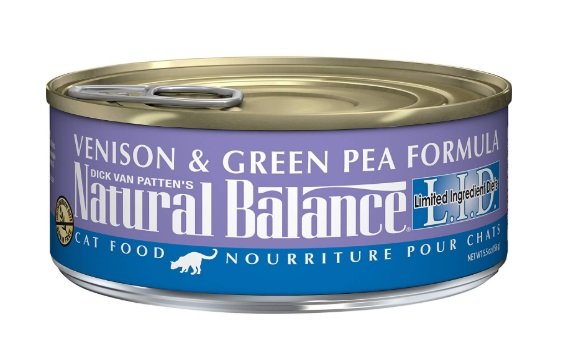 Pros:
Made without most allergy-triggering ingredients.
Uses prime venison cuts for a quality product.
Rigorously tested for safety.
Cons:
Your cat may not like all the flavors
Using quality venison meat, this high end, limited ingredient cat food is one of the better wet cat food options available. There are no artificial colors or flavors in this product and no preservatives are used. The vitamins that are included are specifically designed to help your cat grow its coat out full, healthy and shiny and to protect its skin from disease and irritation.
This is a product that has lots of nutrients in it as well, so you should have no fears about the limited ingredients depriving your cat of some basic essentials. All that has been taken out, when compared to traditional cat food, are fillers and additives that would not be good for your cat anyway.
Natural Balance takes pride in testing its products thoroughly and ensuring that those results are shared with the public. If you are curious about how well this cat food performed on a particular test, you can check out the company website to see for yourself.
5. Nature's Variety Instinct Original Grain Free Recipe Natural Wet Canned Cat Food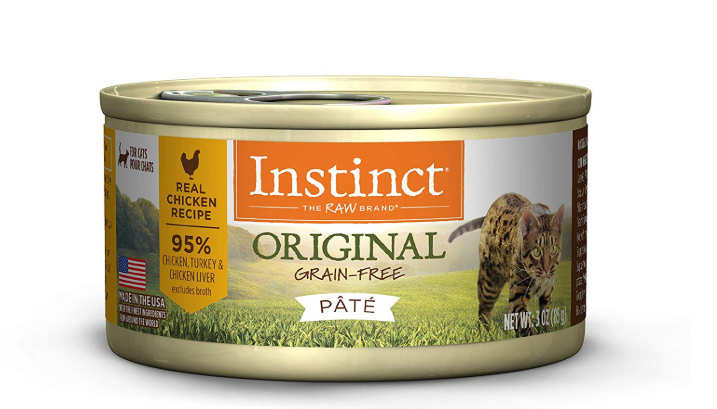 Pros:
Contains none of the common allergens- potato, soy, wheat and corn.
Contains no artificial flavors or colors.
Made from premium meats.
Cons:
More expensive than the average limited ingredient cat food
The pate texture is what makes this stand apart from some of the other limited ingredient wet cat food options. There isn't a bunch of gravy to deal with, which means you may have to do a bit more work to get it out of the can, but you get more product for your money instead of a bunch of fillers. Those ingredients, by the way, are fresh meats, such as rabbit, chicken, duck and beef. These are high quality meats, and only one or two meats are used for each flavor variety.
That greatly reduces the chance that your cat will encounter something it is allergic to. The price is a little higher than most low ingredient cat foods, but many consumers are okay with that if their cat takes a liking to the food and if that food reduces their allergic reactions and gastrointestinal problems, which it is designed to do.
6. ZiwiPeak Canned Cat Cuisine
Pros:
Designed to appeal to picky eaters.
Free from most known allergens.
A natural source of nutrients that promote joint health.
For this wet cat food, ZiwiPeak went with a chunked loaf texture that makes the food easy to consume and digest. That can be helpful for pickier eaters. The food is made from New Zealand-sourced venison that is ethically raised. The manufacturers have gone to great lengths to ensure that their food is not only good for cats and easy on their digestion but also sourced in an ethical fashion.
As expected from a limited ingredient cat food that is designed to treat allergy symptoms, there are no man-made products included. That means that all the flavors are authentic and come straight from natural ingredients. It also means that there is little chance that your cat will develop an allergic reaction to something in the food.
The food is designed to mimic a predator diet- consisting of bone, organs and meat- which provides the cat with a full and balanced diet complete with the nutrition needed to live healthy, happy lives.
Cat Food Allergies
Some cats will have a bad reaction to certain cat foods, particularly those that have a lot of ingredients. This may be pet allergies, or it could just be food intolerance, and PetEducation.com notes that it is important to tell the difference.
Pet allergies will be characterized by a skin reaction most of the time, such as hair falling out or itchiness. Food intolerance is more likely to cause diarrhea or vomiting. If you aren't sure which one your cat has, you can either take it to a veterinarian or start eliminating certain foods in its diet to find out which one is causing problems.
What to avoid
The most common cat food allergy triggers are potatoes, soy, grains (wheat, rice, etc.) and whole meats. It is typically proteins that are to blame for an allergic reaction, and these tend to be from common cat food ingredients.
So, if your cat is showing signs of disinterest in the food or their health condition is changing after you give them a certain type of food, then you may want to consider that they have a food allergy. At that point, it is time to change their diet. You may have to go through some trial and error before you figure out what your cat is allergic to or intolerant of.
Overview
Cutting out some of the ingredients from your cat's diet can help to decrease their chances of suffering an allergic reaction. However, you need to keep in mind that the more often they eat the same foods, the more likely they are to develop an allergic reaction to it.
So, even if you are feeding your cat limited ingredient foods, over time they could develop an allergy to one of the ingredients, and you may want to change their diet from time to time to prevent that from happening.
After all, most cat food allergies are due to very common ingredients. According to PetMD, the best way to test for the cause of your cat's allergy is to eliminate a lot of common ingredients from their food and diet and then add some of those back in gradually until you identify the trigger.
Once you know what food causes the cat to have a bad reaction, you can simply avoid feeding it to your cat. You'll be able to ensure your cat still gets enough nutrients and protein by using one of the limited ingredient cat foods until you can figure out what kind of food is giving your cat problems. Hopefully, one of the selections on this list we have put together will work well for you and your cat.