140 Cute And Adorable Parakeet Names With Meaning
This page contains affiliate links. We may earn money or products from the companies mentioned in this post through our independently chosen links, which earn us a commission. Learn More
It can be tough to find the perfect name for your parakeet, which is why we put together this list of the finest bird names for boy or girl budgies AKA parakeets, with a section of unisex names that can work for either one.
Male Names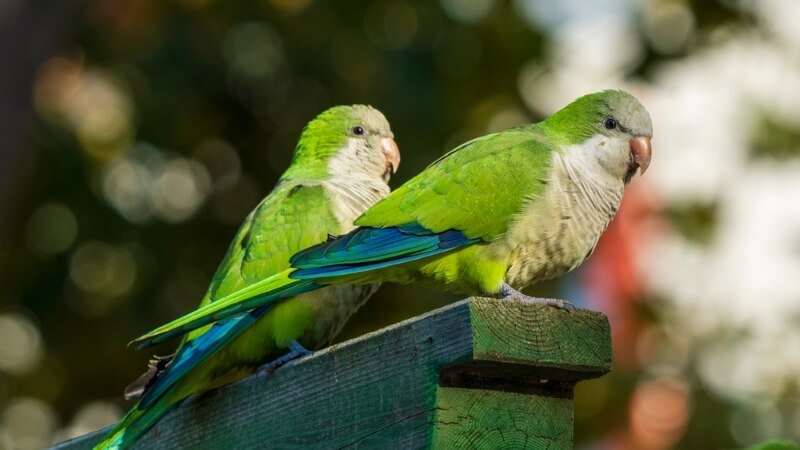 Try one of these great guy names for your bird:
1. Sammy– A simple, strong name works well for most birds.
2. Peanut– Name him after his favorite food.
3. Hootie– A great choice for noisy birds.
4. Donald– Named after the cartoon character.
5. Zazu– You could pick the bird character from the Lion King.
6. Daffy– Or you could go with that classic argumentative duck.
7. Tweety– Another cartoon classic.
8. Bobo– This cute name will make your bird seem sweet.
9. Peabody– A riff on his pea-green color.
10. Romeo– For birds that think they are all that.
11. Elvis– For showoff birds.
12. Cassanova– Is your bird a ladies' man kind of avian?
13. Barney– Named after that famous purple and green dinosaur.
14. Chip– A friendly name for your bird.
15. Pip– We love friendly, cutesy names like these.
16. Buddy– Perfect for the bird who is your best friend.
17. Booboo– Another cute name to consider.
18. Handsome– Your bird probably thinks he is quite dashing.
19. King– Ideal name for regal birds.20. Tiger- Pick this one for fiercer birds.
21. Swole– Perfect for the bird who acts like he is ripped.
22. Rocky– Good name for a bird who is a fighter.
23. James Bond– For that suave, sophisticated bird.
24. Casper– For the friendly bird.
25. Billy– Some people like normal, human names for their parakeet
26. Leonardo– You could name your bird after a ninja turtle.
27. Raphael– Try this ninja turtle name for argumentative birds.
28. Donatello– Or this one for your intelligent bird.
29. Michelangelo– You could choose this for the playful bird.
30. Milton– Try a distinguished name for your parakeet
31. Alfred– Here is another strong, dignified name.
32. Tennyson– Or this lovely English name for your songbird.
33. John Legend– You can use this name if your bird is a real crooner.
34. Pipsqueak– A great name for smaller birds.
35. Tiny– The name you choose can be quite literal.
36. Gumby– For green birds like the green cartoon character.
37. Oscar– Like the Sesame Street grouch.
38. Petrie– A common name for parakeets.
39. Olly– Try this classic bird name.
40. Armageddon– Or go way different with something hilarious.
Female Names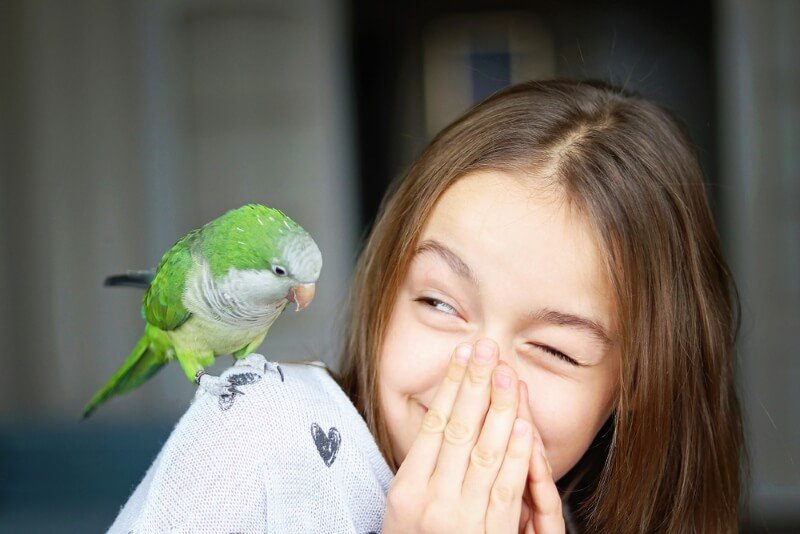 Pick one of these for your lovely lady bird:
41. Baby– For sweet birds.42. Polly- A classic parakeet name.
43. Peaches– Try this one for a lovely bird.
44. Gorgeous– Do you think your bird is pretty? Why not name her like she is?
45. Penny– A sweet, cute name for your bird.
46. Harley– This one is definitely en vogue right now.
47. Jewel– We love pretty names for female birds.
48. Pepper– For a bird with a little bite to her.
49. Juliet– Try this for a bird who really goes after the male birds.
50. Chloe– This popular girls' name may work well.
51. Birdie– We love literal names for birds.
52. Dove– Your bird may be as sweet as a dove.
53. Precious– For the bird you love and who loves you back.
54. Sweetie– Is your bird a sweetheart? Try this one!
55. Honey– Use this for a sweet, little bird.
56. Roxy– A good name for a bird that likes to sing.
57. Diva– For birds that think they are on another level.
58. Ivy– Green names for a green bird.
59. Fern– For a lovely, green bird.
60. Rose– A great name for a bird you think is beautiful.
61. Rihanna– Named after the famed singer.
62. Taylor– Why not use a famous singer's name for your sweet bird?
63. Jasmine– Or try this lovely name instead.
64. Jade– This green jewel is a great namesake.
65. Emerald– Here is another green jewel name.
66. Crystal– Jewels make great names for female parakeet
67. Sweetpea– Because your green bird is so sweet.
68. Goldie– A common name for parakeet birds.
69. Maizey– For golden, green birds, since the name is similar to a word for corn.
70. Daisy– A sweet, feminine name for your parakeet
71. Queen– If your bird thinks she is royalty, why not name her this?
72. Princess– For birds that are royally behaved.
73. Faith– A great girl's name for your parakeet
74. Priscilla– For pompous birds who are full of themselves.
75. Prim– Another good name for a self-centered bird.
76. Katniss– Named after the film character.
77. Mockingjay– Named after the popular movie series.
78. Delilah– For a bird that is lovely and likes to flirt with other birds.
79. Huntress– For a bird with some serious food-finding skills.
80. Kimmy– Or you could just use a nice, normal human name for your bird.
81. Isis– You could name your bird after an Egyptian god.
82. Cleopatra– Or an Egyptian queen.
83. Barbie– Great for stylish-looking birds.
84. Doll– For sweet, adorable birds.
85. Lime– Try this green name for your parakeet bird.
Baby Parakeet Names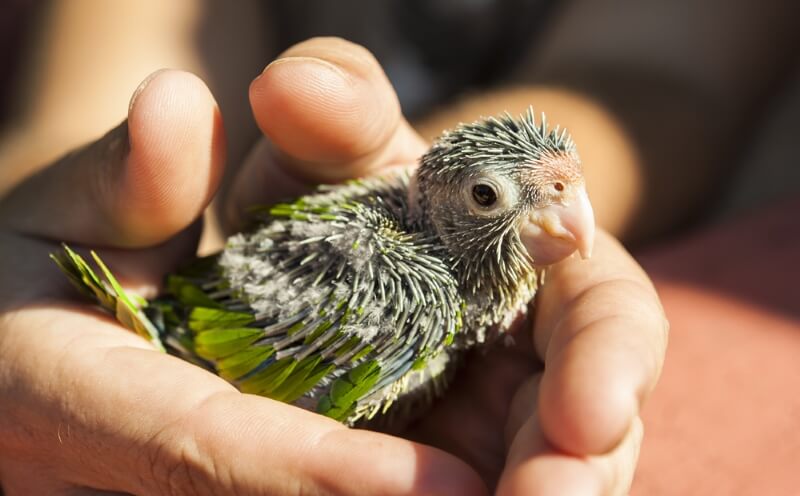 Here are some great names that work for male or female birds:
86. Birdie– We love these literal names.
87. Nibbles– For a bird that likes to eat all day long.
88. Chipper– For happy birds with sweet voices.
89. Sunshine– Try this for a bird that makes you happy.
90. Jolly– You can name joyful bird with this happy name.
91. Sunny– Good for a bird with a sunny disposition.
92. Crackers– Parakeets and budgies are known for liking crackers.
93. Taco– Try a funny name for your bird.
94. Pippin– This is a classic for parakeet birds.
95. Avocado– The popular plant is a great name for green birds.
96. Shortie– Try this one for small birds.
97. Disco– This is a fun name for a bird.
98. Coco– This is another great name for your bird.
99. Kiwi– The green color this name evokes is ideal for budgies.
100. Jolly– Try this for your happy bird.
101. Phoenix– A powerful name may suit your bird.
102. Pompadour– Here is a fun name for fancy-looking birds.
103. Yakky– Good for a talkative bird.
104. Cheepers– Another good name for a talkative bird.
105. Pickles– Try this green name for your parakeet.
106. Megabyte– Punny names are simply the best.
107. Chippie– This buddy-type name is good for friendly birds.
108. Pirate– Parakeets have long been associated with pirates.
109. Piglet– Here is a cute name for your parakeet
110. Nugget– Another funny name for your consideration.
111. Pea– Green names work really well for parakeets.
112. Little Foot– Literal names are always a good choice.
113. Poochy– Cutesy names make for great bird monikers.
114. Twinkles– We love cute names like this.
115. Muffin– Use this for an adorable bird.
116. Crispy– You may want to go with a funny name.
117. Trickster– Try this if your bird is mischievous.
118. Scooter– Here is a fun choice for your parakeet
119. Perchy– A play on the word "perch".
120. Percy– Similar to Perchy but more human sounding.
Parakeet Fruit and Vegetables Pet Names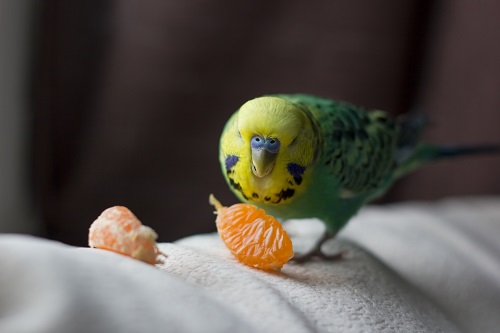 Jujube – a fruit-flavored gumdrop or lozenge
Juniper berry – are used as a spice and particularly in European cuisine
Kiwano – commonly name as horned melon
Lemon – a yellow in color and oval shaped citrus fruit.
Loganberry – a red-fruited upright-growing dewberry
Loquat – a small yellow egg-shaped acidic fruit.
Longan – a tropical fruit similar to lychee with a brown shell and sweet, white flesh
Lychee – a pink to red color fruit with leathery skin
Mangosteen – the fruit with sweet juice and reddish to brown rind.
Marionberry – a large black juicy fruit.
Cantaloupe – a round melon with yellow or green skin and sweet, orange flesh
Galia melon – a small rounded melon of a variety with rough skin and fragrant orange flesh.
Watermelon – a plant that produces vines and flowers that ripen into the large, juicy fruit.
Miracle fruit – small, red, edible berry.
Mulberry – a small and purple fruit.
Nectarine – a fruit with smooth, thin and brightly colored skin.
Nance – grow in bunches and turn orange or yellow when they are ripe.
Orange – a fruit with high content of Vitamin C
Blood orange – type of orange with red flesh.
Mandarine – a small fruit with loose skin and has yellow to orange color.
We hope you found he perfect name for your budgie or parakeet from this list or at least got inspired to pick a name you love.
Was this article helpful?
Let us know what you think.