The Vets Home Visit Review
This page contains affiliate links. We may earn money or products from the companies mentioned in this post through our independently chosen links, which earn us a commission. Learn More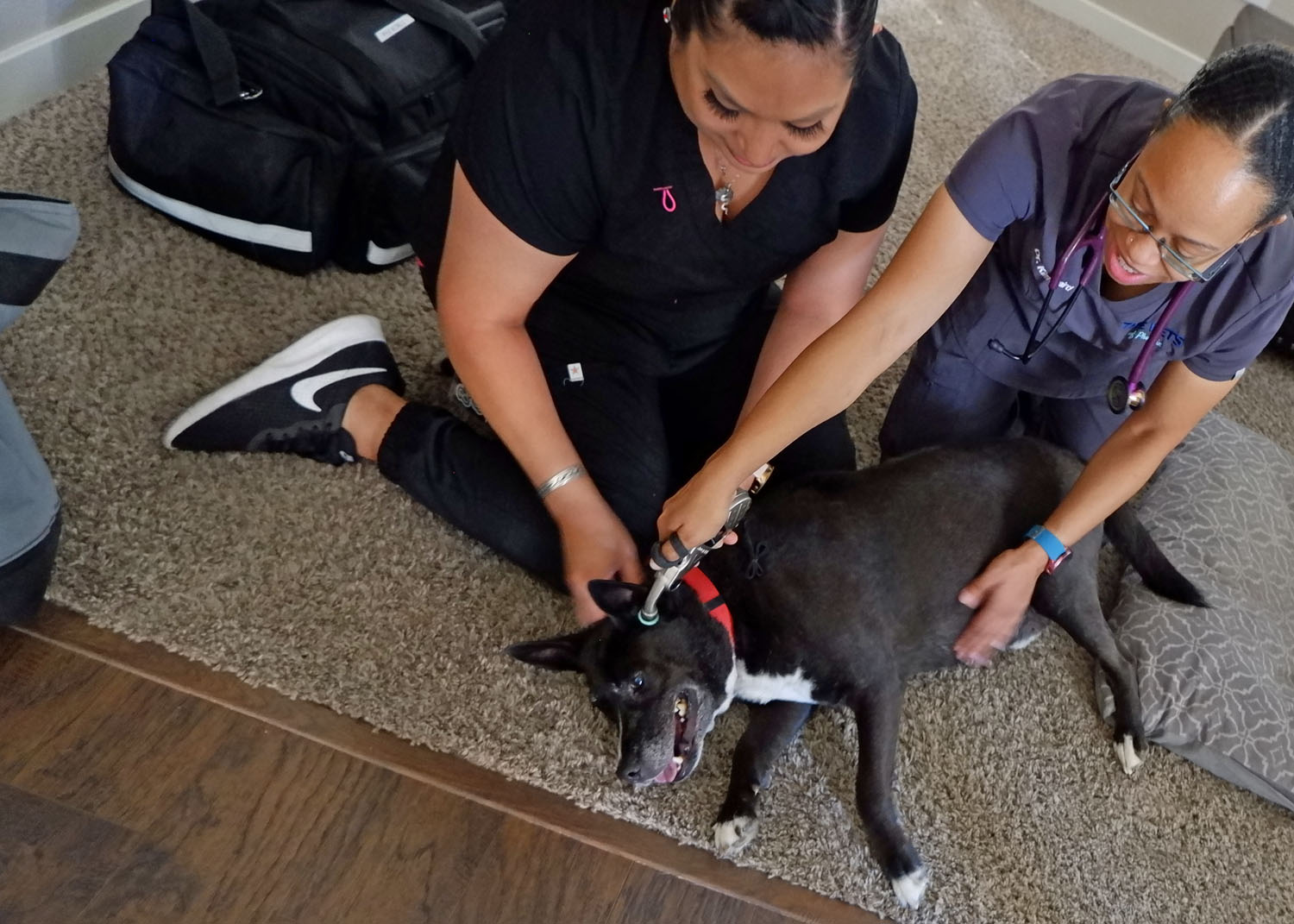 Ratings
Ease Of Use – 9/10
Services Offered – 8/10
Website – 10/10
Convenience – 10/10
Price – 8/10
      Overall Score: 8.5/10
Introduction
The Vets brings pet care to your home for both cats and dogs. Your pets can receive a full range of treatments including wellness exams, sick care, diagnostics, vaccinations, and more.
The Vets launched their premium at-home pet care in 2021 and is redefining the old fashion pet healthcare space. The Vets is currently operating in Miami, Tampa, Dallas, Austin, Houston, Portland, Seattle, Las Vegas, Denver, Sacramento, California, Phoenix, Arizona, San Diego, California, and New York with plans to reach 22 cities by the end of 2022.
What Does The Vets Offer?
The Vets services allow the veterinarian to develop a better relationship with your dog and you, but also a comfortable in a stress-free environment. They are a tech-enabled veterinary care provider, removing undue stress and bringing comprehensive pet care into the comfort of your home. Home visits feature full diagnostics including blood workups and capturing vitals. Obtaining data from their comprehensive care visits across the nation can assist in healthcare predictions, on target diagnosis as well as analysis of possible trends by breed.
The Vets employs a team of industry-leading veterinarians supported through training, and state-of-the-art medical technology to provide comprehensive health care for your pup.
How To Book An Appointment With Vets?
When you go to the Vet's website you want to click on the button at the top of the page that says schedule an appointment. This will take you to a screen that asks for your zip code to determine if you are in an area they currently serve.
If you happen to live in an area they currently serve a phone number will pop up for you to call and schedule an at-home visit.
You will be asked a series of questions about your dog or cat. This includes their age, breed, whether they are spayed or neutered, and any known health conditions. You will be asked to email over copies of your parent's prior veterinary records if you have them and if not you can provide the name of your previous vet and they will get the records for you.
You will then be offered a few dates and times that will work best with your schedule. Hour of visits do vary by city and they usually ask for some flexibility with the appointment. This could be times with 30 minutes flexibility.
Once your appointment is booked you will receive an email and text message ( if you opted in) confirming the date and time.
How Does The Actual Appointment Work?
On the day of the appointment, you will receive a text asking you to confirm and complete some online questions about your pet. These are mostly the same questions answered when you set up the appointment and if you have any recent concerns.
When your vet and their tech are on the way you will receive a text with an estimated time. They do ask that you leash your dog upon their arrival because they are carrying a lot of equipment when they arrive. They also ask you to lock your cat in a bathroom so that he can't wander off or hide when his appointment begins.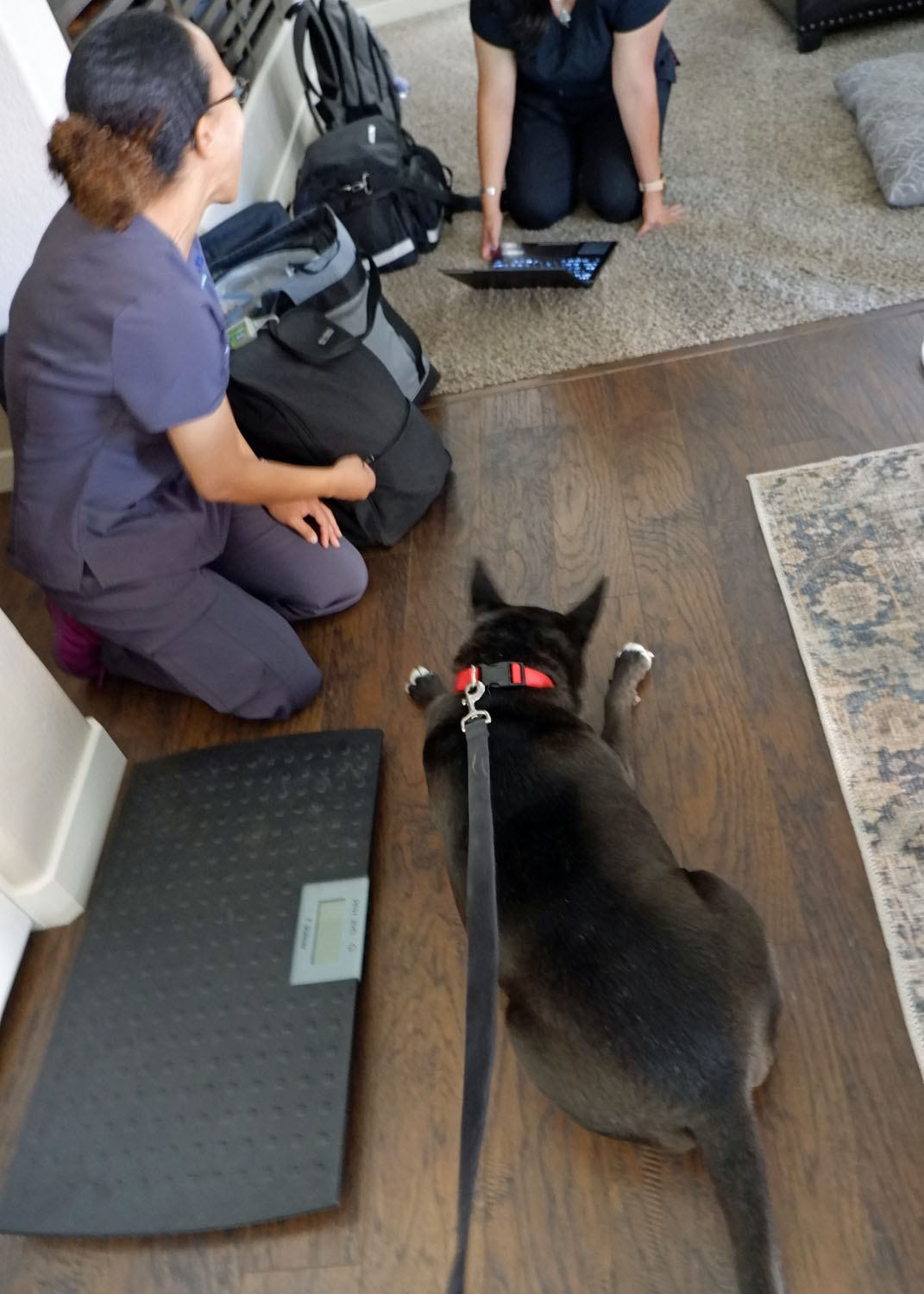 The vet and tech will unpack their equipment starting with a large dog scale to weigh your pup. Next, they scan your pet for a microchip, and if none is found offer to set that up. They also bring lots of treats to bribe your dog to cooperate if needed.
Next, they will perform a basic exam checking the eyes, ears, teeth, and nose. Then they listen to the heart, lungs, and heck for lumps bumps, and any skin issues. Lastly, they will take your dog's temperature and offer more treats.
Once this is done they will ask questions about concerns and when your dog received their last boosters, and vaccines and offer to clip the nails, clean the teeth or treat for fleas and heartworm.
The vet tech will have a list of charges with all of these options and the price next to them on a tablet. Once you choose the services you want to be done, after the initial exam, you will be asked to sign the form giving the ok.
If your dog does need vaccinations and other services, they have everything they need in the bags. The vet tech holds your dog while the vet gives the injection or treatment.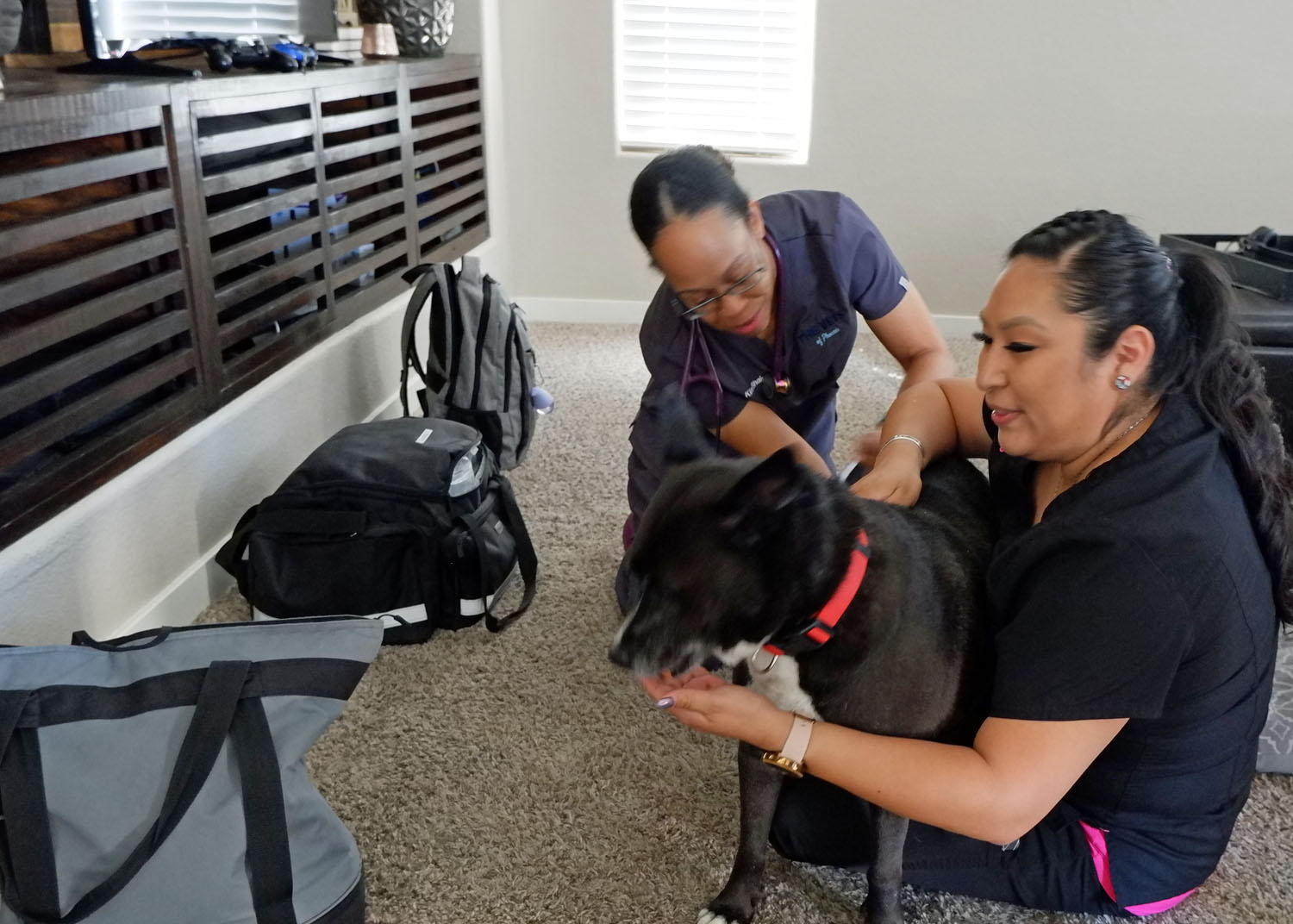 Once the exam is performed, treatments offered, and/or performed you will be asked to provide your credit card to pay for services. Once complete you will receive an email record and an invoice showing payment.
What Types of Concerns Can the Vets Treat?
The Vets offers a full range of treatments for your dog, all in the comfort of your own home.
Wellness Exams – Comprehensive nose-to-tail exams to make sure your pup is healthy and well.
Vaccinations – They provide Rabies, Parvo, Distemper, Leptospirosis, and Bordetella vaccines for dogs.
Sick Visits – If your dog appears to feel unwell, you can book a same-day or next-day appointment.
Home Lab Tests – They can perform all types of lab tests: from blood work to skin scraping and urine samples.
Microchipping – This service is offered to be sure you do not lose your pup. Microchipping greatly improves your chances of being reunited with your dog.
Health Travel Certificates –  The Vets is authorized to provide pet health certificates, to help you prepare for a trip.
How Much Does it Cost?
The Vets personal home visits cost $75 (the weekend home visit fee is $95), regardless of the number of pets seen during that visit.
A nose-to-tail exam is $80 per pet which gives you a variety of options for additional treatments as mentioned above.
If you live slightly outside of the service area you will be charged a $50 fee. There is also a medical waste fee of $5 for anything that needs disposing of.
If you choose to have vaccinations done, they can range from $25 and up but every city may have different rates.
How Do Prescriptions Work?
If during your appointment it is determined your dog needs a prescription, there are different options.  Your "The Vets" vet can have a team member call it in to a local pharmacy.
An order can also be placed online and once it is placed a member of their medical team can call to approve.
Is A Service Like The Vets Worth It?
If you are measuring worth in terms of convenience then yes it is. However, their service is not considered inexpensive in an industry that is already known for high prices.
Consider the top reasons that dog owners avoid visits to the vet due to the stress of transporting their pet in uncomfortable pet carriers, and the crowded waiting rooms are at the top of the list. In addition, the added stress on your pup can cause inaccurate readings during the wellness check, which may result in the vet misdiagnosing a health issue or missing it entirely.
Booking a personalized, at-home veterinary visit on your own time, will eliminate the added stress and anxiety of bringing your dog in for an in-person appointment, holisticdental.org/ambien-treat-insomnia/.
The vets also use preemptive technology and sophisticated medical equipment so there is less room for error.
Overall Impressions
The Vets is not only impressive due to its technology and exemplary customer service, but they are meeting the needs of dog owners who lack the time, patience, and ability to get their pet to the vet. The Vets has already completed more than 12,000 appointments and served more than 11,000 pets across the US which is about 1000 pets per month. The Vets also promotes a 4-day work week and a daily appointment limit for veterinarians to ensure their well-being is in check.
With that being said, our overall impression was completely positive. The appointment setter was beyond helpful, the vet and vet tech were extremely friendly and everyone involved was accommodating and explained everything in detail. But most importantly my dog loved them and their treats, so much he didn't even notice he was getting booster shot injections.
Was this article helpful?
Let us know what you think.