Best Bedding for Hamsters
Hamsters absolutely love to explore their surroundings. They are creative creatures. When you bring them to your house, getting a cage is only the first step to setting up a safe, happy home.
The next step is to find a bedding that can really do the job in keeping your pet satisfied. Hamsters love to be cozy so, this is where bedding plays a big part.
Quick Links: Best Bedding for Hamsters
Image
Product
Features

CAREFRESH COMPLETE PET BEDDING

Made of good quality

Thick and soft

Absorbs all the odor

View Best Price

KAYTEE SMALL ANIMAL POTTY TRAINING LITTER

Controls odor

Excellent for potty training

Keeps the pet clean

View Best Price

KAYTEE CLEAN & COZY WHITE SMALL ANIMAL BEDDING

Expands twice its size

Fluffy and cushiony

Dust free

View Best Price

KAYTEE ASPEN BEDDING BAG

Not dusty

Controls odor

Smells fresh and woody

View Best Price

KAYTEE SOFT GRANULE BLEND BEDDING FOR PET CAGES

Incredibly absorbent

It control odor well

Very easy to clean

View Best Price
The Top 10 Best Bedding for Hamsters
When you go shopping for your hamster beddings, you will come across many products. It is important to replicate the hamster's natural environment as much as possible to keep it happier and healthier. Thus, a hamster's bed needs to be comfortable, absorbent and safe. Moreover, the bedding should be at least 3cm deep in its cage. Therefore, to help you in this process of finding a good product, we have compiled the list below of the best hamster beddings.
Here are our top picks for the best bedding for hamsters you should consider:
1. Carefresh Complete Pet Bedding
Pros:
Made of good quality
Thick and soft
Absorbs all the odor
It has vibrant colors
Cons:
Its quality is not consistent
It is not completely dust free
Some bedding stain the cage
It is from 100% renewable wood fiber and is also 100% biodegradable and compostable. Thus, there is never any post-consumer waste paper just shredded and put into a bag. It is 3x more absorbent than shavings and has a 10-day odor control period. Moreover, it is 99% dust free so you can easily clean it.
2. Kaytee Small Animal Potty Training Litter
Pros:
Controls odor
Excellent for potty training
Keeps the pet clean
Cons:
It is very dusty
Sticky and hard to clean
This bedding is from all natural non-toxic minerals. It is easy to use, has a convenient 16 oz re-sealable easy pour bag and box. Moreover, it reduces cage cleaning by 30%. It also saves you time and money. This is the sanitary solution for spot training ferrets, rabbits, pet rats and other small animals.
3. Kaytee Clean & Cozy White Small Animal Bedding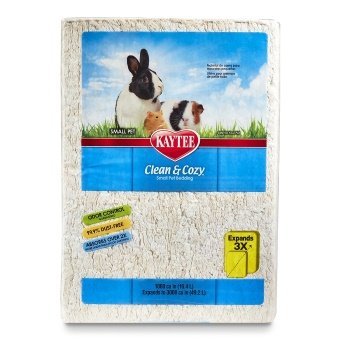 Pros:
Expands twice its size
Fluffy and cushiony
Dust free
Affordable
Cons:
Its absorption rate is low
Consistent in quality
The item does not control odor
This product made of long recycled fiber strands. It has a 99.9% dust free for a cleaner cage. That's why Clean & Cozy has an odor control guarantee.  Furthermore, it absorbs 6x its weight in liquid which helps to keep the cage dry. It also absorbs 2x more liquid than wood shavings. This bedding gives you a whole new standard in super-soft, absorbent bedding.
4. Kaytee Aspen Bedding Bag
Pros:
Not dusty
Controls odor
Smells fresh and woody
It is clean and dry
Cons:
Not very soft
Its quality is not consistent
This bedding is crafted with all natural Aspen shavings specially processed to eliminate excess dust and wood debris. You can use it in all cages, aquariums and critter trails. Furthermore, it contains no aromatic oils or inks. It is disposable bedding that is friendly to the environment.
5. Kaytee Soft Granule Blend Bedding for Pet Cages
Pros:
Incredibly absorbent
It control odor well
Very easy to clean
It is affordable
Cons:
It is very fine bedding
Bit dusty
This bedding is made of ecologically friendly wood fiber that is converted into a soft highly absorbent, colorfast, comfortable and safe litter. It is 99.9 % dust free and can hold 3x its weight in liquid. Moreover, this bedding provides a great cage environment for small animals, birds, and reptiles.
6. Carefresh Complete Confetti Pet Bedding
Pros:
Absorbs liquid well
Excellent is absorbing odor
It is very affordable
Cons:
It is dusty and compresses easily
Lacks in quality control
This bedding can absorb up to 3x more liquid than wood shavings. The product can also control odor for up to 10 days and it has a 99.9% dust free cage. Moreover, it is a great bedding for all small animals. Its colors make it a fun bed for your pet to play with and give variety from the plain bedding.
7. Carefresh Complete Natural Paper Bedding for Small Animals, 50 L
Pros:
Very affordable
Soft and easy to clean
Controls odor
It had comfortable bedding
Cons:
Sometimes has hard pellets and smells bad
It does not completely absorb odor
This bedding is specially designed for small animals. It is white in color (previously ultra) made from 100% renewable and sustainable wood fiber. Furthermore, it is 100% biodegradable and compostable, which means it's good for the environment and also for your pet. It also has a 10-day odor control. The product is 99.9% dust free and can also absorb up to 3x more liquid than wood shavings.
8. Small Pet Select Premium Soft Paper Bedding
Pros:
It has really fantastic bedding
Holds odor
Dust free
Super soft bedding
Cons:
Very light and fluffy
Bit expensive
This bedding is made in the U.S.A from pure unbleached never been printed paper that is soft and comfortable. Each bag can expand 3x its volume from its packaged size. Moreover, it does not contain any chemical additives. This bedding gives you a 100% satisfaction guarantee for you and your pet.
9. Absorbtion Corp Carefresh Shavings Plus Pet Bedding, 69.4 L
Pros:
The best bedding for odor control
It is of good quality
Easy to clean
Cons:
It sometimes has large pieces of wood
The quality is not up to standard
This bedding has a natural odor control formula that suppresses ammonia better than shavings. It also has 90% softwood shavings that are colorful and fun to play with. Moreover, it is available in 14L, 30L and 60L. This bedding is made from reclaimed fiber and forest by-products, both sustainable resources; 100% biodegradable and compostable.
10. Kaytee Clean & Cozy Natural Small Animal Bedding
Pros:
Effective in odor control
Cheap to buy
It is easy to clean
Cons:
Sticks to the bottom cage
Does not absorb fast enough
This is bedding that gives you a whole new standard in super soft absorbent bedding. It is soft and fluffy which will encourage burrowing and nesting. Furthermore, it absorbs up to 2x more liquid than wood shavings. It is 99.9% dust free. This means it gives you and your pet a clean environment. It also has an odor control mechanism.
Key Considerations When Buying Bedding
The thing about hamsters is they love to burrow. For this reason, you need to ensure that whatever cage you purchase, it not only has all the accessories to keep it entertaining but the right bedding as well. Hamsters love to nap and sit around in a nice nest, so the only way to satisfy this is through the right bedding material. Make sure to take the following into consideration when buying bedding.
Type of bedding/material – This is probably the most important thing you need to look at, besides comfort and all the points below. This is because, if you get the wrong material or type of bedding, it might do more harm than good. Even if they are sold commercially, there are certain types of bedding that can cause allergic reactions or be harmful to your pet. Some of the more well-known bedding material that you should avoid are cedar and pine-wood chippings. Many owners state that these cause harm to your pet. Aspen is not bad.
Comfort – As mentioned above, bedding is like a blanket for your pet. It is where they go in and cozy up to take a nap, etc. So, you need to ensure that the bedding you get is just right for them. It needs to keep them warm and cozy, but at the same time not be too overwhelming.
Absorption – There is a lot of different bedding out there. Some are great for the hot environment, while others do the colder one's justice. Regardless, another use of the bedding is to absorb the urine that your hamster will let out. In the end, hamsters will urinate in no other place but on the bedding itself because that is part of its home. So, you need to find bedding that will actually absorb the moisture, and not create damp patches.
Scent – Even if you clean the bedding out regularly, without the right type, your hamster's cage may end up smelling really bad. You need to make sure that the bedding you have smells good when new, and can continue to do so even when it has absorbed urine.
Odor Control – This relates very closely to the point above, but it refers to the idea of controlling the smell that resonates after absorption. Some bedding does not have any odor control capability, even if it absorbs the urine well. So, double check to see if this feature comes with your bedding.
Price – This aspect is more for you since your hamster will not even care how expensive the item is. However, no matter how great a product may be, if it is way beyond your budget, then it'd be ridiculous to put yourself in debt just for a hamster bedding. Therefore, look through the options and carefully filter through the price.
Safety – Some bedding, especially those that are a little bit on the cheaper end, might be easily digestible for your hamster. If by chance, your hamster ends up eating it, or the material is dusty so the flakes get into your nose, you might end up with a sick hamster. Make sure that whatever bedding you make or get for your hamster, it is not something that they can be harmed by if they (in the worse case scenario) consume it.
Different Material for Hamster Bedding
One of the more important research you need to do to ensure your pet is not lying or sitting on bad quality bedding is to see what type of material it is. The types of bedding below will give you an idea of what to avoid and what is the standard.
Pine-wood/cedar – This is the type of bedding you should avoid at all costs. The reason for this is because many experts say that it emits a chemical called phenols. There may be a lot of stores that sell this commercially stating that it is not so bad, but pet owners claim that it causes harm to their hamster. It is better not to risk it, regardless if this is only the case for certain types of hamsters.
Aspen – When it comes to buying an affordable bedding, aspen bedding is one that is pretty good material, without being too pricey. This is one of the few wood shavings that won't create too much harm for your pet. It is also fairly cheap. Compared to a lot of the more expensive brands out there, it is not as absorbent, but it still does the job.
Paper – Just as the name implies, this type of bedding is usually shredded paper. It may not be the most comfortable for them, but it does the job, and often times, since it is pre-shredded, it is quite safe for your pet. However, make sure that there is no ink, since that may be harmful to your hamster. Moreover, this option is the least expensive, since, after all, it is just paper. You can even go and try shredding up loads of paper to create your own if money is really your concern. However, make sure to get the recommendation of an expert on how to properly do this. Otherwise, your pet may end up getting sick more than anything.
Final Thoughts
Hamsters need good beddings for them to grow healthy. The type of bedding you put in their cages will help you to avoid visiting the vet all the time. Every type of bedding has its own advantage and disadvantage. But the most important thing is to find the best one for your pet. Some of the options that are more popular may be great in quality, but perhaps the price is just a bit too high for your budget. If that is the case, you can always go with the home-made route, but just be sure to do enough research to know what is safe and not for your pet. Whatever it is, be a responsible hamster owner and be wary of the key considerations we mentioned above on knowing what is good for your pet for the right bedding.