Ollie Dog Food Review
This page contains affiliate links. We may earn money or products from the companies mentioned in this post through our independently chosen links, which earn us a commission. Learn More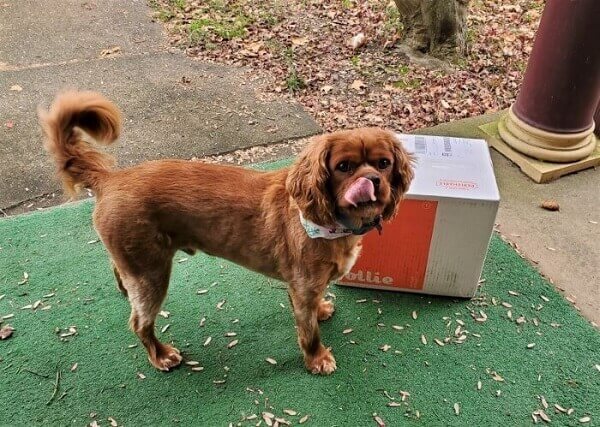 When it comes to dog food, many pet experts agree that fresh food is the healthiest option. Many commercial dog foods are cooked at high temperatures which destroys some of the nutrient content of the raw ingredients.
This, coupled with the use of artificial additives, by-products, and fillers, reduces the nutritional quality of many dog food products on the market. If you want to feed your dog the best of the best, we recommend that you check out fresh food company Ollie.
At a Glance: Ollie Dog Food Reviewed
Ollie
Brand
Pros
We liked that Ollie offers four different recipes to give pet owners plenty of choices – they also provide detailed information about each recipe on their website where it's easy to find.
The quality of the ingredients is clear and the pre-portioned packages were convenient and easy to feed.
Cons
Though Ollie offers four recipes, none of them are grain inclusive.
Many dog owners choose to feed their dogs grain-free and gluten-free food, but we believe grains can be a nutritious ingredient in a properly formulated dog food recipe.
Pros
We liked that Ollie offers four different recipes to give pet owners plenty of choices – they also provide detailed information about each recipe on their website where it's easy to find.
The quality of the ingredients is clear and the pre-portioned packages were convenient and easy to feed.
Cons
Though Ollie offers four recipes, none of them are grain inclusive.
Many dog owners choose to feed their dogs grain-free and gluten-free food, but we believe grains can be a nutritious ingredient in a properly formulated dog food recipe.
As a fresh pet food company that uses only high-quality natural ingredients, Ollie is a great option for any dog. Don't just take our word for it, however!
Read on to see our detailed review of Ollie dog food and to learn how you can try it for yourself.
Overview of the Ollie Brand
Ollie is a fresh dog food company that uses only real, natural ingredients to create high-quality dog foods. The brand was born out of the realization that high-quality nutrition is the best way to ensure that our dogs live long, healthy lives.
Ollie was created to provide pet owners like you with delicious and nutritious options for your dog that is easy to feed and, better yet, delivered right to your door.
With Ollie, you never have to make another trip to the pet store just to find out that the product you're looking for is sold out or that it has been reformulated.
The founders of Ollie teamed up with canine nutritionists to develop nutritionally balanced formulas cooked to just the right degree to ensure safety without compromising on nutritional quality.
Every recipe is packaged in a way that keeps it fresh and is portioned-out so you only need to open one bag at a time for your dog's perfect meal.
Simply provide Ollie with a little information about your dog and you'll be well on your way to receiving your first order. Choose from a selection of different recipes and customize your deliveries according to your preference.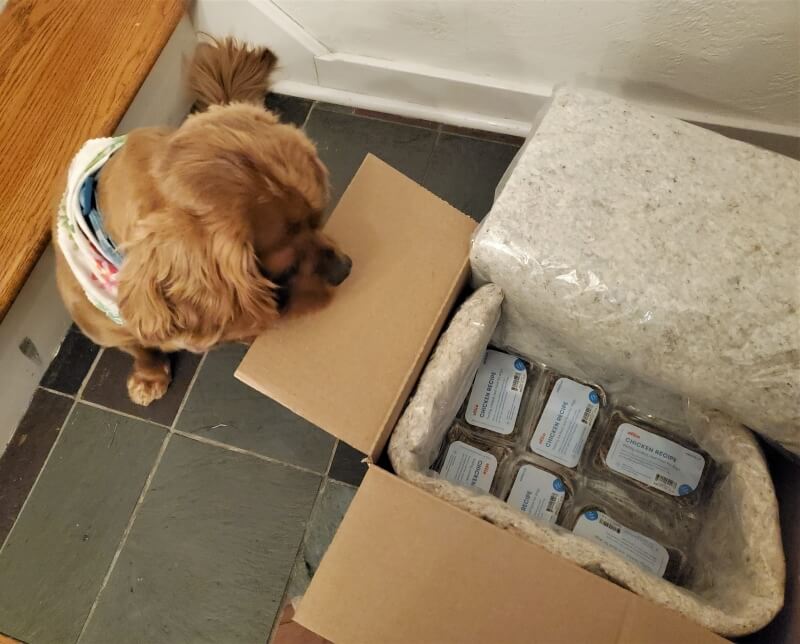 Where is the Food Made?
When asked how the food is made, Ollie's answer is, "with a whole lotta love." The real answer, however, is that the food was formulated with help from a veterinary nutritionist according to AAFCO standards for complete and balanced canine nutrition.
Ollie sources their ingredients very carefully to ensure quality and safety, then prepared their food in small batches cooked at low temperatures to preserve the nutritional quality.
When possible, ingredients are sourced from free-range farms in the United States. All of their food is prepared at company-owned facilities in New Jersey and hand-packed prior to delivery.
What Dog Food Products Do They Offer?
Ollie offers four different recipes for fresh dog food, each featuring a different source of animal protein as the main ingredient.
Every recipe is vet-formulated to ensure complete and balanced nutrition, tailored to your dog's unique nutritional needs.
The food is carefully packaged in an insulated box so it stays fresh for up to 24 hours in case you're not home when it is delivered. If you're not sure which recipe to choose, you can always change your subscription and if your dog doesn't like it, you'll receive a full refund with no questions asked.
Ollie currently offers four different recipes for fresh dog food: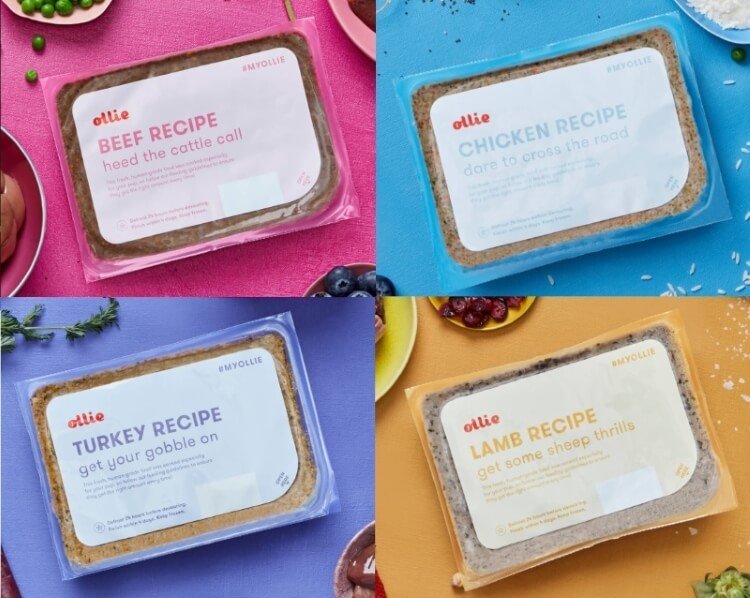 Beef – This recipe features fresh beef and beef heart as the top two ingredients with beef kidney as a supplemental source of protein and nutrients. This is a grain-free recipe, featuring easily digestible carbohydrates like sweet potatoes, peas, and potatoes.
Chicken – With fresh chicken as the first ingredient and chicken gizzard, chicken liver, and dried eggs later on the list, this is a protein-rich recipe full of natural flavor. It also contains fresh vegetables like carrots and peas as rich sources of superfood nutrition.
Turkey – If you're looking for a grain-free recipe made with a novel source of protein for your dog, the turkey recipe might be a fit. It contains fresh turkey breast as the first ingredient with turkey liver as a supplemental source of protein. It also contains fresh fruits and veggies.
Lamb – For the meat lovers out there, this lamb recipe features fresh lam and lamb liver as the main ingredients in a grain-free formula. It also contains superfoods like butternut squash, kale, and cranberries to provide natural sources for antioxidants and key vitamins and minerals.
All four of Ollie's recipes are vet-crafted and packed with quality nutrition.
Protein is the most essential nutrient for dogs, so you'll be glad to see that all four recipes start with a premium source of animal protein with a collection of other natural ingredients.
When ordering, you can choose between feeding Ollie exclusively or using it as 25% of your dog's daily diet for a discounted rate.
How Much Does Ollie Dog Food Cost?
You can expect Ollie fresh food to cost more than the average kibble you'd find on a pet store shelf.
You have to remember, however, that fresh food offers much higher nutritional quality and it is more digestible than commercial pet food.
The price for Ollie's fresh food varies depending on your dog's calorie needs and is presented as a weekly price.
If you feed Ollie alone, you're looking at a range of about $40 to $60 per week, depending on your dog's size. If you prefer to feed Ollie as only part of your dog's daily diet, your costs could be much lower.
Check out the table below to see how Ollie stacks up against other dog food brands for cost:
Premium Dog Food Price Comparison

Food Type
Brand
Average Price
Price Per Pound/Oz.
Dry Food
Canidae PURE Grain-Free
$64.99 for 24 pounds
$2.70/pound
Wet Food
Castor & Pollux Organic
$41.88 for 12 (12.7oz) cans
$3.49/can (12.7 oz.)
Freeze-Dried Raw
Stella & Chewy's
$49.99 for 25 oz.
$2.08/ounce
Dehydrated
The Honest Kitchen
$55.88 for 10 pounds
$5.58/pound
Fresh Food
Ollie
$47.83 for 1 week
$47.83/week
Fresh Food
Nom Nom*
$69.60 for 2 weeks
$34.80/week
* Cost varies depending on subscription, lowest price = monthly deliveries
Ollie Dog Food Recalls
Commercial dog food manufacturers are required to adhere to certain rules regarding the formulation, manufacture, and sale of their products.
These rules are set by the FDA and, in part, regulated by The Association of American Feed Control Officials (AAFCO). AAFCO's primary role is testing commercial pet foods to determine whether they adhere to the minimum nutritional requirements for pets while the FDA handles issues regarding product safety.
Product recalls happen when there is a problem with the product and the company withdraws it from pet store shelves. This happens from time to time with many brands, even the highest quality brands. To our knowledge, however,
Ollie has never had a product recall. This may be because they are very careful about where they source their ingredients and they produce the food themselves, keeping a close watch on issues that could affect quality.
What Did Our Test Dog Think?
As much as we love Ollie as a brand, we wouldn't recommend it without testing it ourselves.
To make sure that Ollie is everything we say it is, we tested it out on our very own test dog, Archie. Archie is a 2 ½ year-old Cavalier King Charles Spaniel.
He is big for his breed at 30 pounds which makes it challenge to find the right dog food brand. Many dog foods are formulated for small breeds or large breeds – Archie falls somewhere in the middle.
We usually end up feeding him an adult dog food and determine his meals according to his age, but it may not be ideal for his activity level.
What makes Ollie such a great choice for Archie is that the food is perfectly portioned according to his unique calorie needs. Archie doesn't need to gain or lose weight, but he is fairly active, so he needs a certain number of calories to account for his daily needs.
Not only is Ollie perfectly portioned, but Archie found it to be quite tasty. He has been skeptical about testing dry dog foods, but he seems to really like fresh food and Ollie was an immediate hit.
He was excited about the food as soon as we opened the package and he gobbled it up as soon as we put his bowl down on the floor.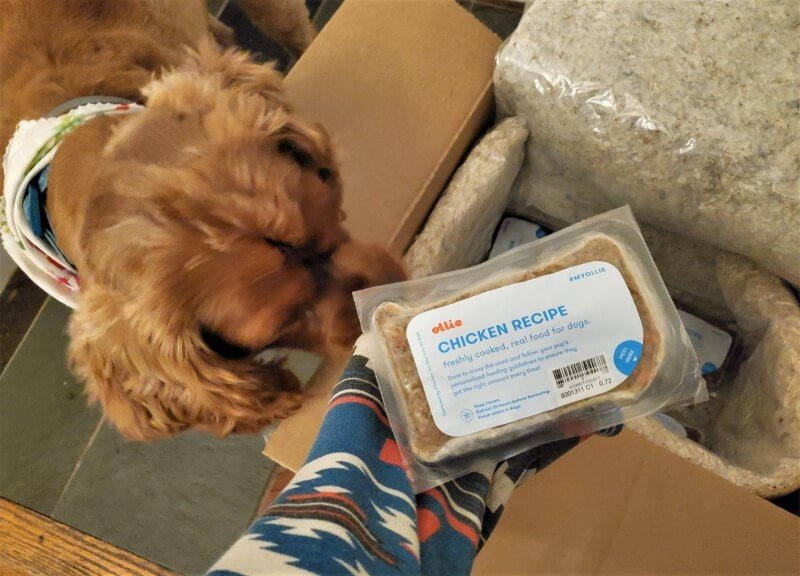 Is Ollie Really Worth the Cost?
When shopping for dog food, you'll notice that some brands cost significantly more than others.
A quick review of the ingredients list is all you really need to understand why.
The truth is that fresh, natural ingredients cost more than fillers and byproducts, so the dog foods that use real ingredients are bound to be more expensive.
This isn't to say that all expensive dog foods are good, but most high-quality dog foods cost more than your run-of-the-mill kibble.
The most important thing to remember about fresh food like Ollie is that, while it is expensive, it could actually save you money in the long run.
Feeding your dog fresh food made from healthy, natural ingredients is easier on its digestion and will provide a more usable source of energy and essential nutrients.
High-quality nutrition will keep your dog healthier and happier, saving you money on expensive vet bills for nutrition-related problems that could have been avoided.
Feeding your dog Ollie isn't a guarantee that your dog will never get sick, but he will be much healthier overall than if you only fed him the cheapest dog food at the store.
Feeding your dog the highest quality dog food you can afford will support its health and wellness both in the short term and the long term.
Here are some additional benefits of feeding your dog high-quality dog food:
Reduced stool volume, more solid stools
Improved and more regular digestion, less gas and diarrhea
Increased energy levels and greater vitality
Healthier coat with less shedding and skin problems
Improved dental health and oral hygiene
Healthy weight loss (when necessary for overweight dogs)
Better urinary health, reduced risk for urinary tract infections (UTIs)
Every dog is unique and the benefits your dog receives from switching to Ollie will be as well.
If your dog currently suffers from food allergies or sensitivities, selecting an Ollie recipe that is free from the things your dog is allergic to could result in drastic improvements to your dog's skin and coat.
Improving the quality of your dog's diet may also improve its digestion, energy levels, and immunity. It may take a few weeks for the benefits of fresh food to be fully realized, but you'll know them when you see them.
How Do You Order It?
If you're ready to try Ollie for yourself, you'll be glad to find that the process is actually very easy.
Simply visit the Ollie website and fill out a profile for your dog. You'll start by introducing your dog, providing its name, age, weight, and breed.
You'll also be asked to describe any food allergies or sensitivities your dog has. From there, you'll receive a meal plan customized to your dog's needs based on the information you've provided.
From there, simply decide how often you want to receive shipments and sign up for automatic billing.
Depending when you sign up, you could receive as much as 20% off your first order. If at any time you want to change the frequency of your shipments, you can contact Ollie or make adjustments to your account online.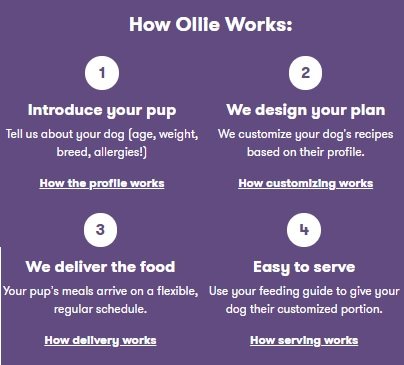 Customer Service
Ollie believes that high-quality nutrition is a right, not a privilege. Every dog deserves a diet that delivers high-quality nutrition from wholesome, digestible natural ingredients. Not only does Ollie want what's best for your dog, but they also want you to be satisfied.
Every Ollie purchase comes with a Bowl Lickin' Guarantee. You have the freedom to change your subscription at any time and you can receive a full refund on your first order if your dog doesn't like it.
If you have questions at any point in time, you can refer to Ollie's Canine Support Center to find the answers to commonly asked questions or you can contact Ollie directly.
Finding the answer to your question is easy with the on-page chat function – simply type in a few keywords related to your question and you'll be given a list of relevant topics from the Canine Support Center. For other questions, simply email caninecare@myollie.com.
Tips for Making the Transition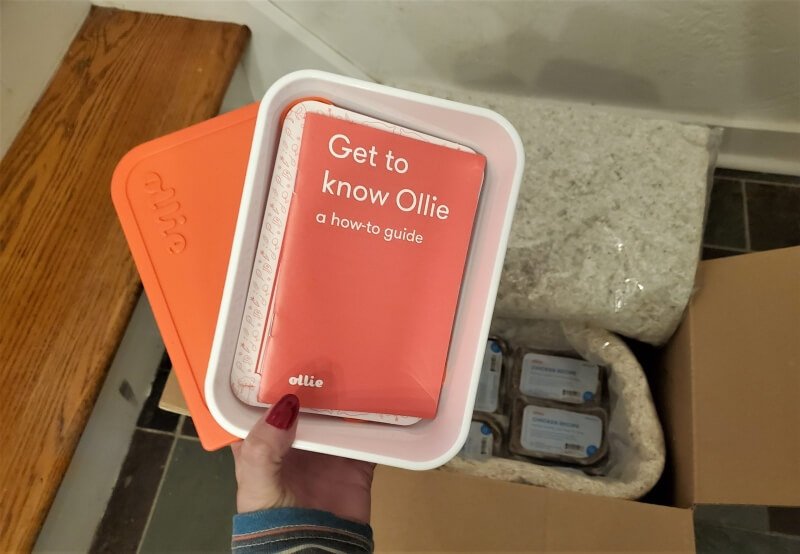 Because Ollie's fresh food is made with wholesome natural ingredients, it is much more easily digested than low-quality foods made with fillers and by-products.
Even so, your dog may experience some slight digestive upset if you switch foods too quickly.
The best way to make a smooth transition is to start out by feeding your dog small portions of Ollie along with its regular food.
Over the course of a week or so, you can increase the amount of Ollie while decreasing the other food.
As long as your dog doesn't develop any serious digestive symptoms, you should make the transition in 7 to 10 days. If you need more information about how to transition your dog onto Ollie, simply refer to the how-to guide included with your first order.
Pros and Cons of Ollie Dog Food
No dog food company is perfect, so there are a few downsides to choosing Ollie over other dog food brands.
Before you make your decision, however, you should consider the positives as well as the negatives. Your dog is unique and your decision should be based solely on your dog's nutritional needs with some consideration for your budget.
That being said, every dog food brand has its pros and cons. Here are some of the things you need to know about Ollie:
Pros for Ollie
Every recipe is vet-formulated and made from fresh, natural ingredients sourced in the USA and prepared in the USA.
Formulas are complete and balanced according to AAFCO nutritional standards and customized to your dog's unique calorie needs.
Fresh food is cooked in small batches to preserve nutritional quality then delivered frozen to ensure freshness – simply thaw and serve.
You can customize your subscription to feed your dog 100% Ollie or 25% Ollie with another type of dog food – costs vary according to the amount you order.
Cons for Ollie
Fresh dog food is objectively more expensive than traditional kibble or canned food – it may not be affordable for everyone to feed Ollie 100% every day.
Ollie only offers four different recipes for dog food – if your dog has serious food allergies or sensitivities, you may need to shop carefully to choose the right recipe.
Fresh dog food has a shorter shelf life than kibble and unopened canned food – you'll also need to thaw the frozen food before feeding it to your dog.
As is true for any dog food brand, Ollie certainly has its pros and cons. Though Ollie is significantly more expensive than your average kibble, the nutritional and health benefits your dog receives may be well worth the price.
Generally speaking, you should feed your dog the highest quality diet you can consistently afford, so if Ollie is in your budget you should give it a try.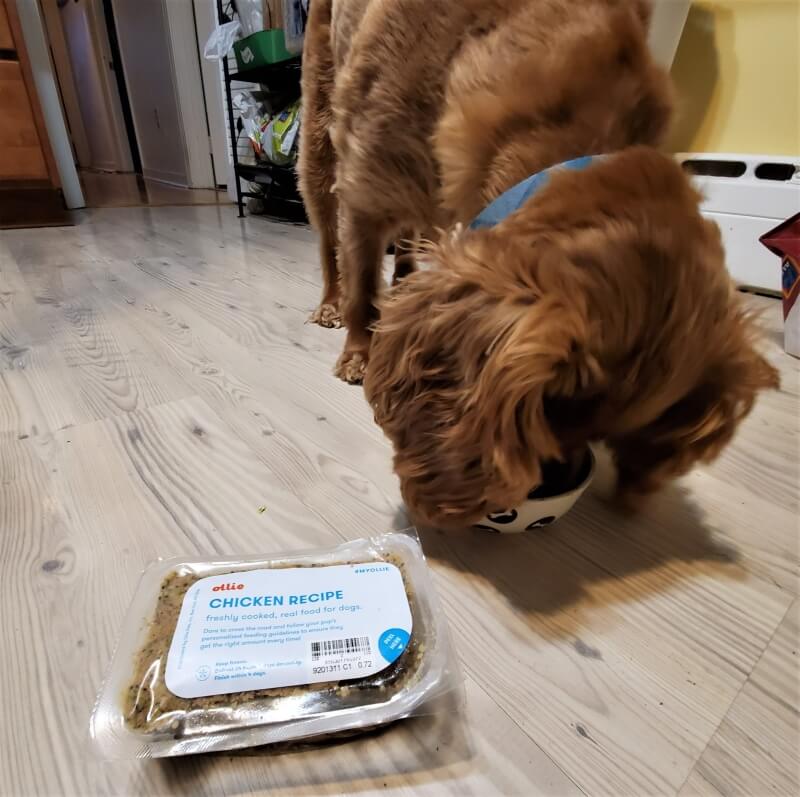 The Final Word
In the end, you should choose whatever dog food is best for your dog and for your wallet.
We can provide you with all of the information you need to make an educated decision, but our recommendations are just that – recommendations.
If you want to know what we really think about Ollie, here it is: we love it! Fresh food gives your dog the highest quality nutrition in its most digestible and bioavailable form.
After a few weeks of feeding your dog higher quality food, you'll notice improvements to its skin and coat, digestion, and even its energy levels.
We can't make any promises about specific benefits your dog will receive but trust us when we say that fresh food is one of the best foods you can give your dog and Ollie is a great brand to consider.
Get 50% Off Your First Box of Ollie
Frequently Asked Questions
Has Ollie had any product recalls?
No, we are not aware of any product recalls affecting the Ollie dog food brand.
Is Ollie dog food grain-free?
Ollie offers both grain-free and grain-inclusive recipes. If your dog has an allergy or sensitivity to grains, simply inform the Canine Care center and they will customize your dog's recipe to suit his needs.
Is Ollie dog food organic?
Ollie's ingredients are sourced from human-grade farms in the United States, with some ingredients from Australia. Ollie dog food is not organic, but it is held to the same standards as human food for quality.
Is Ollie dog food raw?
No, Ollie dog food is not raw. It is cooked at low temperatures in small batches which helps to preserve the nutritional quality. Overall, the nutritional benefits of Ollie fresh food are similar to those of raw food.
How many calories per cup for Ollie dog food?
Ollie currently offers four recipes for dog food, each with unique nutrient profiles.
Can I cancel my Ollie subscription?
Yes, you can change or cancel your Ollie subscription at any time by contacting the Canine Care team.
Where can I buy Ollie dog food?
Ollie dog food can only be purchased through the Ollie website because it is customized to the individual dog. You'll need to provide information about your dog's age, weight, breed, and activity level so Ollie can calculate the proper portion size.
Can you heat up Ollie dog food?
Some dogs prefer to eat warm food, especially if it is fresh food. Heating up the food can make it more palatable for some dogs, but you run the risk of destroying some of the nutritional value by heating it too much. Ollie is best served fresh at room temperature if your dog doesn't like it straight out of the fridge.