The 5 Best Cat Food for Russian Blue Cats
The Russian Blue cat is a regal-looking breed with its distinctive silver fur and piercing eyes. It can be very affectionate as well as extremely needy, and it is easy to let this kind of cat to overindulge. This is why we want to talk about how you deal with that and what you should be feeding your beautiful Russian Blue to keep it healthy and happy.
Quick Links: The 5 Best Cat Food for Russian Blue Cats
The Top 5 Best Rated Cat Food for Russian Blue Cats
Now that we know what to look out for, let's take a moment to look at some of the better cat food options out there for your Russian Blue cat.
Here are our top picks for the best rated cat food for russian blue cats you should consider:
1. Weruva Grain-Free Canned Wet Cat Food
Pros:
Low in carbohydrates.
Made with no grains.
Wholesome meat content.
Expect to pay more for grain free cat food than you do for regular canned food with all sorts of starchy and veggie fillers. This is a wholesome, meat-heavy food that is great for active cats and those that need to lose some weight. The lack of carbohydrates means that it is ideal for cats who have gained too much weight from eating unhealthy cat food. It is kind of pricey, but you are getting a lot of quality ingredients for that price.
2. Stella & Chewy's Freeze Dried Food for Cat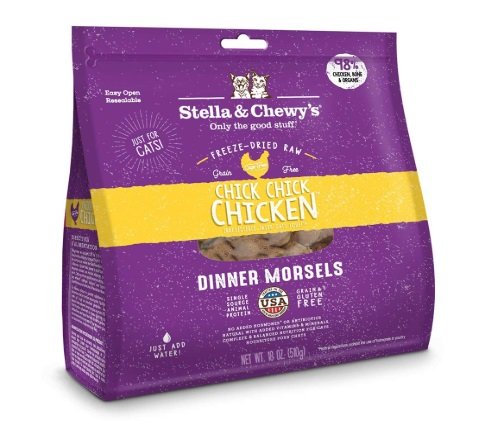 Pros:
High quality ingredients.
Made without antibiotics or other artificial additives.
Contains raw nutrition, no processed stuff.
Cons:
A little on the pricey side.
If you are looking for wholesome, raw nutrition for your cat, then this is the way to go. Your cat may not be picky, and may be willing to eat just about anything, but it's always better to give your cat the best food you can afford. This cat food is packed with protein and contains no fillers or artificial components.
3. Solid Gold Coconut Oil Pate Wet Cat Food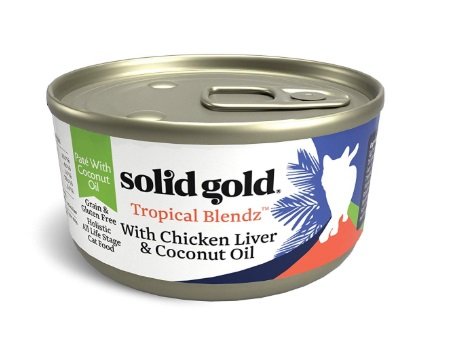 Pros:
Packed with protein.
Made without artificial additives.
Affordably priced.
Cons:
Contains more veggie than most of the options on this list.
Your cat should love this food made from whole chicken liver and other nutritious ingredients. It boasts a complete absence of fillers and artificial flavorings, and it has no grains whatsoever. There are some veggies included as filler, and they are advertised as offering nutritional value to your cat, but it's the meat that has what your cat needs.
4. Purina Fancy Feast Grilled Poultry & Beef Collection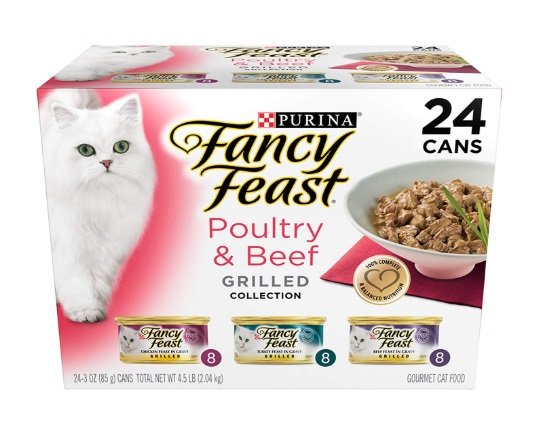 Pros:
Priced competitively.
Made with wholesome beef and chicken.
Offers balanced nutrition.
Cons:
Some cats just don't like it.
One of the cheaper options available is this Fancy Feast canned food. It's moist enough that your cat will get the water content it needs, and it is made from high quality meats like beef and chicken that have been responsibly sourced. It is designed to provide your cat with all the nutrition it needs, but you will still want to supplement it with dry food occasionally to give your cat more fiber.
5. BLUE Freedom Grain Free Wet Cat Food
Pros:
Contains real meat.
No meat byproducts.
No grains.
Cons:
Can upset some cats' stomachs.
Here is another great grain free option, but this one comes with cranberries to supplement the meat. That's supposed to help your cat with urinary tract infections (for other food options for cats with urinary tract problems click here), but some cats will react badly to it and begin vomiting or suffer from other health problems. That is fairly rare, though, and this is a reasonably priced, decent quality canned cat food that most cats will do just fine with.
Nutritional Requirements
Cats don't get any nutrients from most plant-based foods, no matter how packed with proteins they may be, so your cat will need a mostly-meat diet. Check the ingredients on any cat food you are planning to buy to ensure that it contains mostly meat for your cat. Russian Blues are not very picky eaters, so you don't have to be too picky about what you give them, as long as it meets some basic criteria.
You do need to be careful about feeding them too much. They will almost always meow to get more food after they are done eating, and you need to be cautious about giving in to them. This is how this breed so easily becomes overweight. You also want to be careful about letting your cat just eat whenever it wants. This is known as free feeding, and experts advise against it for this breed. You can feed your Russian Blue just twice a day, and the cat will receive ample nutrition that way. According to cfa.org Younger cats- those under seven months- can be fed three times a day.
What to Consider Before Buying Food for Your Russian Blue Cat
In order to keep your cat in excellent health, you need to be careful about the things you buy for it to eat. It may not be a picky eater, but it does have certain nutritional needs that need to be met. Here are a few points to consider as you shop for your cat:
High Meat Content- Your Russian Blue needs lots of meat and lots of protein, so check the labels to ensure that the majority of the food you give it is made up of meat.
Raw Nutrition- Not just any meat will do. You want raw, whole meat that has not been processed, sourced unethically or raised with antibiotics. That way, you can ensure that your cat's health is protected.
Wet and Dry- It's cheaper to buy dry cat food, but your cat needs wet food regularly, since it wont usually get enough water on its own. If you only feed your cat dry food, it may become dehydrated.
Your Cat's Age- As your cat becomes older, he or she will need to eat less fat, since the cat will probably be less active. Take your cat's age into consideration as you shop for food, since that plays a role in the kind of food you should be getting.
What to Avoid
Your cat can't eat just anything. There are certain foods that you should keep away from your cat when you are trying to find the right food it:
Plant-Based Foods- Any grains, veggies or fruits in your cat's food will not do it much good. No matter how nutritional these items may seem to be, they won't really give your cat much, if any, nutritional value. It is best to steer away of those as much as possible.
Dog Food- According to some professionals, you can actually kill your cat if you feed it dog food. While some cats can be okay with this kind of food, the Russian Blue is not.
Processed Food- Your cat needs whole nutrition, and it can't get that from foods that contain artificial additives or that have been overly processed. These foods are often robbed of their nutrition or are made with fillers that add no nutritional value. Look for healthy, natural ingredients in the food you buy for your cat.
Too Much Fish- It's okay to give your cat fish every now and then, but that should not be its primary meat or protein source. Your cat may love fish, but it could become thiamine deficient if it depends on fish too much as a food source.
Final Purrs
Now that you've seen our picks and learned about what to watch out for when buying food for your Russian Blue cat, we hope you have an easy time making up your mind. Remember that not all cats are the same, and while some cats may like a certain food, other cats won't. In case your cat doesn't approve with your choice, just try another one of the recommended products above. One of them will do the trick and your cat will thank you for it!