FreshPet Dog Food Review – Is It A Good Choice For Your Pup?
This page contains affiliate links. We may earn money or products from the companies mentioned in this post through our independently chosen links, which earn us a commission. Learn More
Your dog deserves high-quality nutrition that supports his health and wellness.
FreshPet believes that fresh food can make all the difference for pet health and they are committed to helping pets live their best, happiest, tail-wagging lives.
They developed a new ideology on feeding pets and were one of the first fresh pet food companies to hit the market.
At A Glance: FreshPet Dog Food Review
FreshPet Dog Food
Brand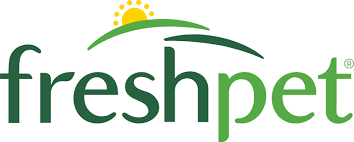 Pros
We liked the wide variety of options FreshPet had to offer in both dog and cat food.
In addition to rolls and patties, we also found a selection of fresh meals similar to kibble but with higher moisture levels.
The ingredients are 97% sourced from the USA and Canada.
Cons
Our experience varied depending on the product.
The test dog wasn't thrilled about the fresh food rolls but had no problem with the fresh meals.
FreshPet also doesn't offer the same level of convenience as other companies because they aren't a subscription service.
Pros
We liked the wide variety of options FreshPet had to offer in both dog and cat food.
In addition to rolls and patties, we also found a selection of fresh meals similar to kibble but with higher moisture levels.
The ingredients are 97% sourced from the USA and Canada.
Cons
Our experience varied depending on the product.
The test dog wasn't thrilled about the fresh food rolls but had no problem with the fresh meals.
FreshPet also doesn't offer the same level of convenience as other companies because they aren't a subscription service.
There are Better Fresh Dog Food Delivery Services to Choose from
There are better fresh options, a crop of new fresh cat food delivery competitors offer better, fresher dog food delivered right to your home.
Here are some our favorite fresh dog food brands you can choose from today. Most offer a heavy discount on your first order so you can see how your mutt likes it . Click here to read our full reviews:
---
They use fresh, whole ingredients in recipes that are gently cooked without preservatives and kept refrigerated where real meats belong.
Though FreshPet makes some great promises about their products, we were a little skeptical about a fresh pet food company that is sold in grocery stores (compared to fresh pet food subscriptions like Spot and Tango or Pet Plate).
We set out to test FreshPet for ourselves, having already tested some of the top fresh pet food deliveries on the market, to see how it compares.
Overview Of The Freshpet Brand
The tagline FreshPet uses is "real food fresh from the fridge." Their recipes features 100% natural farm-raised poultry, beef, and fish as well as fiber-packed garden veggies and antioxidant-rich fruits.
They offer dozens of different products in multiple forms including bagged meals, rolls, and stews. They also offer a selection of meal mixers and dog treats.
FreshPet makes a big deal about not using rendered meats or by-product meals in their products.
To The Average Consumer, That Sounds Great, But What Does It Really Mean?
Fresh meats like real chicken or beef contain about 70% moisture which cooks out during extrusion – the process used to make commercial dry food.
Rendered meat meals are already cooked to remove moisture before adding them to the mix, making them a more concentrated source of protein.
They are not inherently bad, but it is important to evaluate the quality – named meat meals like chicken meal are better than generic meat meals like poultry meal or poultry by-product meal.
Another claim FreshPet makes, in addition to starting every recipe with real meat, is that they use fresh fruits and vegetables in their recipes.
These ingredients provide natural sources for key nutrients, but every recipe also contains vitamin and mineral supplements as needed for nutritional balance. All of that is fine, but there are some additional ingredients that may be of concern.
Many fresh pet food companies prepare their foods in small batches to ensure freshness and quality – FreshPet produces their foods in much larger quantities.
To keep things fairly uniform across the board, they end up using additives like thickening agents and emulsifiers (like carrageenan and cassia gum).
These are mildly controversial ingredients most pet experts recommend avoiding, so it's troubling to see them in a fresh pet food.
It's also important to note that FreshPet makes use of plant proteins (like pea protein).
So, while real meat might be the first ingredient, it isn't the only source of protein and may not even be the primary source once the product is cooked and processed.
Where Is The Food Made?
All FreshPet products are made in company-owned kitchens located in Bethlehem, Pennsylvania. Their treats are made in the USA by carefully selected partners that follow high standards for safety and quality.
FreshPet also states that 97% of their ingredients are sourced from the USA and Canada, though their vitamins and minerals may not be. No ingredients are sourced from China.
What Dog Food Products Do They Offer?
The advantage FreshPet has over other fresh pet food companies is their large variety. FreshPet offers a varied range of rolls, bagged meals, single-serve cups, and treats.
Their products are intended to be refrigerated, all labeled with a "sell by" date, and used within 7 days of opening. The exception is for the single-serve cups which should be used within 2 days and treats which can be open for 10 to 14 days.
Here is an overview of Freshpet dog food products:
Deli Fresh Grain-Free Chicken Recipe (bagged meal or roll): This protein-rich, grain free recipe is made with fresh chicken plus leafy spinach and potatoes. The nutritional benefits include a multi-source fiber system for digestive health, omega 6 & 3 fatty acids to promote coat, joint, heart, brain, and eye health, as well as inulin, a prebiotic which aids in the absorption of nutrients into the bloodstream.
Select Chunky rolls (beef or chicken & turkey): Using high-quality proteins and steam-cooked. 100% all-natural chicken, beef, and turkey, high fiber brown rice, along with fresh, fiber rich sweet potatoes and/or other garden veggies for a complete and balanced meal.
Select Fresh from the Kitchen Home-Cooked Chicken Recipe: Fresh from their Kitchens with locally sourced shredded chicken and essential vitamins from carrots, spinach, and antioxidant-rich cranberries. Provide the love of a home cooked, high protein, fresh meal to your dog with Freshpet Select Fresh from the Kitchen.
Select Rolls (grain-free chicken, multi-protein, or puppy): These rolls are protein-rich, grain free and made with fresh chicken plus leafy spinach and potatoes. The nutritional benefits include a multi-source fiber system for digestive health, omega 6 & 3 fatty acids to promote coat, joint, heart, brain, and eye health, as well as inulin, a prebiotic which aids in the absorption of nutrients into the bloodstream. This has added EPA & DHA will help your dog or puppy to grow up healthy and strong.
Select Roasted Meals and Complete Meals: Made of tender pieces of fresh chicken accented with carrots and leafy spinach, these recipes come in a convenient resealable bag to make serving quick and easy. Also comes in grain free recipe options.
Select Small Dog Bite (morsels and rolls): This wholesome recipe is specially made with smaller bite-sized morsels of US farm-raised chicken or turkey and anti-oxidant rich fruits & vegetables for little pups. Each batch is formulated with targeted levels of protein and fat to support small dog high energy requirements. This recipe is carefully designed for the nutritional needs of small dogs. It's the soft, easy-to-chew meal that's made special for littler mouths.
Select Stews Grain-Free (chicken or beef & pumpkin): This recipe is high-protein morsels and vitamin-rich veggies in a tasty gravy that is complete & balanced for adult dogs. It's made with fresh ingredients and no fillers or by-products.
Homestyle Creations Healthy Mixers: This Natural Beef Recipe is made with 100% pure beef, or Natural Chicken and is made right here in the USA. These patties are free from grains, gluten, fillers, and soy. They can be served alone as a complete and balanced meal, or scoop in one of our Healthy Mixers to create a custom meal for your dog.
Nature's Fresh rolls and bagged meals: This is a protein-rich recipe, with vitamin-rich vegetables and high fiber brown rice for a holistic meal. This recipe is prepared using humanely raised chicken, with leafy greens like spinach and nutritious carrots. It comes in a resealable bag great for a quick and easy meal. It can be found at Whole Foods, PetSmart, Petco, and other specialty locations. Available in a 2 lb. roll, 1.75 lbs., 3 lbs., and 5.5 lbs. bags.
Vital Balanced Nutrition rolls and bagged meals: This starts with either natural US farm-raised chicken, salmon, turkey, lamb or beef then added whole grains & prebiotics to support digestive health, and omega 3 fatty acids to support skin & coat. The recipe is gently cooked with carrots & green beans, it's a ready-to-serve meal that's complete & balanced for all life stages.  It is verified Non GMO. Available in 1.75 lb. bags. It is sold at PetSmart, Petco, and other specialty locations.
Dog Joy Treats (chicken, turkey apple, or turkey bacon flavor): These treats are made with either all natural turkey bacon, real chicken have that authentic barbecue smell and taste in bite sizes, or strips of farm-fresh turkey and apples with mint and parsley added to promote fresh breath. Made in the USA.
DogNation Treats (chicken or turkey recipe): These all natural treats have slow-grilled chicken or all natural, wood-smoked turkey that are grain free. Made in the USA. Available at Wholefoods PetSmart, Petco, and other specialty locations.
All of FreshPet's recipes are formulated to exceed AAFCO's minimum standards for complete and balanced canine nutrition. Every recipe is made with high-quality meats and vegetables but there are supplements as needed to ensure nutritional balance.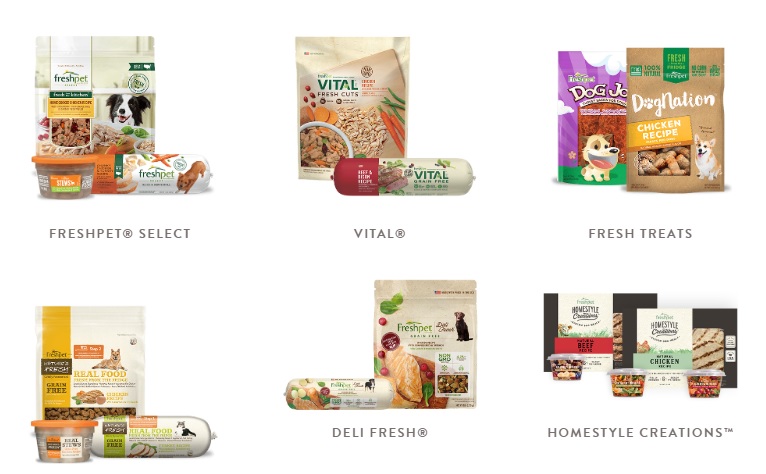 Is Their Packing Environmentally Friendly?
In their FAQ page, FreshPet notes that their products are free from toxins and chemical preservatives, but they do cook and pasteurize their products to kill bacteria.
They use mainly plastic packaging to keep the food fresh and safe until it is opened – unfortunately, you may not be able to recycle these materials.
That being said, FreshPet does have a commitment to sustainability in their practices.
They use 100% renewable wind energy to power their kitchens and make every effort to recycle wooden pallets, light tubes, and ballast in their facilities.
The work with dedicated green partners and are working on replacing their existing refrigerators with more environmentally friendly models.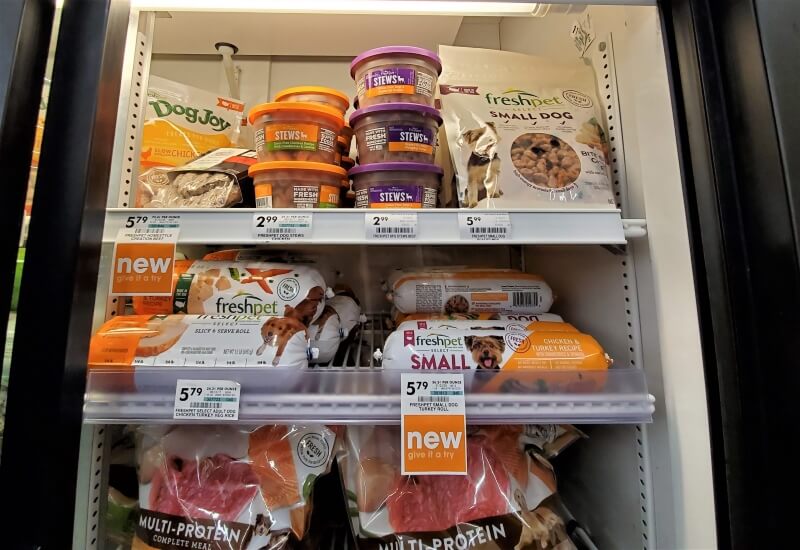 How Much Does It Cost?
FreshPet is not a delivery service or a subscription pet food company, so the cost can vary greatly. FreshPet Select Stews come in 10.25-ounce bowls for about $3 each while rolls of fresh food cost about $6. You can purchase much larger rolls for about $20 or bags of fresh food for about $9.
Depending on your dog's size and what type of food you choose, the cost could range from as little as $3 per day to $9 per day, making the average monthly cost about $25 to $65.
Check below to see how FreshPet stacks up against other dog food brands for cost:
Fresh Dog Food Price Comparison

Food Type
Brand
Average Price
Price Per
Premium Dry Food
Canidae Grain-Free PURE Limited Ingredient Dry Dog Food
$74.99 for 24lbs.
$0.20 per ounce
Premium Wet Food
Instinct Original Grain-Free Wet Dog Food
$22.14 for 6 (13.2oz.) cans
$0.28 per ounce
Raw Food Subscription
Raws Paws Signature Blend Complete Beef for Cats and Dogs Roll*
$10.99 for 1lbs.
$0.68/ounce
Raw Food Subscription
Darwin's Natural Pet Products Biologics Raw Dog Food
$36.55 for 1 week
$0.46/ounce
Fresh Food
The Farmer's Dog*
$45.57 per week
$6.51 per day
Fresh Food
Nom Nom*
$48.51 per week
$6.93 per day
Fresh Food
Spot and Tango*
$47.59 per week
$6.79 per day
Fresh Food
Ollie*
$58.00 per week
$8.28 per day
Fresh Food
Pet Plate*
$44.94 per week
$6.42 per day
Fresh Food
FreshPet Select Roasted Meals
$20.49 for 5.5lbs.
$0.23 per ounce
*Subscription price based on a 40-pound, neutered male dog 4 years of age
What Did Our Test Dog Think?
Our test dog Archie has been testing fresh foods for some time and he generally loves it. That being said, he wasn't a fan of some of FreshPet's products.
We used the Grain-Free Beef and Pumpkin Recipe stew as a meal topper and he seemed to like it well enough, though it wasn't particularly appetizing by human standards.
The FreshPet Select Roasted Meals chicken recipe was much more well-received. It had a strong chicken aroma with visible pieces of chicken as well as preformed nuggets. Archie gobbled the food up with no problems.
Though FreshPet's roasted meals and stews went over well, we can't say the same for the Vital Grain-Free Multi-Protein Recipe roll.
According to the feeding recommendations, you should cut the roll into slices then chop the slice into smaller pieces.
The roll looked like a sausage with pieces of carrot and unidentifiable white substance (probably fat) scattered throughout, but it didn't look very appetizing. Archie didn't think so either.
He sniffed the food and sampled it but then looked at me as if he was asking whether he really had to eat it.
Overall, I didn't have a problem with the FreshPet stews and roasted meals, but I can't say I recommend the rolls.
The recommended feeding amount was also concerning. FreshPet recommends about 1 pound of food per day for a dog of Archie's size (about 30 pounds) – that's half of the 2-pound roll. C
hopping it up, it more than fills Archie's bowl, so I can't imagine a bigger dog eating even more than that. It doesn't look much like real food, so it leaves me to wonder how much of it will actually be digested and absorbed and how much will be left in a pile in your backyard.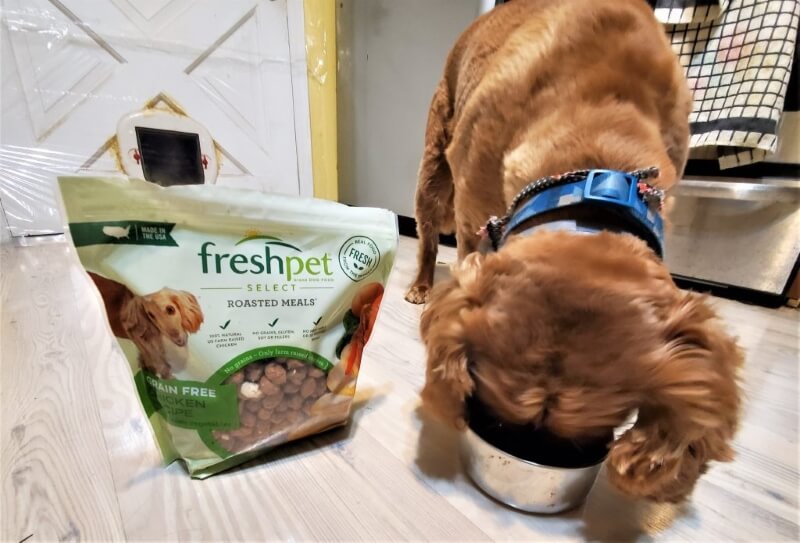 FreshPet Food Recalls
Pet food manufacturers are required to follow certain standards for safety, but accidents do happen.
A pet food recall occurs when there is a problem with the product and the FDA recommends removing it from pet store shelves until the issue is resolved.
Pet food companies also have the option to voluntarily recall a product if they notice or suspect a problem.
Recalls are more common in companies that mass produce their foods. Freshpet did Voluntarily Recalled One Lot of Freshpet® Select Small Dog Bite Size Beef & Egg Recipe Dog Food Due to Potential Salmonella Contamination on June 13, 2021
Is FreshPet Really Worth The Cost?
When it comes to feeding your dog, you should feed him the highest quality diet you can consistently afford.
Many pet experts agree that fresh food is one of the best options for pets because it is more nutritious and less processed than commercial kibble and canned food.
Unfortunately, that is less true for FreshPet than for pet food delivery services like Raised Right and The Farmer's Dog.
FreshPet products are produced in much larger quantities and, other than providing refrigerators, they do not control the conditions in which the products are kept prior to sale.
Equipment malfunction or damage to the packaging could allow mold or bacteria to enter the food, causing it to mold or spoil.
That being said, FreshPet could still be better for your dog than low-quality canned food or kibble.
Generally speaking, the higher the quality of your dog's diet, the better. Poor quality pet foods may be more difficult for your dog to digest or might contain low-quality ingredients that don't deliver optimal nutrition.
Over time, gaps in your dog's nutrition could contribute to serious health problems and, in the end, higher vet bills.
It is well worth the cost to feed your dog high-quality fresh food, but we're not sure FreshPet is the best option if you can afford a fresh food subscription service instead.
Here are some general benefits of feeding your dog premium dog food:
Improved and regulated digestion, less gas and diarrhea
Reduced stool volume and odor
Healthier coat with less shedding
Increased energy levels and vitality
Healthy weight loss (when needed for overweight dogs)
Improved dental health and oral hygiene
Better urinary health, reduced risk for urinary tract infections (UTIs)
The thing you need to remember is that every dog is different. Generally speaking, fresh food is one of the best diets you can feed your dog but FreshPet may not be the best of those options in every case.
You'll need to talk to your veterinarian about your dog's unique dietary needs and ask whether one of FreshPet's products could be a good choice.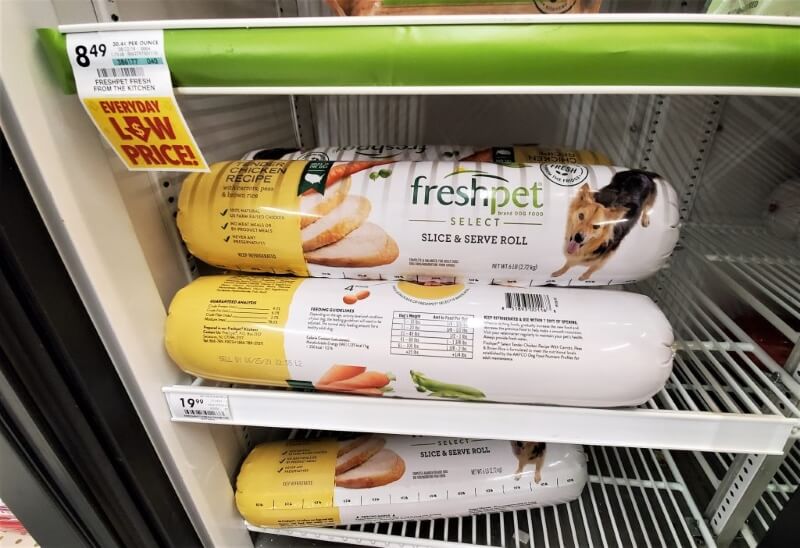 How Do You Order It?
Because FreshPet is not a food delivery service, you can't just order it online through their website. You can, however, use the
Where to Buy page on their website to locate stores near you that carry their products. FreshPet has refrigerators in many major grocery store chains as well as some big box stores like Target.
You may also be able to find FreshPet products from online retailers, but it's difficult to judge the freshness of ordering online so it's best to purchase in stores.
Customer Service
Though it's incredibly easy to find FreshPet in stores and you don't have to wait for delivery, customer service is another matter. You can't expect grocery store employees to be able to answer specific questions about the product and the only options for contacting the company online is by email.
FreshPet does have a FAQ section of their website where you can find answers to common questions, however, so that may be enough for most situations.
Tips for Making the Transition to Fresh Food
Changing your dog's diet can result in digestive upset if you do it too quickly. You should also remember that fresh food is very different from commercial kibble and it may take your dog a little while to get used to it if he's never had fresh food before.
That being said, some dogs take to fresh food right away and find it more palatable than commercial kibble.
When switching to FreshPet, you should transition your dog over a period of 7 to 10 days. You can find specific information in the Switching to FreshPet guide on the website, but it's a fairly simple process.
In the guide, you'll find detailed information about how to store and serve the different types of food in addition to recommendations for how much to feed of your dog's old food and the FreshPet on days 1-3, 3-6, and 7-10.
Just be sure not to open more than you'll be able to use within a 7-day period, so you may need to start with smaller packages when you're completing the transition period.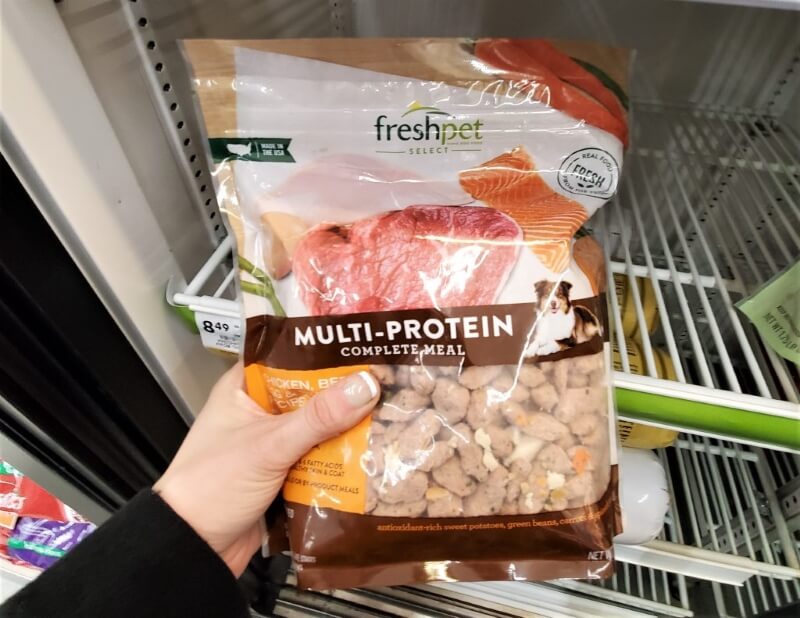 Pros And Cons
Every dog is unique, so the best food for one dog might not be the best option for another. It's up to you to know your dog's needs and preferences so you can make an informed decision. Every dog food brand is unique as well, and each has its pros and cons.
Here are some of the things you need to know about FreshPet:
Pros For Freshpet
FreshPet sources 97% of their ingredients from the USA and Canada and uses all-natural ingredients, including fresh meats instead of rendered meals.
There are a wide variety of products to choose from including grain-free and grain-inclusive options as well as multiple proteins.
FreshPet products are readily available in grocery stores and are objectively less expensive than most fresh food delivery services.
Cons For Freshpet
Price and feeding amount vary widely depending on the dog's size and calorie needs – may not be affordable for everyone.
Shorter shelf-life than most commercial foods due to the lack of preservatives – bagged meals and rolls should be refrigerated and used within 7 days of opening.
Some products are not very appetizing for either dogs or the humans feeding them.
Every pet food company has its pros and cons. Unfortunately, we aren't confident in saying that the pros outweigh the cons for FreshPet. There is certainly nothing wrong with choosing FreshPet if it's the best food within your budget, but if you're committed to feeding your dog fresh food you would do much better with a subscription service like Nom Nom or Ollie.
The Final Word
At the end of the day, it's completely up to you what you choose to feed your dog.
With so many options out there, it can be difficult to know which brands you can trust.
We wouldn't say that FreshPet is an untrustworthy brand and their products are not of low quality, but they aren't what we'd hope to see from a fresh pet food company.
If you do choose to feed FreshPet to your dog, you'll probably find the bagged meals more appealing and so will your dog.
The rolls are less appetizing for certain, but while most products contain some plant protein, these ingredients appear further down the list for the rolls than for the bagged foods.
We can't heartily recommend FreshPet in the end, but we can't fault dog owners for choosing it either.
If you're looking for an affordable brand of fresh food that you can simply pick up in the store, it's one to consider. If you want the highest quality for your dog, however, you'd be better off considering a fresh pet food subscription service like Ollie.
Frequently Asked Questions
Has FreshPet ever been recalled?
Freshpet Voluntarily Recalled One Lot of Freshpet® Select Small Dog Bite Size Beef & Egg Recipe Dog Food Due to Potential Salmonella Contamination on June 13, 2021
Is FreshPet food grain-free?
FreshPet offers both grain-free and grain-inclusive diets. If your dog has a grain allergy, you can use the product selector on the website to filter for grain-free products and then check their availability in stores near you.
Is FreshPet food organic?
No, FreshPet food is not organic. The company states that they focus on finding the highest quality ingredients out there and, while their foods are not organic, they are all-natural and free from antibiotics and preservatives.
Is FreshPet food raw?
No, FreshPet is cooked and pasteurized to kill bacteria.
How many calories per cup for FreshPet food?
The calorie content varies widely from one product to another. You can find specific calorie information on the product page or on the packaging itself as well as feeding recommendations.
Can I cancel my FreshPet food subscription?
FreshPet does not offer a subscription service.
Where can I buy FreshPet food?
You can find FreshPet in most major grocery stores as well as big box chains like Target. Use the Where to Buy option on the website to find a retailer.
Can you heat up FreshPet food?
It is not necessary or recommended to heat FreshPet foods.
Is Freshpet easily digestible?
Yes FreshPet dog food is highly digestible due to use of real animal protein and other whole ingredients, some dogs that are sensitive to pea protein might have a harder time with digestion.
Do veterinarians recommend Freshpet dog food?
Yes, many veterinarians that we've spoken to recommend FreshPet dog food due to the high quality ingredients used and overall good reputation in terms of palatability and quality control.
Was this article helpful?
Let us know what you think.