Raised Right Dog Food Review
This page contains affiliate links. We may earn money or products from the companies mentioned in this post through our independently chosen links, which earn us a commission. Learn More
Raised Right offers an assortment of fresh frozen meals for dogs featuring real animal proteins like chicken, turkey, and pork.
As a responsible dog owner, you want to do what's best for your pet and that includes feeding him a high-quality, nutritious diet.
The trouble with a lot of commercial pet food is that it's made with cheap ingredients and questionable processes. If you're looking for a dog food brand you can trust to be honest and straightforward with you, check out Raised Right Pets.
Raised Right takes dog food seriously. They proudly follow the necessary standards to label their products human-grade and do everything they can to maintain nutritional quality.
Raised Right is so confident in their products they became the first company to voluntarily submit a recipe to be tested by Check Your Pet Food and the results were exactly what they claimed.
We know you wouldn't change your dog's diet without doing your research, and that's why we're here to help you make up your mind about Raised Right. We tested all of Raised Right's fresh dog food recipes to bring you this honest review.
Overview Of The Raised Right Brand
Raised Right Dog Food
Brand

Pros
Human-grade pet food made with sustainable, whole-food ingredients
All recipes made with a single source of animal protein
Batches individually lab tested for safety prior to shipping
Cons
Food doesn't look particularly appetizing
Recipes aren't portioned according to individual calorie needs
Pros
Human-grade pet food made with sustainable, whole-food ingredients
All recipes made with a single source of animal protein
Batches individually lab tested for safety prior to shipping
Cons
Food doesn't look particularly appetizing
Recipes aren't portioned according to individual calorie needs
The Raised Right pet food company comes from a centuries-old history of farming and ranching. Braeden Ruud, Co-Founder/CEO, says of the brand's inception, "While raising food for humans, we decided it's time to provide the same quality of food for pets." Taking the family's experience and values from the pasture to your pet's bowl, the Raised Right brand was born.
Raised Right delivers "home cooked style" with their whole food diets. Their products are lightly cooked and frozen, served fresh for maximum nutrition and flavor.
Every ingredient used in Raised Right pet food has passed the same standards necessary for human consumption and, because the products are made in human food facilities, they meet FDA standards for human-grade. Raised Right takes quality and safety seriously, going so far as to individually lab test each and every batch before shipping it out.
When it comes to the formulation of their products, Raised Right works with veterinarian Dr. Karen Becker and food formulation expert Steve Brown. Every recipe is made with a single source of animal protein with no preservatives and no high-carb fillers like corn, wheat, rice, or potato.
Where Is The Food Made?
As part of their mission, Raised Right is very open about the sourcing of their ingredients as well as their processing and packaging. In response to questions about how their food is made, the brand says:
"All our food is lightly cooked in a USDA inspected human-grade facility with ingredients that have passed the standards necessary for human consumption… After each batch is cooked, we conduct lab safety tests for pathogens such as E.coli, salmonella, and listeria to help ensure they're safe to eat."
Though Raised Right doesn't provide specifics on their website out exactly where their products are made, they do offer an interactive map of their current suppliers. You can browse by state or by specific ingredients to see where everything comes from.
What Dog Food Products Do They Offer?
Raised Right currently offers four fresh dog food recipes and two cat food formulas. These recipes are made with real animal proteins including turkey, beef, pork, and chicken.
Here's a quick overview of the four dog food recipes from Raised Right:
| | | | | | |
| --- | --- | --- | --- | --- | --- |
| Recipe | Protein % | Fat % | Fiber % | Moisture | Calories/Cup |
| Turkey Adult Dog Recipe | 19 | 7 | 1 | 68 | 328 |
| Beef Adult Dog Recipe | 21 | 9 | 2 | 64 | 376 |
| Pork Adult Dog Recipe | 20 | 8 | 2 | 65 | 368 |
| Chicken Adult Dog Recipe | 19 | 8 | 2 | 68 | 344 |
When placing an order with Raised Right, customers are required to purchase a minimum of 8 (2 pound) bags.
Is Their Packing Environmentally Friendly?
The Raised Right brand does their best to do all things responsibly, including the packaging of their products. On the main page of their website, they state:
"We ship to your door with environmentally friendly materials. The liners used to keep your pet's food cold are biodegradable and our boxes are recyclable."
Raised Right states that their bags are made from BPA-free plastic #2 which is picked up by most curbside recycling programs. Additionally, their boxes are recyclable cardboard and the refrigerated liners are made from biodegradable film and recycled textile fibers.
Raised Right makes every effort to ensure your dog's food will arrive fresh and safety frozen, kept cold until at least midnight the day of your delivery.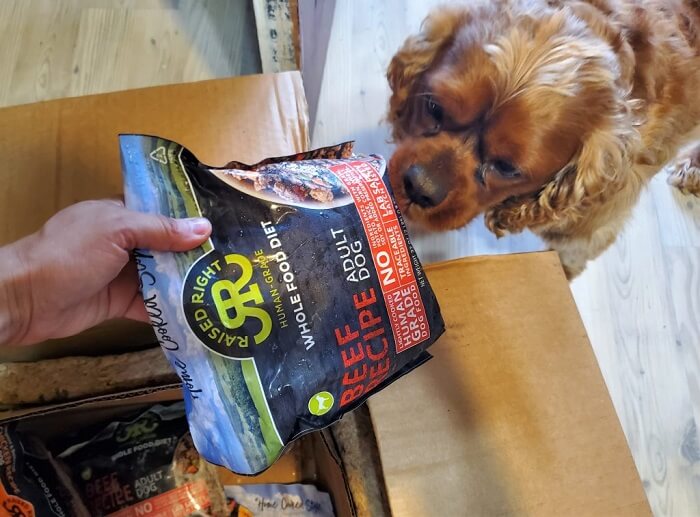 Click Here To Order Your First Box
How Much Does It Cost?
While many fresh dog food subscriptions collect specific information about your dog to customize your order, Raised Right requires a purchase minimum of 8 bags. Each bag is priced at $19.99 which makes your upfront investment a minimum of about $160.
Once you've created your account, you can adjust your shipping frequency by updating your dog's information. Using our 30-pound test dog with a normal activity level, Raised Right recommended 17 ounces per day at an estimated cost of $10.84 per day or about $71 per week.
Check below to see how Raised Right stacks up against other dog food brands for cost:
Fresh Dog Food Price Comparison

Food Type
Brand
Average Price
Price Per
Premium Dry Food
Canidae Grain-Free PURE Limited Ingredient Dry Dog Food
$74.99 for 24lbs.
$0.20 per ounce
Premium Wet Food
Instinct Original Grain-Free Wet Dog Food
$22.14 for 6 (13.2oz.) cans
$0.28 per ounce
Raw Food Subscription
Raws Paws Signature Blend Complete Beef for Cats and Dogs Roll*
$10.99 for 1lbs.
$0.68/ounce
Fresh Food
The Farmer's Dog*
$45.57 per week
$6.51 per day
Fresh Food
Ollie*
$58.00 per week
$8.28 per day
Fresh Food
Pet Plate*
$44.94 per week
$6.42 per day
Fresh Food
A Pup Above (Grocery Pup)
$69.99 for 7lbs.
$0.62 per ounce
Fresh Food
Raised Right
$159.84 for 16lbs.
$0.62 per ounce
*Subscription price based on a 40-pound, neutered male dog 4 years of age
What Did Our Test Dog Think?
Our package from Raised Right arrived in a large cardboard box, as usual.
Unfortunately, the box looked a bit rough which led to concern about what we might find inside. Fortunately, we found all of the packages to be completely frozen, so we're just chalking it up to the trials and tribulations of shipping.
Raised Right recommends defrosting a bag of food overnight in the refrigerator but we found it took closer to 24 hours for the bag to thaw completely. To speed up the process, however, you can simply place it in a container of water.
Upon opening our first bag of Raised Right (chicken recipe) we were a little taken aback. We're used to dog food looking different from human food, but the appearance of Raised Right wasn't quite what we expected.
The picture on the bag shows a bowl of cooked ground meat interspersed with peas and carrots. We definitely saw the carrots, but the rest of the food didn't look particularly appetizing.
We've tested enough dog food at this point to know that our opinion on looks doesn't matter – it's all up to our test dog, Archie.
Unfortunately, Archie wasn't terribly excited about the food either.
Usually all it takes is a few sniffs for him to start scarfing it down, but this food sat in the bowl for a while before he got around to eating it. Our cats, who sometimes get curious about new dog food, weren't interested either.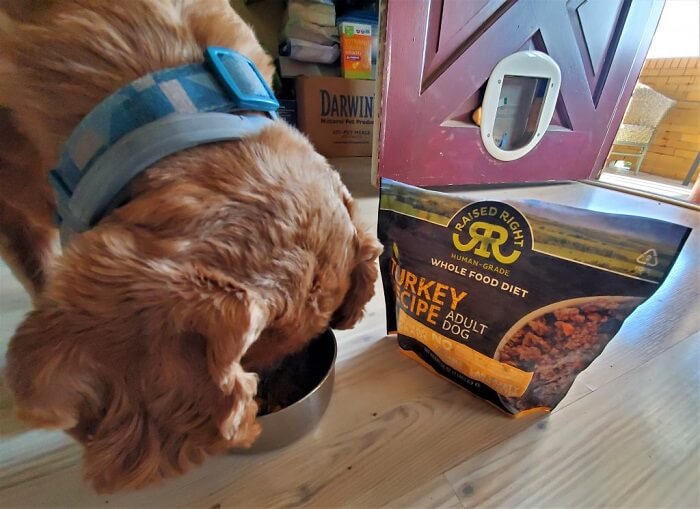 Raised Right Dog Food Recalls
As you shop around for a new pet food brand, it's important to gauge the quality of the products as well as the brand as a whole. Reviewing the brand's product recall history is a great place to start.
Product recalls can happen for a variety of reasons, but it really boils down to an issue either the FDA or the company itself feels is important enough that the product is withdrawn from sale until it can be fixed. Recalls happen for things as simple as labeling errors but can also be for serious problems like contaminated ingredients or inadequate formulation.
Raised Right believes "your pet deserves the safety pet food possible" which is why they dedicate so much time and effort to ensuring the quality of their products.
Not only are their recipes vet-formulated and -recommended, but they are made with human-grade ingredients and lab tested for safety.
Every single batch is tested for pathogens and nothing is sent out until the test results are in. This being the case, you shouldn't be surprised to learn that Raised Right doesn't have any recalls in the brand's history.
Is Raised Right Really Worth The Cost?
When shopping for pet food, you'll find options at every point on the pricing spectrum. As you may already know, price is often equated with quality but that's not a guarantee.
You'll find plenty of high-quality pet foods out there that don't cost a fortune as well as poor-quality foods that do.
If you're wondering whether fresh dog food like Raised Right is worth the cost (especially in comparison to kibble), we're here to help you understand why we think it is.
The reason is quite simple, really, and it all has to do with your dog's health. The quality of your dog's diet is directly related to his long-term health and wellness.
Feeding your dog poor-quality food made with cheap ingredients may leave nutritional gaps in his diet that open the door to deficiencies and other health problems.
Not only can these health problems affect his quality of life and his longevity, but it affects your wallet as well. Vet treatments add up quickly!
Choosing a quality diet for your dog isn't just about saving money, but that's definitely one of the potential long-term benefits.
Here are some additional benefits of feeding your dog premium dog food:
Improved and regulated digestion, less gas and diarrhea
Reduced stool volume and odor
Healthier coat with less shedding
Increased energy levels and vitality
Healthy weight loss (when needed for overweight dogs)
Improved dental health and oral hygiene
Better urinary health, reduced risk for urinary tract infections (UTIs)
If you're serious about supporting your dog's long-term health and wellness, we highly recommend fresh food. Fresh dog food offers superior nutritional quality to kibble and we're confident you'll see the difference in your dog within just a few weeks.
There are plenty of options for fresh dog food out there, but we think Raised Right is one you should consider. Keep reading to learn more about our experience with the brand.
How Do You Order It?
The process to order Raised Right is similar to other fresh dog foods but not quite as in-depth. You'll still need to create a customer account, but you don't need to provide specifics about your dog.
Here's how you order it:
Click the "Buy a Box" button on the home page
Indicate whether you're shopping for cat food or dog food
Select your dog's age – Puppy (up to 12 months) or Adult Dog (1+ years)
Choose a total of 8 bags from 4 available recipes
Select "One-Time Purchase" or "Subscribe" to create a recurring order
Proceed to checkout and fill in your shipping and billing information
Like most other fresh dog food companies we've reviewed, you can control your customer account online once you've created it. You can pause or reschedule an order and even cancel your subscription online without having to call or email.
If you've chosen to create a recurring order, you can visit the Customized Meal Plan page to determine your ideal shipping frequency. Here you'll be asked for your dog's weight and activity level and given both feeding recommendations and a recommended shipping frequency accordingly.
Customer Service
Raised Right is a smaller company, but it's very clear they care about their customers and about the quality of their products. When our test dog wasn't particularly thrilled by the food, we figured it was the perfect opportunity to reach out and test the brand's customer service.
On their website, Raised Right offers two options to reach customer service: phone and email. We chose the email option since it was after hours.
We wrote out a detailed telling of our experience and asked about options moving forward. As we imagine other customers might be, we were a little concerned about the high initial investment (minimum $160 for the first order) and said as much.
Within several hours we had an email back from Braeden Rudd, Co-Founder and CEO of Raised Right. Ruud was very understanding and offered several potential resolutions. He also recommended giving the remaining food to a friend or donating to a local animal shelter.
Though our test dog wasn't a fan of the food, we were very happy with the overall experience working directly with Raised Right and their team.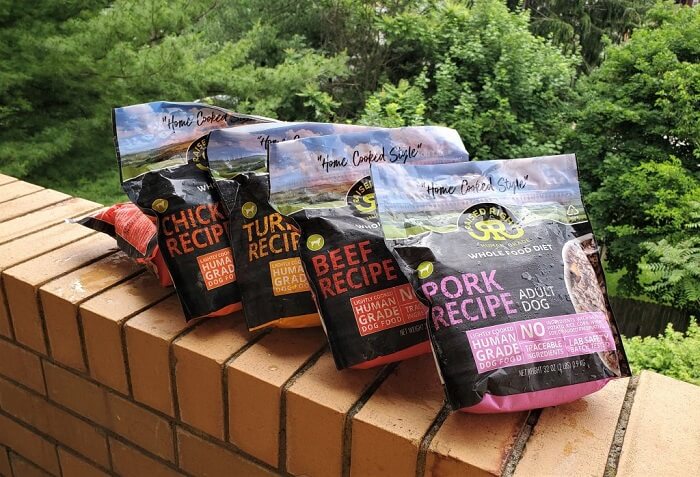 Tips For Making The Transition
If you've ever had to change your dog's diet in a pinch, you may remember the messy result. Dogs often experience digestive upset with sudden dietary changes, so Raised Right recommends transitioning on to the food over a period of 10 days.
Here are the recommendations from their FAQ section:
Day 1-3: Serve 25% Raised Right with 75% your dog's current diet
Day 4-6: Serve 50% Raised Right with 50% your dog's current diet
Day 7-9: Serve 75% Raised Right with 50% your dog's current diet
Day 10: Serve 100% Raised Right
Every dog is different, so your dog may complete the transition more quickly or might need to spend an extra day or two adjusting. If he develops loose stools, go back to the previous step for another day or two before moving on to the next one.
Pros and Cons
There's no denying that fresh food is generally higher in nutritional quality than the average kibble, but not all fresh foods are created equal. Whether you choose to feed your dog fresh or not, it's still your responsibility to pick a brand you can trust and products you can be proud to feed your pet.
That being said, every dog food brand has its pros and cons. Here are some of the things you need to know about Raised Right:
Pros for Raised Right:
Human-grade pet food made with sustainable, whole-food ingredients
All recipes made with a single source of animal protein
No preservatives or high-carb fillers like corn, wheat, soy, or potato
Batches individually lab tested for safety prior to shipping
Cons for Raised Right:
Purchasing minimum of 8 bags (about $160)
Food doesn't look particularly appetizing (by human standards)
Recipes aren't portioned according to individual calorie needs
Every brand has its pros and cons, so it's up to you as an individual to make the choice in the end. What you've learned here should be enough for you to decide if Raised Right is the perfect pick for your pup.

The Final Words
Overall, our experience with Raised Right had its ups and downs. We were extremely pleased with the quality of the product and how seriously the brand takes safety and transparency. We had the utmost confidence that the product we were ordering was good for our test dog.
Unfortunately, our test dog wasn't a big fan and we weren't a fan of the limited subscription options (minimum $160 order). We were, however, very impressed with the brand's immediate response to our concern and would say our experience was a positive one on the whole.
To put it simply, Raised Right wasn't our test dog's favorite of the fresh food companies we've tested but we're not going to write the brand off completely.
Click Here To Order Your First Box
Frequently Asked Questions
Has Raised Right ever been recalled?
No, Raised Right hasn't had any recalls.
Is Raised Right food grain-free?
Yes. All four Raised Right recipes are made without high-carb fillers like potato and low-quality grains like corn, wheat, and soy. All of their recipes are entirely grain-free.
Is Raised Right food organic?
No, Raised Right does not use organic ingredients but all ingredients pass USDA standards for human consumption.
Is Raised Right food raw?
No, Raised Right dog food is lightly cooked to destroy pathogens then frozen prior to shipping.
How many calories per cup for Raised Right food?
The calorie content varies from one recipe to another but ranges from 328 to 376 kcal per cup.
Can I cancel my Raised Right food subscription?
Yes, you can control your Raised Right subscription from your customer account by logging in online.
Where can I buy Raised Right food?
You can only purchase Raised Right online through the company's website.
Can you heat up Raised Right food?
If your dog prefers warm food, you can let the food come to room temperature for 15 minutes before feeding or warm it with water or broth. You don't need to cook the food or heat it to high temperature.
Was this article helpful?
Let us know what you think.