Portland Pet Food Company Review
This page contains affiliate links. We may earn money or products from the companies mentioned in this post through our independently chosen links, which earn us a commission. Learn More
If you were to eat the same thing each and every day, you might get a little bored with it. How do you think your dog feels? Some dogs have no problem eating the same thing day in and day out, but even those dogs might appreciate a little variety now and again.
The trouble with changing up your dog's diet is spending the money on a big bag of food just to find out your dog doesn't like it. If you're going with a rotational diet, you may not even make it through the entire bag before it starts to lose nutrition.
The good news is Portland Pet Food is here to solve the problem. Their shelf-stable, homestyle meals are a perfect solution.
We tested all five varieties of Portland Pet Food's ready-to-eat meals as well as some of their treats to bring you this comprehensive brand review.
Keep reading to see what we thought!
Overview Of The Portland Pet Food Brand
Portland Pet Food
Brand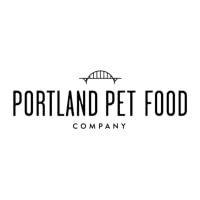 Pros
All meals made with US-sourced ingredients, made in Oregon
Ingredients are human-grade and ethically sourced
Meals are packaged in 9-ounce pouches for easy serving
Cons
Can be pricey depending on your dog's calorie needs
Meals are not nutritionally balanced (supplemental feeding only)
Pros
All meals made with US-sourced ingredients, made in Oregon
Ingredients are human-grade and ethically sourced
Meals are packaged in 9-ounce pouches for easy serving
Cons
Can be pricey depending on your dog's calorie needs
Meals are not nutritionally balanced (supplemental feeding only)
The story of Portland Pet Food Company starts with Katie McCarron and her dog, Rosie. After spending 20 years as a health communications consultant, Katie turned her attention to her aging standard Poodle.
Rosie was a picky eater and had started to lose weight. Rather than feeding her a commercial diet filled with unnatural supplements, Katie decided to make Rosie's meals at home.
Portland Pet Food was founded in 2014 and continues to help dogs thrive with the same nutrient-packed meals and treats that were originally formulated in Katie's kitchen.
This the Portland Pet Food Company mission:
"We believe every dog should live the best life they can, for as long as they can. We promise to only use ingredients and processes that each one of our pack members would eat. We believe there shouldn't be a hidden ingredient list, mystery "nutrient blend", or foreign ingredients. Giving back to the dogs that need it most and practicing earth conscious initiatives is vital to a thriving community and world!"
Not only is Portland Pet Food devoted to producing high-quality pet foods, but they are committed to protecting the Earth as well. This company follows ethical and sustainable practices when it comes to sourcing ingredients and producing food, plus they partner with other like-minded organizations.
Here are a few other things that make Portland Pet food unique:
All ingredients sourced from the USA (most in the Pacific Northwest)
Ethically sourced ingredients and earth-friendly packaging
Fewer than 11 ingredients in each product (some as few as 5)
All meats are USDA-certified and hormone/antibiotic free
No GMOs or synthetic ingredients
Free from additives, preservatives, rendered foods, and byproducts
Portland Pet Food Company believes you should feed your dog like you feed yourself. That's why they work so hard to make sure their products are of the highest quality. Your dog deserves the best!
Where Are the Products Made?
When it comes to their ingredients, Portland Pet Food doesn't hesitate to spill it all. Their ingredients are sourced from US farms and businesses that align with the company's mission of following ethical and sustainable practices.
Their fresh, human-grade meat comes from Cascade Natural Meats and Carlton Farms, both based in Oregon. The flour in their biscuits comes from Bob's Red Mill, and upcycled spent grain is sourced from Deschutes Brewery and Laurelwood Brewery.
Not only does Portland Pet Food share the sourcing of their ingredients, but they make several promises to pet owners about them as well. For example, they say their meals "consist only of whole meat, 100% fit for human consumption from USDA-approved facilities."
Portland Pet Food makes all of their products in company-owned facilities located in Oregon. They have a hard-working team of bakers and staff who work hard to make thousands of biscuits each day. Their biscuits are hand rolled and cut, and all meals are cooked from scratch.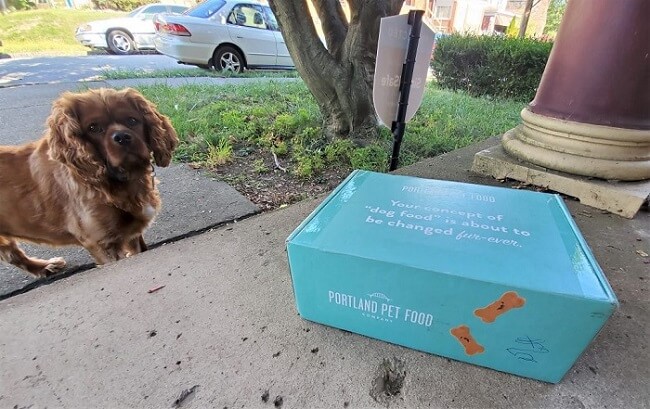 What Dog Products Do They Offer?
Portland Pet Food is not your traditional dog food company. Rather than extruded kibble or canned food, they offer a selection of shelf-stable, homestyle meals individually packaged in convenient pouches. These meals are perfect for rotational feeding but can also be used as a meal mixer or a backup option for picky eaters. They also work very well for travel.
The thing to remember about Portland Pet Food Company meals is that they are intended for intermittent or supplemental feeding only – they are not nutritional balanced as a daily diet.
Here are the options available:
Hopkins Pork N Potato Meal Pouch
Rosie's Beef N Rice Meal Pouch
Tuxedo's Chicken & Yams Meal Pouch
Grandma Ada's Turkey & Yams Meal Pouch
Wally's Salmon N Rice Meal Pouch
All of Portland Pet Food's meal pouches are made with real meat and veggies. They are sourced from human-grade, all-natural meat raised without the use of hormones or antibiotics and they are shelf-stable for up to 2 years.
The packaging is BPA free and all recipes are free from artificial colors, flavors, and preservatives. Portland Pet Food wants only the best for your pet.
In addition to these meal pouches, Portland Pet Food offers an assortment of dog biscuits. These biscuits are 100% sourced and made in the USA.
Made with spent grains, these biscuits are twice baked to give them a light, crunchy texture. They are available in traditional as well as grain-free recipes.
Is Their Packing Environmentally Friendly?
Portland Pet Food is very much committed to being environmentally friendly.
Not only do they source local meats, vegetables, and grains as much as possible, but they ensure all of their ingredients are ethically sourced. They choose to partner with suppliers who follow their mission of ethical and sustainable farming practices.
In terms of their packaging, Portland Pet Food uses Earth-friendly, BPA-free packaging. Furthermore, they have a partnership with TerraCycle, a company that provides free recycling to consumers.
You simply submit a request online and you'll be sent a TerraCycle envelope with a prepaid shipping label. Just put your used Portland Pet Food packages in the envelope and sent it back for recycling.
How Much Does It Cost?
When shopping for pet food, many pet owners are concerned about price. While it's important to consider affordability, you have to take other factors into account. After all, good dog food isn't usually cheap and cheap dog food isn't usually good.
At Portland Pet Food Company, you can rely on the quality of the food as well as its affordability. Their homestyle meals come in 9-ounce packages for $6.99 each which averages to about $0.78 per ounce. How much it will cost to feed your dog on a daily basis depends on your dog's size and calorie requirements. Each pouch contains around 300 to 350 calories.
To help you save money, Portland Pet Food offers a flexible home delivery service. When you start a subscription, you'll receive 25% off your first order and 10% off all orders in the future.
Check below to see how Portland Pet Food stacks up against other dog food brands for cost:
Premium Dog Food Price Comparison

Food Type
Brand
Average Price
Price Per
Premium Dry Dog Food
Open Farm Homestead Turkey & Chicken Dry Dog Food
$87.99 for 24lbs.
$0.23 per ounce
Premium Wet Food
Instinct Original Grain-Free Wet Dog Food
$22.14 for 6 (13.2oz.) cans
$0.28 per ounce
Freeze-Dried Raw
Stella & Chewy's Freeze-Dried Raw Chicken Dinner Patties
$51.99 for 25oz.
$2.08 per ounce
Fresh Food Subscription
The Farmer's Dog*
$45.57 per week
$6.51 per day
Dry Food Subscription
Tailored Pet*
$46.80 for 20lbs. (5 weeks)
$1.34 per day
Pantry Fresh Dog Food
Just Food for Dogs
$83.40 for 12 (12.5oz.) cartons
$0.56 per ounce
Human-Grade Dog Food Pouch
Portland Pet Food Company
$49.95 for 8 (9oz.) pouches
$0.69 per ounce
*Subscription price based on a 40-pound, neutered male dog 4 years of age
What Did Our Test Dog Think?
In order to test Portland Pet Food Company, we received an order that included all five of their ready-to-eat meals along with a selection of treats. Our delivery arrived in a bright blue box branded with Portland Pet Food Company's logo and the words, "Your concept of dog food is about to be changed fur-ever." The box was appropriately sized for the order with no excess packaging.
Inside the box, we found several inserts including helpful information about the products and how they are made. Under the products themselves was some fiber padding which may not have been necessary, but it looked recyclable and we appreciated the extra care.
As soon as we opened the box, our test dog Archie could tell it was for him. He immediately stuck his nose in and found a bag of Grain & Gluten Free Bacon Biscuits. He could hardly wait for us to open it, pawing at the bag the entire time. He happily crunched away while we perused the other products in the package. All five ready-to-eat meals and a bag of treats fit nicely into the box.
To test the meals themselves, we chose to use them as meal toppers along with Archie's usual daily kibble. The packages were easy to open but still felt sturdy enough that we didn't worry about puncturing them. In fact, we tested the company's travel-friendly claim and had no issues at all. The texture of the food varied from one recipe to another, but Archie didn't seem to mind any of them.
Overall, we loved the quality and concept of Portland Pet Food Company's ready-to-eat meals. They're certainly convenient for storage and travel, and we love having a smaller package available for meal toppers and mix-ins. It's unfortunate the products are not nutritionally complete, but we appreciate the recipes for what they are and expect other customers will purchase them with the intended purpose in mind.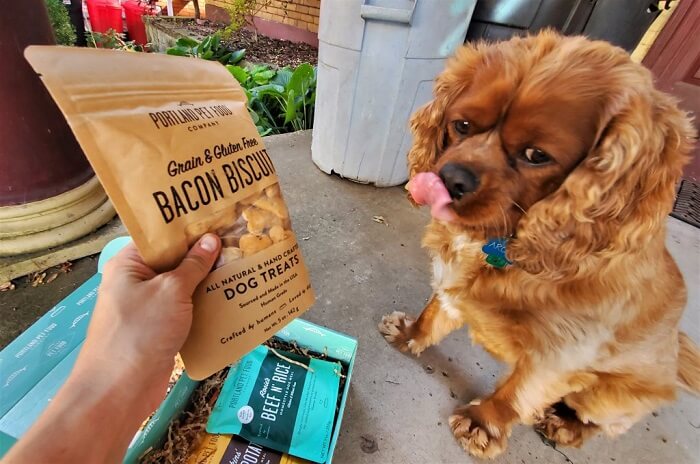 Portland Pet Food Recalls
When researching a new brand of pet food, it's important to look at more than just the label. You should also look into the brand and its history to see if there have been any problems like product recalls.
A product recall happens when there's an issue with the product and it needs to be removed from sale. This can happen for something as simple as a labeling error or something as serious as contamination with food-borne pathogens. Pet food companies can issue voluntary recalls themselves or the FDA may issue one in response to testing or customer complaints.
Accidents happen, especially when companies produce their food in large batches or outsource production. Fortunately, Portland Pet Food Company owns their own manufacturing facilities and produces their food in small batches. We weren't able to find any recalls in the brand's history.
Is Portland Pet Food Really Worth the Cost?
All dog foods are not created equal and you shouldn't shop by price alone. You might assume that higher quality products are going to be more expensive (which is generally true), but expensive dog food isn't always high in quality. That being said, it's well worth the cost to feed your dog good food.
What you need to remember is that your dog is entirely dependent on you for his daily nutrition. Whatever you feed him is his sole source of nutrients and if he doesn't get the nutritional balance he needs, his body won't function properly. A low-quality diet is more likely to contribute to malnutrition or chronic illness which can shorten your pet's life and lead to expensive vet bills on your part.
In the short term, it may seem like a good idea to save a few bucks with cheap dog food, but it could up ending costing you and your dog in the long run.
Here are some additional benefits of feeding your dog premium dog food:
Improved and regulated digestion, less gas and diarrhea
Reduced stool volume and odor
Healthier coat with less shedding
Increased energy levels and vitality
Healthy weight loss (when needed for overweight dogs)
Improved dental health and oral hygiene
Better urinary health, reduced risk for urinary tract infections (UTIs)
To keep your dog happy and healthy for as long as possible, we always recommend feeding him the highest quality diet you can consistently afford. There are plenty of options out there, but if you're looking for a supplemental dog food product to add into your rotation, PPFC is one you should consider.
Keep reading to learn more about our experience with the brand.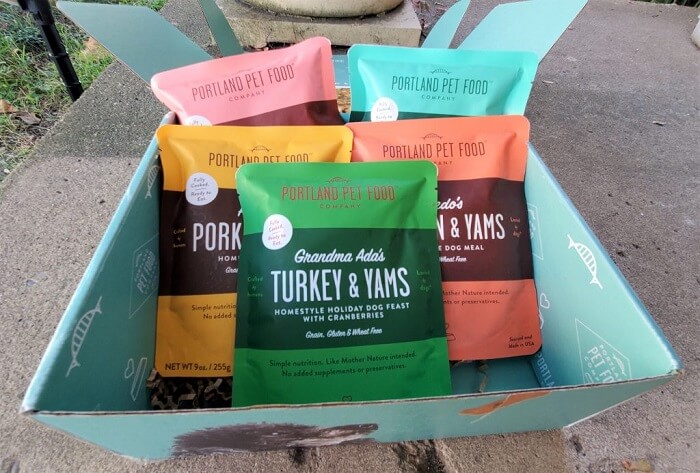 How Do You Order It?
There are two ways to shop for Portland Pet Food Company products. The easiest way is to simply shop online through the company's website, but you can also find their products in retailers nationwide. To find a local retailer, simply use the Store Locator.
Here's how you start an order online:
Click on the "Shop" button at the top of the home page
Select "Meals" then browse the selection
Click on a specific product or add items to your cart
Choose from a one-time purchase or subscribe and save
Click "Check Out" to complete your order
Fill in your billing, shipping, and payment information
When submitting your first order, you'll also be asked to create an account. You can log into your account in the future to place new orders or to view or change your subscription. If you have questions at any time, you can always contact customer service.
Customer Service
Portland Pet Food Company makes things as easy as possible with their online ordering, but you may have questions from time to time. Fortunately, there's a chat option right on the web page where you can quickly speak to a member of the team. If you're not in a hurry, you can always contact PPFC by phone or email. We tested the chat option and received a response immediately.
Tips For Making The Transition
Dogs often have sensitive digestive systems, so making a sudden change to your dog's diet may not end well. Portland Pet Food Company recommends transitioning your dog slowly by replacing 25% of his current diet with the new food each week. There's nothing wrong with this schedule, but it may be a little slower than necessary. If your dog has a very sensitive stomach, however, it may be best.
Here's what we recommend for transitioning your dog:
Days 1 thru 3: Serve 25% PPFC with 75% your dog's current diet
Days 4 thru 6: Serve 50% PPFC with 50% your dog's current diet
Days 7 thru 9: Serve 75% PPFC with 25% your dog's current diet
Days 10: Serve 100% PPFC dog food
Every dog is different, so yours might the transition more quickly. On the other hand, he might need to spend an extra day or two adjusting. If your dog develops loose stools, go back to the previous step for another day or two before moving on to the next one.
Pros and Cons
Before settling on a new dog food brand, it's important to think about it practically. Every company is going to make an effort to "sell" you as a customer, so you need to look at the options and think about what's really best for you and for your dog.
Every dog food brand has its pros and cons. Here are some of the things you need to know about Portland Pet Food Company:
Pros For Portland Pet Food:
All meals made with US-sourced ingredients, made in Oregon
Ingredients are human-grade and ethically sourced
Meals are packaged in 9-ounce pouches for easy serving
Available for purchase online and in stores nationwide
Ready-to-eat meals can be served as-is or warmed up
Cons For Portland Pet Food:
Can be pricey depending on your dog's calorie needs
Meals are not nutritionally balanced (supplemental feeding only)
Every pet food brand has its advantages and disadvantages. It's your job as a responsible dog owner to weigh them and decide whether Portland Pet Food Company I the right option for your pup.
The Final Word
When Portland Pet Food Company reached out to offer samples, we were immediately intrigued and checked them out right away. We were very impressed with the quality of their website and the ease with which we could find answers to our questions. It's clear this company has put a lot of time and thought into their product and they put just as much effort into presenting it well.
The first thing we noticed about Portland Pet Food Company is that they use all human-grade ingredients sourced from the USA. Upon further research, we found that most of these ingredients are even sourced locally, when possible. We love a company that makes an effort to keep things local, especially one that pays attention to sustainability as well.
The concept of Portland Pet Food Company's ready-to-eat meals is great. It's a unique alternative to freeze-dried meal mixers and canned food but just as convenient in terms of storage and serving. We didn't mind the limited variety given that these meals are intended to be used intermittently and we appreciated that the company took into consideration people who like to serve their dog's food warm.
Overall, we love Portland Pet Food Company and highly recommend them to anyone looking for a nutritious meal topper, mix-in, or rotational meal. The fact that their products can be found in stores nationwide and ordered online just makes it easier. Their prices are reasonable, and they make every effort to save you money with their monthly subscription service.
Check All Portland Pet Food Company Products on Amazon
Frequently Asked Questions
Has Portland Pet Food ever been recalled?
To our knowledge, Portland Pet Food Company products have never been recalled.
Is Portland Pet Food grain-free?
Some of them are. Portland Pet Food Company offers five different recipes, two of which are grain- and gluten-free.
Is Portland Pet Food organic?
No, Portland Pet Food Company meals are not made with organic ingredients, but all ingredients are human-grade.
Is Portland Pet Food raw?
No, Portland Pet Food Company meals are cooked.
How many calories per cup for Portland Pet Food?
These ready-to-eat meals are packaged in 9-ounce pouches with 300 to 350 calories per pouch, depending on the recipe.
Can I cancel my Portland Pet Food subscription?
Yes, you can change or cancel your subscription to Portland Pet Food Company at any time by logging into your account or contacting customer service.
Where can I buy Portland Pet Food?
You can purchase Portland Pet Food Company meals directly through the company website or locate one of their retailers online.
Can you heat up Portland Pet Food?
Yes, to heat Portland Pet Food Company meals you can tear a 1-inch vent at the top and heat in the microwave for 15 to 30 seconds. Just make sure to let it cool for a few seconds before you feed it to your dog.
Was this article helpful?
Let us know what you think.