Tailored Dog Food Review
This page contains affiliate links. We may earn money or products from the companies mentioned in this post through our independently chosen links, which earn us a commission. Learn More
Tailored arrives in a recyclable cardboard box with everything you need tucked inside.
Every dog owner likes to think their dog is special. Unique. The truth is every dog may be different, but their nutritional needs all have the same foundation. Protein is a must, ideally from animal sources, and healthy fats are important as well.
Tailored Dog Food
Brand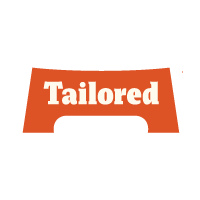 Pros
Customized nutrition sent right to your door
Real poultry, meat, or fish as the #1 ingredient
Made in the United States with high-quality ingredients
Cons
Can't view the entire recipe collection before purchase
Preference for peas/legumes over whole grains
Pros
Customized nutrition sent right to your door
Real poultry, meat, or fish as the #1 ingredient
Made in the United States with high-quality ingredients
Cons
Can't view the entire recipe collection before purchase
Preference for peas/legumes over whole grains
Throw in some vitamins and minerals, and you have a balanced diet.
The trouble is while all dogs have the same core nutritional needs, some dogs develop food allergies, intolerances, digestive disease, and other issues that necessitate an adjusted diet.
The recipes you find at the pet store may be marketed for certain things like "urinary support" or "digestive health," but how do you know they're really right for your dog?
Tailored Pet offers "personalized recipes for your dog's best life." By completing a simple quiz, you can receive a bag of dog food tailormade for your pup and his unique needs. We tried it ourselves with our test dog Archie's help to bring you the following review of our Tailored experience.
There are Better Fresh Dog Food Delivery Services to Choose from
There are better fresh options, a crop of new fresh cat food delivery competitors offer better, fresher dog food delivered right to your home.
Here are some our favorite fresh dog food brands you can choose from today. Most offer a heavy discount on your first order so you can see how your mutt likes it . Click here to read our full reviews:
Overview Of The Tailored Pet Brand
At Tailored, every dog deserves a diet catered specifically to his needs and preferences. This company offers "nutrition worth barking about" and it's sent right to your front door.
The story of Tailored is one many pet owners are familiar with. It began with a group of pet parents who were overwhelmed with the options at the pet store yet unable to find the perfect fit for their pets. They teamed up with pet nutrition experts to solve the problem once and for all. Thus, Tailored was born. It's a company that crafts personalized recipes for dogs to give them exactly what they need.
When it comes to the specifics about Tailored, we were pleasantly surprised with the detail provided by their website. Their veterinary advisory board includes Doctors of Veterinary Medicine Dr. Emily Luisana and Dr. Katalin Grant and pet/canine nutrition experts Rudy Leschke and Dr. Larry Hawley. You can even view profiles for members of the Tailored family called "pup success specialists."
Tailored believes no two dogs are the same and their nutrition shouldn't be either.
Here are some of the ingredients featured in their recipes:
High-quality proteins like chicken, salmon, bison, and lamb
Nutrient-rich farm-grown veggies and fruits
Wholesome, healthy, fiber-rich legumes
Depending on your dog's unique needs and preferences, his recipe could contain any combination of these ingredients. That being said, Tailored does offer Limited Ingredient Diets (LID) for dogs who have severe restrictions or allergies. These recipes are made with 7 to 10 ingredients plus supplements.
Where Are The Products Made?
At this time, Tailored only offers high-quality dry food for dogs. Their recipes have been formulated by leading nutritionists and veterinarians to provide 100% complete and balanced nutrition with high digestibility and a delicious taste.
Though they recognize all dogs have different tastes and requirements, Tailored believes kibble is "the most cost effective way for the majority of pet parents to safely provide ultra-premium nutrition to their pets."
Tailored pet food is made in world-class facilities in Texas and California. The company is a little less forthcoming about the specifics of sourcing for their ingredients and they do admit to sourcing certain vitamin and mineral supplements from China.
Here's what they say about their ingredients:
"While most of our ingredients are sourced from the USA, we also source high-quality ingredients from trusted supplier partners in other countries to ensure we're providing pets with the best and most wholesome ingredients available on the market… We hold every one of our ingredients and ingredient suppliers to the highest standards of quality and food safety."
In the FAQ section of their website, Tailored mentions real lamb from New Zealand, duck from France, and seafood from Canada. Though they do source some ingredients outside the U.S., Tailored says they only used trusted suppliers and ensure every ingredient is thoroughly tested for safety and quality.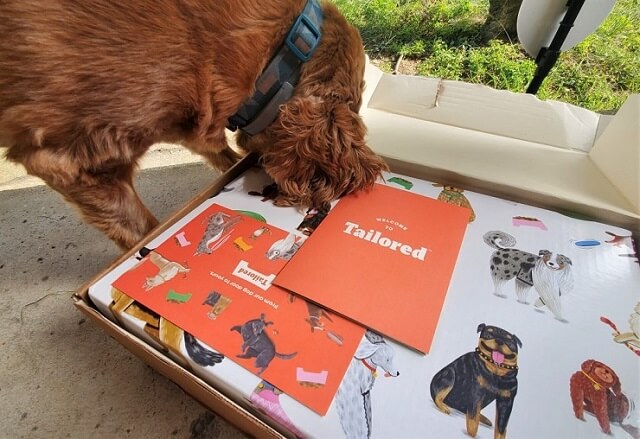 Get 50% On Your First Order + FREE Shipping! Use Code TAILORED50 At Checkout
What Dog Products Do They Offer?
At the time of review, Tailored only offered dry dog food recipes. Their formulas are made with high-quality natural ingredients and designed to ensure complete and balanced nutrition. Unfortunately, we weren't able to view full list of their recipes, but we tinkered with the quiz to get a feel for the options.
Here are some of the recipes we came across:
Chicken, Turkey Meal, Chickpea & Pea Blend
Lamb, Goat Meal, Lentil & Pea Blend
Salmon, Salmon Meal, Lentil & Chickpea Blend
Beef, Barley & Millet Blend
Duck, Duck Meal, Sweet Potato & Pea Blend
Though we weren't able to view a full list of recipes, the options in the quiz used to customize our recipe give us some clues. The main protein options seem to be salmon, chicken, duck, lamb, wild board, turkey, and beef with bison available as a premium protein.
Tailored also offers the following as ingredient exclusions:
Grains
Gluten
Flax
Eggs
Chicken
Red Meat
Potatoes
In playing around with the entry quiz, we found that all the recipe options we were given seemed to be grain-free, made with peas and legumes instead. In the FAQ section, Tailored comments that some of their recipes do contain grains. We didn't indicate any food sensitivities or allergies in filling out the quiz, so we get the impression that peas and legumes are the foundation for most recipes but Tailored will use grains in certain cases. Honestly, we prefer whole grains to peas and legumes for dogs.
Is Their Packing Environmentally Friendly?
At Tailored, it's just as important to take care of the earth as it is to take care of the ones living on it. They've partnered with TerraCycle to design recyclable packaging and every order includes a biodegradable scooper (surprisingly dishwasher safe) made from 100% bamboo. All shipping boxes are corrugated cardboard with inserts made from recycled material – both recyclable.
To recycle the packaging from your Tailored order, you simply have to visit TerraCycle's website and sign up for a free account. You can then place the empty bag in a plain box then download, print, and attach a pre-paid shipping label. Simply drop the box off for shipping or have it picked up.
Not only does Tailored put special attention into the creation of their packaging, but they think about the details in their processing as well. They offset 100% of their carbon emissions from shipping. In other words, they balance out the carbon emissions created through the shipping process by creating a positive impact on the environment in other ways.
How Much Does It Cost?
Tailored says their customized nutrition plans are "about the same price as a specialty pet store recipe." Though you may pay a little more than you would for the average kibble, you'll receive high-quality nutritional personalized specifically for your dog's age, activity level, and sensitivities.
All that being said, pricing varies greatly with Tailored depending on your dog's calorie needs. This generally depends on his size and activity level.
Using the examples on the Tailored website, small dogs average $26/month, medium dogs about $40/month, and large dogs $54/month. Our test dog, Archie, is about 35 pounds and has no food sensitivities or restrictions. The full price for what Tailored offered was $52 for a 20-pound bag estimated to last about 5 weeks. That breaks down to a little over $10/week or $40/month.
Check below to see how Tailored Pet Brand stacks up against other dog food brands for cost:
Premium Dog Food Price Comparison

Food Type
Brand
Average Price
Price Per
Premium Dry Dog Food
Open Farm Homestead Turkey & Chicken Dry Dog Food
$87.99 for 24lbs.
$0.23 per ounce
Limited Ingredient Dry Food
Canidae Grain-Free PURE Limited Ingredient Dry Dog Food
$74.99 for 24lbs.
$0.20 per ounce
Premium Wet Food
Instinct Original Grain-Free Wet Dog Food
$22.14 for 6 (13.2oz.) cans
$0.28 per ounce
Freeze-Dried Raw
Stella & Chewy's Freeze-Dried Raw Chicken Dinner Patties
$51.99 for 25oz.
$2.08 per ounce
Raw Food Subscription
Raws Paws Signature Blend Complete Beef for Cats and Dogs Roll*
$10.99 for 1lbs.
$0.68/ounce
Fresh Food Subscription
Nom Nom*
$48.51 per week
$6.93 per day
Fresh Food Subscription
The Farmer's Dog*
$45.57 per week
$6.51 per day
Dry Dog Food Subscription
Tailored Pet*
$46.80 for 20lbs. (5 weeks)
$1.34 per day
*Subscription price based on a 40-pound, neutered male dog 4 years of age
What Did Our Test Dog Think?
In order to test Tailored dog food, we followed the same process any customer would. We visited the website and completed the quiz to provide the necessary details about our test dog, Archie. Having tried most of the other dog food subscriptions out there by now, we were familiar with the process.
Completing the quiz for Tailored takes a little longer than it does for other pet food subscriptions. In addition to the information about breed, size, and age, Tailored collects information about mobility, activity, and body type. They also ask questions related to digestion and skin/coat issues such as questions about stool, skin/coat condition, and dental health.
Though the quiz took a few extra minutes to complete, the questions were all clearly worded and the answer options were simple. We had no trouble filling it out.
When we received our custom order, we were very impressed with the packaging. Our Tailored order arrived in a branded cardboard box with a cute cardboard insert featuring pictures of different dogs. The order arrived with a helpful information packet and the promised biodegradable scoop. The bag of dog food had a custom label indicating Archie's age, size, activity level, sensitivities, and wellness goals along with the name of his recipe.
Archie was interested in the box right away and seemed to know it was for him. While he was pawing at the bag, waiting for us to open it, we took a closer look.
We really appreciated that the feeding instructions are printed right on the back of the bag along with the ingredients list and guaranteed analysis. Some companies send the custom scoop but don't give clear separate instructions for the feeding amount. Archie dug right into his first bowl of Tailored and we found the resealable bag closed securely to keep the food fresh.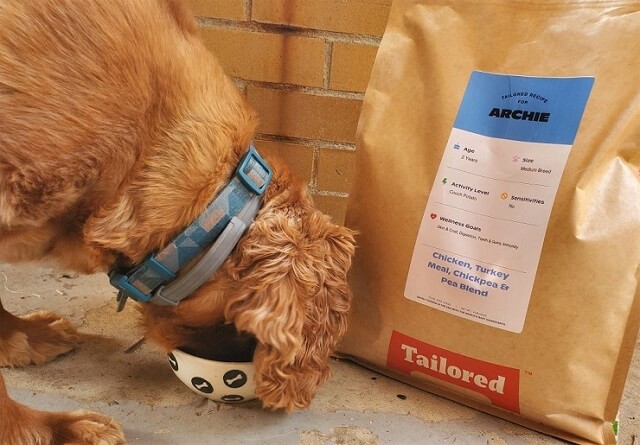 Tailored Pet Dog Recalls
Product recalls are a major concern for pet owners and the history of a brand should be part of your research before you make your final decision.
A product recall happens when there's an issue with a product and it needs to be withdrawn from sale for consumer safety until the issue can be addressed.
Though manufacturers can voluntarily recall products if they become aware of an issue themselves, recalls are frequently issued by the FDA in response to testing or consumer complaints.
To our knowledge, Tailored has not had any product recalls in the limited history of the brand. It's important to note that a lack of recalls alone isn't enough to judge the quality of a brand, nor is the existence of a recall or two enough to indicate poor quality.
Is Tailored Pet Really Worth the Cost?
Every pet food company wants to set themselves apart from the pack. Some do it with fancy ingredients, others with unique packaging. Tailored is different because they customize your dog's nutrition based on his specific calorie requirements and other factors.
But is it worth the price you pay for such customization?
Whether you think Tailored is worth the cost is up to you, but we do want to say a few words about the benefit of upgrading your dog's diet. The quality of your dog's diet is one of the biggest determining factors in his long-term health and wellness. Without quality nutrition, your dog's body won't function at its optimal level and that can lead to a host of problems.
Dogs require balanced nutrition to live a healthy life – it's as simple as that.
The truth is high-quality ingredients are going to cost more than a grocery store dog food. It's important to do the research yourself to make sure you get what you pay for with a premium dog food, but there's no denying the benefit of a meat-based diet over a cheap food loaded with fillers. It all comes down to your dog's nutritional needs and what his body is evolved to digest and process efficiently.
Here are some additional benefits of feeding your dog premium dog food:
Improved and regulated digestion, less gas and diarrhea
Reduced stool volume and odor
Healthier coat with less shedding
Increased energy levels and vitality
Healthy weight loss (when needed for overweight dogs)
Improved dental health and oral hygiene
Better urinary health, reduced risk for urinary tract infections (UTIs)
To keep your dog happy and healthy for as long as possible, you should feed him the highest quality diet you can consistently afford. There are plenty of options for dog food out there, but we think Tailored is one you should consider. Keep reading to learn more about our experience with the brand.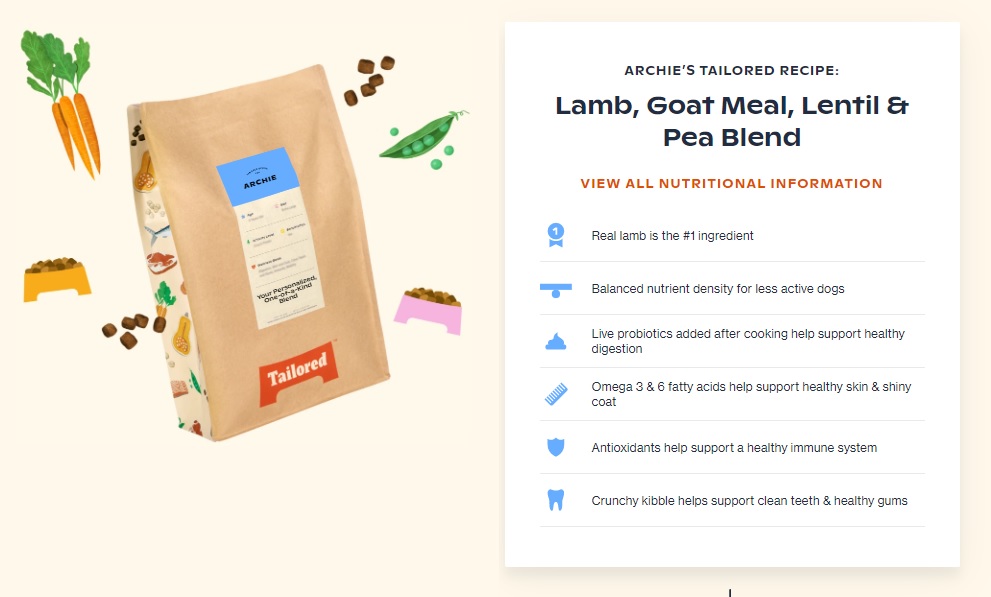 How Do You Order It?
Subscription dog food services are usually pretty easy to sign up for – you just provide some basic information and you're good to go. With Tailored, the idea is to customize your dog's recipe to his specific needs, so the process may take a few extra minutes. The questions are simple to answer, but there are a few extra clicks involved to get to the ordering page.
Here's the process to subscribe:
Click the "Get Started" button on the home page
Provide your dog's name and your email address
Indicate your dog's sex and birthdate
Fill in your dog's breed type or mix of breeds
Select from a range of breed sizes
Indicate your dog's weight and body type
Provide details about your dog's activity level
Select from a list of health concerns and ingredient exclusions
Describe your dog's mobility and coat health
Answer questions about his stool, teeth/gums, and immunity
Based on your answers to these questions, Tailored will provide you with a custom recipe. You may have the option to choose from different proteins before placing your order, depending on your answers. In our test order, we were given the option to choose between lamb and bison (for an added fee).
Tailored is designed to customize your dog's nutrition, but they understand if you don't know all the details. When providing your dog's birthdate, you can select "I don't know" as an option – there's also a box to check if you're interested in senior-focused benefits for your dog.
If you're happy with the suggestions Tailored has made, you can move on to the subscription process. Choose from an 8-pound, 20-pound, or 40-pound bag. Tailored will tell you how long each bag should last according to your dog's calorie needs. You can also choose from making a one-time purchase or you can save with a recurring subscription. Your first order comes with a 100% money-back guarantee.
When you complete your order, you'll also create your customer account. From there you can track your order and place or make changes to future orders.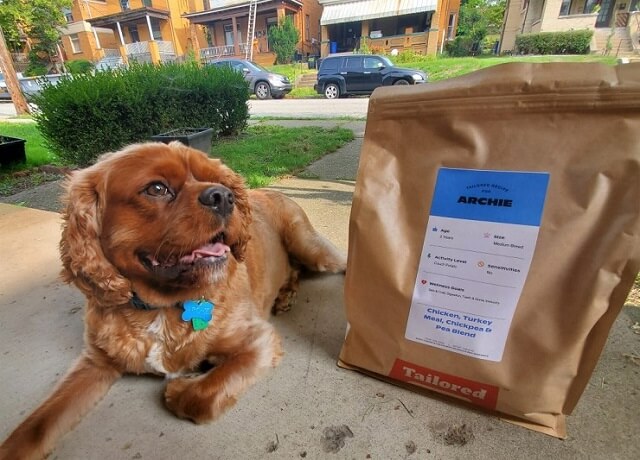 Get 50% On Your First Order + FREE Shipping! Use Code TAILORED50 At Checkout
Customer Service
Ordering Tailored is extremely easy – you simply visit the website and complete the 3-minute quiz. If you have concerns or questions at any point, however, Customer Care is readily available. You can contact Tailored Customer Care by phone, email, or through the chat function on the website.
Tips For Making The Transition
If you change your dog's diet too quickly, he may experience digestive upset. To avoid upsetting your dog's stomach, Tailored recommend making the transition onto the new dog food over a period of about 10 days. You'll find the details online and in the booklet that comes with your order.
Here's what Tailored suggests for transitioning your dog:
Days 1 thru 3: Serve 25% Tailored with 75% your dog's current diet
Days 4 thru 6: Serve 50% Tailored with 50% your dog's current diet
Days 7 thru 9: Serve 75% Tailored with 25% your dog's current diet
Days 10: Serve 100% Tailored dog food
Every dog is different, so yours might the transition more quickly or he might need a little more time. If your dog develops loose stools, go back to the previous step for another day or two before moving on to the next one. It's always better to be safe than sorry, so go slow!
Pros And Cons
As a pet owner, it's your responsibility to choose your dog's diet and you want to make a smart choice. That involves research on your part, but it doesn't hurt to read some reviews to see what others have to say about the brand. Tailored offers some unique benefits other pet food companies don't and there's something to be said for a diet customized specifically for your dog.
That being said, every dog food brand has its pros and cons. Here are some of the things you need to know about Tailored:
Pros For Tailored:
Customized nutrition sent right to your door
Real poultry, meat, or fish as the #1 ingredient
Live probiotics added after cooking
Made in the United States with high-quality ingredients
Recyclable packaging, carbon neutral practices
Cons For Tailored:
Fairly expensive compared to typical dry food
Can't view the entire recipe collection before purchase
Preference for peas/legumes over whole grains
Every brand has its pros and cons, so it's up to you as a dog owner to make the choice in the end. What you've learned here should be enough for you to decide if Tailored is the perfect pick for your pup.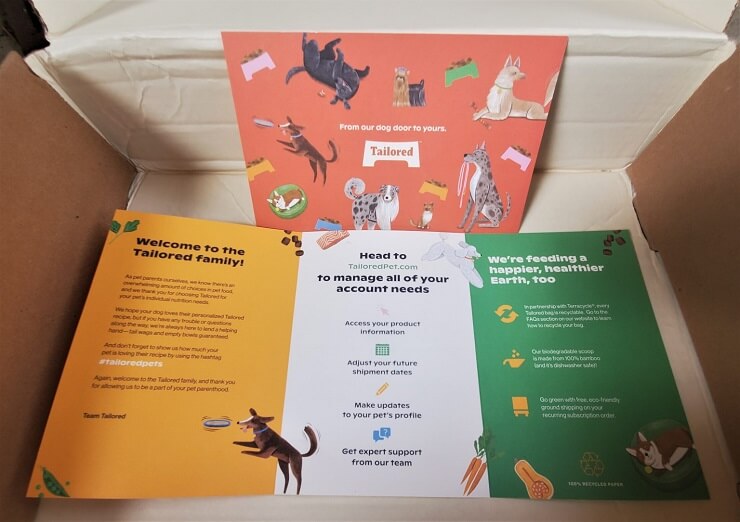 The Final Words
When we first heard about Tailored, we loved the idea of customized nutrition for pets. We've reviewed other subscription services for dry dog food and weren't impressed with the limited selection of recipes for so-called "custom" nutrition. Unfortunately, we weren't able to view the entire lineup of Tailored recipes to see how much variety they really have, but the options do seem to be quite varied.
In testing Tailored, we weren't surprised to find our test dog Archie loved the food. He's learned that most of the boxes that arrive to our house contain something tasty for him, and he's always eager to dig into the box to find out what it is.
Tailored dog food does seem to live up to the promise of being packed with animal protein and free from harmful additives. The only thing we question is the preference of peas/legumes over whole grains, even in dogs that don't have grain allergies or sensitivities. Though the FDA didn't find any strong evidence suggesting a link between legumes and dilated cardiomyopathy (DCM) in dogs, legumes still don't seem to be quite as digestible and nutritious as other options.
Overall, we were pleased with our Tailored experience and think it's a great option for pet parents who are struggling to find a recipe for dogs with allergies, sensitivities, or other health issues. At the very least, we encourage you to take the quiz to see what Tailored recommends and whether it might be within your budget to make the switch.
Get 50% On Your First Order + FREE Shipping! Use Code TAILORED50 At Checkout
Frequently Asked Questions
Has Tailored ever been recalled?
No, Tailored has not been recalled to our knowledge.
Is Tailored food grain-free?
It depends. Some Tailored recipes include grains while others do not. Whether your pet's food includes grains depends on his needs and preferences.
Is Tailored food organic?
No, Tailored dog food is not organic, but it is natural with added vitamins, minerals, and taurine when needed.
Is Tailored food raw?
No, Tailored offers dry dog food.
How many calories per cup for Tailored dog food?
The calorie content of Tailored food varies depending on the recipe. When you sign up, Tailored calculates your dog's unique calorie needs based on weight, age, and activity level to personalize your feeding instructions.
Can I cancel my Tailored food subscription?
Yes, you can change or cancel your subscription at any time by logging into your customer account. You can also contact Customer Care by email, by phone, or through the chat option on the website.
Where can I buy Tailored food?
You can only purchase Tailored food through the company's website. Simply fill out a 3-minute quiz to provide your pet's details to get started.
Can you heat up Tailored food?
Tailored offers dry dog food which doesn't need to be heated. If your dog prefers warm food, you can add warm water or broth at feeding time.
Was this article helpful?
Let us know what you think.