Jiminy's Dog Food Review
This page contains affiliate links. We may earn money or products from the companies mentioned in this post through our independently chosen links, which earn us a commission. Learn More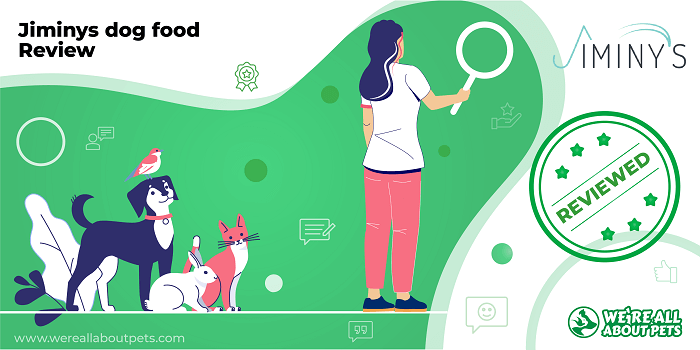 Dogs are known for their love of food. Some dogs will inhale anything you put in their bowl, not to mention anything that happens to fall on the floor within range. They've even been known to eat a few things that couldn't even remotely be considered food.
But what about insects? When you think of your dog snacking on a bowl full of spiders, it probably makes your stomach turn. In reality, however, certain insects offer a viable alternative source of protein for people and for pets. That's where Jiminy's comes in.
Jiminy's offers "a different kind of dog food" made with insect protein and plant-based ingredients. That makes it both humane and sustainable, not to mention nutrient-dense and highly digestible. If you're curious to learn more about Jiminy's simply read on to see our review.
Overview Of  The Jiminy's Brand
Jiminy's
Brand

Pros
Made with sustainably sourced insect protein
Complete protein, meets AAFCO canine standards
Entirely plant-based and hypoallergenic
Cons
Limited recipe options available (2 dry food recipes)
No specific information about ingredient sourcing
Pros
Made with sustainably sourced insect protein
Complete protein, meets AAFCO canine standards
Entirely plant-based and hypoallergenic
Cons
Limited recipe options available (2 dry food recipes)
No specific information about ingredient sourcing
Jiminy's was founded on the idea that pet food companies shouldn't have to choose between giving pets healthier, happier lives and making the planet a healthier place.
To meet this goal, Jiminy's created an all-new, sustainable dog treat that replaced animal protein with cricket protein. Their flagship product was so successful that they went on to create several more, including two recipes for kibble.
The Jiminy's brand was founded by Anne Carlson and Bill Reed. Anne, founder and CEO of Jiminy's, has led a successful career working with consumer brands including fortune 500 companies and start-ups. She currently has two rescue dogs, Derby and Tuco.
Bill was raised on a Virginia cattle ranch and has always had a passion for sustainability. Together with Dr. Ian Dunbar, veterinarian, animal behaviorist, and dog trainer, they created the Jiminy's brand.
What makes Jiminy's different from other pet food brands is their focus on sustainability. Though many companies care about the environment, Jiminy's goes one step further by replacing animal protein entirely. Instead, they use crickets or black soldier fly larvae.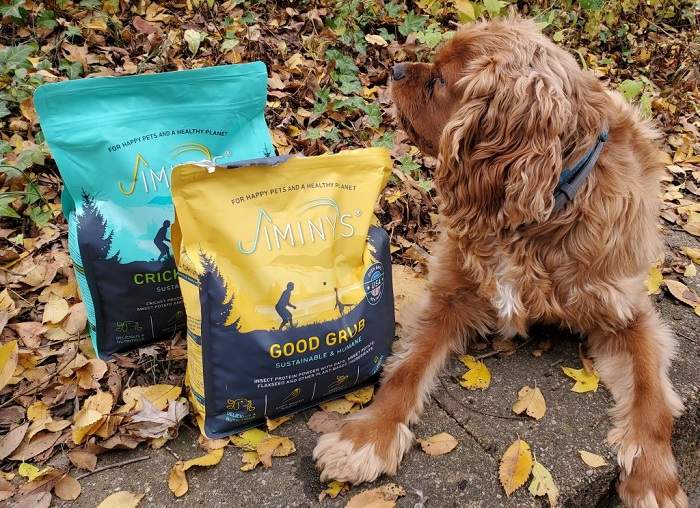 Here's what they have to say about this choice:
"Dogs (and humans) have been eating insects for thousands of years. But, at Jiminy's, we are one of the first to add powdered cricket protein to our dog food and treats. AND we're working with experts to better understand and unlock the many health benefits for our dogs!"
Jiminy's claims their insect protein-based kibble is nutrient dense, great for dogs with allergies, and great for the environment. Insect protein supports a diverse gut micro-biome and their products are free from many of the pathogens that plague the meat industry.
Where Are The Products Made?
When it comes to how and where their products are made, Jiminy's provides minimal details. They say their products are proudly baked in the US, but it doesn't get much more specific than that.
Here's what Jiminy's says about their dry food:
"Oven baked in the USA with pride. Minimally processed, all natural, complete and balanced. Veterinarian formulated. Designed to exceed AAFCO standards for all life stages."
Though Jiminy's doesn't say much about how their products are made, they do provide some interesting details about the crickets they use for protein. Jiminy's purchased roasted ground crickets from suppliers in the US and Canada.
They use whole crickets, but the insects are roasted and ground before they get to Jiminy's – what they actually receive is called cricket protein powder.
Jiminy's also provides some details about how the crickets are raised. They are raised in "cricket condos" which allow the insects to live as close to how they would in the natural world as possible.
The crickets are harvested near the end of their natural life cycle, around 6 weeks. The temperature in their habitat is lowered until they go into a hibernation-like state before they are killed.
What Dog Products Do They Offer?
When Jiminy's first arrived on the pet food scene, they started out with a modest selection of cricket protein dog treats. Today, they've expanded their offerings to include kibble as well.
Here's an overview of what Jiminy's has to offer:
Cricket Crave Dog Food
Good Grub Dog Food
Original Recipe Dog Treats
Sweet Potato & Peas Chewy Treats
Pumpkin & Carrot Chewy Treats
Peanut Butter & Blueberry Treats
Jiminy's insect protein dog food comes in two different sizes and their treats are available in various bundles for your convenience. For dog food, choose from 3.5-pound or 10-pound bags and, for treats, bundles of 3, 4, or 8 bags of treats. Feel free to mix and match!
For the purpose of this review, we focused on the two dry food recipes.
The first of these is Cricket Crave, described as "an eco-friendly dog food delivering holistic health for dogs of all life stages." This formula features cricket protein powder blended with oats, quinoa, and sweet potato along with other plant-based ingredients. It is oven-baked in small batches.
Jiminy's Good Grub recipe features dried black soldier fly larvae as the primary protein, blended with oats, potato protein, and dried sweet potato. Like the previous recipe, it is highly digestible, oven-baked in small batches, and entirely plant-based aside from the insect protein.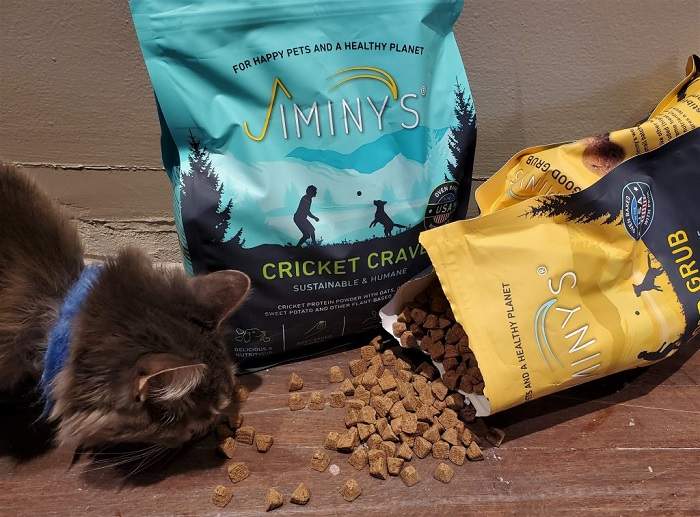 Is Their Packing Environmentally Friendly?
The Jiminy's brand as a whole is very eco-friendly. Their products are designed for sustainability, using insect protein rather than animal protein.
In fact, their recipes are entirely plant-based aside from the insect protein powder. The reason they cite for this choice is that animal agriculture is responsible for 65% of the nitrous oxide produced and it has a nearly 300x greater global warming potential than CO2.
Jiminy's claims that switching a dog to Cricket Crave from a chicken-based diet can save 480,000 gallons of water per year. The savings may be greater if switching from a diet sourced from a larger animal.
Because Jiminy's is a dry food product, there's no need for excessive packaging. Our order arrived in a standard cardboard box which we were able to recycle easily.
Jiminy's food bags are designed to keep the food fresh but we didn't find any information on their website about how the bags are made. We did, however, reach out to customer service for more information.
Here's what they had to say:
"Currently our products are in standard food pouches. Sustainable packaging has been an ongoing quest for us.  We did put our first training treat into a store drop off recyclable bag, but unfortunately the material was not what we were hoping.  It didn't take print well (everything was fuzzy) and it didn't hold shape.  We had to fall back to our original materials.  We are continuing to look at recyclable, compostable, and biodegradable options.  We're hopeful that there will be a better option soon."
In the meantime, Jiminy's has reached out to TerraCycle as an option for recycling their current packaging and they hope to announce a partnership soon.
Check All Jiminy's Dog Food & Treats on Amazon
How Much Does It Cost?
When shopping for pet food, price is an important factor to consider. You should keep in mind, however, that price doesn't always equate to quality. You could just as easily spend a small fortune on a low-quality dog food as you could a high-quality one.
On the dry dog food spectrum, Jiminy's is fairly pricey. For a 3.5-pound bag of Cricket Crave, you'll pay $21.95 – a bag of Good Grub the same size costs just $16.95, however. For the 10-pound bag of Cricket Crave, you'll pay $58.95 and, for Good Grub, $45.95. The good news is you can save 10% on each order by creating an auto-delivery.
Check below to see how Jiminy's stacks up against other dog food brands for cost:
*Subscription price based on a 40-pound, neutered male dog 4 years of age
What Did Our Test Dog Think?
In order to test Jiminy's we ordered both the Cricket Crave and Good Grub recipes. We've tried some of Jiminy's cricket protein treats in the past, but their dry foods were a new experience.
Because we received the products as samples, we didn't have to go through the ordering process, but we checked it out on the Jiminy's website and found it to be quite simple and straightforward.
Our Jiminy's delivery arrived in a standard cardboard box with minimal packaging. Because it is a dry food rather than a fresh food, there's really no need for insulation or padding.
We thought the bags themselves were well made and the design is actually pretty nice. The bags stand up on their own which makes serving easy and they're not so large that they take up a lot of counter space.
When it came time to test the food, Archie was interested as usual – he's always pretty interested at mealtime. He spent a few extra seconds sniffing the food before taking a bite, but once he tasted it he didn't seem to have any complaints.
We noticed the kibble was darker in color than the usual dry food, but the size and texture of the kibbles seemed pretty similar.
We ended up using Jiminy's more as a meal mixer than a daily diet. Archie was interested enough in the food, but he didn't get as excited about it as he has other recipes. He does appreciate a little variation in his diet, however, and Jiminy's adds a little something extra to his bowl.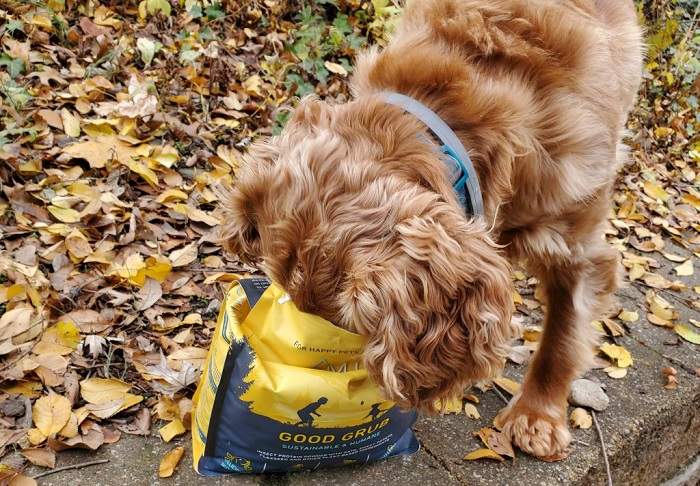 Jiminy's Dog Food Recalls
When doing your research about a pet food brand, it's always a good idea to check for product recalls. A product recall happens when there's an issue with the product and it needs to be withdrawn from sale for consumer safety.
In the US, this process is generally regulated by the FDA.
Product recalls can happen for any number of reasons from simple issues with labeling to significant concerns like contamination with food-borne pathogens. Pet food manufacturers can initiate a voluntary recall if they discover the issue themselves, though the FDA also has the power to issue a recall in response to their own testing or to consumer complaints.
To our knowledge, Jiminy's has not had any product recalls in its history. In fact, they comment specifically about the issue of frequent product recalls in traditional meat-based pet foods.
Here's what they have to say:
"Insect protein is different from other traditional protein sources (cow, chicken, pig).  Insects raised in clean indoor farms have been found to be free of common pathogens that plague the meat industry, e.g., E. coli, salmonella, staph and listeria. One of the reasons for this is that crickets have a different kind of "poop." It doesn't lend itself to E. coli and other common excrement issues."
Is Jiminy's Really Worth The Cost?
When looking at price alone, you'll notice that Jiminy's costs nearly $6 per pound – even more than the example for freeze-dried dog food in the chart above. If you've done your research, you won't be surprised to learn that high-quality dog foods tend to cost more, but are they really worth it?
Setting aside the issue of insect protein versus animal protein for pets, the quality of your dog's diet matters. It's the biggest deciding factor in his long-term health and wellness.
To put it quite simply, your dog needs a balanced diet for his body to function properly. Like all animals (even humans), dogs have specific nutritional requirements for proper health.
If your dog's diet doesn't provide for those needs, he could develop nutritional deficiencies and may have a higher risk for serious or chronic health problems. In the end, skimping on your dog's diet could end up costing you more in vet bills over the course of your dog's life.
Here are some additional benefits of feeding your dog premium dog food:
Improved and regulated digestion, less gas and diarrhea
Reduced stool volume and odor
Healthier coat with less shedding
Increased energy levels and vitality
Healthy weight loss (when needed for overweight dogs)
Improved dental health and oral hygiene
Better urinary health, reduced risk for urinary tract infections (UTIs)
Your dog's health and wellness are your top priority, so it's important to invest in a high-quality diet that provides for his nutritional needs. We always recommend feeding your dog the highest quality diet you can consistently afford.
If you're concerned about sustainability and you're willing to try something a little bit different, Jiminy's could very well be a good option to consider.
Keep reading to learn more about our experience with the brand.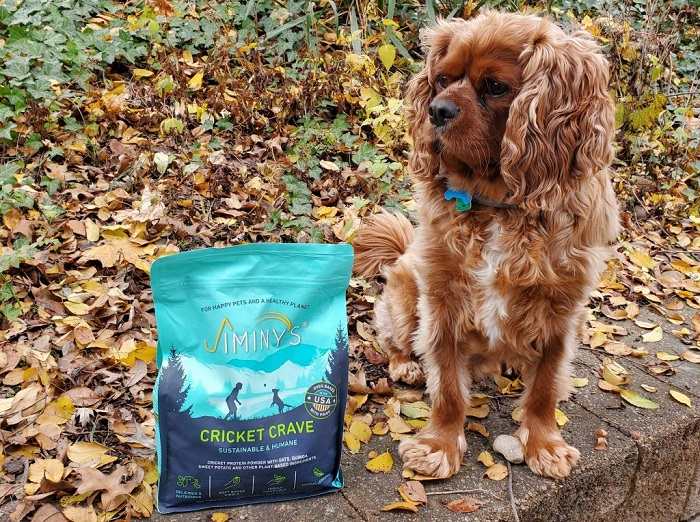 How Do You Order It?
When it comes to purchasing Jiminy's pet food, you have two options. The easiest is to order directly through the website, but you may also be able to find some of their products in stores.
Jiminy's currently offers over 500 different locations nationwide – check them out using the Store Locator.
If you'd rather shop online, the process is simple:
Click the "Shop" button at the top of the page
Select from Dog Food, Treats, or Bundles
Choose the dog food recipe you want to view
Select a 3.5-pound or 10-pound bag
Choose a one-time purchase or auto-delivery
Add the item to your cart then check out
The benefit of ordering from Jiminy's is that you can view their entire product selection online without having to create a customer account. The product options may be more limited than with other companies, but it's easy to place an order and you can save 10% with an auto-delivery.
Customer Service
When it comes to customer service, Jiminy's offers two options for contact. One option is to submit a contact request through the website – simply fill in your name, email address, and phone number along with your question or comment.
The other option is to call directly at (844) 4-JIMINY. We tested Jiminy's customer service by submitting a question via their form and received a reply within the hour.
Tips For Making The Transition
While your dog might eat anything he can fit in his mouth, not everything will agree with him. Most dogs eat a fairly consistent diet, so making sudden changes to that diet could cause digestive upset.
To avoid upsetting your dog's stomach, we recommend making the transition onto the new dog food over a period of 7 to 10 days. Fortunately, the process is very easy – you just need to make the switch before you run out of the old food entirely.
Here's what we suggest for transitioning your dog to Jiminy's:
Days 1 thru 3: Serve 25% Jiminy's with 75% your dog's current diet
Days 4 thru 6: Serve 50% Jiminy's with 50% your dog's current diet
Days 7 thru 9: Serve 75% Jiminy's with 25% your dog's current diet
Days 10: Serve 100% Jiminy's dog food
Every dog is different, so yours might make the transition more quickly than others. If your dog develops loose stools, go back to the previous step for another day or two before moving on to the next one.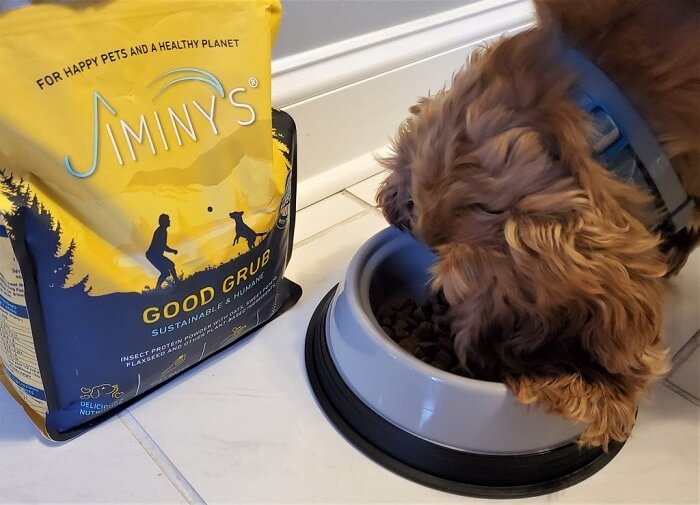 Pros And Cons
You are your dog's caretaker and it's your responsibility to make choices that benefit him. When it comes to choosing a dog food brand, there are so many options out there it can easily become overwhelming.
We always recommend doing your own research, but we hope the information we've provided helps you put Jiminy's into the greater context of the dog food industry.
Just keep in mind that every dog food brand has its pros and cons. Here are some of the things you need to know about Jiminy's dog food:
Pros For Jiminy's:
Made with sustainably sourced insect protein
Complete protein, meets AAFCO canine standards
Entirely plant-based and hypoallergenic
Rich in protein, energy, and essential fatty acids
Supports improved appetite and digestion
Cons For Jiminy's:
Limited recipe options available (2 dry food recipes)
No specific information about ingredient sourcing
Some dogs don't like the flavor
Fairly expensive compared to other dry food brands
Every brand has its pros and cons, so it's up to you as a dog owner to make the choice in the end. What you've learned here should be enough for you to decide if Jiminy's is the perfect pick for your pup.
The Final Words
When we were first introduced to Jiminy's it was with the release of their cricket protein powder dog treats. We'd heard about the rising popularity of cricket protein powder but had yet to see it in the form of a product for pets.
We received samples and found that our test dog seemed to like them.
In testing Jiminy's new dog food recipes, Archie had a similar reaction. He eats pretty much anything, but we weren't sure if he'd notice a difference between meat-based kibble and insect protein.
We even tried giving a few pieces to our cats and they were interested, though not thrilled with the product.
We have no qualms with Jiminy's for creating a humane and sustainable pet food product. We still have some doubts, however, when it comes to dog foods that are entirely plant-based.
Though both the Cricket Crave and Good Grub recipes feature insect protein as the first ingredient, they both also contain a plant protein concentrate – potato protein. We do, however, like the use of wholesome grains like oats, quinoa, and brown rice over peas and legumes (though these ingredients do appear on the list).
Overall, we have no major issues with Jiminy's and think it could be a good option for pet parents looking for something different. If your dog has severe food allergies, Jiminy's could be a good novel protein option to use in a food trial, if not a long-term diet.
We recommend talking to your veterinarian before making the switch, but Jiminy's products themselves seem to be decent quality.
Check All Jiminy's Dog Food & Treats on Amazon
Frequently Asked Questions
Has Jiminy's ever been recalled?
No, Jiminy's has never been recalled to our knowledge.
Is Jiminy's food grain-free?
No, Jiminy's dog food is not grain free – it contains oats.
Is Jiminy's food organic?
No, Jiminiy's dog food is not organic.
Is Jiminy's food raw?
No, Jiminy's dog food is not raw – it is oven-baked kibble.
How many calories per cup for Jiminy's food?
Jiminy's Cricket Crave recipe contains bout 378 calories per cup while Good Grub contains 408 calories per cup.
Can I cancel my Jiminy's food subscription?
Yes, you can change or cancel your auto-delivery at any time by logging into your account or contacting customer service.
Where can I buy Jiminy's food?
You can purchase Jiminy's dog food directly from the company online or use their Store Locator to find them at over 500 nationwide retail locations.
Can you heat up Jiminy's food?
It is unnecessary to heat up Jiminy's but if your dog prefers warm food you can add some warm water or broth just before feeding to soften it.
Was this article helpful?
Let us know what you think.