Barkyn Dog Food Review
This page contains affiliate links. We may earn money or products from the companies mentioned in this post through our independently chosen links, which earn us a commission. Learn More
Every pet owner wants the best for their pet. Unfortunately, that's sometimes easier said than done. We can't all be veterinarians or pet nutrition experts, so what do you do?
The key to keeping your dog in good health for as long as possible is to provide him with a healthy, balanced diet and to ensure he gets the veterinary care he needs. A good diet is a form of preventive medicine in and of itself, but it also helps to have a vet on standby to answer questions and to partner with you in supporting your dog's long-term health and wellness.
Barkyn is a unique service that caters to pet parents who aren't willing to compromise when it comes to their dog's health. Get the best food and the best veterinary care all from the same place.
Though we weren't able to test Barkyn ourselves, we were able to review the website. Read on to see what Barkyn has to offer along with our assessment of the brand.
Overview Of The Barkyn Brand
Barkyn Dog Food
Brand
Pros
High-quality dog food rich in real animal proteins with fresh fruits and veggies.
Custom meal plan recommendations with three subscription levels to choose from.
Access to veterinary support with each subscription.
Cons
Only available in Europe (company is based in Portugal).
May be more expensive than some dry dog food brands.
Pros
High-quality dog food rich in real animal proteins with fresh fruits and veggies.
Custom meal plan recommendations with three subscription levels to choose from.
Access to veterinary support with each subscription.
Cons
Only available in Europe (company is based in Portugal).
May be more expensive than some dry dog food brands.
The global pet care market was estimated at nearly $223 billion in 2019 and is expected to rise by as much as 6% over the next six years. Though the United States holds the largest share of the global pet market, pet lovers can be found all over the world.
Barkyn is a subscription service for dog lovers that began as a startup in Portugal in 2017, led by former Farfetch, Prozis, and Rocket Internet managers. In its first few years of operations, Barkyn operated in Spain, Portugal, and Italy and claims to have shipped more than 40 tons of pet food each month. In 2019, the company raised €1.7 million in seed funding to expand into more European markets.
CEO Andre Jordão describes Barkyn as, "a subscription service for dogs with personalized food and telemedicine combined."
Though the company originally began as a subscription service offering treats and toys for dog lovers, it has developed into a dog food delivery service that combines custom diets with telemedicine for pets. When you sign up for a subscription with Barkyn, you'll not only start receiving regular deliveries of premium pet food tailored to your dog's needs, but you'll have access to a veterinarian to ask follow-up questions about your dog's diet.
Simply choose from three different subscription levels: Pop, Premium, and Natura. Every recipe is guaranteed to deliver premium nutritional quality and each plan comes with veterinary support.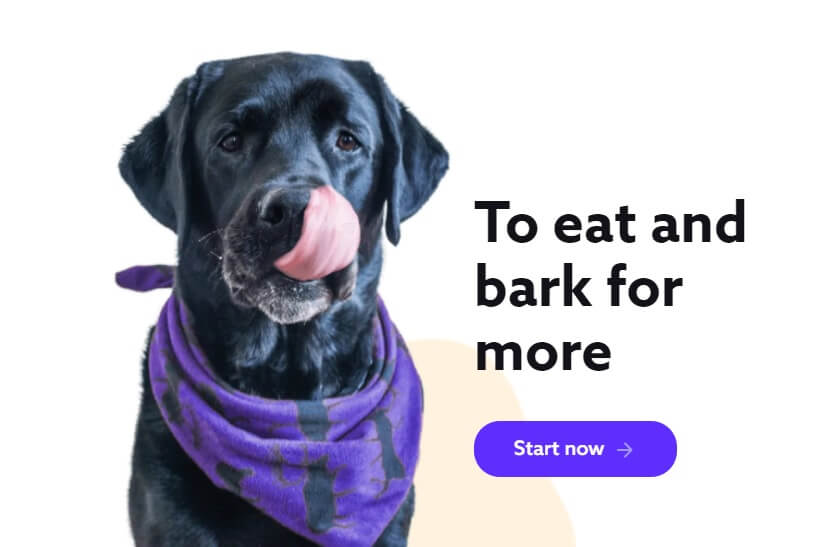 Where Are The Products Made?
We weren't able to find specific information about where Barkyn's dog food is made, but the information on the website seems to suggest it is made in Portugal, where the company is headquartered. They say their recipes are shipped right from the farm to your door.
Here's what Barkyn has to say:
"We offer quality food at a good price because the recipe travels from the farm to your home, without intermediaries, with almost no storage time. This means more freshness, more quality and a more environmentally friendly adventure."
When it comes to their ingredients, Barkyn makes use of local ingredients as much as possible. Their fruits and vegetables are all-natural and locally produced with an emphasis on sustainable farming.
What Dog Products Do They Offer?
To get a better sense of what Barkyn has to offer, we went through the process to subscribe. Unfortunately, this proved a little difficult because the website didn't work as well after being translated into English from Portuguese. Not having a European address also threw a wrench into the process.
What we were able to find is that Barkyn seems to offer four different recipes:
Salmon
Chicken
Wild boar and lamb
Chicken light
Barkyn's dog food includes high percentages of fresh meat or fish along with other high-quality ingredients. Their recipes are minimally processed to ensure optimal digestion and maximum flavor.
Each recipe features a high-quality animal-based protein like fish or meat. Barkyn dog food is also packed local fruits and vegetables along with natural supplements to support your dog's health and well-being. These ingredients provide natural sources of key nutrients to help ensure that your dog gets everything he needs to be healthy and well.
What makes Barkyn dog food unique is that each recipe includes the innovative Barkyn Complex.
This unique supplement combines the antioxidant power of rosemary, turmeric, green, tea, Boswellia extract, and clove to support your dog's health and wellness. Together these ingredients provide the following benefits:
Prevention of cellular damage
Elimination of free radicals
Repairs the body and reduces inflammation
Boosts the immune system
To put it in Barkyn's words, each recipe "has the right nutrients, the right vitamins, the right supplements, all for a longer and happier life." What more could a pet parent want?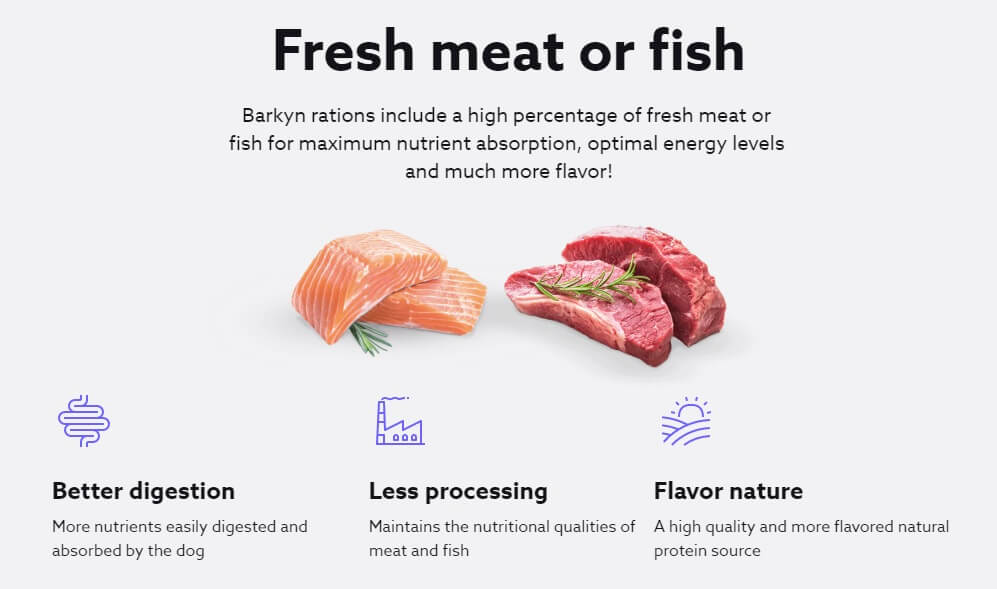 How Much Does It Cost?
Barkn is a subscription service that offers three different levels for pet parents to choose from. The Pop plan is the most cost effective while the Grain-Free Natura is the most expensive. The Premium plan is in between the two.
Because Barkyn is based in Portugal, their prices are set in Euros. This makes it a little difficult to make a direct comparison with US-based companies, but we've used a currency converter to give you an idea. The conversion rate we used was set Jan 1, 2021 at 1 Euro equivalent to 1.21 USD.
To give you an idea how much Barkyn costs, we used our typical test dog, Archie, who weighs about 35 pounds. Barkyn recommended shipments of 6kg (about 13 pounds). For the Pop plan, that came to €19 full price. The Premium plan cost €30 and the Grain-Free Natura plan was €37. Converting these figures to USD, that's about $23, $36, and $45, respectively.
Check below to see how Barkyn stacks up against other dog food brands for cost:
Premium Dog Food Price Comparison

Food Type
Brand
Average Price
Price Per
Premium Dry Dog Food
Open Farm Homestead Turkey & Chicken Dry Dog Food
$87.99 for 24lbs.
$0.23 per ounce
Premium Wet Food
Instinct Original Grain-Free Wet Dog Food
$22.14 for 6 (13.2oz.) cans
$0.28 per ounce
Freeze-Dried Raw
Stella & Chewy's Freeze-Dried Raw Chicken Dinner Patties
$51.99 for 25oz.
$2.08 per ounce
Human-Grade Dog Food Pouch
Portland Pet Food Company
$49.95 for 8 (9oz.) pouches
$0.69 per ounce
Fresh Food Subscription
The Farmer's Dog*
$45.57 per week
$6.51 per day
Dry Food Subscription
Tailored Pet*
$46.80 for 20lbs. (5 weeks)
$1.34 per day
Dry Food Subscription
Barkyn
$36 for 13 pounds
$0.17 per ounce
*Subscription price based on a 40-pound, neutered male dog 4 years of age
What Do Real Customers Think?
Because Barkyn is based in Europe, we weren't able to test the product ourselves. We'll also note that the website is written in Portuguese, so all the information we read went through Google translator.
Though we weren't able to test the product, we were able to find a number of customer reviews on Trust Pilot (1,255 reviews total). We find it helps to read customer reviews when doing research on a company. The website is generally the best place to go for specific information about the product, but it doesn't always provide objective information about the customer's experience.
This is particularly true when it comes to testimonials and reviews – most companies highlight the positive reviews, and few even post negative comments on their website.
Here are a few comments from customer reviews on Trust Pilot:
"My experience with Barkyn was really great. Great customer service and fast delivery for a tailored experience! And the salmon snacks are truly "pawppreciated". I truly recommend Barkyn."
"It is quite easy to make the first order and their delivery time is quite fast. After the first order, a veterinary from Barkyn contacted us three times to make sure that our puppy was doing well with the new food. Our puppy loves the food."
"Very helpful & kind support and veterinary consultancy. Besides the regular max. 24h delivery (workdays), the service is quite flexible and definitely the most comfortable way to get the food for the 4-legged family members."
On the whole, customers seem to appreciate the fast delivery time and access to veterinary telemedicine. Of over 1,200 reviews on Trust Pilot, fewer than 3% rated their experience Poor or Bad. Unfortunately, none of the negative reviews left a comment.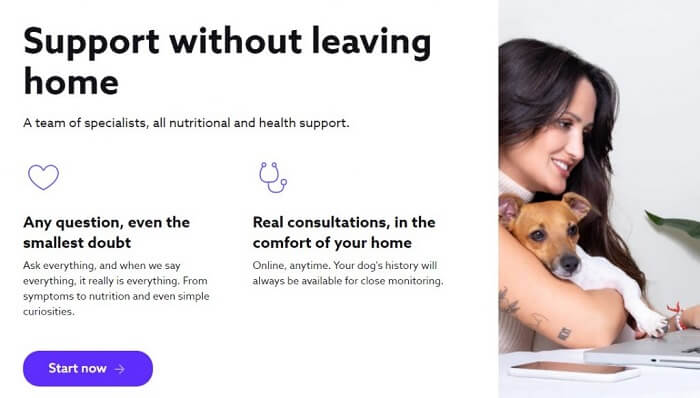 Barkyn Dog Recalls
When researching a pet food company, it's important to take a look at the big picture. You should always read everything you can about the product (especially the ingredients), but it's a good idea to take a deeper look into the company's practices as well.
We especially recommend checking out the brand's recall history. If a dog food brand has a long history of product recalls, it should send up a red flag.
Pet food recalls can happen for a number of reasons, but some of the most common issues are contamination with food-borne pathogens and formulation issues. In the United States, recalls can be enforced by the FDA or they can be imposed voluntarily by the company.
When it comes to Barkyn, you have to remember that this company is based in Portugal, so their products are not prone to the same regulations as US-based pet food manufacturers. That being the case, we weren't surprised that we didn't find any information about dog food recalls for Barkyn.
Is Barkyn Really Worth The Cost?
Though many pet owners assume all dog food is pretty much the same, that couldn't be further from the truth. If you really want what's best for your dog, you're going to need to put in a little time and effort to find a company that has your pet's best interest in mind.
Barkyn offers high-quality dry dog food with custom meal plan suggestions and access to veterinary support, all in one subscription. But is it worth it?
You'll probably end up paying more for Barkyn than you would to purchase dog food at the pet store, but it's definitely worth considering. For one thing, Barkyn is very clear about the quality of their ingredients and their commitment to safe and sustainable practices. It also says a lot that they provide access to a veterinarian with each subscription so you can ask questions at any time.
Quality matters when it comes to your dog's diet – it's really that simple.
The higher the quality of your dog's food, the more digestible it will be and the more nutritious. Cheap dog food may save you money in the short-term, but your dog could end up with nutritional deficiencies or other health problems down the road. That could get very expensive.
Here are some additional benefits of feeding your dog premium dog food:
Improved and regulated digestion, less gas and diarrhea
Reduced stool volume and odor
Healthier coat with less shedding
Increased energy levels and vitality
Healthy weight loss (when needed for overweight dogs)
Improved dental health and oral hygiene
Better urinary health, reduced risk for urinary tract infections (UTIs)
To keep your dog happy and healthy for as long as possible, you should feed him the highest quality diet you can consistently afford. There are plenty of options for dog food out there, but we think Barkyn is one you should consider if you live in Europe. Keep reading to learn more about the brand.
How Do You Order It?
The process to order Barkyn is similar to most pet food subscriptions we've reviewed. You start out by providing some basic details about yourself (your name and your email address) then answer a few questions about your dog so Barkyn can calculate how much food to send you in each order.
When filling out the questionnaire, you'll have the opportunity to view Barkyn's recommendations, but you can alter your subscription if you choose.
Barkyn offers three different subscription levels and four dog food recipes. Choose your subscription level and then select the recipe to view the price per delivery. Once you've made your selection, you can move forward to the ordering page to complete the signup process.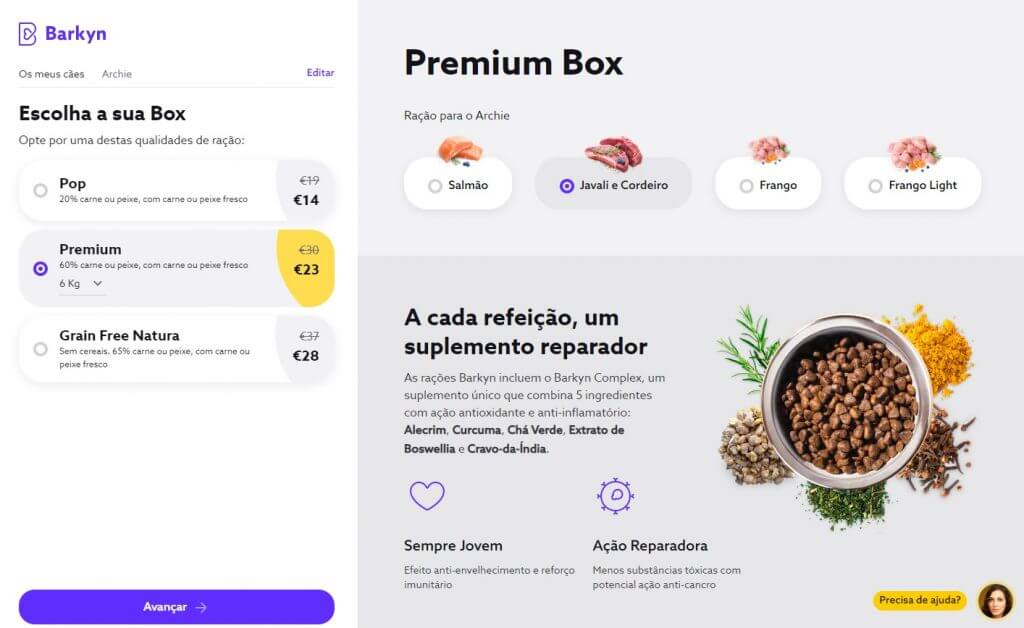 Customer Service
Barkyn customer service is available online and by phone. This company also offers a chat function on their website where you can speak directly with a representative or submit your question via email to receive a response that way.
We weren't able to test Barkyn's customer service ourselves because the service is in Portugeuse, but we did notice that many of the Trust Pilot reviews we read mentioned positive interactions with the company's customer service team.
Tips For Making The Transition
Changing your dog's diet is not something you should do on a whim. It's important to take the time to make a careful selection, but it's also a good idea to make the transition slowly.
Though some dogs can eat just about anything without batting an eye, others experience digestive upset with even the slightest change to their diet. To avoid upsetting your dog's stomach, we recommend making the transition onto the new dog food over a period of 7 to 10 days. Fortunately, the process is very easy – you just need to make the switch before you run out of the old food completely.
Here's what we suggest for transitioning your dog:
Days 1 thru 3: Serve 25% Barkyn with 75% your dog's current diet
Days 4 thru 6: Serve 50% Barkyn with 50% your dog's current diet
Days 7 thru 9: Serve 75% Barkyn with 25% your dog's current diet
Days 10: Serve 100% Barkyn dog food
Every dog reacts differently to dietary changes. Yours might the transition more quickly or he might need to spend an extra day or two adjusting. If your dog develops loose stools, go back to the previous step for another day or two before moving on to the next one.
Pros and Cons
All dog foods are not created equal. It's important to do your research when shopping for pet food to ensure you make a smart choice on your dog's behalf.
Barkyn dog food is made with high-quality, natural ingredients including real meat and fish as well as local fruits and veggies. Each recipe contains a complex of nutrient supplements as well to ensure complete and balanced nutrition to support your dog's health and wellness. This company does its best to meet the needs of pet owners while providing premium nutrition for pets.
That being said, every dog food brand has its pros and cons. Here are some of the things you need to know about Barkyn:
Pros for Barkyn:
High-quality dog food rich in real animal proteins with fresh fruits and veggies.
Custom meal plan recommendations with three subscription levels to choose from.
Access to veterinary support with each subscription.
Choose from four different protein-rich recipes made with meat and fish.
Earn points on each order toward future discounts and free products.
Cons for Barkyn:
Only available in Europe (company is based in Portugal).
May be more expensive than some dry dog food brands.
Website is in Portuguese; some users may need to translate it.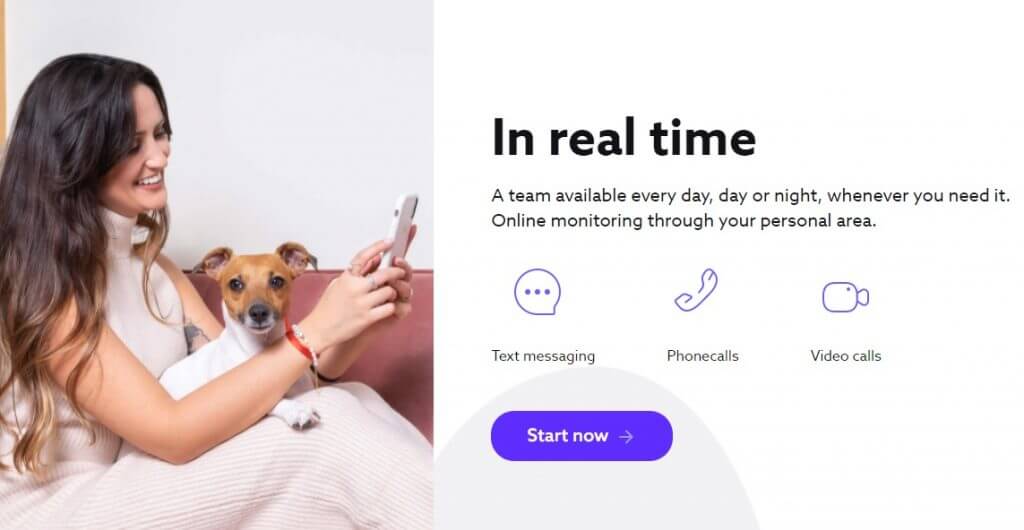 The Final Words
It's important to take this review with a grain of salt considering we weren't able to test Barkyn ourselves and the fact that the website had to be translated from its original language. That being said, we like Barkyn a lot and think it's worth considering if you live in Europe.
We appreciate that Barkyn is just as concerned with providing a good experience for pet owners as they are with providing a premium product for pets.
Choosing the right diet for your dog can be difficult, especially with so many options available. With Barkyn, not only do you get customized meal plan recommendations and three options for subscription level, but you have access to a veterinarian you can ask questions about your dog's nutrition. You can check in with the vet as your dog gets older and his metabolism starts to change, or if you aren't sure the subscription you've chosen is the right fit.
Rather than starting all over with a new company, Barkyn gives you the chance to talk to a professional about the options to find the right choice for your dog. Overall, we think Barkyn is a unique subscription service and, as much as we could tell, their products seem to be of high quality.
Click Here to Get 25% Off Your First Box
Frequently Asked Questions
Has Barkyn ever been recalled?
We didn't find any information to suggest Barkyn dog food had been recalled, but keep in mind that this company is based in Portugal and is not subject to the same regulations as US-based companies.
Is Barkyn food grain-free?
Barkyn offers both grain-inclusive and grain-free options. Their Grain-Free Natura subscription is their top-tier offering.
Is Barkyn food organic?
No, Barkyn uses high-quality ingredients but they are not organic.
Is Barkyn food raw?
No, Barkyn offers dry dog food recipes.
How many calories per cup for Barkyn food
The calorie content of Barkyn dog food varies from one recipe to another. When you fill out the questionnaire, you'll be given a custom meal plan recommendation according to your dog's calorie needs.
Can I cancel my Barkyn food subscription?
Yes, you can adjust your account at any time simply by logging on. Barkyn allows you to delay deliveries and pause your plan as needed.
Where can I buy Barkyn food?
At this time, Barkyn is only available by subscription through the company's website. Delivery is available throughout Europe.
Can you heat up Barkyn food?
Barkyn is dry food, so there's no need to warm it up. If your dog prefers warm food, however, you can always add warm water or broth.
Was this article helpful?
Let us know what you think.