NomNomNow Dog Food Review
This page contains affiliate links. We may earn money or products from the companies mentioned in this post through our independently chosen links, which earn us a commission. Learn More
Most dogs will eat anything you put in their bowls. They will even learn tricks just for the chance to get another bite of food.
Just because your dog will eat just about anything, however, doesn't mean that you should be feeding him whatever is most convenient.
Dogs require a specific balance of nutrients in their diet to be healthy and it is your job as a responsible dog owner to provide for those needs.
When it comes to choosing a dog food for your pup, many pet nutrition experts agree that fresh food is the best option. Because it is prepared fresh from wholesome, natural ingredients it retains more of its original nutritional value. That means more nutrients for your dog!
If you're looking for a fresh pet food company you can trust, consider NomNomNow.
Not only does this company prepare fresh pet foods using all-natural ingredients, but they deliver it right to your door in pre-portioned packages.
All you have to do is cut open the bag, pour it into your dog's bowl, and let him go at it. If you want to know whether NomNomNow is really the best choice for your dog, you'll be glad to know that we've tested it ourselves to bring you this detailed review.
What is NomNomNow?
NomNomNow is a fresh pet food company that offers recipes for both dogs and cats. Their tagline is "better food, better health" and that is exactly what they deliver.
Using fresh, wholesome, natural ingredients in all of their recipes, NomNomNow offers premium-quality, highly nutritious pet foods delivered right to your door in automatic shipments.
You have the option to choose from a selection of different recipes and can customize your orders for convenience but NomNomnow does the rest.
When you first sign up for NomNomNow, you'll be asked to provide some basic information about your dog such as its name, age, weight, and weight goals. From there, you can select from NomNomNow's dog food recipes.
After providing this information and adding a form of payment, you'll start receiving regular deliveries of fresh dog food customized to your dog's unique calorie needs.
Choose from weekly, bi-weekly, or monthly deliveries and change your preferences as often as needed.
Where is the Food Made?
The NomNomNow company was founded in 2015 and currently has its headquarters in Oakland, California.
The brand was founded by four dog lovers who were inspired to start the brand after struggling to find a readily available commercial product that met the unique dietary requirements of their Australian Shepherds.
Because they couldn't find anything on pet store shelves that meet their expectations for quality and nutrition, they set out to make their own dog food.
NomNomNow's products are formulated by Dr. Justin Shmalberg, a leader in veterinary nutrition.
An expert in veterinary preventive medicine, Dr. Shmalberg understands the importance of quality nutrition for dogs to live a long and healthy life.
This is why all of NomNomNow's recipes are made with restaurant-quality ingredients and prepared in small batches in company-owned and -operated kitchens located in the United States.
NomNomNow adheres to the highest quality and food safety standards – both their ingredients and their preparation facilities are FDA-inspected and certified.
Each recipe is prepared in small batches on a weekly basis to ensure quality.
After preparation, the food is portioned according to each dog's nutrient and calorie needs then vacuum-sealed in bags properly sized for one meal.
If your dog has food allergies or other unique dietary needs, NomNomNow may be able to work with you on a customized recipe.
What Dog Food Products Do They Offer?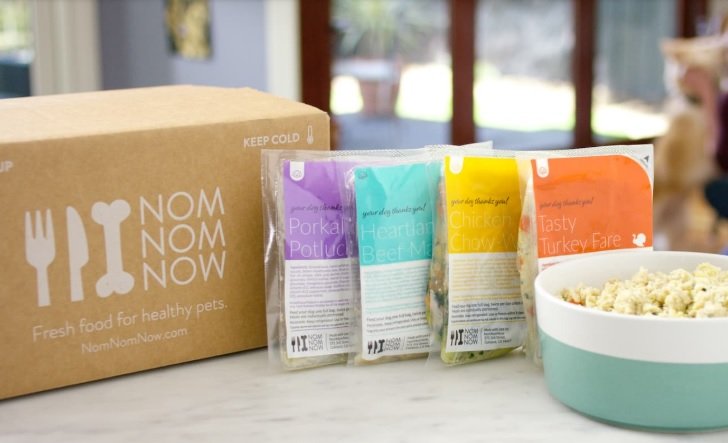 NomNomNow offers four different dog food recipes, all of which feature real animal protein as the main ingredient. These recipes are formulated to exceed AAFCO standards for all life stages and they use only real, whole-food ingredients. Each recipe comes perfectly portioned according to your dog's calorie needs and contains NomNomNutrient Mix to ensure complete and balanced nutrition.
NomNomNow currently offers the following four dog food recipes:
Heartland Beef Mash – This high-protein formula features ground beef as the primary ingredient with potatoes, carrots, and peas as nutritious sources of carbohydrate energy and key vitamins and minerals. It also contains egg as supplemental protein and fish oil as a natural source of skin- and coat-supporting omega fatty acids.
Tasty Turkey Fare – Made with ground turkey, this recipe contains a higher concentration of protein than the beef recipe while still being all-natural and gluten-free. Brown rice provides a nutritious source of carbohydrates with carrots and spinach for supplemental nutrition.
Chicken Chow-Wow – For dogs with grain allergies and sensitivities, this chicken-based formula features grain-free carbohydrates like sweet potatoes and yellow squash. You'll also find fresh spinach and fish oil on the list of ingredients to ensure complete and balanced nutrition.
Porkalicious Potluck – Another grain-free option is this recipe that features fresh pork, potatoes, and kale as the main ingredients. You'll also find other nutrient-rich ingredients like green beans, yellow squash, mushrooms, and fish oil.
In addition to offering these four dog food recipes, NomNomNow also offers a variety pack.
This pack includes 150g bags of all four recipes. Variety packs are sold at $15 and no subscription is necessary. If you just want to try out a different recipe than your dog is currently eating, this is the perfect option.
How Much Does It Cost?
Traditional dog food is generally sold in bags (dry food) or cans (wet food).
When calculating the daily or monthly price for these foods, you need to do some calculations based on your dog's consumption.
For example, a small-breed dog might only eat one cup of food per day while a giant breed might eat upwards of four cups.
If you buy a 20-pound bag of dog food, it will last you much longer for the small-breed dog than for the giant breed.
To compare prices for dog food, then, it is better to look at the price per pound for dry food or per ounce for wet food.
Check out the table below to see how NomNomNow stacks up against other dog food brands for cost:
NomNomNow Dog Food Price Comparison
Food Type
Brand
Average Price
Price Per Pound/Oz.
Fresh Food
NomNomNow*
$69.60 for 2 weeks
$34.80/week
Fresh Food
My Ollie
$47.83 for 1 week
$47.83/week
Dry Food
Canidae PURE Grain-Free
$64.99 for 24 pounds
$2.70/pound
Wet Food
Castor & Pollux Organic
$41.88 for 12 (12.7oz) cans
$3.49/can (12.7 oz.)
Freeze-Dried Raw
Stella & Chewy's
$49.99 for 25 oz.
$2.08/ounce
Dehydrated
The Honest Kitchen
$55.88 for 10 pounds
$5.58/pound
* Cost varies depending on subscription, lowest price = monthly deliveries
NomNomNow Dog Food Recalls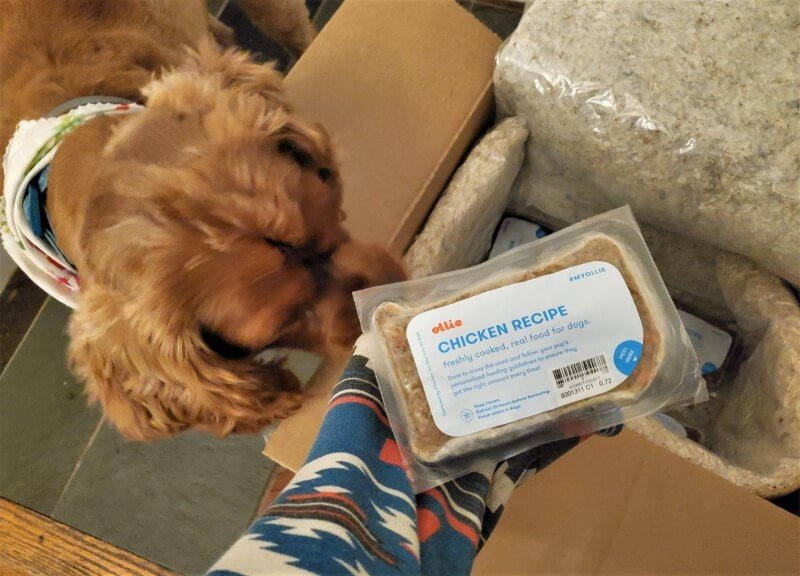 Dog food recalls happen from time to time, even with the highest quality brands on the market.
The FDA issues recalls when there is a risk for potential contamination with a food-borne pathogen, when the product has been incorrectly formulated, or for various issues with packaging and labeling.
A product recall does not necessarily indicate poor quality of the brand as a whole, because accidents happen – especially when producing dog food in mass quantities.
NomNomNow dog food has never had a product recall to our knowledge. This may be because the food is produced in small batches and held to the highest standards for safety and quality.
Many dog food companies have issues with recalls when they outsource their production but NomNomNow makes their products themselves.
Even if the brand were to have a recall, it would likely only affect a limited run of the food because it is produced in small batches to ensure maximum freshness and nutritional quality.
What Did Our Test Dog Think?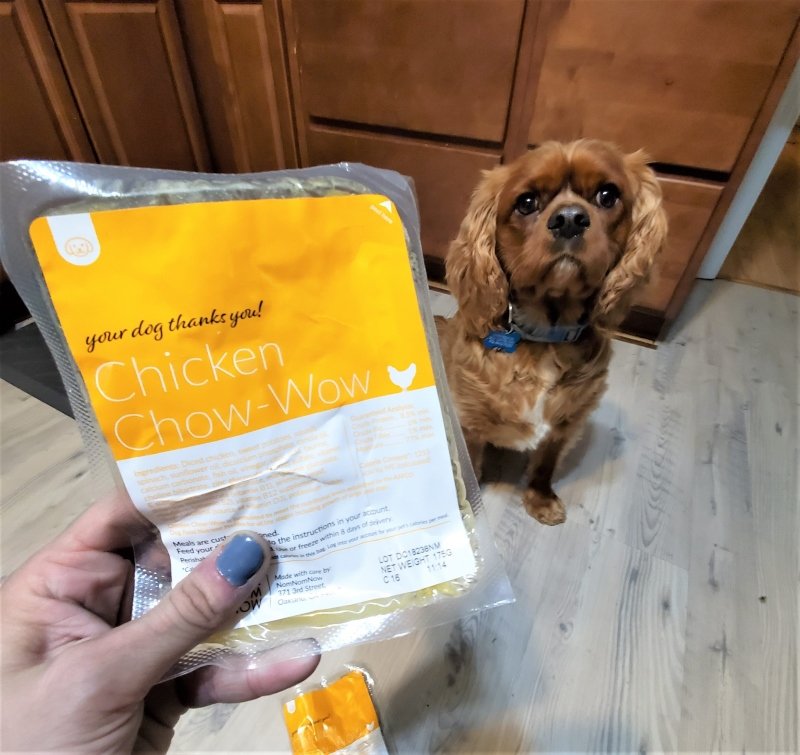 To write this review, we did some thorough research on the NomNomNow brand to determine the quality of the ingredients and manufacturing processes.
The real test, however, was feeding it to our test dog Archie. Archie is a medium-sized dog – he's not quite a small breed but not a large breed, either.
This being the case, he doesn't quite fit the stereotype for small-breed dog food or large-breed dog food.
NomNomNow is the perfect choice because his meals are portioned according to his calorie needs based on weight, not on some arbitrary breed size.
Generally speaking, Archie isn't a big eater. Unlike most dogs, he isn't always eager to chow down at meal time.
In fact, he's more interested in what the cat is eating than in his own food. NomNomNow was different. He was immediately interested when we opened the bag and could hardly wait for his bowl to hit the ground.
As soon as we put the bowl in front of him, he gobbled it up and looked at us as if asking for seconds.
It is safe to say that not only is NomNomNow an objectively high-quality product, but it was also a hit with our test dog.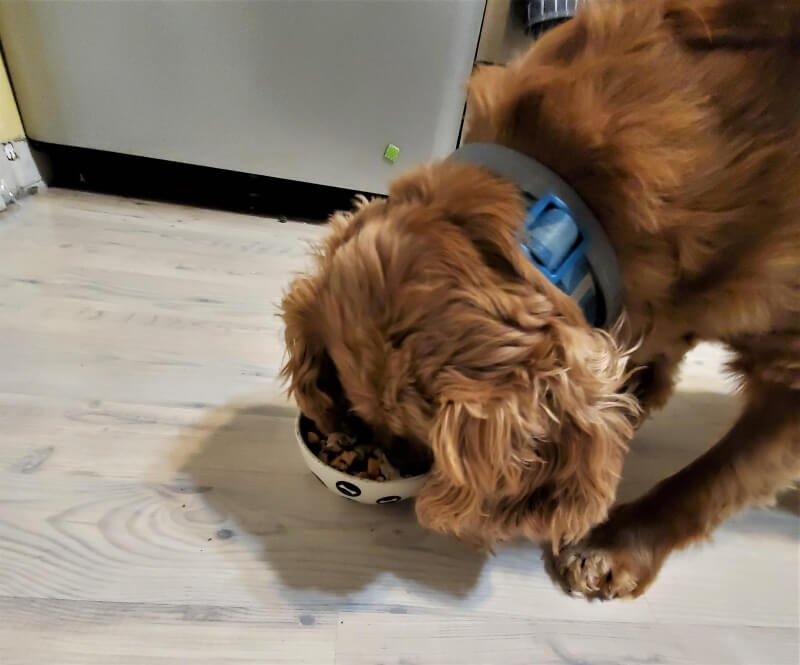 Is NomNomNow Really Worth the Cost?
Because NomNomNow uses wholesome natural ingredients and prepares their food fresh, you should be prepared to spend a little more for it.
Think about it this way – if you go to an upscale restaurant, you would expect a higher quality of food and you would also expect the price to be higher.
The same is generally true for pet food – the better the food, the higher the price.
This isn't to say that expensive pet foods are always good, but it is certainly the case with NomNomNow. You are paying for high-quality ingredients, fresh food, and years of research, testing, and scientific backing.
Though NomNomNow is certainly more expensive than most kibbles and canned foods, you should know that it can actually save you money in the long run.
Because this food is made from high-quality natural ingredients, it is more digestible for your dog which means that he is getting more nutrients.
Commercial pet foods are cooked at high temperatures which destroys some of the nutrients.
Plus, the addition of artificial ingredients, fillers, and by-products makes the food harder to digest, limiting the amount of nutrition your dog can actually absorb.
Over time, low-quality nutrition can negatively impact your dog's health which can lead to expensive vet bills.
Feeding your dog the highest quality diet you can consistently afford will support its health and wellness both in the short term and the long term.
Here are some additional benefits of feeding your dog premium dog food:
Improved and more regular digestion, less gas and diarrhea
Reduced stool volume, more solid stools
Healthier coat with less shedding and skin problems
Increased energy levels and greater vitality
Healthy weight loss (when necessary for overweight dogs)
Improved dental health and oral hygiene
Better urinary health, reduced risk for urinary tract infections (UTIs)
Keep in mind that some of these benefits may take time to develop. Depending on the quality of your dog's current diet, he may be suffering from food allergies or digestive issues.
Switching to NomNomNow could resolve many of those problems, but only after a few weeks of consistently feeding your dog a higher quality product.
Once you start to notice the benefits, however, you'll be hooked and you'll never want to feed your dog anything else. Read on to see how to get started with NomNomNow.
How Do You Order It?
If you're considering NomNomNow for your dog, you may be wondering how to order it. Fortunately, the process is extremely simple.
All you have to do is visit the website and create a profile for your dog. You'll be asked for your dog's name, age, weight, and breed as well as your weight goals for your dog.
You can choose from three options depending on whether your dog is overweight, underweight, or ideal.
These questions will be used to determine your dog's daily calorie requirements so NomNomNow can send you pre-portioned bags of dog food. After filling out your dog's profile, you'll be asked to select one or more recipes then provide information for shipping and payment.
It's that simple!

Customer Service
Though the process to order NomNomNow is incredibly simple, you may find that you have a few questions that pop up between the time you fill out your dog's profile and when you receive your first delivery.
As you fill out your dog's profile, you'll find that the questions are phrased very simply which make the process quick and painless. If at any time you aren't sure about something, you can visit NomNomNow's FAQ section or request a free nutrition consult.
After you place your first order, you'll start receiving emails keeping you up-to-date on the status of your order each step of the way.
You'll receive email confirmation when your order is received, when it has been processed, and when it has been shipped. For more information, you can always check out the website's Help Center as well.
Tips for Making the Transition
NomNomNow's fresh dog food is packed with nutrients and, because it is prepared fresh from whole foods, it is easy to digest.
Any time you make a significant change to your dog's diet, however, there is potential for some digestive upset.
To minimize the risk for digestive issues, you should slowly transition your dog onto NomNomNow from its current diet.
NomNomNow has a guide on their website for exactly how to do it but, basically, you'll be serving small portions of NomNomNow with your dog's current food for a few days.
Over time, you'll increase the amount of fresh food and decrease the amount of your dog's current food until your dog is entirely switched over.
Pros and Cons of NomNomNow Dog Food
The benefits of feeding your dog fresh food like NomNomNow are myriad and there is no denying that this is a high-quality, trustworthy brand.
Not only do NomNomNow's products deliver premium-quality nutrition that is highly digestible and customized to your dog's calorie needs, but they offer excellent customer support throughout the entire process.
You may be surprised at how easy it is to make such a significant change to your dog's diet and you'll be very pleased with the results.
That being said, every dog food brand has its pros and cons and you'll need to weigh them for yourself. Here are some of the things you need to know about NomNomNow:
Pros for NomNomNow
Food is prepared fresh from whole food ingredients and cooked in small batches to ensure quality and nutritional integrity.
Shipments are made up of pre-portioned, vacuum-sealed bags of food that arrives fresh, not frozen – you don't need to wait for it to thaw.
You have the ability to customize your delivery frequency and can choose to feed your dog NomNomNow exclusively or as 50% of its diet.
Every recipe is complete and balanced according to AAFCO standards and shipped according to your dog's unique calorie needs.
Fresh food is extremely nutritious and highly digestible, so you may notice improvements to your dog's digestion, energy, skin, and immune system.
Cons for NomNomNow
Fresh food is significantly more expensive than traditional kibble or canned food – it may not be affordable for everyone to feed 100% NomNomNow.
NomNomNow only offers four dog food recipes, so dogs with a long list of allergies or sensitivities may have a harder time finding a recipe that fits.
Fresh food doesn't have as long a shelf life as kibble or unopened canned food – it needs to be kept cold to stay fresh.
Though NomNomNow is certainly more expensive than a dry food or wet food diet, you may end up saving money in the long run because your dog will be healthier.
In the end, however, it is up to you to determine whether the pros outweigh the cons and whether you can afford NomNomNow on a daily basis.
If price is a concern, consider feeding your dog 50% NomNomNow and 50% another food.
Is NomNomNow a Good Dog Food Brand?
NomNomNow is a trustworthy brand that has an extensive following in the pet food industry.
If you're just hearing about the brand for the first time, you may be tempted to focus only on the price tag.
When it comes to your dog's long-term health and wellness, however, you'll find that fresh food is well worth the cost.
Premium, natural ingredients are more nutritious and more digestible for your dog. It will only take a few weeks for you to notice a significant change.
Though NomNomNow is a great brand, it isn't your only option if you're looking for fresh dog food.
The best thing you can do for your dog is to do some research on your own so you can compare the options.
We love NomNomNow for its quality, convenience, and customizable delivery but you may find that another brand suits you better.
Whatever you decide, we encourage you to at least consider NomNomNow for your dog. Good luck!
Frequently Asked Questions
Has NomNomNow had any recalls? No, NomNomNow has not had any product recalls to our knowledge to this date.
Is NomNomNow dog food grain-free? NomNomNow currently offers four different recipes for dog food, one of which contains brown rice but is free from gluten. The remaining three dog food recipes are free from grains and gluten-containing ingredients.
Is NomNomNow dog food organic? NomNomNow uses whole food ingredients sourced in the United States from human-grade suppliers. Their recipes are complete and balanced according to AAFCO dog nutrient profiles, but they do not contain organic ingredients.
Is NomNomNow dog food raw? No, NomNomNow is not raw dog food but it is fresh. It is prepared in small batches and cooked at low temperatures to ensure nutritional quality. In these ways, it offers similar nutritional quality to raw food in a more convenient form.
How many calories per cup for NomNomNow dog food? The calorie content for NomNomNow food is measured in calories per kilogram, not per cup. The food is portioned according to the dog's individual requirements, so different recipes have different calorie content. Here is an overview of calorie content for the four dog food recipes:

Heartland Beef Mash = 1155 kcal/kg
Tasty Turkey Fare = 1372 kcal/kg
Chicken Chow-Wow = 1189 kcal/kg
Porkalicious Potluck = 1275 kcal/kg

Where can I buy NomNomNow dog food? You can purchase NomNomNow dog food directly from the brand website. This is currently the only way to purchase it because the food is customized to your dog's needs and pre-portioned before sending it directly to your home.
Can you heat up NomNomNow dog food? Some dogs don't like cold food and NomNomNow needs to be refrigerated to keep it fresh. You could warm up the food in a pan or in the microwave but avoid heating it too much because you may compromise the nutrition integrity of the fresh ingredients.