TrustedHousesitters Review
This page contains affiliate links. We may earn money or products from the companies mentioned in this post through our independently chosen links, which earn us a commission. Learn More
TrustedHousesitters started in 2010 with a mission to help keep your pets happy and safe in their homes while you are away.
Essentially, they want to help owners save money and not worry about what to do with their pets. Whether or not you're a full-time traveler or just looking for a weekend getaway, TrustedHousesitters.com maybe the perfect solution for you.
How Does TrustedHousesitters Work?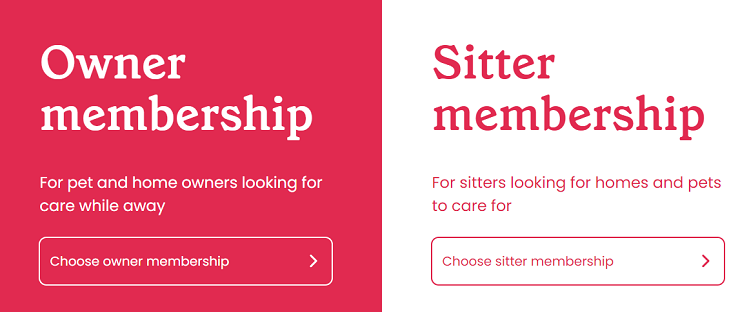 To join TrustedHousesitters, you can purchase a plan for $129 per year (US) for a sitter or owner. There are 3 month plans available for owners for just $69. Sitters don't charge any fees or receive any income from the platform. They offer their services just because they love animals.
If you would like to see what assignments are available, you can do that without purchasing a plan. There are thousands of assignments from up to 130 countries available at any given time. When you're ready to start communicating with owners or want to apply, then you will need a membership.
Here is how you can sign up in just three easy steps:
Purchase a sitter plan & set up your profile
Apply for unlimited sits around the world for 12 months
Travel and enjoy your home-away-from-home
Setting Up A TrustedHousesitters Profile
The profile is most important and could be the determining factor in being chosen. There are usually several other applicants you are competing against. It is best to make sure your profile has plenty of pictures, tons of personality and other sitter verifications, like background checks, external references.
It doesn't hurt to look at other profiles and see what makes them stand out.
TrustedHousesitters Website Navigation
The website setup is simple and very user-friendly which makes it easy to find a house-sit in a particular area and apply.
When searching for a sit, you are able to filter by country, dates, length of sit, and even the kind of animal you prefer to care for. You will see colored banner on the new and last-minute sits making those easy to find.
There is also a map of each listing's general location which provides sitters with a better understanding of the area and directions. Home owners are able to read through applications and check each sitter's credentials by checking out their profile, reviews, and references.
Home owners can also search for house sitters by location and availability, but there will be multiple applicants for every sit posted.
From there you can schedule a 30-minute call to learn more about an owners pets and schedule. You will want to share your experience with dogs, cats or other animals. You can share other things like languages spoken and references. Once the owners make a decision they will contact you.
Membership Breakdown And Costs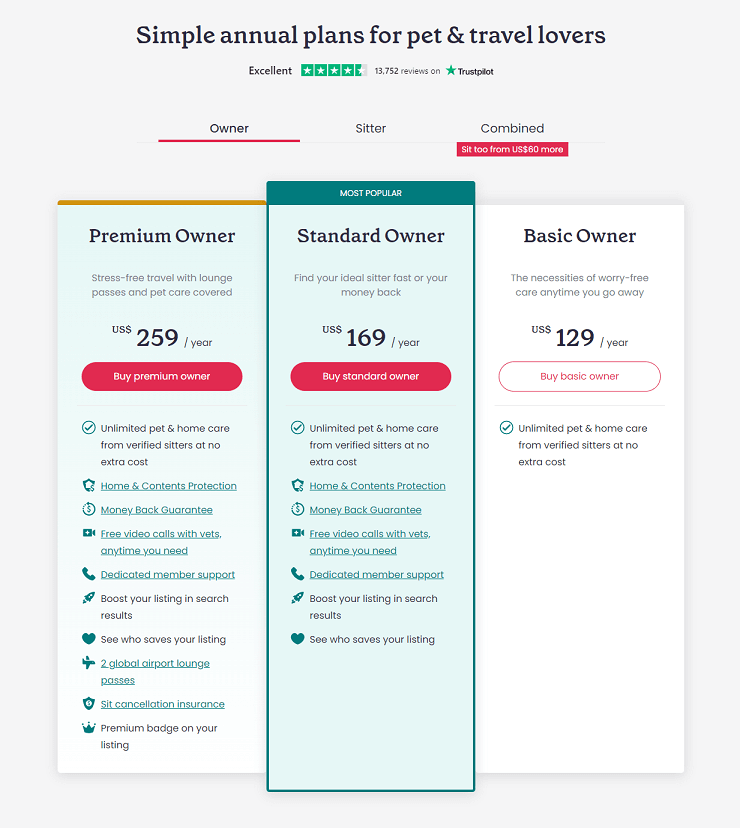 There are two main types of membership options with TrustedHousesitters, one for owners, and one for sitters.
There isn't really a difference between the two as far as cost. Both memberships costs $129 a year and allow unlimited travel and pet care within that period.
The third type of membership option is called a Combined Annual. Starting at $189 a year, you can enjoy an owner and sitter membership, which gives you the best of both worlds. This also includes unlimited usage.
Welcome Guide
Another great features of TrustedHousesitters is the online Welcome Guide which is filled out by the homeowner. The Welcome Guide is basically instructions for the homeowner to write down everything a sitter needs to know about their stay at their home.
There are six tabs to complete that basically cover all the important stuff. This is handy because is acts as a house sitter's reference guide.
Welcome
My Home
My Pets
Transport
Neighborhood
Emergency
Insurance Guarantee And 24/7 Support
One of the best parts of TrustedHousesitters is that both a home owner and sitter's membership comes with an insurance-backed guarantee and around-the-clock support.
All members of TrustedHousesitters have complete coverage at no extra cost. The insurance covers property damage, theft, and public liability protection for up to $1 million (US), making your vacation a little easier to plan with peace of mind.
With TrustedHousesitters, you also get 24/7 support from both a Membership Services team as well as a professional vet from the Vet Advice Line, in case a pet needs anything. You can call in for a general question or if you need expert advice.
Is TrustedHousesitters Worth It?
TrustedHousesitters is not free and their web site is simple, well done and more established, older sites. Because it is not free this means better quality sitters and more trust for owners.
Also this service helps with the amount you would pay for accommodations at a hotel. Plus its great for those who just love animals.
There are additional benefits, like meeting new people, pets, and experience new destinations from a local perspective. It basically gives you access to the most house sitting opportunities in the most places around the world, with support throughout the process.
Final Thoughts
TrustedHousesitters is a great resource for both homeowners and house sitters.  It connects people who are looking for opportunities to travel and love pets. The members are reliable and more trustworthy than some you may find on other websites. TrustedHousesitters is there to connect you with like-minded people, new experiences and wonderful pets.
Was this article helpful?
Let us know what you think.