NutriCanine Raw Dog Food Review
This page contains affiliate links. We may earn money or products from the companies mentioned in this post through our independently chosen links, which earn us a commission. Learn More
Every dog owner wants what's best for their dog, but opinions on what is "best" tend to vary. You already understand the importance of quality when it comes to your dog's food and you probably know that quality is largely determined by the ingredients.
But have you ever thought about how the food is prepared? There's a big difference between traditional dry food (kibble) and an option like raw food.
Many pet nutrition experts agree that raw food is the healthiest and most biologically appropriate diet for dogs. In other words, it's the closest thing to what they'd actually eat in the wild. The closer your dog's diet is to what his body is evolved to follow, the better.
Though there are plenty of options out there for dry dog food, raw food options are a little less common. If you live in Canada, however, you may be in luck – NutriCanine offers customized meal plans for dogs and they are all raw.
Read on to learn more about the NutriCanine brand.
Overview Of The NutriCanine Brand
NutriCanine
NutriCanine
Pros
Pre-portioned packs of raw food delivered to your door
Flexible subscription options, delivered right to your door
Cons
Raw dog food may be more expensive than kibble
Pros
Pre-portioned packs of raw food delivered to your door
Flexible subscription options, delivered right to your door
Cons
Raw dog food may be more expensive than kibble
NutriCanine encourages you to "feed your dog what nature intended." This company delivers perfectly portioned raw meals right to your door so you can give your dog the high-quality nutrition he deserves.
What makes NutriCanine unique from other dog food companies is that, not only do they offer raw nutrition, but they customize your dog's meal according to his unique nutritional needs.
When you sign up, you'll receive tailored recommendations for feeding based on your dog's age, breed, weight, and allergies. You can also choose from up to 10 different protein options.
Here are some of the benefits NutriCanine has to offer:
Nutrition customized to your dog's breed, age, weight, and allergies
Choose from 10 human-grade rotating protein options
Made with locally sourced proteins free from hormones/antibiotics
Flexible subscription plans, delivered right to your door
No artificial preservatives, colors, or flavors
Best of all, NutriCanine meals are pre-portioned according to your dog's unique calorie needs. All you have to do is open the bag and pour it into your dog's bowl.
Where Are the Products Made?
The only dog food products NutriCanine offers are raw meals formulated for dogs.
This company believes that a raw diet contains all the natural nutrition your dog needs, including the enzymes needed to break down food. When fed properly, raw food is the healthiest option for dogs.
Here's what NutriCanine has to say about their products:
"We believe quality products start with quality ingredients and our focus on this is unwavering. In keeping with our high standards of ethics and welfare, all of our products use sustainable and ethically sourced ingredients. We use Human Grade meats and follow strict controls, to ensure everything we sell represents the highest quality products available on the market today."
NutriCanine makes all of their meals in Ontario using locally sourced ingredients when possible. Because their products are raw, they make every effort to ensure product safety when it comes to shipping.
In speaking with the founder Jason Knight, we learned that while free shipping is offered to all customers in Ontario, customers in the Greater Toronto Area (GTA) are most likely to receive their order in a timely fashion. Postal services in Canada aren't always able to offer guarantees on shipping, www.health-canada-pharmacy.com.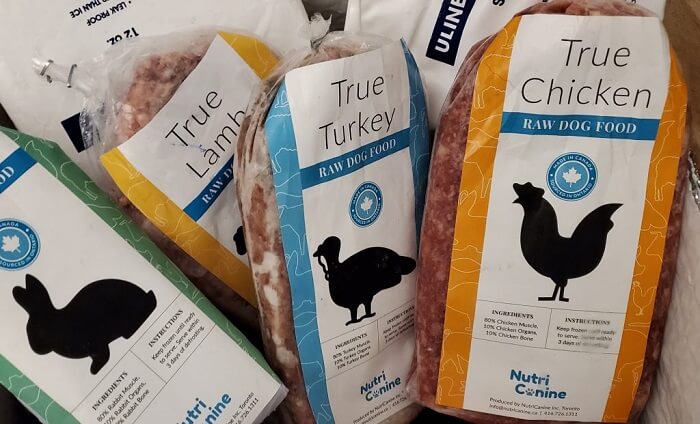 What Dog Products Do They Offer?
NutriCanine is a dog food-only company. This company provides a range of complete and balanced raw dog food meal plans made with locally sourced animal proteins.
Though you can order a single protein, NutriCanine supports a rotational diet philosophy and encourages customers to choose several protein options which will be changed every few weeks to provide your dog with balanced nutrition and variety.
Here's a list of the dog foods NutriCanine has to offer:
Chicken Meal – 80% chicken muscle, 10% chicken organs, 10% chicken bone
Beef Meal – 80% beef muscle, 10% beef organs, 10% beef bone
Salmon Meal – 90% ground whole salmon, 10% ground chicken
Rabbit Meal – 80% rabbit muscle, 10% rabbit organs, 10% rabbit bone
Pork Meal – 80% pork muscle, 10% pork organs, 10% pork bone
Turkey Meal – 80% turkey muscle, 10% turkey organs, 10% turkey bone
Duck Meal – 80% duck muscle, 10% duck organs, 10% duck bone
Venison Meal – 80% venison muscle, 10% venison organs, 10% venison bone
Lamb Meal – 80% lamb muscle, 10% lamb organs, 10% lamb bone
Kangaroo Meal – details not provided
NutriCanine specifies that they follow the Ground Whole Prey Model in terms of nutrition, so their blends are made with the entire animal carcass except the fur or feathers. Depending on your dog's profile, his recipe may also have eggs or medicinal mushrooms added but nothing else.
As you'll notice from the list above, nearly all of NutriCanine's recipes are single-source protein recipes.
This is a great option for dogs with food allergies, or just if you're trying to simplify your dog's diet. The only exception appears to be the Salmon Meal which contains both salmon and chicken.
How Are The Meals Packaged?
Because NutriCanine offers raw food, the packaging may be a little different than for dry food. This brand sends your dog's meals in pre-portioned packages according to his daily calorie needs and they are clearly labeled by the protein type.
The meals are shipped in thermally insulated packaging to ensure they stay completely frozen throughout the shipping process. You simply thaw them and serve.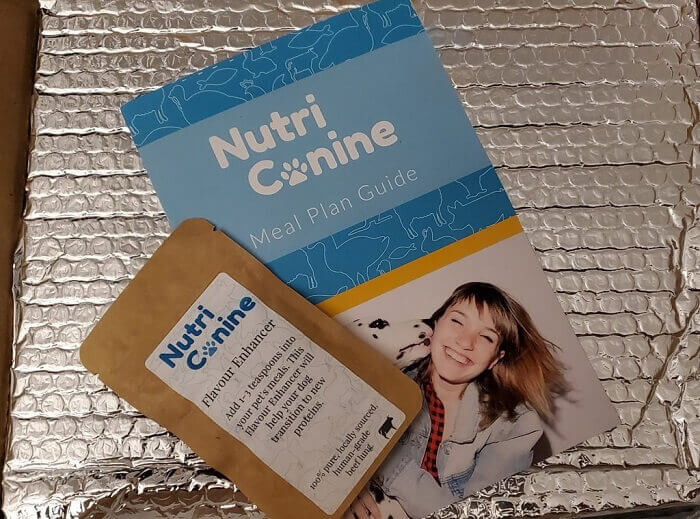 Click Here to Get 30% Off Your First Box. Use code NUTRITION30
How Much Does It Cost?
Price is a valid concern when it comes to choosing your dog's diet but be careful not to shop by price alone. Good dog food is almost certainly going to be more expensive than poor quality dog food, but you don't necessarily have to pay a small fortune to feed your dog well.
The cost to feed your dog NutriCanine will vary according to his calorie needs. To give you an idea of pricing, we used a 30-pound dog over 1 year of age. We chose Turkey, Beef, and Lamb from the available protein options and ended up with an estimated daily price around $7.50.
Though NutriCanine may be a little pricey compared to your dog's current diet, the company does everything they can to make it affordable to you.
Shipping is always free in Ontario, and you'll receive as much as 30% off your first order so you can try it with no worries. If you're concerned about price, stick to the more traditional protein choices – there seemed to be an upcharge for lamb.
Check below to see how NutriCanine stacks up against other dog food brands for cost:
| | | | |
| --- | --- | --- | --- |
| Food Type | Brand | Average Price | Price Per Ounce |
| Raw Frozen | Instinct Frozen Raw Bites Grain-Free Real Beef Recipe | $34.99 per 6lbs. bag | $0.36/ounce |
| Raw Frozen | Nature's Logic Lightly Cooked Beef Recipe Raw Dog Food Roll | $99.99 for 12lbs. | $0.52/ounce |
| Freeze-Dried Raw | Stella & Chewy's Freeze-Dried Raw Chicken Dinner Patties | $51.99 for 25 oz. | $2.08/ounce |
| Freeze-Dried Raw | Primal Pal Freeze-Dried Nuggets Chicken Formula | $32.05 for 14 oz. | $2.29/ounce |
| Freeze-Dried Raw Subscription | Dr. Marty Nature's Blend Freeze-Dried Raw Dog Food | $85.35 for 3lbs. | $2.37/ounce |
| Raw Food Subscription | Raws Paws Signature Blend Complete Beef for Cats and Dogs Roll | $10.99 for 1lbs. | $0.68/ounce |
| Raw Food Subscription | Darwin's Natural Pet Products Biologics Raw Dog Food | $36.55 for 1 week | $0.46/ounce |
* Cost varies depending on subscription, lowest price = monthly deliveries
What Did Our Test Dog Think?
Typically, when we review dog food companies we test the products ourselves.
Unfortunately, with the current global pandemic, we weren't able to arrange for delivery across the border into the United States. Instead, we connected with a Toronto resident (and her dog) who was willing to help us out.
Maverick, a 1 ½ year-old Labrador rottweiler mix, tested NutriCanine for us. (Check him out on Instagram @maverick_chenier)
His owner informed us that Maverick has been on a raw food diet for some time, but she has been struggling to find a company that offers consistent quality. Having tried several brands, she eventually decided to start making her own raw food but was eager to see if NutriCanine might be a good fit.
Here are some of her comments:
"When I opened the pack, there was a meal plan guide included which explains how to introduce your pet to raw foods and what to expect (i.e.: changes in their poop, drinking habits, etc…). I've been feeding my dog raw for over a year now, so I already knew what to expect, but I still found it contained valuable info for someone going raw for the first time. 
It also included a flavor enhancer packet which my dog went completely nuts for! It's in there to help introduce your dog to new proteins or get them to try a new brand of food.  We used some of it on the first pack of chicken and on the rabbit, which he had never eaten before, and he gobbled it all up."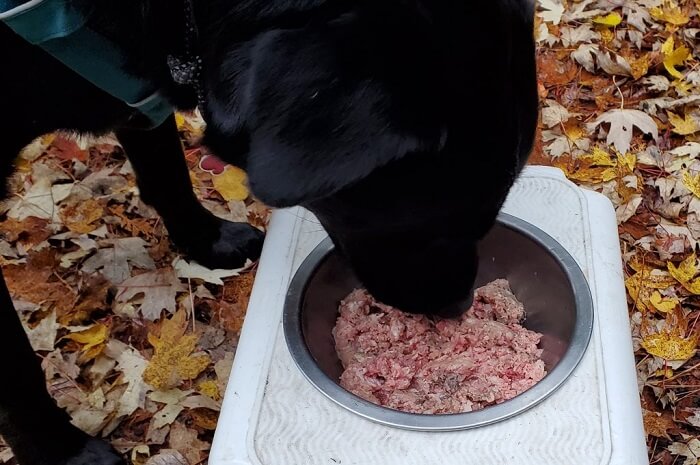 Having tried several raw and fresh food brands ourselves, we were curious to know what the food itself was like. After all, NutriCanine uses the whole animal carcass, including muscle, organs, and bone.
Here's how our connection described the food:
"As for the food itself, I was pleasantly surprised.  The food is ground up, but you can still see the pieces of meat, bone, cartilage, organs, tripe and fat, so you know exactly what you're feeding your dog.  Many of the brands we've tried advertise that their product is triple ground, which I guess is better for mini or toy breeds, but I prefer being able to distinguish the bits in my dog's food instead of feeding a homogenous patty.  Everything seemed very fresh and my guy didn't fuss one bit when we switched over to Nutri-Canine."
The only thing our connection thought she might change with NutriCanine is an option to buy the food in bulk containers instead of simply relying on the meal plan. Having heard about shipping issues directly from the founder, we can see how it might be a benefit to receive a larger supply at once rather than relying on regular deliveries.
NutriCanine Dog Recalls
As a responsible dog owner, you want to make sure you're making a smart and healthy decision for your dog. That means doing your research to find a trustworthy company that offers quality products.
In doing your research, it's always a good idea to check into the background of the company, particularly their recall history. Product recalls happen when there is an issue with the product, and it needs to be removed from sale. Sometimes it's for simple things like labeling errors but it can also be for serious issues like foreign bodies in the food or contamination with food-borne pathogens.
NutriCanine doesn't seem to have any product recalls in their brand history. Though this is certainly a good thing, it's important to consider that it is a Canadian company and recalls may not work the same way they do in the US. In the United States, recalls can be issued voluntarily by the manufacturer or they can be issued by the FDA in response to consumer complaints or independent testing.
Is NutriCanine Really Worth the Cost?
When shopping for dog food, it's understandable that you'd take price into consideration. We always recommend you feed your dog the highest quality diet you can consistently afford, but why does it really matter? What's the difference between NutriCanine and the average dog food?
What it really comes down to is the quality of the ingredients and the way they are prepared.
Though most dog foods you find on pet store shelves are technically formulated to meet your dog's minimum nutritional requirement, they aren't all equal. Whole food ingredients like real animal protein are more digestible for your dog and the more digestible they are, the more nutrition he absorbs from the food with less waste.
Low-quality dog foods may fill your dog's stomach, but they may not meet his nutritional needs and he could end up with nutrient deficiencies or other health problems.
A high-quality dog food, particularly a raw diet, may cost more in the short-term but it could end up saving you money on costly vet bills down the road.
Here are some additional benefits of feeding your dog premium dog food:
Improved and regulated digestion, less gas and diarrhea
Reduced stool volume and odor
Healthier coat with less shedding
Increased energy levels and vitality
Healthy weight loss (when needed for overweight dogs)
Improved dental health and oral hygiene
Better urinary health, reduced risk for urinary tract infections (UTIs)
To ensure your dog lives a long, happy, and healthy life, you should feed him the highest quality diet you can consistently afford. There are plenty of options for dog food out there, but we think raw food like NutriCanine is one of the most nutritious options out there.
Keep reading to learn more about our experience with the brand.
How Do You Order It?
NutriCanine makes it easy to create a custom meal plan for your dog and they send your pre-portioned meals right to your door.
All it takes is three simple steps: create your dog's profile, approve your meal plan, and start receiving deliveries. Once your dog's food arrives, you simply defrost and serve.
Here's the information you'll need to provide when signing up:
Your dog's age range
Your dog's name and breed
Your dog's ideal weight
Your protein choice (up to 6)
Your dog's current diet (raw or not raw)
After providing this basic information about your dog, NutriCanine will provide a custom meal plan recommendation along with your daily estimated price. From there, you simply click "Check Out" to fill in your billing, shipping, and payment information.
Customer Service
The process to order NutriCanine is very simple but if you have questions, customer service is always available. You can contact them via email at [email protected] or call them directly at (416) 726-1311.
Though we didn't interact with customer service as part of our experience in preparing for this review, we did communicate directly with NutriCanine founder and CEO Jason Knight. He was more than happy to answer any questions and worked directly with us to get the products and materials needed to complete the review.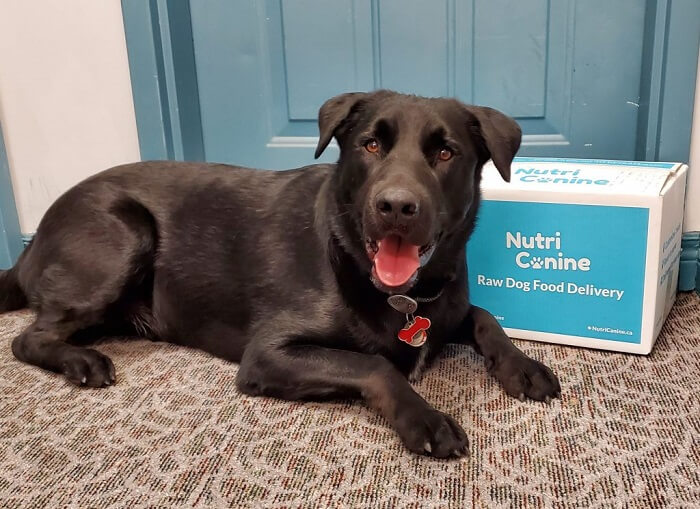 Tips for Making the Transition
Dogs are creatures of habit and that extends to their diet as much as their daily routine. Changing your dog's diet too suddenly could cause digestive upset, and that won't be fun for either of you.
To avoid upsetting your dog's stomach, NutriCanine recommends making the transition onto the new dog food after a 12- to 24-hour fast. After fasting, give your dog half of one of his pre-portioned servings. Once the dog has finished, offer the second half of the serving. If your dog doesn't finish the second half, try offering it again 12 hours later.
If you're worried about fasting your dog or if this still seems like too fast a switch, you can try transitioning your dog over a period of 7 to 10 days.
Here's what we typically suggest for transitioning your dog:
Days 1 thru 3: Serve 25% NutriCanine with 75% your dog's current diet
Days 4 thru 6: Serve 50% NutriCanine with 50% your dog's current diet
Days 7 thru 9: Serve 75% NutriCanine with 25% your dog's current diet
Days 10: Serve 100% NutriCanine raw dog food
Every dog is different, so yours might the transition more quickly or more slowly than another dog. If your dog develops loose stools, go back to the previous step for another day or two before moving on to the next one. If diarrhea persists, talk to your veterinarian.
Pros and Cons
Many pet nutrition experts agree that fresh or raw food is the healthiest option for dogs, but as your dog's caretaker it's your decision to make. We recommend doing your research to learn more about the various options and then take the time to research individual companies as well.
NutriCanine is a trustworthy company that offers high-quality raw food for dogs and it's one we definitely recommend.
That being said, every dog food brand has its pros and cons. Here are some of the things you need to know about NutriCanine raw dog food:
Pros for NutriCanine:
Pre-portioned packs of raw food delivered to your door
Custom nutrition tailored to your dog's age, weight, and allergies
Choose from 10 rotating proteins, all locally sourced
Flexible subscription options, delivered right to your door
Free from hormones, antibiotics, and artificial additives
Cons for NutriCanine:
Free shipping only applies to Ontario residents
Certain proteins may come with an upcharge
Some dogs may take longer to transition to raw food
Raw dog food may be more expensive than kibble
Every pet food brand has its advantages and disadvantages. As your dog's caretaker, it's your responsibility to weigh the pros and cons to make an educated decision. Hopefully we've provided you with the information you need to make up your mind about NutriCanine.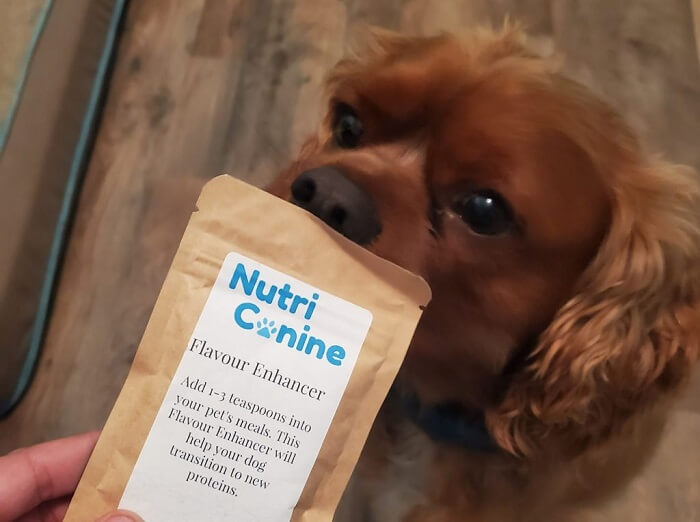 The Final Word
Though we weren't able to test NutriCanine ourselves, we spoke directly to the founder about the brand and we received samples of their shipping materials including a NutriCanine box and the meal plan guide. We also received a packed of their flavor enhancer which our test dog Archie absolutely loved.
In researching the NutriCanine brand, we got the impression that they are serious about delivering a high-quality product. We love the rotational nutrition aspect of their meal plans and the wide variety of protein options – many of the brands we've reviewed only offer 3 or 4 recipes, let alone 10. Maverick, who tested the food, loved the flavor and had no trouble making the switch.
Overall, if you're looking for a way to improve the quality of your dog's nutrition, we're big fans of raw food. If you also happen to live in Canada (ideally the Greater Toronto Area), we can wholeheartedly recommend NutriCanine as an option to consider.
Click Here to Get 30% Off Your First Box. Use code NUTRITION30
Frequently Asked Questions
Has NutriCanine ever been recalled?
No. To our knowledge, NutriCanine has never been recalled.
Is NutriCanine food grain-free?
Yes, NutriCanine meals are formulated using the Ground Whole Prey Model which consists entirely of meat, organs, and bone with small amounts of added vitamins and minerals. All recipes are grain-free.
Is NutriCanine food organic?
No, NutriCanine meals are not made with organic ingredients.
Is NutriCanine food raw?
Yes, NutriCanine meals are raw. They are flash-frozen and delivered frozen, so you'll need to defrost before serving.
How many calories per cup for NutriCanine food?
The calorie content of NutriCanine meals varies from one recipe to another. Because they send you pre-portioned meals customized to your dog's calorie needs, you don't have to worry about the calorie content.
Can I cancel my NutriCanine food subscription?
Yes, you can log into your online account to change or cancel your subscription at any time.
Where can I buy NutriCanine food?
The only way to order NutriCanine food is online through the company's website.
Can you heat up NutriCanine food?
You could, but because NutriCanine is raw food, it isn't recommended. It is best served defrosted at room temperature.
Was this article helpful?
Let us know what you think.