Litter-Robot III Connect Review
This page contains affiliate links. We may earn money or products from the companies mentioned in this post through our independently chosen links, which earn us a commission. Learn More
Nothing is better than coming home after a long day to be greeted at the door by a friendly face. As a cat owner, you'll never be alone and over time your cat becomes more like family than a simple pet.
While owning a cat certainly has its perks, it comes with challenges as well. There will be days when your cat seems determined to knock over every one of your potted plants or when he won't stop yowling at the back door.
And then there's the litter. Being a cat owner means subjecting yourself to a lifetime of scooping the litter box and being subjected to the ever-present smell of wet clay.
Enter the Litter-Robot.
The Litter-Robot is a fully automatic self-cleaning litter box and it's every cat owner's dream. Not only does it save you from scooping, but it practically eliminates litter box odor. We tested the Litter-Robot III Connect along with the smartphone app to tell you (and show you) exactly what it's like.
Litter Robot III Connect
Brand
Pros
Fully automated, Wi-Fi-enabled, self-cleaning litter box
Excellent odor control and helps prevent tracking/spread
Adjustable settings for cycling, night light, and more
Monitor and control the litter box using the Connect app
Cons
Not all cats seem to like it (1 of 3 test cats used it consistently)
Must be disassembled to fully clean, globe can be tricky
May take time to get used to the app and program settings
Pros
Fully automated, Wi-Fi-enabled, self-cleaning litter box
Excellent odor control and helps prevent tracking/spread
Adjustable settings for cycling, night light, and more
Monitor and control the litter box using the Connect app
Cons
Not all cats seem to like it (1 of 3 test cats used it consistently)
Must be disassembled to fully clean, globe can be tricky
May take time to get used to the app and program settings
The Litter-Robot Explained
Background On The Litter-Robot
The story of Litter-Robot starts with founder Brad Baxter when he became a first-time cat owner in 1999. As much as he loved his new furry friends, Baxter was less than pleased with the task of scooping the litter box, not to mention the smell and the sight of a dirty litter box. Baxter set out on a mission to free cat owners from the mess and, after a year of trial and testing, created the first Litter-Robot.
Today, the Litter-Robot has gone through several upgrades and has revolutionized the pet industry. Manufactured and sold by AutoPets, the original company Baxter founded in 1999, the Litter-Robot is in its third iteration – the Litter-Robot III Connect. By creating a Wifi-enabled version that can be controlled and monitored through an app, AutoPets improved upon the already amazing Litter-Robot.
How Does The Litter-Robot Work?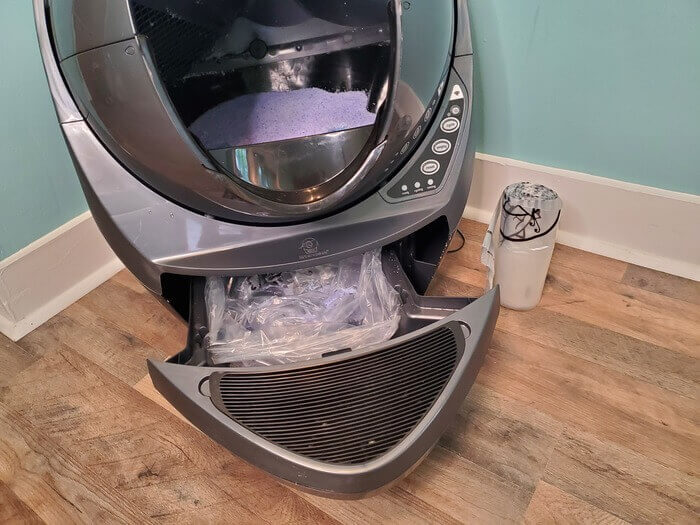 When you hear the words Litter-Robot, you might picture some kind of complex contraption involving a robotic arm that sweeps out over the litter box to do the scooping for you. In reality, the Litter-Robot is a fully integrated device that acts as an all-in-one litter box.
The Litter-Robot III consists of a globe-like compartment that sits on top of a stand containing the waste drawer and the electronic components. Your cat steps up into the globe (which contains the litter itself) and does his business. When he's finished, the device waits for the preset time of your choosing then automatically initiates the sifting process.
Here's how it works:
Your cat's body weight activates the sensor.
When your cat leaves the litter box, the globe activates after the preset delay.
The globe rotates, pouring the litter through an integrated sifter.
Clumps slide through an opening into the waste drawer while clean litter is collected.
The globe rotates back into place, returning the clean litter to its original position.
Dirty litter is discretely collected in the waste drawer until it becomes full. At that point, you simply need to slide open the drawer then remove the collection bag and replace it with an empty one. If you have the Litter-Robot Connect III, you can monitor the waste level via the Litter-Robot Connect smartphone app or set it to send you a notification on your phone when the waste drawer is full.
You can adjust the settings on the Litter-Robot III Connect manually or through the app according to your preferences. If you purchase the original Litter-Robot III, you can upgrade at any time by purchasing the Litter-Robot Connect Base or by purchasing the upgrade kit.
How Much Does It Cost?
Litter boxes come in all different sizes and shapes which means they also come in at a wide range of prices. The bigger and fancier the litter box, the heftier the price tag. It shouldn't come as a surprise that a fully automatic self-cleaning litter box like the Litter-Robot is a little pricy. The original Litter-Robot III is priced at $449 and the Wi-Fi-enabled Litter-Robot III Connect at $499.00.
On top of the Litter-Robot itself, you can purchase the extended warranty for $49.99 which extends to 18-month warranty out to a full 3 years. The LR 3 Accessory Kit that comes with a ramp, fence, and extra carbon filters and waste drawer liners costs $130. Litter-Robot also sells a variety of other accessories.
In addition to offering the Litter-Robot III as a standalone purchase, the brand also offers three bundles, each with savings of $30:
Bundle 1 ($648.99): Includes the Litter-Robot III Connect, extended warranty, and accessory kit
Bundle 2 ($867.99): Includes the Litter-Robot III Connect, extended warranty, and credenza
Bundle 3 ($897.99): Includes the Litter-Robot III Connect, extended warranty, and storage cabinet/hutch
Not only does Litter-Robot offer three bundles that include the self-cleaning litter box itself, but they also sell their own brand of cat litter. Litter-Robot's clumping clay litter is uniquely designed for use with the Litter-Robot and is available for sale by one-time purchase or subscription.
This clumping clay litter is derived from natural sodium bentonite and is sun-dried, low-dust, and low-tracking. A 20-pound bag costs $25, a 40-pound bag costs $45, and a 60-pound bag costs $60.
How To Get Started?
Getting started with Litter-Robot is incredibly easy. Simply shop the website and choose your desired model and color or select from one of the three bundles mentioned above. You can pay by credit card or, for convenience, log in through your Amazon account and use one of your saved payment methods.
At the time of review, Litter-Robot estimated 3 to 4 weeks for shipping. Shipping is free in the contiguous United States for orders over $35.
Once you receive your Litter-Robot, AutoPets recommends giving your cat time to acclimate to it. Cats are naturally curious creatures, but they may need a little help making the switch. Keeping the unit turned off during the transition is recommended until your cat uses it – you may even want to sprinkle a little dirty litter into it, so your cat understands what it's for.
What Kind Of Litter Works Best?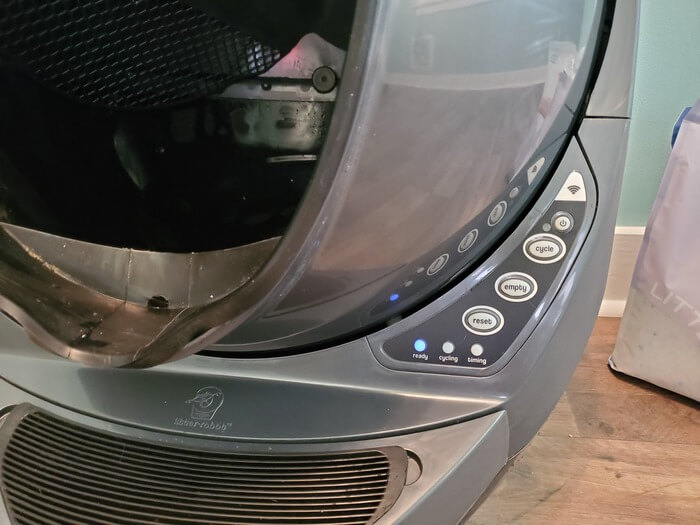 The idea behind the Litter-Robot is similar to other sifting litter boxes, it just does the work automatically. In order for it to work properly, you need to use clumping litter. Litter-Robot recommends "a high-quality, standard-weight, clay-based clumping litter."
In fact, Litter-Robot has their own all-natural clumping clay litter. They sent us a bag to test along with the Litter-Robot and we were pleased with the performance. The smallest bag size they offer is 20 pounds which is a little awkward to get up into the globe to pour evenly, but the litter itself was fine. We also tested it with some other clumping litter we had on hand with no issue.
Litter-Robot writes in their FAQ section that some silica gel litter and crystal beads will work, as long as they pass through the sifting screen. Plant-based litters may also work, though they tend to form loser clumps which can lead to condensation in the waste drawer. In any case, avoid using non-clumping litter and litters made from recycled paper or wood pellets.
Testing The Litter-Robot III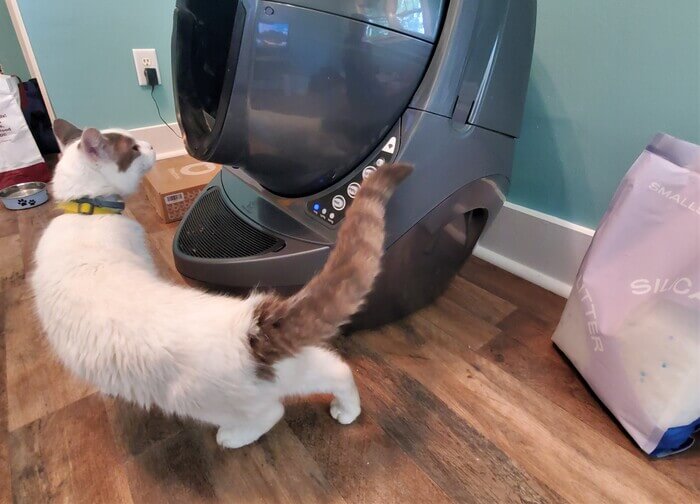 When given the opportunity to review the Litter-Robot, I was pretty excited. I've known about the product since the original version but didn't realize AutoPets had made so many upgrades in the past few years. I was particularly intrigued by the integration with the Litter-Robot Connect App.
I knew the Litter-Robot was going to be big, and I definitely wasn't wrong. Fortunately, the fact that it came in such a big box meant that it was almost completely assembled. I had to put a few parts into place but, aside from plugging the unit in, that was it.
Within the few minutes it took to get the Litter-Robot set up and in place, my cats had already come around to check things out. They were a little curious and only slightly terrified but put in a few good sniffs and wandered away.
Because I knew my cats would take some time to warm up to the Litter-Robot, I ended up doing a little testing on my own. I adjusted the settings manually and using the Connect app and watched the unit go through its process. I found the sifting process to be very efficient and effective, and much quieter than expected. It makes some noise, make no mistake, but not enough to be a bother.
After a few days with the Litter-Robot, the bravest of my cats decided to give it a try. She had no issues hopping up into the globe and sniffed around a bit while she was in there.
All of my cats are on the small side, so interior space didn't seem to be an issue. After she did her business she hopped out and happily trotted away. The Litter-Robot whirred to live a few minutes later and took care of the job.
We've been using the Litter-Robot for a while now and have made a few observations. Read one to see how this automatic litter box performs in certain key areas.
How Well Does It Handle Common Issues?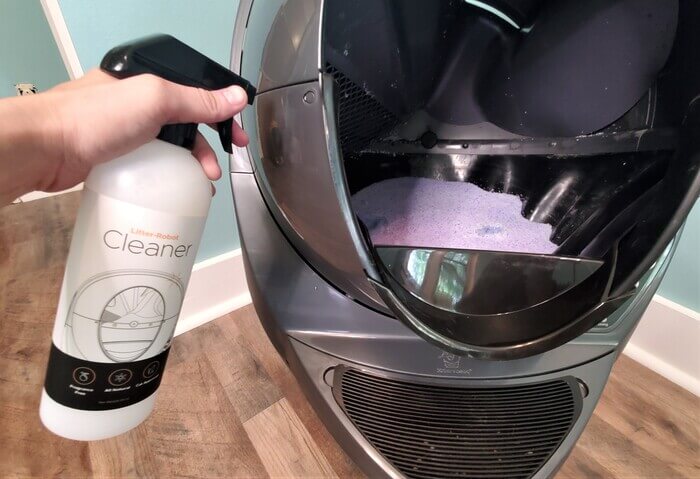 Every litter box is unique, so you can't judge them all based on the same criteria. The Litter-Robot is an automatic, self-cleaning, sifting litter box. When it comes to evaluating its performance, however, there are certain aspects to focus on: litter box odor, tracking and scatter, cleaning, and minimizing waste.
1. Litter Box Odor
The best part of being a cat owner, practically speaking, is that you don't have to constantly be worrying about your cat having an accident in the house because you couldn't get him outside in time. The worst part of being a cat owner is having your cat do his business in the house. Unless you scoop the litter box daily or have several extras placed around, you're going to have to deal with litter box odor.
The Litter-Robot practically eliminates litter box odor by quickly separating clean from dirty litter, depositing the dirty litter discretely in a waste drawer beneath the unit. For a single cat, the waste drawer can last about a week and we didn't notice any odor during the time of testing. Had all of our cats used the Litter-Robot consistently, however, we probably would have had to empty it more often.
2. Tracking and Litter Scatter
Some cats have a habit of flinging litter everywhere either before they use the litter box or after they've done their business. The Litter-Robot is almost completely enclosed, so that takes care of that issue, but it still leaves the possibility of tracking.
One feature that helps minimize tracking is the fact that your cat has to hop up and down a few steps when entering and leaving the box – this provides an opportunity for litter clinging to your cat's feet to fall off. We still recommend putting the Litter-Robot on a mat, however, to help reduce litter spread.
3. Scooping and Cleaning
The most obvious benefit of the Litter-Robot is that you don't have to scoop it. With its automatic sifting feature, the Litter-Robot separates clean and dirty litter, depositing clumps in a waste drawer that you only have to empty once in a while. Not only are you freed from scooping, but you don't have to see or smell the dirty litter either! What could be better than that?
When it comes to cleaning the Litter-Robot itself, however, things get a little tricky. The outside surface of the globe is easy enough to wipe down to remove dust, but if you want to do a more thorough cleaning (as is recommended every few months), you'll actually need to disassemble the unit. Once you manage that, however, you can just take it outside and hose it down.
4. Saving Money and Minimizing Waste
The biggest concern many cat owners have about the Litter-Robot is, of course, the $500 price tag. Many cat owners do just fine with standard litter boxes, but not all litter boxes are created equal. You may end up buying 2 or 3 before you find one that works and then there's the cost of the litter itself.
You'll never escape from that, but have you ever thought about how much you're spending on wasted litter? Cat litter that gets so messy so fast that you have to end up dumping the entire bin instead of being able to scoop the clumps for a week or two?
Any experienced cat owner knows that a good, hard-clumping litter is worth its weight in gold. If you combine a good litter with an effective sifting litter box, you can minimize waste which saves you money in the long run.
The Litter-Robot does an excellent job of minimizing wasted litter. Sure, you'll spend more for the unit up-front but if it does the job well you'll be freed from a lifetime of scooping and you'll have the added bonus of minimizing waste.
The Litter-Robot Connect App
The Litter-Robot III Connect is a Wifi-enabled litter box which means you can manage it from your smartphone using the Connect app. The app is compatible with Apple and Android mobile devices, and it requires iOS 9.0 or Android 6.0 (or later) as well as a 2.4 GHz router signal.
Here are some of the features the Connect app offers:
Monitor your cat's litter box usage
Activate the night light or lock out the control panel
View insights into your cat's health
Adjust the wait time and customize settings
Check the waste drawer level gauge
Connect multiple units to the same account
Set alerts for push notifications sent to your phone
Even if you choose to save a few bucks with the Litter-Robot III without the Wifi-enabled feature, you can always upgrade later. Simply purchase the Litter-Robot Connect Base or install the Litter-Robot Connect Upgrade Kit. You can connect multiple Litter-Robot units to the app and everyone in the household can log in with the same account, if desired.
Overall, Is The Litter-Robot Worth It?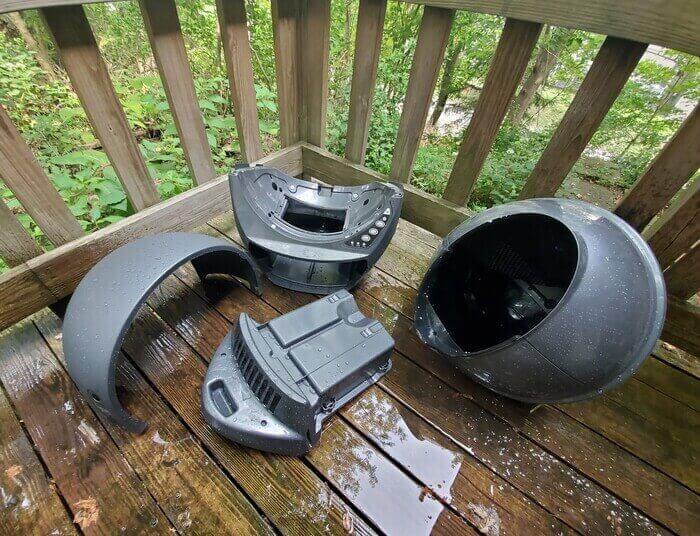 The Litter-Robot is by far the most impressive litter box I've ever tried. I've tested a few other so-called "automatic" litter boxes, but they don't even compare. The Litter-Robot may not be perfect, but it's a pretty cool idea and it's been executed very well.
This wouldn't be an honest review if we didn't take a moment to bring up some of the things we didn't like about the Litter-Robot. Overall, we think it's well worth the $500 and would encourage anyone who's looking to cut down on litter box odor and maintenance to consider it. That being said, I encountered a few challenges during testing.
First, only one of my three test cats ever really took to the Litter-Robot. Granted, I didn't make a big effort to transition them into using it and they always had a few other litter boxes to choose from around the house. If I was going to use the Litter-Robot as my only litter box, I'd definitely take the time to do it as recommended.
Second, while the sifting action worked very well and I was pleased with the overall performance, eventually I started noticing an increase in clean litter in the waste drawer. The Litter-Robot was still sifting and depositing clumps, but it seemed like some of the clean litter was falling through as well.
Another potential issue has to do with the size. The Litter-Robot is big. It measures nearly 30 inches high and 27 inches wide, so you'll definitely need to dedicate some space to it. You also need to leave a few inches around the globe so it can rotate properly.
Though the Litter-Robot is like nothing we've ever tested before, we can happily give it a paws-up recommendation.
If you're interested in trying it for yourself, you'll be glad to know it comes with a 90-day money-back guarantee and a 3-year warranty (if you purchase the 18-month extension. If you don't want to spend the full amount up front, you can always finance it through Affirm.
Click Here to Get $25 Off Your Litter-Robot Purchase
Was this article helpful?
Let us know what you think.