K9 Of Mine Dog Training Program Review
This page contains affiliate links. We may earn money or products from the companies mentioned in this post through our independently chosen links, which earn us a commission. Learn More
Your first 30 days with your new dog are big – you need to establish routines, bond with your new buddy, and teach them what being part of your family is going to be like.
If you have just adopted an adult dog, brought home a new puppy, or are in need of improving your dog's skills, the K9 of Mine dog training courses will help you communicate with your pup and begin a positive relationship.
K9 of Mine Dog Training Program

Pros
30 day money back guarantee
5 modules with several videos in each
Easy to follow menu
Cons
Videos can not be downloaded
Trained dog used in videos
There are less expensive online programs
Pros
30 day money back guarantee
5 modules with several videos in each
Easy to follow menu
Cons
Videos can not be downloaded
Trained dog used in videos
There are less expensive online programs
Who Is Kayla Fratt Of K9 Of Mine Training Courses?
Kayla Fratt is the founder of Journey Dog Training and is a certified dog behavior consultant through the International Association of Animal Behavior Consultants ( IAABC).
She also worked previously as a behavior technician at Denver Dumb Friend League animal shelter and holds a degree in biology from Colorado College. She now splits her time between the conservation detection dog organization, K9 conservationist and her dog behavior consulting and training course.
Kayla specializes in difficult behavior problems, but also loves trick training and competitive dog sports. Her training methods are based on setting the dog up for success and rewarding good choices. She stays up-to-date on current dog theory and is an expert in agility, herding, scent work, rally obedience, TEAM obedience, skijoring, and canicross, which she trains in with her own dog, a Border Collie named Barley.
How Does The Program Work
First you need to head over to K9 of Mine  and click on the 30 things to teach your dog in 30 days offer on the home page. Once you are on the course page you can purchase the course for $99. This allows you to watch the training videos on your own schedule or when it's convenient for you as well as gives you unlimited access , meaning this course is yours forever.
The nice thing about this course is that they will let you try it free for 30 days. So basically it you purchase the course and if you decide it's not for you, just let them know within 30 days of your purchase and you will be refunded with no questions asked.
Once I set up an account and paid for the program, I was taken to a dashboard that shows the courses I signed up for.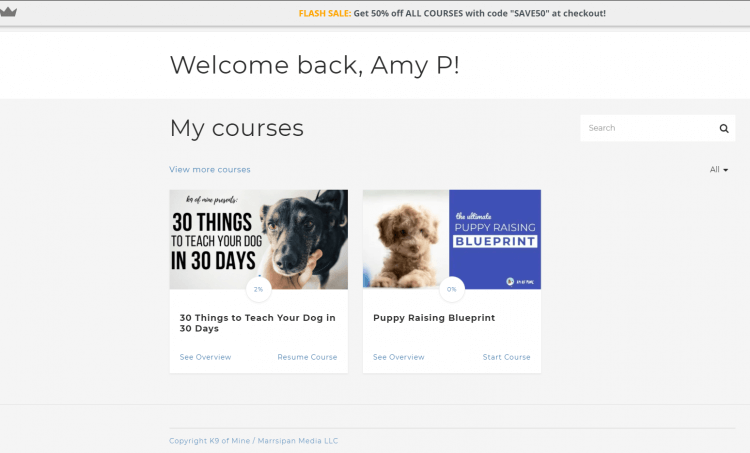 Once I clicked on the 30 Things to Teach your Dog in 30 Days "Start Course" section, I was brought to the video lessons menu. There are five modules in this course and each is broken down into different sections and areas of focus.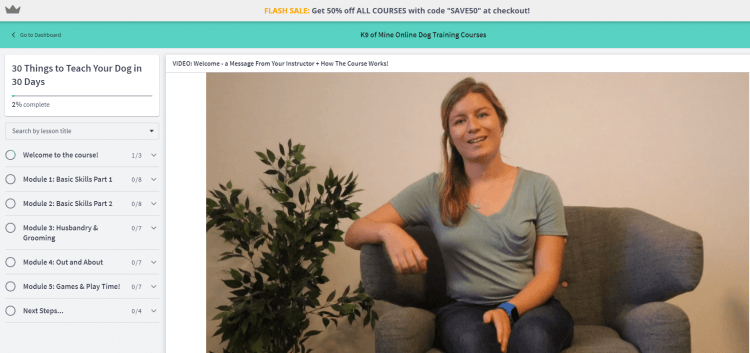 When signing up for the "30 Things to Teach your Dog in 30 Days" program, I was offered the "Puppy Raising Blueprint" for an additional $80. This program caters to those who have recently brought home a puppy and are feeling a little overwhelmed.
How We Tested
We signed up for the K9 of Mine Dog training programs
We spent 30 days watching the training programs
We spent those 30 days also testing applicable programs on our dog
We purchased these programs with our own money and not in exchange for a favorable review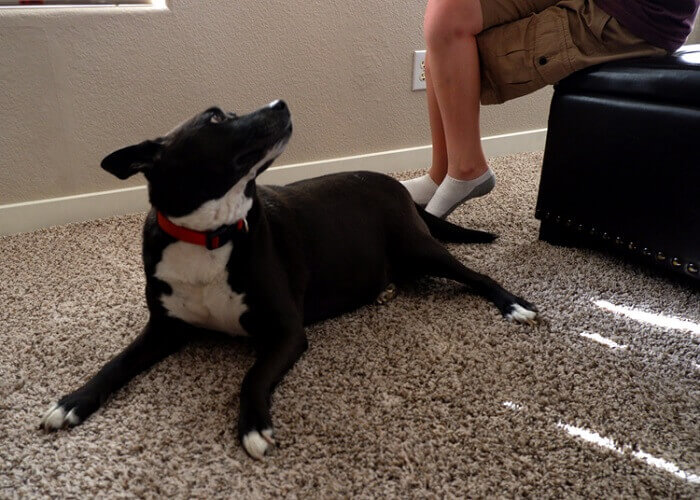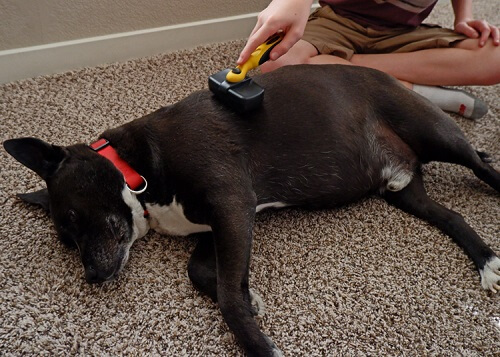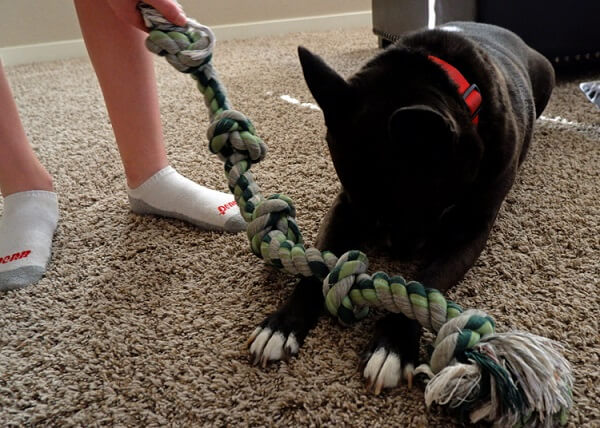 What You Will Learn
K9 of Mine offers the course "30 Things to Teach your Dog in 30 Days" and its designed to get your dog trained to be well behaved, from a puppy on up. This course can teach your dog the basics on up to, what the trainer describes as, "some really flashy urban out and about skills".
The course is set up in different modules and covers the following over the 30 day course :
Bonding exercises you can do to strengthen your connection with your new dog!
Essential training skills to help your dog be successful in his new home like "leave it", "drop it", "stay", "off", and other basics.
How to teach your dog to relax and calm himself.
Home grooming tips that will save you money spent on costly groomer visits.
Toys, games, and challenges to prevent boredom and keep your dog's brain engaged.
How to better understand your dog, his unique play preferences, and individual needs!
Plus much more!
There are several items and tolls you might need and that are recommended when using this course.
Equipment
Leash (4 – 6ft)
Collar
Harness
Baby gate or dog crate
Clicker (optional)
Treat pouch
Mat, towel, or dog bed (optional)
Feeding
Grooming Tools
Nail trimmer
Cotton balls
Slicker Brush (for general grooming)
Pin Comb (for removing burs and detangling light mats)
Mat Cutter (for cutting out extreme mats)
Grooming mitt (light grooming for short-haired dogs)
Each module is broken into several video sections and most include one or two quizzes, to make sure that you are paying attention.
When you sign up for the dog training program you will also be offered the "Puppy Raising Blueprint Course" for an additional fee. This course will teach you all the fundamentals for raising a happy, healthy puppy and is set up like the dog training program, with several modules to follow.
This course will help you raise a puppy right with for a happier, better-behaved pup
This course is composed of 3 sections that focus on:
Puppy Raising Basics & Survival Essentials
Problem Behaviors
Puppy Life Skills & Training
Price
The price of the 30 Things to Teach your Dog in 30 Days is $99. This includes the video modules, tools and equipment list and access to Kayla the trainer.
If you are interested in the Puppy Raising Blueprint Course, it will cost you $80 and includes video modules and access to the trainer as well.
Both courses do come with a 30 day money back guarantee, which means if you are not satisfied with the training for any reason, you will receive all of your money back.
Why Online Training?
The most obvious reason to try an online dog training program is the cost. Personal dog trainers will cost you $30 up to $100 and hour but the K9 of Mine training courses start at $80 and only go up to $99 for the entire program. This means you can teach your dog entirely by yourself and build your relationship all on your own time.
Pros
30 day money back guarantee
5 modules with several videos in each
Easy to follow menu
Tools and equipment list
Certificate of completion available
Kayla Fratt can be reached via email
Cons
Videos can not be downloaded
Trained dog used in videos
There are less expensive online programs
May take longer than 30 days to work
Does K9 Of Mine Training Courses Really Work?
The 30 things to teach your dog in 30 days course maybe a little misleading. I say this because teaching an untrained and lazy dog, something new everyday, maybe difficult. My dog took much longer to train on basic commands like "stay", "drop it" and "down". We have yet to master other training like "tug" and "fetch".
With that being said, you will need to be committed to training your dog with any of the K9 of Mine courses and willing stick with it. I am not saying these programs aren't great products, but you do need to do the work and it may take longer than 30 days depending on you and your dog.
I do like how these courses are organized and easy to follow. Also it is easy to see what each module covers so I am able to skip around and work on things I want my dog to learn first. My dog did learn many things taught in this course, so I will say it works. I will add there are several things we are still working on and we are past the 30 day mark. This maybe partially to an old dog learning new tricks or maybe an owner who is not aggressively following the program.
Click Here To Get 50% off ALL COURSES with code "SAVE50" at checkout
Was this article helpful?
Let us know what you think.