Grocery Pup Dog Food Review
This page contains affiliate links. We may earn money or products from the companies mentioned in this post through our independently chosen links, which earn us a commission. Learn More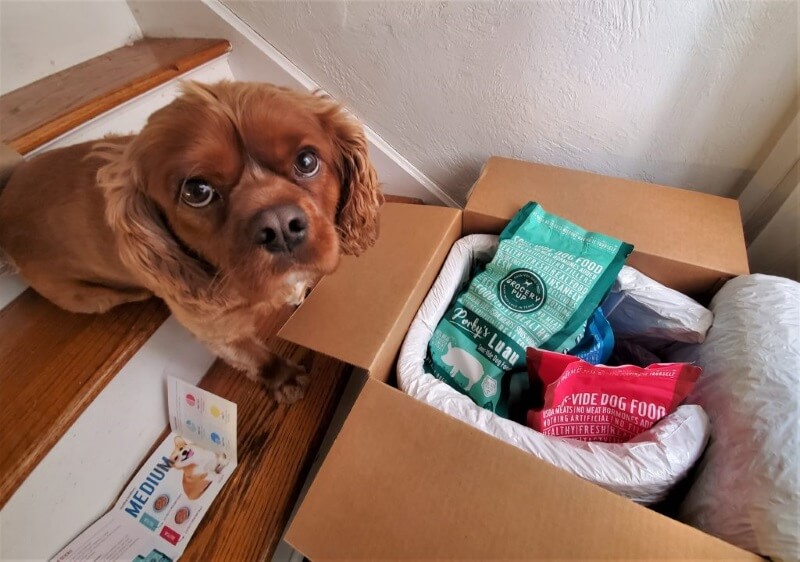 Pet owners everywhere are making the switch to fresh food to give their pets the nutritional quality they deserve.
While commercial dog food is often cooked at high temperatures in a process that destroys a significant amount of the nutrients in the ingredients, fresh food is less processed and more nutritious.
Grocery Pup takes things a step further by gently cooking their products using the sous-vide method. This process takes nearly two hours but enables the product to retain more of its nutritional content along with plenty of natural flavor.
Grocery Pup products are made with farm-fresh veggies and USDA meats, processed in USDA human food facilities and formulated by veterinary nutritionists. When it comes to quality nutrition, Grocery Pup is at the top of the pack.
With so many fresh pet food companies out there, you may be wondering how they all compare.
We've tested the top fresh food subscriptions on the market to bring you this honest review of Grocery Pup and how it stacks up against the competition.
Overview of the Grocery Pup Brand
Dogs deserve fresh, delicious food – that's Grocery Pup's belief. Their tagline is, "Delicious food for a longer life." They claim that their human-grade, sous-vide fresh dog food is just like homemade but easier.
Formulated by a veterinary nutritionist with fresh, non-GMO and USDA ingredients, it delivers quality nutrition to support long-term health and wellness. Grocery Pup calls their recipes delicious, convenient, and healthy.
Though most fresh dog food is cooked at lower temperatures than the average kibble, Grocery Pup is different. It is cooked sous-vide for 2 hours to lock in nutrients, flavor, and moisture.
What About the Ingredients?
Grocery Pup uses non-GMO veggies and USDA meats, packaging their recipes in BPA-free vacuum-sealed bags. They are cooked for 2 hours until the food reaches 160°F – just enough to kill pathogens but not high enough to destroy the nutritional quality of the ingredients.
In addition to offering high-quality nutrition for pets, Grocery Pup seeks to offer convenience for pet owners. Each bag contains 1-pound patties individually frozen for easy storage.
You can purchase individual recipes and variety packs or subscribe for regular deliveries sent right to your door. Simply defrost the food overnight or thaw in room-temperature water for about 30 minutes.
Because the packages are vacuum-sealed, they can be kept fresh in the refrigerator for up to 2 weeks without opening so you don't have to worry about taking them out of the freezer the night before.
Where is the Food Made?
Grocery Pup aims for the highest quality possible with their products to deliver superior nutrition to pets all over the country. Their recipes are formulated by a board-certified veterinary nutritionist, guaranteed to deliver wholesome, balanced nutrition.
Grocery Pup products are made using non-GMO, pesticide free vegetables and USDA meats sourced from farms across the United States.
Everything is prepared in USDA human food facilities using the sous-vide cooking method. Their company headquarters are located in Austin, Texas and their products are made in Texas as well.
What Dog Food Products Do They Offer?
Currently available from Grocery Pup are three fresh dog food recipes. This may not seem like much of a variety, but it's on par with other fresh food companies like Ollie and Nom Nom.
Grocery Pup allows customers to different recipes individually or to purchase a sampler pack that includes three smaller size bags.
Each order contains two 3-pound bags of one recipe while the sampler pack includes three 1-pound bags, each with individually packaged 1-pound servings.
The thing to remember with Grocery Pup is that their recipes are formulated for adult dogs.
They do not recommend feeding Grocery Pup exclusively to puppies under 6 months, though you can use the fresh food as a meal topper to boost your puppy's nutrition and protein intake.
Here are the three recipes Grocery Pup has to offer: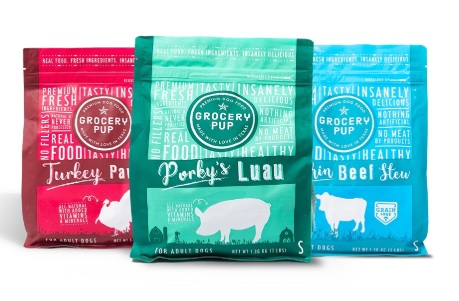 Turkey Pawella – Featuring ground turkey and turkey liver, this recipe is supplemented with tomatoes, carrots, green peas, and rice. It also contains essential nutrients for nutritional balance.
Texas Beef Stew – Made with ground beef and beef liver as the primary ingredients, this recipe also contains green peas, tomatoes, potatoes, carrots, and canola oil. It also contains essential nutrients for nutritional balance.
Porky's Luau – This formula features ground pork and pork liver with sweet potatoes, green beans, and pineapple. It also contains essential nutrients for nutritional balance.
We tested all three recipes from Grocery Pup to write this review.
As advertised, the package arrived frozen with one bag of each recipe.
The bags were a little bulky, but because the servings were individually packaged it would be easy to separate them for easier storage in the freezer.
We also liked that the shipment included a handy guide saying the packages could be stored unopened in the refrigerator for up to 2 weeks for convenience.
Is Their Packing Environmentally Friendly?
Grocery Pup doesn't provide as much information as other fresh food companies on their website, so it was a little difficult to determine the details. The food comes vacuum-sealed in individual servings inside larger BPA-free plastic bags.
The order arrived in a standard cardboard box with soft insulation and dry ice. We opened the plastic covering the insulation and it appeared to be made from some kind of recycled fiber.
Many fresh food companies use biodegradable insulation that can be dissolved in water, so this was different. We imagine it could easily be reused or recycled.
Grocery Pup Dog Food Recalls
Pet food recalls occur when there is a problem with a pet food product. The FDA has the power to issue a recall or the company can voluntarily recall a product if they notice an issue themselves.
Recalls are typically due to issues with formulation, packaging, or quality.
To our knowledge, Grocery Pup has not had a recall to date.
This may in part be related to the fact that they produce their foods in human-food facilities that follow strict USDA regulations.
These regulations are higher than those for commercial pet food facilities. Grocery Pup is also committed to guaranteeing the quality and safety of their products.
How Much Does It Cost?
Most fresh pet food companies cost considerably more than the average commercial kibble, but you have to consider the quality you receive for that price.
The benefit of Grocery Pup is that you can purchase individual bags of food instead of committing to a full month's worth of deliveries. The option is available, of course, to receive regular shipments.
Grocery Pup sells their products in 2-packs of 3-pound bags for $69.97 or a sampler pack containing one 1-pound bag of each flavor for $89.00.
If you purchase the recipes separately, it averages to about $11.66 per pound which is fairly expensive, even compared to other fresh food companies. You can, however, save with a subscription plan. Choose from a full meal plan averaging $37.75 per week for a 30-pound dog or a ½ plan for $18.88 per week.
Check below to see how Grocery Pup stacks up against other dog food brands for cost:
Premium Dog Food Price Comparison
Food Type
Brand
Average Price
Price Per Pound/Oz.
Dry Food
Canidae PURE Grain-Free
$64.99 for 24 pounds
$2.70/pound
Wet Food
Castor & Pollux Organic
$41.88 for 12 (12.7oz) cans
$3.49/can (12.7 oz.)
Freeze-Dried Raw
Stella & Chewy's
$49.99 for 25 oz.
$2.08/ounce
Dehydrated
The Honest Kitchen
$55.88 for 10 pounds
$5.58/pound
Fresh Food
My Ollie
$47.83 for 1 week
$47.83/week
Fresh Food
Nom Nom*
$69.60 for 2 weeks
$34.80/week
Fresh Food
Grocery Pup
$69.97 for 2 (3 lbs.) bags
$11.66/pound
* Cost varies depending on subscription, lowest price = monthly deliveries
How Did the Food Arrive?
In order to write this review, we ordered a full bag of all three Grocery Pup recipes.
The product arrived in 3-pound bags with smaller 1-pound bags of food, vacuum-sealed.
The primary difference between Grocery Pup's packaging and other fresh food companies like Nom Nom is that the packages are not portioned specifically for your dog's needs.
You need to consult the feeding recommendations on the main bag and choose the appropriate portion according to your dog's weight.
Like most fresh food deliveries, Grocery Pup came completely frozen.
What Did Our Test Dog Think?
We put a few bags in the fridge to defrost but, using the instructions that came with the delivery, we were able to thaw one package more quickly by leaving it in room-temperature water for about 30 minutes.
The vacuum-sealed bag itself was a little tricky to open but the food itself looked similar to other fresh food companies.
We weren't surprised that our test dog Archie dug into his bowl of Grocery Pup immediately. It's unclear whether he found the sous-vide food more flavorful than typical fresh food, but he certainly enjoyed it.
At 30 pounds, Archie is the perfect size to eat about 1 patty per day so we didn't even have to struggle too much with the leftovers – we just emptied the bag into a plastic container and sealed it up.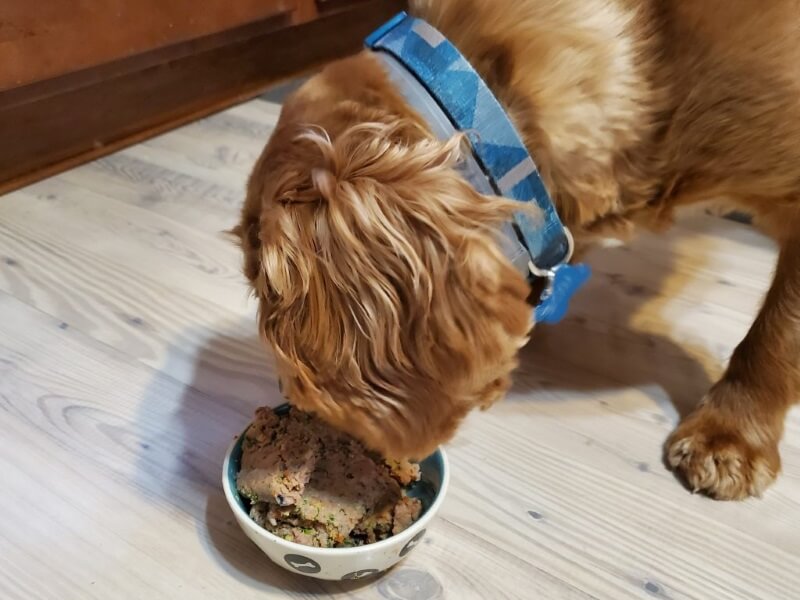 Is Grocery Pup Really Worth the Cost?
The quality of your dog's diet has a direct impact on his health and wellness. High-quality ingredients are more nutritious, though the cooking process matters as well.
High heat processing can destroy the nutrients in food which is why fresh pet food is so beneficial – it is typically made in smaller batches and cooked at lower temperatures to preserve nutritional quality.
If you're wondering whether fresh food like Grocery Pup is worth the cost, you have to think about it in the long term.
Yes, you may end up paying more on a monthly basis, but it could end up saving you money.
A higher quality diet equates to better health which may mean fewer long-term health problems and lower vet bills. Plus, you can't put a price on your dog's health and happiness.
Here are some additional benefits of feeding your dog premium dog food:
Improved and regulated digestion, less gas and diarrhea
Reduced stool volume and odor
Healthier coat with less shedding
Increased energy levels and vitality
Healthy weight loss (when needed for overweight dogs)
Improved dental health and oral hygiene
Better urinary health, reduced risk for urinary tract infections (UTIs)
When it comes to making the decision to feed your dog fresh versus commercial dry food, there are many factors to consider.
The nutritional benefits of fresh food are without question, but you still have to consider the individual company.
Grocery Pup is unique in that their recipes are cooked sous-vide, but you certainly pay extra for it. If you can afford it, however, it may be well worth the cost.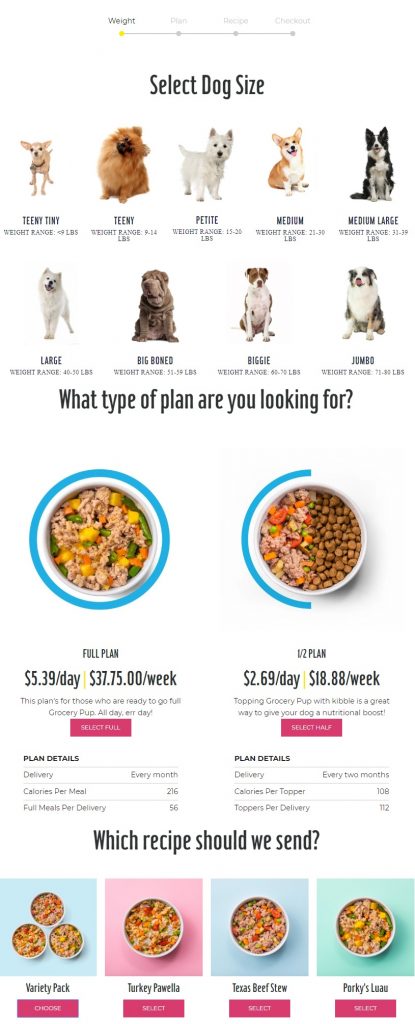 How Do You Order It?
This is where Grocery Pup differs from other fresh pet food companies. To order their products, you simply visit the website and select an individual recipe or a sample pack.
You can purchase two-packs of 3-pound bags or opt for a variety pack of three 1-pound bags. You also have the option to purchase a 4-pack of a single recipe at a 10% discount. Each purchase is a one-time order.
If you prefer the convenience of regular dog food deliveries, Grocery Pup also offers a subscribe and save option.
Here's how to subscribe to Grocery Pup:
Simply click the Subscribe & Save link at the top of the page and select your dog's weight range from a list of nine options (under 9 pounds to 80 pounds). Though the weight range options only go up to 80 pounds, the feeding instructions on the package go up to 100 pounds.
Keep in mind that Grocery Pup is not recommended for exclusive feeding of puppies under 6 months of age.
Once you've selected your dog's weight range, you'll be asked to select your preference for meal plan options. You'll see a daily and weekly price for a full plan or an option for a ½ plan.
From there, choose up to three Grocery Pup recipes or the variety pack and proceed to the checkout process.
After entering your shipping and payment information, you'll receive monthly deliveries that you can change, pause, or cancel at any time by logging into your account.
Though Grocery Pup is intended primarily as a subscription service, they also offer their products in select retail locations. Use the Retail Locator on the brand's website to search using your zip code to find retailers in your area.
Retailers can also contact Grocery Pup regarding stocking their products.
Customer Service
The Grocery Pup website is pretty easy to use.
In fact, it's simpler than other fresh food companies to some degree because you can opt to simply purchase the products instead of filling out a profile to start a monthly subscription.
Customer service is available via email for questions and the website does include a Help Center with answers to commonly asked questions. Grocery Pup was also pretty good about sending emails with updates on orders and shipments.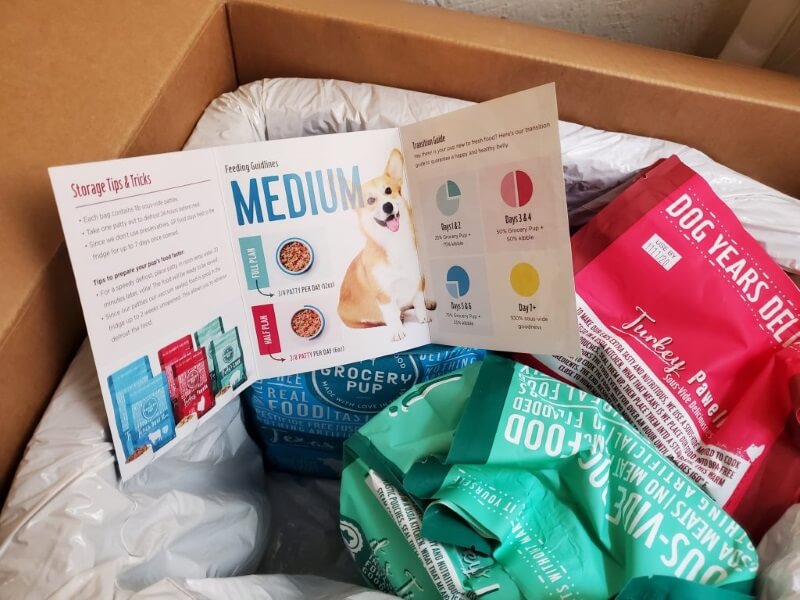 Tips for Making the Transition
When changing your dog's diet, it's important to make the transition slowly to avoid digestive upset. Grocery Pup includes a transition guide in their shipments to tell you exactly what to do.
On days 1 & 2 of feeding Grocery Pup, mix 25% Grocery Pup with 75% of your dog's current diet. Increase to a 50/50 ratio on days 3 and 4, then feed 75% Grocery Pup with 25% of your dog's current diet.
As long as your dog isn't experiencing digestive issues, you can start feeding 100% Grocery Pup on day 7 and beyond.
If at any point your dog experiences diarrhea or loose stools, you can go back to the previous stage for a few more days until his symptoms resolve then move forward.
Pros and Cons
The benefits of fresh food for dogs are not in question but you still have to evaluate the different options individually to make the best choice for your dog.
When it comes to Grocery Pup, there are some key differences from other fresh food companies you should consider. In terms of the products themselves, however, we were impressed with the quality and our test dog loved them.
That being said, every dog food brand has its pros and cons. Here are some of the things you need to know about Grocery Pup:
Pros for Grocery Pup:
Grocery Pup is formulated by a veterinary nutritionist in keeping with AAFCO standards for adult maintenance.
The food is made using non-GMO vegetables and USDA meats from U.S. farms and produced in human-food facilities located in Texas.
Grocery Pup's recipes are slow-cooked by sous-vide to preserve the nutritional content of the raw ingredients and to maximize flavor.
You can order recipes individually or purchase a sample pack – subscription orders (full meal plans or ½ plans) are available as well at a discount.
Cons for Grocery Pup:
Fresh food like Grocery Pup is significantly more expensive than the typical commercial kibble and Grocery Pup is one of the most expensive fresh food brands we've reviewed.
The food arrives frozen in vacuum-sealed containers so you'll need to thaw them before feeding – you can speed up the process, however, by soaking a bag in water.
Recipes are packaged in 1-pound patties, not portioned according to your dog's unique calorie needs – you'll need to follow the feeding instructions to determine your dog's daily portion.
In the end, it's your job as a responsible dog owner to determine whether Grocery
Pup is the best option for your dog. The quality of the ingredients is not a question and the sous-vide cooking method is certainly unique.
The price, however, is significantly higher than commercial kibble and much higher than many fresh food companies, so that's definitely worth considering.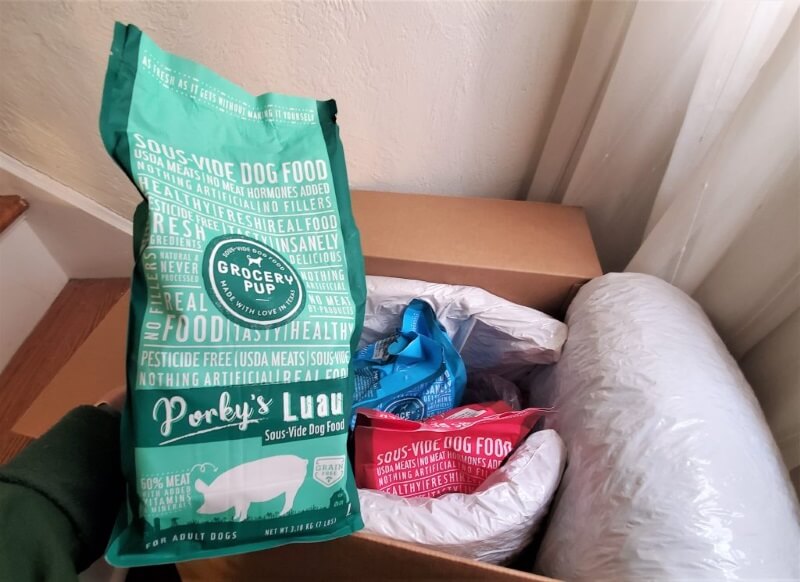 The Final Word: Is Grocery Pup a Good Dog Food Brand?
Overall, we were pleased with Grocery Pup and our test dog Archie was too.
We liked the simplicity of the ordering process and the fact that we didn't have to go through the hassle of creating a profile just to see information about the products and place an order.
We did appreciate, however, that the option to purchase a subscription was available and Grocery Pup makes it easy by simply asking customers to select their dog's size before offering recommendations.
The higher price is certainly a factor, but we understand it with the quality of the nutrition offered by fresh ingredients and sous-vide cooking. If you're able to afford fresh food for your dog, Grocery Pup is worth considering.
Frequently Asked Questions
Has Grocery Pup ever been recalled?
Not to our knowledge, no.
Is Grocery Pup food grain-free?
Grocery Pup currently offers three dog food recipes, only one of which contains grain. The Turkey Pawella recipe contains rice but the other three do not contain any grain-based ingredients.
Is Grocery Pup food organic?
No, Grocery Pup is not organic, but they do use non-GMO vegetables and USDA meats in their recipes.
Is Grocery Pup food raw?
No, Grocery Pup cooks their products using the sous-vide method, slow-cooking them for 2 hours before packaging and freezing.
How many calories per cup for Grocery Pup food?
The calorie content of Grocery Pup food varies by recipe. The Turkey recipe contains 543 calories per patty, the pork recipe 633 calories per patty, and the beef recipe 549 calories per patty.
Can I cancel my Grocery Pup food subscription?
Grocery Pup is available for purchase without a subscription, though you can also subscribe to regular deliveries for a discount. You can change or cancel your subscription at any time.
Where can I buy Grocery Pup food?
Grocery Pup is available through the brand's website but may also be available at some retail locations. Use the website's Retail Locator to find a store near you that sells Grocery Pup in the freezer section.
Can you heat up Grocery Pup food?
You could, but there's no need. If your dog prefers, you can soak the bag in room-temperature water for 20 to 30 minutes to thaw it but it should not be reheated before serving.