Eusoh Pet Insurance Alternative Review
This page contains affiliate links. We may earn money or products from the companies mentioned in this post through our independently chosen links, which earn us a commission. Learn More
While traditional pet insurance may have its benefits, some pet owners find that the process lacks transparency and doesn't cover everything they need. Eusoh is a community-based pet insurance alternative in which pet owners join groups and directly fund each other's veterinary costs.
With Eusoh, rather than paying a set premium to an insurance company, pet owners only pay for their community's actual care costs. Because Eusoh does not keep any of this money, the company can not profit from denying claims.
Eusoh Pet Insurance Alternative
Brand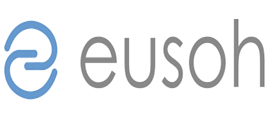 Pros
Several forms of customer support, live chat, phone, email
Surgery and injuries are covered
Reimbursement up to 80% for care expenses
Cons
Monthly payment fluctuates but only by a few dollars
No coverage for pre-existing conditions
30 day waiting period
Pros
Several forms of customer support, live chat, phone, email
Surgery and injuries are covered
Reimbursement up to 80% for care expenses
Cons
Monthly payment fluctuates but only by a few dollars
No coverage for pre-existing conditions
30 day waiting period
About Eusoh Pet Insurance
Eusoh (pronounced "you-so") began accepting "early access" memberships in 2017 and then went live in 2018, making it relatively new to pet health care.
Eusoh uses a technology-based community approach to pet health care costs that replaces traditional insurance with a platform that relies solely on group members that share in the costs associated with veterinary care. It is a comprehensive accident, illness, and wellness community pet health plan for dogs and cats.
Pricing is easy and offers a single universal price for dogs and cats of all ages. Eusoh is the only plan where members pay just for what is needed. Each month, any unused contributions are rolled over entirely and credited back to the community which in turn reduces the next month's payment.
Eusoh believes in full transparency and that people should know exactly where their money is going and what it's being used for. They believe you are free to choose who you share with and access to vets and other providers shouldn't be limited. Eusoh believes in empowering their community by offering better options.
How Is Eusoh Different From Pet Insurance?
Pet insurance companies receive money from their customers and the money goes into what is referred to as a premium pool. The more money that a procedure costs, the more money the pet insurance companies add to this premium pool. This is how the costs of premiums and medical procedures go up.
Eusoh is a community-based health sharing plan, so if your pet has a procedure, you share the invoice with the community and everyone knows the cost. There are no hidden fees, extra costs, or added costs to the medical expenses making it completely transparent.
Eusoh members only pay for medical costs when they occur. However, pet insurance companies charge a premium every month even if you never have to take your pet to the veterinarian.
Eusoh Pet Coverage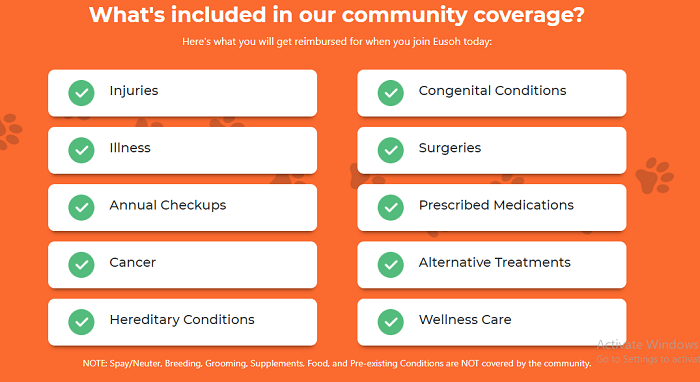 The list below is what's included in Eusoh's community coverage.
Emergency care (e.g., difficult breathing, hit by a car, etc.)
Accidents (e.g., bloat, poisoning, etc.)
Illnesses (e.g., allergies, diabetes, etc.)
Cancer
Orthopedic issues (e.g., arthritis, hip dysplasia, ACL tears, etc.)
Hereditary conditions (e.g., degenerative myelopathy)
Prescription medications (e.g., gabapentin, clomipramine, etc.)
Routine care (e.g., vaccinations, heartworm testing, etc.)
Eusoh doe not reimburse for spaying and neutering, breeding, grooming, non-prescribed supplements, food, declawing/dewclaw removal, ear cropping/tail docking, medicated baths, nail trimming, dental cleanings, preventative medication (e.g., flea & tick or heartworm treatments), and pre-existing conditions.
Pricing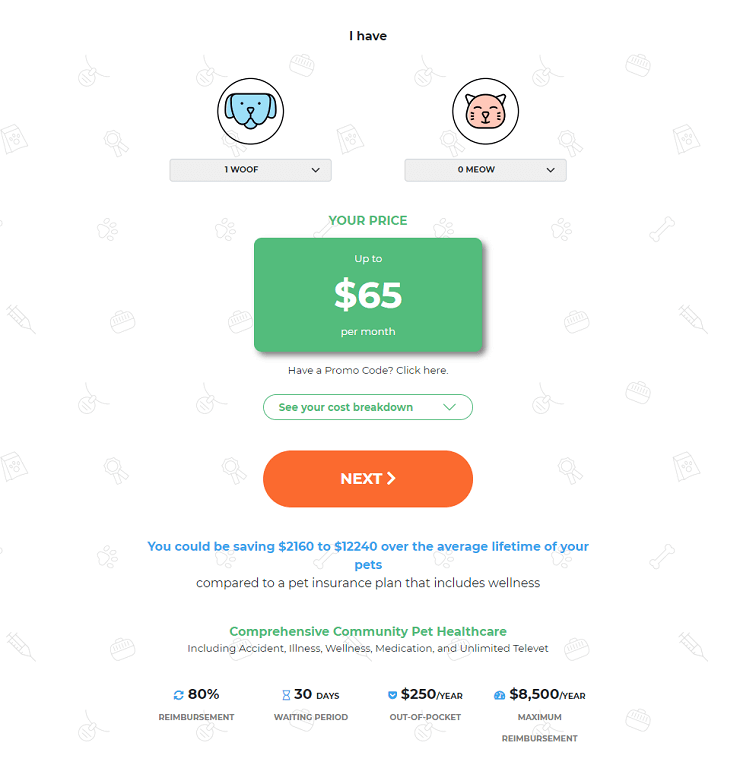 According to Eusoh, the monthly price you pay in the community should only fluctuate by a few dollars each month, at most. To date, the maximum monthly price for members is $65.
Once your price is locked in with Eusoh, you are set for the lifetime of your pet. Billing occurs on the 28th of each month. Eusoh also charges a one-time, refundable deposit to set up your account. At the time of writing, the fee is $48.
Here is what you can expect to pay with Eusoh:
Eusoh membership fee: $17/month
Care contribution: $0-$48/month

This amount fluctuates each month
Averages $30-$35/month for dogs
Averages $10-$15/month for cats
Your Eusoh membership has the following coverage:
80% reimbursement
$8,500 annual limit
$250 annual out of pocket
No premium
How The Eusoh Process Works?
Reimbursing 80% of your pet's medical expenses can be summarized in the following four steps:
You take your pet to your vet
You pay for services rendered
Submit a receipt to Eusoh via your computer or mobile device
You are reimbursed within 30 days of submitting your receipt
There is then no need to argue with an insurance company about how much they will cover for you pet's medical bills.
Deductibles
A deductible is the amount you pay for covered services before the plan starts to offer reimbursement. A deductible is an addition to your monthly premiums.
With Eusoh you have a yearly expense of $250, which is similar to a deductible. This is the amount you must spend before asking for reimbursement for vet bills in the future.
Waiting Period
Eusoh has a 30-day waiting period before a new member can submit any claims. The 30 days begin when a member officially joins the group, which may take longer than the initial date of registration. Veterinary bills accumulated during the waiting period can not be submitted for reimbursements but would also not be considered a pre-existing condition.
Eusoh Customer Reviews
Before you sign up for any type of pet insurance plan, it is always a good idea to do your research and see what current customers think. Here are some positive reviews and negative reviews from real Eusoh customers:
Positive Reviews
"My cat got sick. Eusoh covered everything (analyzes, medications, ultrasonic diagnosis). I attached all the necessary documents, receipts,  and test results to my claim, and got covered within 2 weeks. This is not the first time I have contacted the company. They always cover my expenses. 5 out of 5!" – Dolcie Lindsey
"Eusoh has fantastic customer service. I really appreciate knowing my costs for coverage won't rise as my pet ages. And having Eusoh has allowed us to take care of the many unforeseen expenses that have come from adopting a rescue dog." – Sharon L.
Negative Reviews
"Total Scam. Bills random amounts monthly. Also when you leave (for whatever reason, they take your deposit). " – Brian R.
"Downplays veterinarians' education. Misconstrues cost of care as being more expensive to insurance companies vs cash clients." – Sara P.
How Do You Sign Up?
The first thing you should do is create an account, and then you will be taken to your dashboard.
Next you will enter the details of your pet, add an avatar, and then click finish. This will take you to the next screen, where you will be asked if your pet is taking any medications or has any pre-existing conditions. Next you have to acknowledge that routine expenses and pre-existing conditions are not sharable before you see the option to join a group. At this point you have joined Eusoh, added a pet, and are part of a group.
Once your initial waiting period of 30 days is up, you will be able to submit a veterinary bill to Eusoh for reimbursement. Following this 30 day period, you will now be able to visit a vet when ever you need, and there are no restrictions on which vet you choose to go to.
Unlike traditional insurance providers, Eusoh does not have confusing policy language that you have to read through, and you are not bound by an endless list of exclusions and restrictions. Eusoh also has a searchable database of vet services and a procedure guide that tells you what is covered by the community and how much you can expect to be reimbursed. This means you will end up with better, more comprehensive coverage, informed decisions, and each member gets to help out with your pets vet bills.
Is Eusoh Pet Insurance Worth It?
Eusoh is built on a community that truly loves and cares about their pets. In addition to being a caring community, this pet insurance alternative will reduce the expense of owning your pet. The membership is a reasonable cost, the plan offers extensive coverage, and enrolling is very simple.
With Eusoh, you will not need to read through any complicated exclusions in the policy or decipher lengthy contracts. Eusoh is basically a comprehensive pet health plan that includes accident and illness, as well as routine exams and veterinary visits. Most traditional pet insurance companies do not cover these expenses or offer it at an additional cost.
Eusoh is a new and alternative kind of pet coverage. Because of that, there is a little bit of a learning curve. If you are willing to learn how it works, you can save a considerable amount of money.
Click Here To Get A Quote On Pet Assure Pet Insurance For Cats
Was this article helpful?
Let us know what you think.