Embark Dog DNA Kit Review
This page contains affiliate links. We may earn money or products from the companies mentioned in this post through our independently chosen links, which earn us a commission. Learn More
Have you ever looked at your dog and wondered what planet he's from? Dogs can be pretty strange at times, and you have to wonder where they get their little quirks and odd behaviors.
Unless you have a purebred dog and you got him directly from a breeder, you may not really know much about your dog's history. Even if you paid a little extra to get a purebred dog, there are no guarantees that's what you actually got. Dog genetics can be just as tricky as human genetics and when it comes to shelter dogs and mixes, there's no telling what you'll end up with.
With the Embark dog DNA kit, you can find out everything you've ever wanted to know about your dog's genetic makeup and you may even get some insight into his health. We tested the Embark dog DNA kit with our test dog Archie and we're excited to share the results with you!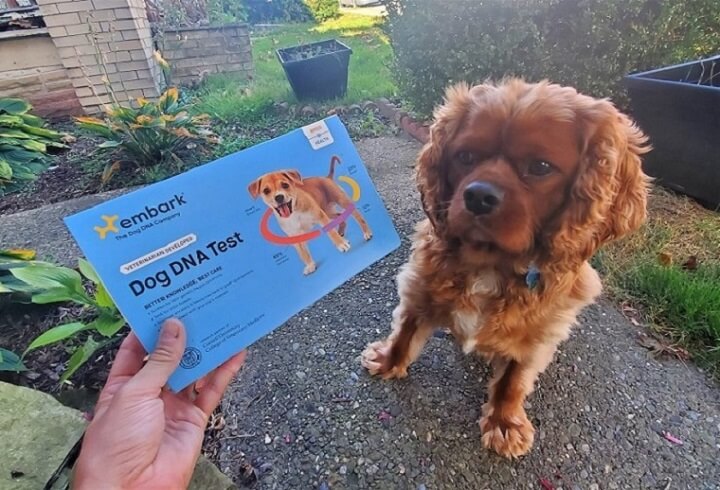 Overview of the Embark Brand
The story of Embark begins with Ryan and Adam Boyko, two dog lovers who have spent the last decade of their lives learning everything they could about their canine companions. They wanted to know what it was that sparked that first connection between human and canine and how these two species have changed each other in the years they've spent together.
In their quest to better understand today's domestic dog, the founders of Embark have identified many of the tiny little details that make each dog and every breed unique. They've also discovered the genetic basis for a variety of common traits and dog diseases.
Taking their discoveries and partnering with the Cornell University College of Veterinary Medicine, Ryan and Adam founded Embark. Together with Spencer Wells, a pioneer in consumer genetics, they set forth to bring cutting-edge science and genetic insights into the lives of pet owners. Both pets and their owners can directly benefit from these advances in science and, by sharing and collecting more data, Embark seeks to expand those benefits to pets around the world.
Here's what you need to know about the founders of Embark:
Ryan Boyko – After a decade spent tackling tough questions in ecology, industry, and public health, Ryan has traveled the world collecting dog samples and contributing to scientific studies.
Adam Boyko – An associate professor in Biomedical Sciences at the Cornell University College of Veterinary Medicine, Adam is focused on the genomic investigation of dogs.
Matt Barton – A successful technology consultant, Barton studied Computer Science and Manufacturing Engineering at Stanford University and the University of Cambridge.
Hannah Russin – The CMO of Embark, Russin is a startup veteran with broad experience in a variety of industries. She holds a BA in Foreign Science from Georgetown University.
In addition to these founding members, Embark also has a scientific advisory board made up of PhDs, DVMs, and other pet experts. Embark works not only to benefit pets and their parents, but they give back to the rescue community by partnering with shelters and rescues to further their work.
What Products Do They Offer?
There are currently two Embark products to choose from: Breed ID Kit and the Breed + Health Kit.
The Breed ID Kit is designed to help you discover your dog's ancestry and breed details. This kit checks over 200,000 genetic markers to identify your dog's breed (or mix of breeds) and connects you with dogs that share DNA with his.
The Breed + Health Kit not only identifies your dog's breed, but it provides insights into his health and personality as well. You'll receive free access to the Canine Relative Finder as well as indications of your dog's genetic risk for over 190 health conditions and 20 test traits.
The health conditions for which Embark tests fall into these 16 categories:
Blood
Muscular
Multisystem
Skin & Connective Tissues
Brain and Spinal Cord
Eyes
Heart
Skeletal
Metabolic
Kidney and Bladder
Neuromuscular
Hormones
Immune
Gastrointestinal
Clinical
Other Systems
All it takes to gain access to all this information is a simple swab of your dog's cheek. You order the test kit, use the included swab to collect your dog's DNA, then mail it back to the lab. Within weeks you'll have the detailed results sent right to your inbox.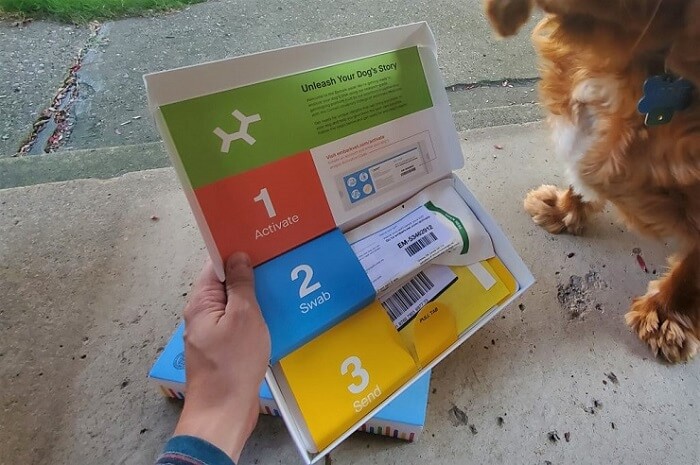 How Much Does It Cost?
Genetic testing for humans can be extremely expensive, so you may be wondering how much it costs to get your dog tested. The good news is you won't spend thousands of dollars, but your results will be somewhat limited by the types of genetic testing available.
Embark currently offers two different test kits:
The Embark Breed ID Kit
The Embark Breed + Health Kit
The Breed ID Kit costs $129 and the Breed + Health Kit costs $199. You'll often find discounts up to $50 on the Breed + Health Kit, however, and you can save up to 20% when you purchase more than one kit. Receive 10% your order of 2 kits, 15% off 3 kits, and 20% off 4 or more kits.
A Little Bit of Background
To give you a little background before getting into the details, we'll provide a quick history of our test dog, Archie. Archie is 3 years old and he came to us right at 8 weeks through a family connection. We were told Archie was purebred Cavalier King Charles Spaniel and we met his parents along with a few of his litter mates. At the time, Archie was a roly-poly little puppy with dark red fur with only two white spots on his forehead and chest.
Archie grew fast and it quickly became clear that he would exceed the average size for his breed. The typical Cavalier King Charles Spaniel you see featured at dog shows are dainty little dogs. In fact, the AKC breed standard specifies a weight of 13 to 18 pounds with a height of just 12 to 13 inches.
At 3 years old, Archie stands much taller than 13 inches and he weighs closer to 40 pounds than 20.
Given his size and his unique almost monotone coloration, we came to wonder whether Archie was in fact a purebred CKCS. In walking him around the neighborhood, many people come up and ask if he's a Cocker Spaniel. Eventually we began to wonder whether he might be a mix of the two breeds.
When he has the opportunity to test the Embark dog DNA kit, it was the perfect chance to find out.
What Were Our Results?
We received the Embark Breed + Health Kit. It arrived in a small box with clear, simple instructions labeled 1, 2, and 3. The first step is to activate the kit online. From there, you simply collect your dog's DNA sample and place it in the included envelope then mail it back to the lab.
The test revealed that Archie is 100% Cavalier King Charles Spaniel.
The first thing we did was test the Canine Relative Finder. We found several dozen purebred dogs labeled "Close Family" to Archie (as related as human siblings), sharing 52% to 54% of their DNA.
Here's how Embark explains it:
"Just because two dogs are "as related as" first cousins, doesn't mean that they have that exact pedigree relationship. This is particularly true for purebred dogs, where a limited number of founder individuals were used to create the breed, fairly recently in time. Because of this history of inbreeding, all dogs in a breed may be as related as first cousins (or even more so in some breeds), not because they are actually first cousins, but because they are third or fourth cousins several times over."
Something we found interesting is that Embark predicted Archie's adult weight at 23 pounds. We'll admit that he's somewhere closer to 33 and, although he could stand to lose a pound or two, he's by no means obese. He simply seems to be a larger example of his breed.
What we were most interested in with the Embark DNA kit was Archie's health markers.
As a Cavalier King Charles Spaniel, Archie has a higher than average risk for certain conditions. Nearly 50% of all CKCS develop mitral valve disease by the time they reach 5 years old and nearly all of them have it by age 10. Unfortunately, genetic testing for this condition is limited, so we weren't too surprised that it wasn't included in the list of conditions for the Embark DNA test.
The only condition for which Archie seems to have a higher genetic risk than average is for intervertebral disc disease (IVDD). He inherited one copy of the variant tested.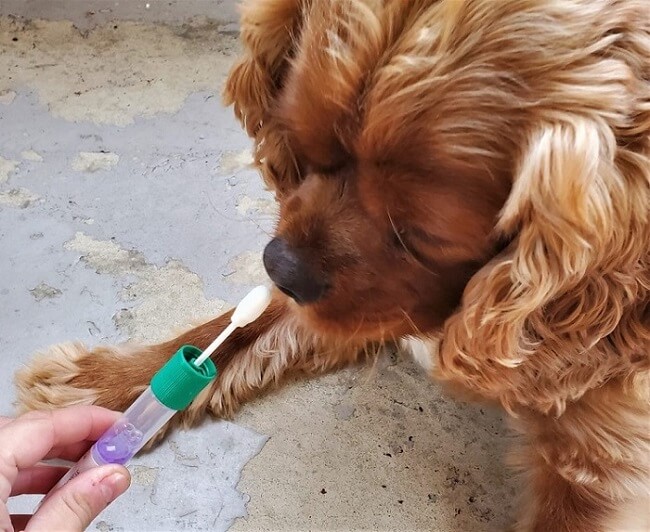 Is the Embark DNA Kit Really Worth the Cost?
Whether the Embark DNA kit ends up being worth the cost depends on what you hope to get from it. The kit isn't intended to diagnose health conditions, but it does provide some insight into genetic problems your pet may have inherited. If you have a mixed-breed dog, it may also help you learn more about your dog's genetics which may provide further health insight.
In comparison to other dog DNA tests on the market, Embark seems to be one of the best. They are the only canine genetics company that uses a research-grade DNA genotyping platform. Not only does that make their results accurate, but it gives the company access to valuable genetic research that could be used in the future to end preventable disease in dogs.
Here's what Embark has to say about their tests:
"We have invested in the most advanced canine microarray. Founded by leading canine geneticist Dr. Adam Boyko of Cornell University College of Veterinary Medicine, Embark developed a custom extension of the Illumina Canine HD genotyping array capturing over 200,000 genetic markers. That's over twice as much genetic information as the competition."
Many dog DNA tests on the market don't provide complete breed identification information and their testing for genetic health problems is limited. If you're going to spend the money to test your dog's DNA, Embark seems to be the most accurate option currently available.
How Do You Order It?
Ordering the Embark DNA kit for dogs couldn't be simpler. You just visit the Embark website and choose from the two options available. Simply add the kit to your cart and check out with your shipping, billing, and payment information. Once your kit arrives in the mail, you can complete the test in just a minute or two then pop it back in the mail to await your results.
Here's how Embark describes the process:
"A cheek swab and instructions will be mailed to you. By swabbing your dog's cheek, you can easily take a sample in under a minute at home, no blood required. Then all you have to do is mail us the sample in a provided pre-paid return envelope and your results will be available in a few weeks."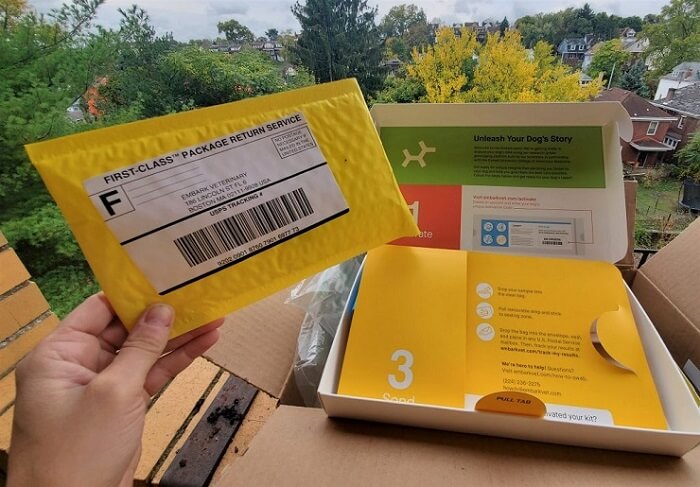 Pros and Cons
As a pet owner, it's your job to protect your dog's health and wellness. Unfortunately, dogs can't open up and tell you what's wrong and it can sometimes be difficult to nail down a specific cause for a change in behavior. Knowledge is power and the more information you know about your dog, the better. If you can rule out certain conditions with genetic testing, you and your vet will have somewhere to start if your dog gets sick somewhere down the line.
Though there are certainly many benefits to learning about your dog's genetics, the Embark DNA test kit isn't perfect. Take a moment to review the pros and cons before you make your decision.
Here are some pros for the Embark dog DNA kit:
Test for over 350 different dog breeds
Genetic testing for over 190 health conditions
Fast results in just 3 to 5 weeks
Free access to Canine Relative Finder online
Send results directly to your vet or get raw data
Here are some cons for the Embark dog DNA kit:
Somewhat pricey (over $100 per kit)
Some genetic conditions may not be included in testing
There are several different dog DNA kits out there and we've only been able to test the Embark kit so far. That being said, we've read in other reviews that it is one of the most comprehensive and most accurate options currently on the market for pet owners.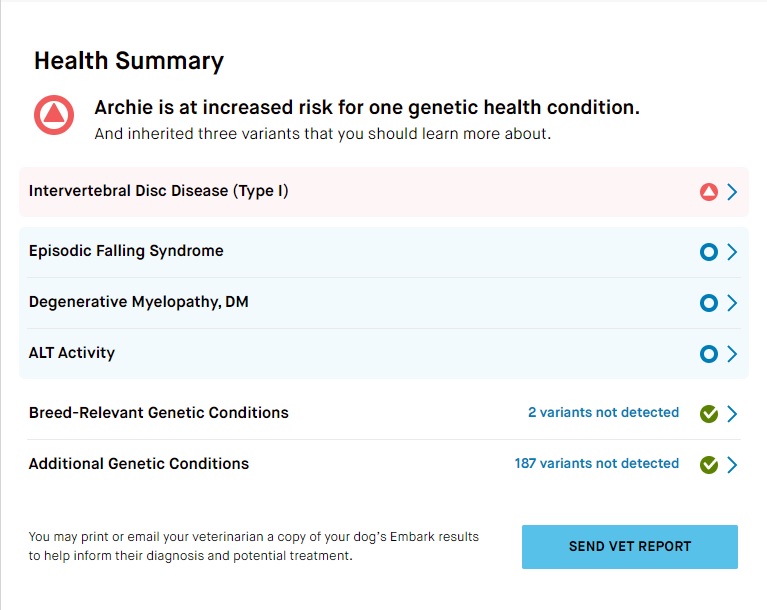 The Final Word
Overall, it was an incredibly interesting experience to test Archie's DNA using the Embark Breed + Health Kit. Though it wouldn't change anything, we were very interested to see whether the breeder's claims were true that he is a purebred Cavalier King Charles Spaniel. His results came back 100% CKCS, so we're no longer wondering whether his large size is due to mixed breeding.
We were also very intrigued by the genetic trait test results which we didn't mention above. Archie is almost entirely red with only a tiny white spot on his forehead and a larger spot on his chest – he's very much not the traditional Cavalier coloration you see in pictures.
Archie's trait test results with Embark provided some insight into the genetic factors that combined to create his unique appearance.
What's most valuable about the results we got from the Embark DNA kit is the information related to genetic conditions. As a breed, Cavaliers are prone to several significant diseases, so it's nice to know which ones we can rule out based on his genetics. Hopefully he'll continue to be as healthy as he is now but, should something happen in the future, we'll be able to share his test results with the vet.
Your experience with the Embark DNA test kit will be completely unique to your dog, but if you're looking for more information about his breed or health risks, it's worth the cost. Though Embark may be a bit pricey, it seems to be the most accurate and most comprehensive test on the market.
Frequently Asked Questions
What does the Embark DNA kit test for?
There are two different versions of the test, but both test your dog's DNA against 350+ breeds. Depending which test you choose, you can also receive insight into your dog's physical genetic traits and his genetic health markers.
How much does it cost?
Embark currently offers two different DNA kits. The Breed ID Kit is priced at $129 and the Breed + Health Kit at $199. If you purchase multiple kits, you can receive 10% to 20% off.
When do you get the results back?
The sooner you send in your dog's DNA sample, the sooner you'll get the results. Embark estimates their turnaround time between 3 and 5 weeks which matches our experience. We received notice that Embark received our kit within 72 hours of mailing and we received our results about 3 weeks later.
Can the Embark DNA kit diagnose health conditions?
No, the Embark DNA kit is only designed to identify genetic markers for certain variants of certain diseases. It cannot be used for diagnostic purposes but can give you an indication of your dog's risk for certain conditions.
How do you use the results?
For many dog owners, Embark DNA test results are to satisfy curiosity and provide insight into potential health issues. You can share your dog's report with your veterinarian to help them make future diagnoses and you can use the information yourself to keep an eye on your dog's health and wellness as he ages.
Was this article helpful?
Let us know what you think.