Crafted Kibble Dog Food Review
This page contains affiliate links. We may earn money or products from the companies mentioned in this post through our independently chosen links, which earn us a commission. Learn More
UPDATE: As of mid-2020, Crafted Kibble no longer appears to be in business. Their website is no longer operational and their last Facebook post is dated July 30, 2020. 
Pet food subscription services are becoming increasingly popular.
The convenience of having pre-portioned meals for your pet delivered right to your door saves you the hassle of having to go to the pet store and sort through the options.
Many pet food subscriptions are for fresh food which, though certainly higher in quality than many commercial dry foods, is also more expensive and somewhat more difficult to store since it needs to be refrigerated or frozen.
Crafted Kibble is one of the only subscription services that sends pre-portioned packages of kibble.
Quick Summary:
If you're looking for dry food with convenience at a moderate price, Crafted Kibble is an option. Otherwise, you might be better off sticking with a higher quality brand or a fresh pet food like Nom Nom or Ollie.
The process to order is similar to other subscription services and your order is customized according to your pet's calorie requirements.
The difference is that instead of receiving portions of fresh food that has been flash-frozen, you receive individual packets of dry kibble.
We tested a 4-week supply of Crafted Kibble to see how it compares to fresh food subscriptions. Here's our honest review of the experience and the food.
Crafted Kibble Dog Food
Brand

Pros
Recipes formulated by veterinarians to exceed minimum industry standards set by AAFCO
Meal plans can be customized according to your dog's calorie needs, health concerns, and palate preferences
Cons
May be more expensive than the average dry food brand.
Pros
Recipes formulated by veterinarians to exceed minimum industry standards set by AAFCO
Meal plans can be customized according to your dog's calorie needs, health concerns, and palate preferences
Cons
May be more expensive than the average dry food brand.
There are Better Fresh Dog Food Delivery Services to Choose from
There are better fresh options, a crop of new fresh cat food delivery competitors offer better, fresher dog food delivered right to your home.
Here are some our favorite fresh dog food brands you can choose from today. Most offer a heavy discount on your first order so you can see how your mutt likes it . Click here to read our full reviews:
Overview Of The Crafted Kibble Brand
At Crafted Kibble, the focus is on providing pets with flavorful, nutrient-filled, pre-portioned meals that are crafted to the pet's unique dietary profile.
This company says they have mastered "the art of feeding your dog," and they make it their goal to improve the quality of your pet's diet.
Crafted Kibble understands that all dogs have unique nutritional needs and palate preferences that should be considered when choosing a diet. That's what they offer with their custom meal plans.
Crafted Kibble delivers pre-portioned pouches of high-quality kibble right to your door. The serving sizes are calculated using your dog's age, breed, weight, and activity level.
Meal plan recommendations take into account other health and dietary requirements as well. Crafted Kibble produces their food in small batches using high-quality ingredients, all of which are sourced from the USA.
The company offers flexible, free delivery right to your door and you can change or cancel your subscription at any time.
Where Is The Food Made?
When researching Crafted Kibble, we found it difficult to obtain much in the way of detailed information about their products.
The website states that their food blends are vet-crafted to exceed the industry standards set by the Association of American Feed Control Officials (AAFCO).
It also states that their ingredients are all natural and 100% sourced from the United States with no fillers or artificial additives.
Unfortunately, that's where the details end.
We were able to determine that the company is based in Aventura, Florida. The website doesn't provide specific information about how the recipes are manufactured or by whom.
As a dry food, we assume Crafted Kibble is manufactured using the extrusion process and the lack of information suggests that they might share a manufacturing facility with another company to save money.
Many of the fresh food companies own their own facilities.
What Dog Food Products Do They Offer?
Crafted Kibble currently only offers dog food products. When creating your pet's profile, you have the freedom to indicate flavor preferences as well as health and nutritional considerations.
Crafted Kibble takes into account skin issues, sensitive stomach, and chicken allergies and gives you the option to select recipes with or without grains. You can also indicate whether your dog dislikes certain proteins like chicken, lamb, fish, or beef.
Unfortunately, Crafted Kibble doesn't provide a list of their recipes on the website.
By playing around with the pet profile tool, however, we were able to get an idea what kind of recipes are available.
The primary recipes we saw were:
| | | | | |
| --- | --- | --- | --- | --- |
| Recipe | Protein % | Fat % | Fiber % | Moisture |
| Chef's Chicken & Brown Rice | 26% | 16% | 4% | 10% |
| Lavish Lamb | 22% | 13% | 6% | 10% |
| Tasty Trout | 24% | 16% | 5% | 10% |
| Adult Beef (Grain-Free) | 28% | 18% | 6% | 10% |
| Lamb & Pea (Grain-Free) | 22% | 13% | 6% | 10% |
| Chicken & Pea (Grain-Free) | 28% | 18% | 6% | 10% |
| Savory Salmon & Peas (Grain-Free) | 25% | 15% | 7% | 10% |
Crafted Kibble appears to offer an assortment of grain-inclusive and grain-free recipes.
Most of the recipes we viewed contained a named source of meat meal as the primary ingredient, though the chicken recipes contained fresh chicken as well as chicken meal.
We also noticed that most recipes contained some form of fish meal (salmon meal or menhaden fish meal) as a secondary source of protein, though it was usually labeled "a source of fish oil."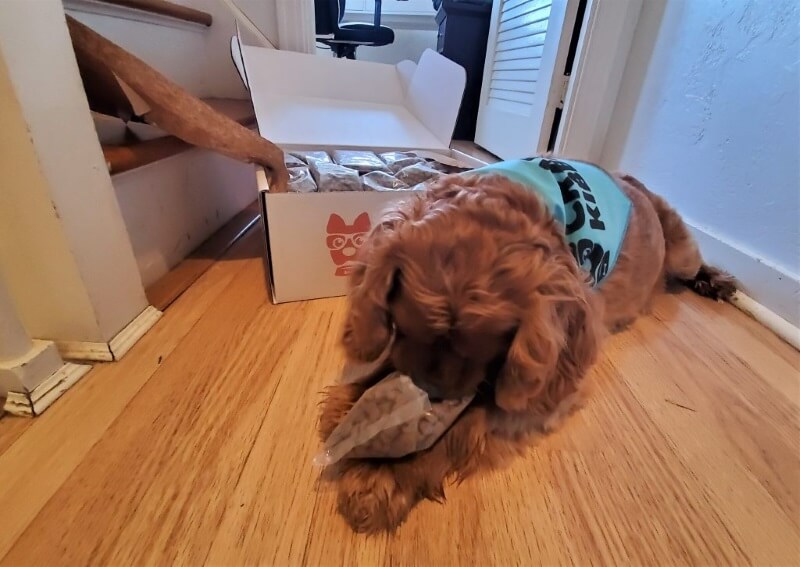 Is Their Packing Environmentally Friendly?
Though Crafted Kibble provides some information about their ingredients, they don't say much on their website about their packaging.
Our order arrived in a plain brown cardboard box with a Crafted Kibble box inside.
The kibble itself was portioned in individual plastic pouches piled inside the box with a simple paper liner. The packaging was very minimal and the cardboard itself seemed to be recyclable.
How Much Does It Cost?
As is true for any pet food subscription service, the cost varies depending on your dog's size and calorie requirements. Crafted Kibble states that their plans start at $6.95 per week, which we can assume is for a small dog.
Our test dog Archie weighs about 30 pounds and his plan averaged $10 per week. Crafted Kibble seems to only offer full meal plans, so you'll have to order four weeks of food at a time.
Some fresh food companies give you the option to order a partial meal plan to use the food as a meal topper but that isn't the case with this company. You can, however, pause or cancel your plan at any time.
Check below to see how Crafted Kibble stacks up against other dog food brands for cost:
Premium Dog Food Price Comparison

Food Type
Brand
Average Price
Price Per Pound/Oz.
Dry Food
Canidae PURE Grain-Free
$64.99 for 24 pounds
$2.70/pound
Wet Food
Castor & Pollux Organic
$41.88 for 12 (12.7oz) cans
$3.49/can (12.7 oz.)
Freeze-Dried Raw
Stella & Chewy's
$49.99 for 25 oz.
$2.08/ounce
Dehydrated
The Honest Kitchen
$55.88 for 10 pounds
$5.58/pound
Fresh Food
My Ollie*
$47.83 for 1 week
$47.83/week
Fresh Food
NomNomNow*
$69.60 for 2 weeks
$34.80/week
Small Batch Kibble
Crafted Kibble*
$10 for 1 week
$10 for 1 week
* Cost varies depending on subscription, lowest price = monthly deliveries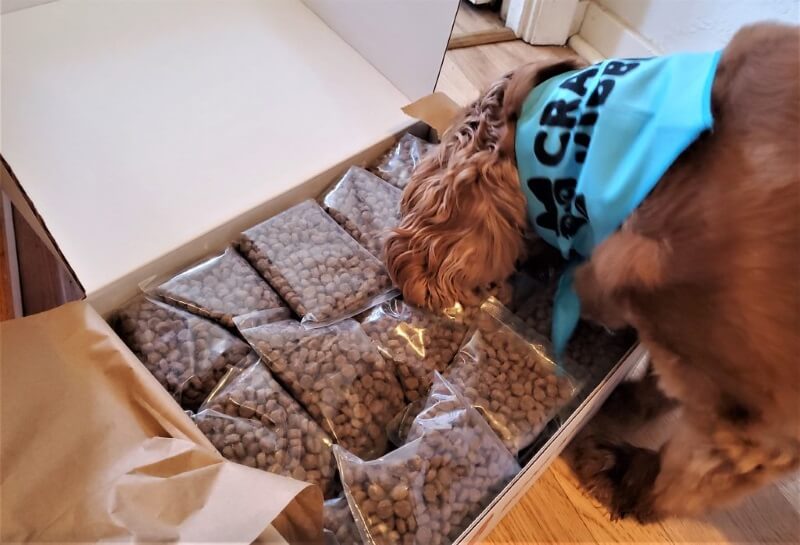 How Did the Food Arrive?
Like most pet food subscriptions we've tested, Crafted Kibble arrived in a fairly standard cardboard box.
The box wasn't labeled with the company name like some brands when we opened the box we found a Crafted Kibble box inside. The food was packaged in individual pouches, each containing a single meal's worth of dry food.
In addition to the pouches of dry food, we received a blue Crafted Kibble bandana and a packet of information.
Included in the information packet was a card detailing Archie's meal plan with his chosen recipe, the guaranteed analysis, and the list of ingredients.
We also found instructions for transitioning onto the new food as well as helpful information about portion control and adjusting delivery dates.
What Did Our Test Dog Think?
To write this review, we filled out Archie's pet profile on the Crafted Kibble website along with his dietary preferences.
He was matched with the Chef's Chicken & Brown Rice Recipe with an estimated calorie requirement of 923 calories per day.
The box we received was packed full of pre-portioned pouches, neatly contained with tissue paper to minimize packaging.
As soon as we opened the box, Archie was interested. He did his best to help tear through the tissue paper, eager to explore the bags of food underneath. It seems he could smell the food through the plastic pouches and he couldn't wait to try it.
We poured one of the bags into his bowl and he devoured it quickly. We couldn't tell if he found it much different from other food he's tried, but he certainly did seem to like it.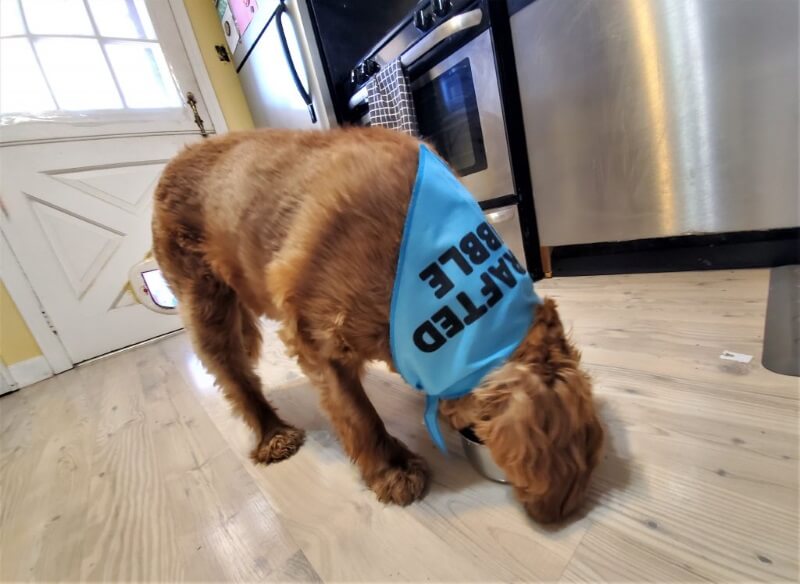 Crafted Kibble Dog Food Recalls
When shopping for pet food, it's important to check the recall history of a brand. A pet food recall occurs when the manufacturer or the FDA notices a problem with the product. Recalls can happen if the product has been contaminated or if there's an issue with the formulation or packaging.
Pet food recalls are more common in companies that manufacture their products in large batches or outsource their manufacturing to other facilities.
Crafted Kibble doesn't disclose exactly where or how their products are made, though they suggest the kibble is made in small batches. Either way, we didn't find any information to suggest that there have been any product recalls to date.
Is Crafted Kibble Really Worth the Cost?
Many pet owners shop for pet food exclusively by price but that is a big mistake – price isn't always an indication of quality. Though cheap pet food is almost always low in quality, expensive pet food isn't always good.
Crafted Kibble may end up being a little more expensive than the average dry food, but you need to ask yourself what you're getting for that price.
High-quality nutrition is the best way to support your dog's long-term health and wellness.
You may be able to save some money now by buying cheap dog food, but you're putting your dog at risk for chronic health problems related to poor nutrition.
Spending a little more on a high-quality food could end up saving you money on vet bills in the long run.
Here are some additional benefits of feeding your dog premium dog food:
Improved and regulated digestion, less gas and diarrhea
Reduced stool volume and odor
Healthier coat with less shedding
Increased energy levels and vitality
Healthy weight loss (when needed for overweight dogs)
Improved dental health and oral hygiene
Better urinary health, reduced risk for urinary tract infections (UTIs)
When it comes to choosing your dog's food, there are many factors to consider.
Price is important to most pet owners, but you should buy the highest-quality diet you can consistently afford. Your dog deserves the best nutrition you can give him and the quality of his nutrition will have a direct impact on his health and wellness now and into the future.

How Do You Order It?
When it comes to ordering Crafted Kibble, the process is similar to any other pet food subscription.
You simply log onto the website, create a profile for your pet, and fill out the details. The company uses your pet's information to recommend a meal plan.
Here's what you need to do:
Provide your name and email address
Fill in your dog's name, birth date, breed, weight, and gender
Provide additional information, if desired, about his spay/neuter status and what makes your dog special
Indicate your dog's activity level (couch potato, normal, on-the-run, or professional day job)
Pick from a list of medical conditions (ex: overweight, sensitive stomach, joint issues, etc.)
Indicate whether your dog has certain preferences against certain proteins
Choose a grain-free or a grain-inclusive recipe
After filling out this information, you'll be taken to your pet's meal plan page. This page provides specific information about your dog's recommended recipe along with the guaranteed analysis, list of ingredients, and weekly price. From there, simply plug in your payment information and your first order will be on its way.
Customer Service
Like most pet food subscription services, Crafted Kibble does most of their business online.
The process to create an account and build your pet's profile is very simple, so we didn't have any issues there.
The website offers a fairly brief FAQ section with answers to common questions as well as a contact form on the website. Customers can also contact the help desk via email or by calling the company directly Monday through Friday between 9 am and 5 pm.
Crafted Kibble also offers a digital chat service. We tested the service to see if we could get more information about the different recipe options.
Our initial message was immediately answered by a bot and we were connected to a customer service rep within a minute or two.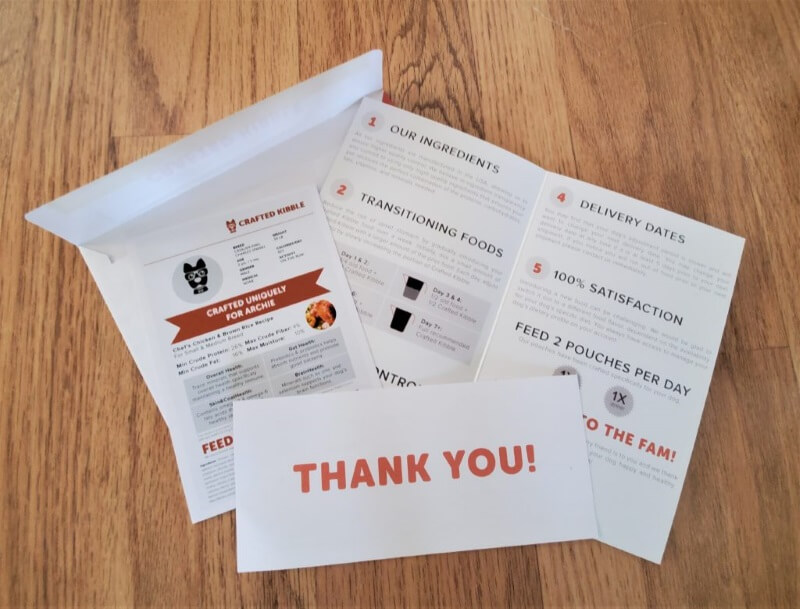 Tips for Making the Transition
It's always a good idea to take the transition slowly when changing your dog's diet.
Making sudden changes to your dog's diet could result in digestive upset. Fortunately, Crafted Kibble comes with a packet of information that includes a transition guide.
Simply mix 75% of your dog's old food with Crafted Kibble for the first two days then switch to a 50/50 ratio for days 3 and 4.
For days 5 and 6, feed 25% the old food and 75% Crafted Kibble before making the full transition on day 7.
Pros and Cons
There are no denying the benefits of high-quality food for your dog, but it's up to you to decide which option is the best.
Crafted Kibble claims to be of higher quality than the average dry food which may be true, but it's still your job to evaluate the brand before you feed it to your dog.
We didn't find any major issues when exploring the website or testing the products, but there wasn't enough specific information available to complete an in-depth evaluation.
That being said, every dog food brand has its pros and cons. Here are some of the things you need to know about Crafted Kibble:
Pros for Crafted Kibble:
Recipes formulated by veterinarians to exceed minimum industry standards set by AAFCO.
Meal plans can be customized according to your dog's calorie needs, health concerns, and palate preferences.
Kibble arrives in pre-portioned pouches with a full-month's supply – simply feed one pouch in the morning and one in the evening.
All products are made with USA-sourced ingredients with options for grain-free and grain-inclusive recipes.
Cons for Crafted Kibble:
Cost varies according to the dog's size and calorie requirements but may be more expensive than the average dry food brand.
Little specific information is available on the website about how and where the products are made – this makes it difficult to truly judge the quality in comparison to other brands.
No information on the current website about all of the recipe options – you have to fill out your pet's profile and change your selections to view different recipe choices.
High carbohydrate content in most recipes and heavy use of synthetic supplements versus natural sources for key vitamins and minerals.
As a dog owner, it's your responsibility to provide for your pet's needs and that includes a high-quality diet.
Crafted Kibble claims to be a high-quality brand but the lack of specific information on their website makes this difficult to evaluate.
Overall, however, we weren't displeased with the product and our test dog Archie certainly had no trouble enjoying it.
In terms of the recipes themselves, Crafted Kibble seems to use decent ingredients, but we wonder whether it's really much better than any of the premium dry foods you'd see in the pet store.
The Chef's Chicken and Brown Rice Recipe we tested on Archie contained a significant amount of carbohydrates and the fresh ingredients were outnumbered by synthetic supplements.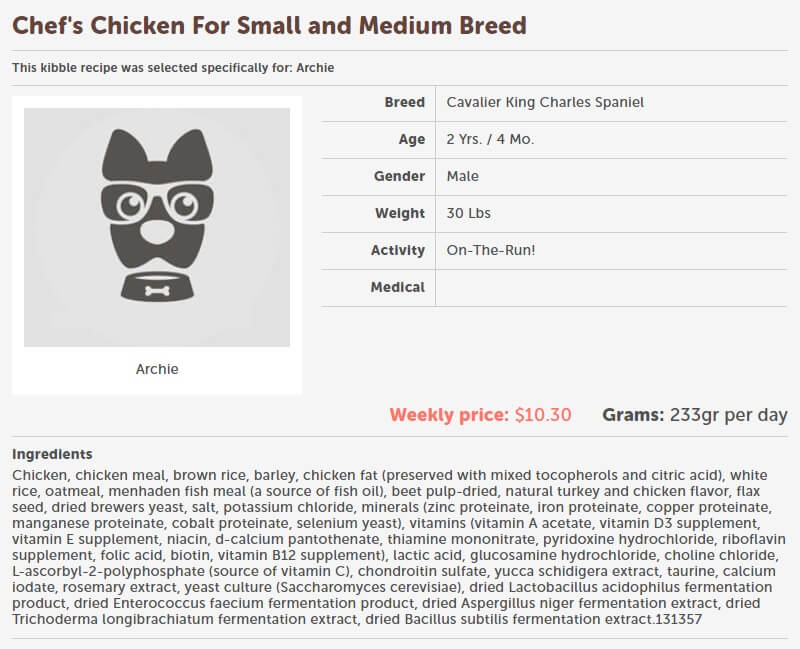 The Final Word: Is Crafted Kibble a Good Dog Food Brand?
Generally speaking, we didn't have any serious concerns with Crafted Kibble other than the lack of information on their website.
The company claims to use US-sourced ingredients to create nutrient-dense recipes, though we weren't able to find any information about who formulates their recipes or where they are manufactured.
The fact that this is a dry kibble company rather than a fresh food company leads us to wonder whether they use shared manufacturing facilities with another pet food company.
This isn't necessarily a bad thing; it just means we don't know exactly how it's made.
Overall, we like the convenience aspect of Crafted Kibble.
There's nothing wrong with the pre-portioned pouches because they help prevent over- and under-feeding.
When it comes to the quality of the food, however, the jury is still out and we have some concerns about the carbohydrate content.
If you're looking for dry food with convenience at a moderate price, Crafted Kibble is an option. Otherwise, you might be better off sticking with a higher quality brand or a fresh pet food like Nom Nom or Ollie.
Click Here to Get 50% Off Your First Box
Frequently Asked Questions
Has Crafted Kibble ever been recalled?
Not to our knowledge, no.
Crafted Kibble food grain-free?
Crafted Kibble offers several grain-free and grain-inclusive recipes. Simply indicate your preference for grain-free when filling out your pet's profile.
Is Crafted Kibble food organic?
No, Crafted Kibble doesn't claim to use organic ingredients.
Is Crafted Kibble food raw?
No, Crafted Kibble is dry dog food that we can assume is made using the extrusion process.
How many calories per cup for Crafted Kibble food?
The calorie content varies for different Crafted Kibble recipes and may vary as well depending on the dog's size. The company seems to offer different recipes for small and large breeds, though it may simply be a matter of changing the portion sizes. You'll receive calorie information along with your dog's meal plan.
Can I cancel my Crafted Kibble food subscription?
Yes, you can change, pause, or cancel your subscription at any time simply by logging into your account.
Where can I buy Crafted Kibble food?
Crafted Kibble is currently only available through the website. You must order a monthly subscription, though you may be able to purchase samples.
Can you heat up Crafted Kibble food?
No, there is no need to heat up Crafted Kibble. If your dog prefers moist food, you can soften it with water or broth.
Was this article helpful?
Let us know what you think.