The 30 Best Wet Cat Foods
This page contains affiliate links. We may earn money or products from the companies mentioned in this post through our independently chosen links, which earn us a commission. Learn More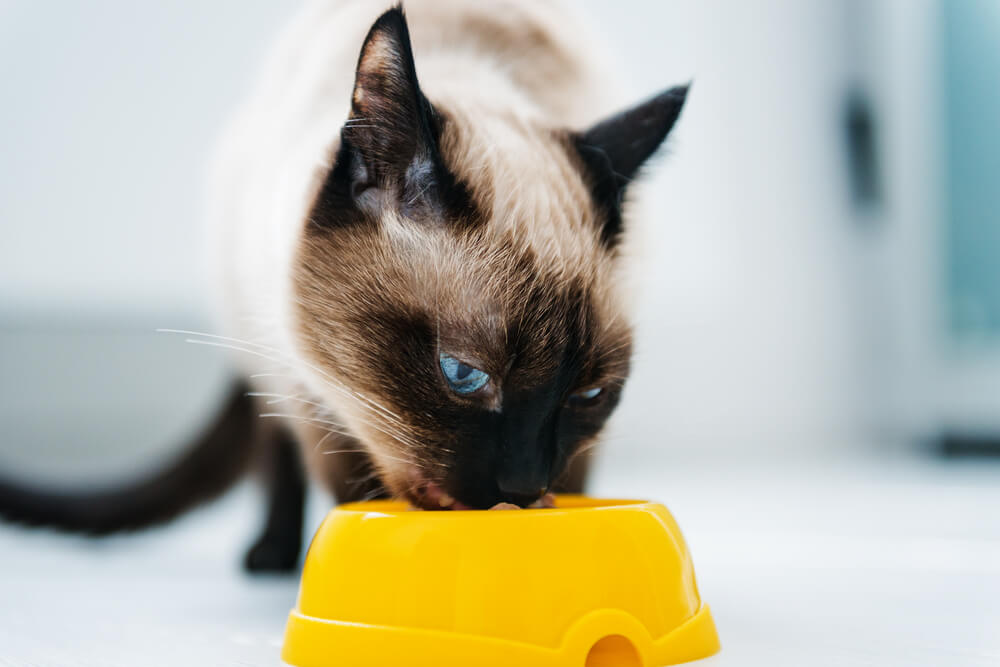 After months researching, testing, and reviewing dozens of recipes, we've chosen the following 30 products as the best wet cat food you can buy.
At the top of our list is Smalls Chicken Recipe Wet Cat Food, a fresh food formula that features a prey-inspired blend of animal ingredients, including muscle meat, organs, and blood. Each of the following 30 products brings something different to your cat's bowl.
At a Glance: The Best Wet Cat Foods To Buy
We highly recommend looking at the comparison table we have below where we highlighted the features of each product. You'll also find more detailed information about each product later in the article.
Some of them promise to help cats with digestive sensitivities. Others offer a rare combination of great prices and excellent nutrition.
Though they're different in many ways, all of them share certain key qualities. They come from companies with a reputation for safety and deliver species-appropriate levels of protein, fat, and carbohydrates.
Before we go in depth on the top 30 best wet cat foods on the market, let's talk about the qualities we looked for when choosing these products.
Here's How We Chose The Best Wet Cat Food On The Market.
Before choosing the foods on this list, we established the following criteria for cat food excellence.
These nutritional and quality principles guide our choices when recommending products anywhere We're All About Pets.
Whether we're looking at the best food for seniors or the best paté on the market, every food must meet the following key qualities.
We Looked For Foods That Were Rich In High-quality, Animal-sourced Protein.
Protein is vital to your cat's health. Cats have some of the highest protein demands of any species in existence, requiring at least 2 grams of protein per pound of body weight every day.
Even slightly inadequate protein intake will lead to the loss of lean muscle mass. Because protein intake is so important for your cat's health, the best wet cat food is rich in high-quality protein.
Highly-digestible, bioavailable protein nourishes your cat without a lot of waste.
We know that protein ranges from ultra-digestible—like a fresh egg—to minimally digestible, like a hunk of leather.
Where different ingredients sit on that spectrum, however, isn't quite so clear. Though we haven't fully mapped protein bioavailability for cats, we do know that animal-sourced protein appears to be more efficient than most plant proteins.
We also know that animal by-products have mixed digestibility values due to their inconsistent composition.
We picked foods that emphasized animal-sourced protein from clearly-named cuts of flesh and organs.
The Best Wet Cat Food Contains The Right Amount Of Animal-sourced Fatty Acids.
Fat is the second-most important macronutrient in your cat's diet. Cats require moderate amounts of fat to stay healthy.
Ideally, that fat should come from animal sources, so the best foods contain ingredients like chicken fat, salmon oil, beef fat, and krill oil. These ingredients contain an array of fatty acids that are easily utilized by your cat's body.
We Looked For Foods With Minimal Carbohydrate Content.
Unlike humans—who primarily metabolize carbohydrates and use them as their main energy source—the feline body is optimized for gluconeogenesis, a process that turns protein into glucose. Cats don't need carbohydrates at all.
Your cat could survive and thrive without any carbohydrate matter in his diet.
And though cats do have a limited ability to metabolize carbohydrates if they have to, it's not a good idea.
Even healthy cats have some insulin resistance, making them similar to diabetic or prediabetic humans. And when they eat too much carbohydrate matter for too long, cats are more likely to develop full-on diabetes.
Here's the bottom line on carbohydrates in wet cat food.
Cats don't need carbohydrates to survive. A little carbohydrate matter is okay here and there, but long-term consumption of a high-carbohydrate diet could cause health problems.
A low-carb diet is the best choice for ensuring your cat's long-term health. We looked for wet cat foods that contained 10% carbohydrate matter or less.
Finally, We Ensured That Our Top Picks Were Produced By Well-respected Companies With A History Of Quality.
Before choosing any food, we analyzed its brand and company history, considering customer reviews, recall history, and more. We looked for foods produced by companies with reputations for quality, safety, and consistency.
Best Wet Cat Food: Our Top 30 Recommendations
Even picky cats will seldom turn down freshly-cooked chicken meat. Smalls wet cat food looks, smells, and tastes just like the type of chicken you might eat for dinner.
This homemade-style food is cooked from fresh, human-grade ingredients in a human food processing facility, then packed into a brick and shipped to your door. Though it contains vegetables in addition to fresh chicken, this food remains a low-carbohydrate item with 3.5% calories from carbohydrates.
The Smalls subscription model allows you to subscribe to regular shipments of food, making cat food shopping a little bit more automated than before.
Described as a "carnivore's diet in a can," Hound & Gatos food is among the simplest, most meat-centric on the market. Like other Hound & Gatos recipes, this recipe is primarily made from muscle meat and organs without any high-carbohydrate ingredients.
With an ingredient list including just chicken, broth, liver, agar as a thickener, and an array of vitamins, minerals, and amino acids added for nutritional completeness, this food is one of the simplest on the market. It's a good option for cats of all kinds, including those with food sensitivities and allergies.
If you love customization, you'll like Nom Nom's approach to cat food. This company makes fresh, human-grade food and portions it out according to your cat's dietary needs. A fresh supply of food arrives at your door once every week, two weeks, or month—you can choose whichever delivery schedule you prefer.
Nom Nom's chicken-based cat food primarily made from chicken thighs, breast, and liver.
Chicken fat serves as the food's primary source of fatty acids. Though the food contains some fruits and vegetables, it's low in carbohydrates and appears to be a species-appropriate choice for cats.
While most of the foods on this list are either patés or stews, this food doesn't have the traditional cat food texture. It's more like shredded chicken you might put in a chicken salad. This fresh, flaky format makes it appealing to the pickiest eaters.
If you prefer to feed your cat from pouches rather than cans, consider this recipe from Weruva. It has a simple, meat-based recipe featuring shredded chicken breast as its sole protein source.
The chicken is set in a pumpkin-infused broth, which may help cats with digestive issues. The recipe receives positive reviews from customers, with 90% of reviewers on Chewy saying they'd recommend it to a friend.
This recommendation is this canned food from New Zealand cat food brand Feline Natural. The food features chicken and venison as its primary ingredients, with a mix of muscle meat and organs serving as species-appropriate sources of nutrition. This recipe is among the few that contain kidney, liver, and blood. Outside of animal by-products, these nutrient-rich animal parts are seldom seen on cat food labels. The food doesn't contain xanthan gum, carrageenan, guar gum, or other common gelling agents. Indeed, it contains fewer additives in general compared to the average cat food. The food is enriched with a variety of synthetic vitamins, minerals, and amino acids. New Zealand green-lipped mussels add omega-3 fatty acids, including ETA—a fatty acid that's more concentrated in these mussels than any other marine animal or plant.
Vital Essentials foods are intended for cats with food sensitivities, allergies, and other digestive issues—including irritable bowel disease or IBD.
The company is one of the few that subject their products to DNA testing, which helps to ensure that the foods don't contain any proteins not disclosed on the label.
Each recipe is infused with the company's Good4Life blend of digestive supplements.  This recipe is made with chicken as its lone protein source, with chicken and liver its primary ingredients. Chicken accounts for 96% of the total recipe.
The other 4% of the food consists of agar-agar, dried kelp, and a variety of supplements that make each meal nutritionally complete.
Weruva has a reputation for trustworthy, high-quality food made from simple, species-appropriate ingredients.
Because this recipe is so moisture-rich and doesn't contain much besides shredded chicken, it's low in calories, doesn't have a lot of carbohydrate content, and is a great option for cats who need to lose weight.
Wellness CORE brings you meat-rich, low-carbohydrate foods at a relatively low price. If you want to give your cat a protein-packed food made without animal by-products or harmful additives, consider this recipe.
To support kittenhood growth, the food features a protein-rich blend of poultry and fish. The ingredient list includes turkey, chicken liver, chicken meal, and herring. Multiple sources of DHA help ensure healthy brain and eye development.
Dr. Elsey's cleanprotein food prioritizes protein quality and features turkey, liver, and dried egg product as primary ingredients. The food also contains multiple sources of omega-3 fatty acids. Both salmon oil and green-lipped mussels appear on the ingredient list. These ingredients may help to alleviate inflammation associated with arthritis and other inflammatory conditions common among seniors. They can also help to maintain the softness and sheen of your senior's coat.
This food from Fancy Feast is a good example of carnivore-worthy nutrition at an accessible price. It features a mix of turkey, liver, fish, and meat by-products, all species-appropriate sources of the protein and other nutrients your kitten needs to thrive.
Of course, the food's not perfect. It contains several ingredients that we'd rather not see in cat food—things like vaguely-named liver and fish, animal by-products, and artificial flavors and colors.
For the price of Friskies or Fancy Feast, this food gives you just about everything you'd want in your cat's bowl. It's meat-rich with plenty of protein from chicken, chicken liver, and ocean fish.
In contrast to other similarly economical foods, this recipe doesn't contain any artificial colors, flavors, or preservatives that might harm your cat over time. With menhaden fish oil as a source of omega-3 fatty acids, this food helps to support skin and coat health while fighting inflammation.
For a price you might find on the grocery aisle, this food gives your cat protein-rich, low-carbohydrate nutrition on par with products from Tiki Cat and Weruva. It's made of shredded muscle meat set in a low-carbohydrate broth.
Thanks to the inclusion of tuna oil, the food gives your cat a healthy dose of omega-3 fatty acids for coat health and reduced inflammation.
Considering this food's budget-friendly price, its lack of by-products, artificial colors, and artificial flavors are welcome surprises.
This budget-friendly food has everything your diabetic cat needs to feel his best. Most importantly, it's low in carbohydrate matter. It's also low in calories and moisture-rich, helping it to control your cat's weight along with his blood sugar. it doesn't contain any artificial colors, flavors, or potentially harmful preservatives.
If your cat has lost muscle mass with age, this high-calorie food from Health Extension may be a good choice. With 38 calories per ounce, it's more calorie-dense than most wet foods. Your cat gets more energy and nutrition in each bite, helping him stay strong and muscular.
Chicken serves as the food's main protein source. It also contains pumpkin, which may help to promote digestive health. Thanks to the food's caloric density, it adds up to about $2 per day, making it cheaper than similar products.
This food from Wellness CORE has several features that set it apart from other moderately-priced wet cat foods. The first difference is its ingredient quality.
The food features chicken and chicken liver instead of the animal and poultry by-products you'll find in many comparably-priced foods.  Though the food contains carrots and flaxseed, it's low in carbohydrates and appears to be an all-around species-appropriate food. Cats seem to love the way it tastes.
This Nulo recipe features turkey, chicken, turkey liver, and tuna as its primary ingredients. These high-protein meat ingredients deliver the nutrition your cat needs in a highly-digestible format.
Menhaden fish oil adds omega-3 fatty acids, which help to control inflammation while supporting your cat's skin and coat health. 
A mix of guar gum and agar-agar—two of the safest gelling agents you'll find in pet food—help to thicken and stabilize the paté. The food also contains a touch of pumpkin. Pumpkin is a popular food additive for cats with constipation and other digestive problems.
Hookena Luau is strikingly simple—it's a can of fortified shredded chicken and tuna in broth and oil. At less than two percent carbohydrates on a dry matter basis, this food has what it takes to help keep your cat's blood sugar under control. Like all Tiki Cat foods, it's low in fat and calories, making it a good option for cats who need to lose weight.
This recipe from Tiki Cat is a carnivore-appropriate food that features simple, straightforward ingredients. It features readily-digestible chicken as its primary ingredient, accompanied by dried egg.
Eggs are a good source of choline and lecithin, nutrients that may help prevent hairball formation. It's a good option for cats with food sensitivities, hairball problems, and digestive issues in general.
This budget-friendly food features chicken, chicken broth, and chicken liver as its primary ingredients. It's a single-protein food that's free of irritating ingredients like carrageenan, artificial colors, artificial flavors, and potentially-harmful preservatives.
Thanks to its slim ingredient list and soft, easy-to-eat consistency, it's a good choice for sensitive cats of all kinds.
This food is a good option for cats of all kinds, but it seems to show particular promise for cats with constipation. Multiple customers say that it helped to clear up severe constipation and digestive sensitivities.
It's a moisture-rich food featuring chicken and tuna in a creamy pumpkin consommé. It contains several thickening gums, which increase the food's fiber content and may help to soften and bulk stool.
This Hound & Gatos food is a great option for cats of all kinds, but we particularly like it for cats with irritable bowel disease or IBD.
This rabbit-based food features a single protein source and not much else, promising to nourish your cat without causing inflammation or causing an allergic reaction. Additionally, it contains salmon oil. This ingredient helps to ease IBD-associated inflammation and discomfort.
If you're looking for a food that combines low phosphorus with high protein content, consider this recipe from Weruva's Truluxe line. It's a hearty, low-carbohydrate recipe with just 1 mg phosphorus per 1,000 calories, making it one of the lowest-phosphorus foods you can buy. 
With beef at its heart and minimal carbohydrate matter, this food manages to deliver both species-appropriate nutrition and minimal phosphorus, making it a good option for seniors and any cat on a low-phosphorus diet.
If you want a low-phosphorus or renal food but don't want to pay for a veterinary diet, consider this budget-friendly alternative from Hi-Tor Veterinary Select. Though it's not outwardly recommended for cats with kidney disease, Neo addresses several aspects of kidney disease with low phosphorus, limited protein, and low sodium.
There's only one cat food that can control hyperthyroidism. That food is Hill's Prescription Diet y/d Thyroid Care. Hill's Pet Nutrition developed this iodine-restricted diet to limit thyroid function and control the symptoms of hyperthyroidism.
It's a good option if your cat can't undergo other treatments, but it's not a complete solution to hyperthyroidism nor a nutritionally ideal choice.
Though the right food is dependent on your cat's appetite and preferences, we've chosen this Royal Canin product as the best wet cat food for kidney disease. It combines low phosphorus, controlled protein, low sodium, and adjusted levels of other nutrients intended to keep your cat feeling his best.
If your cat has poor dental health or prefers soft, lickable food, consider this stew from Caru. The food has a smooth, pourable consistency that your cat can lick out of the bowl.
It's made from a blend of salmon, fish broth, turkey, and an array of fruits and vegetables. All Caru foods are made from human-quality ingredients in a human food processing facility.
If your cat is sick, underweight, or malnourished, he may need a special diet formulated for cats in need of emergency support.
This food from Hill's Prescription Diet is made for cats who need a nutritional boost. It's calorie-dense with ultra-digestible protein and elevated levels of B vitamins and potassium. The food's palatable taste and soft, creamy consistency make it appealing and easy to eat.
This recipe features venison as its lone animal protein source, with a whole prey-inspired mix of venison, tripe, liver, lung, heart, kidney, and bone making up most of the recipe.
The food contains green-lipped mussels as a source of omega-3 fatty acids. Unfortunately, this food contains chickpeas instead of traditional binding agents. This legume adds plant protein and carbohydrates that your cat doesn't need.
Certified organic cat food is rare. Organic cat food that both tastes good and delivers carnivore-appropriate nutrition is almost unheard of.  This food from Newman's manages to combine all three of those qualities. It's a USDA-certified organic product that combines organic ingredients with a great recipe.
It delivers plenty of protein, avoids excessive plant ingredients, and doesn't contain carrageenan or other potentially harmful additives. The food features organic chicken and brown rice with no starchy, high-carbohydrate additives that could weigh your cat down.
If your cat likes fish and seafood, Soulistic's Double Happiness may be a good choice.
It contains substantial chunks and shreds of tuna and crab surimi set in a thickened broth. With its low carbohydrate content and irresistible taste, this food is a carnivore-appropriate feast. The food's biggest drawback is its use of carrageenan. This potentially-carcinogenic thickener may worsen inflammation and is an ingredient we typically avoid in cat food.