Smalls Cat Food Review: Our Experience
This page contains affiliate links. We may earn money or products from the companies mentioned in this post through our independently chosen links, which earn us a commission. Learn More
Cat food is longer limited to cans of paté, pouches of stew, and bags of kibble. If you're in the mood for something different, you can try raw food, freeze-dried food, and freshly cooked meals. You can buy cat food online, shop for it in a store, or make it yourself.
Some companies, like Smalls, are taking advantage of this moment and helping to change what it means to shop for and feed your cat.
Quick Summary

Smalls was a hit in our home. The ordering process was a pleasure, the customer service was prompt and accommodating, and the food was good, too. All of the recipes smelled delicious and the cats were happy to eat them.

* Use Code=LITTER2MONTHS and Win 2 Months of Free Litter
Smalls Cat Food YouTube Video Review
---
Co-founder and CEO Matt Michaelson says that Smalls is "as close as you can get to homemade food, without, you know, making it at home." Combined with its subscription model and wide variety of texture and flavor options, it looks like Smalls is food for today's cat guardian.
After researching Smalls cat food, interviewing the company's founders, reading customer reviews, and trying it for myself, I'm here to share the details about this cat food brand.
What Kind Of Cat Food Does Smalls Offer?
The Smalls cat food selection includes fresh wet food in minced and paté textures, freeze-dried raw food, and kibble. Their wet food isn't your standard slop in a can. Whether minced or whipped up into a paté, Smalls is a homemade-style food that looks and smells like the kind of meat you might eat for dinner.
Similarly, Smalls freeze-dried food is made from simple, straightforward ingredients. Their kibble is similar to other grain-free dry foods, with a meat-first ingredient list and a variety of legumes holding it all together.
Here's How It's Made.
Smalls cat food is formulated by certified animal nutritionists and made in a USDA-inspected human food processing facility in Chicago, Illinois. The food's ingredients are human-quality, too, making Smalls one of the few human-grade cat foods you can buy.
Their safety and quality control protocols seem to have worked well so far. The food's never been recalled and I haven't found many problematic reports on the web. That said, as of November 2019, this company is just about two years old. It hasn't had a lot of time to prove its strengths or weaknesses.
But That's Not All Smalls Cat Food Has To Offer.
Its nutritional and ingredient quality alone would make Smalls interesting, but the company adds another layer of novelty by using a subscription model.
By sending you a box of Smalls according to a monthly delivery schedule, the company makes the way you buy an experience of its own. It puts itself in an interesting new pet food category along with Nom Nom, Ollie, and Farmer's Dog.
There's A Lot To Analyze Here.
I decided to get some first-hand experience with Smalls cat food. With the help of my two cats, Wessie and Forest, I'd find out what Smalls is all about, evaluate the ordering process, customer service, and what would happen when you put Smalls in your cat's bowl.
Smalls Cat Food Review— Purchased and Tested
Smalls Cat Food
Brand
Pros
Offers a wide variety of recipe options
Fully human-grade food
Your first order comes with an assortment of additional goodies
Offers 25% off your first order
Cons
Doesn't offer any customization
Customer service is inconsistent
Pros
Offers a wide variety of recipe options
Fully human-grade food
Your first order comes with an assortment of additional goodies
Offers 25% off your first order
Cons
Doesn't offer any customization
Customer service is inconsistent
I'd tried Smalls cat food two years ago when the company was brand-new—I remember waiting a couple of weeks to try it so that they could get their customer portal set up. Though the idea was strong and their food was a hit, Smalls hadn't ironed out all of the kinks in their customer experience. Having given them a couple of years to grow, I was excited to see how they'd changed.
Here's How You Order Smalls Cat Food.
Smalls is a customized cat food experience. The company uses information about your cat's size and figure, health goals, and even your budget preferences to make sure that your Smalls subscription is just right.
The Smalls Journey Starts With A Questionnaire
I entered Forest's age, food preferences, and let Smalls know that her figure was just right—no weight loss or gain necessary. Interestingly, I didn't enter her weight. Smalls is not custom-portioned, so your cat's size doesn't come into play.
At the end of the questionnaire, Smalls—very politely—asked about my budget preferences. I let Smalls know that I like to save where I can but that good nutrition took precedence.
Given Forest's preferences and my budget, Smalls suggested three variety packs, each containing different combinations of food—fresh food only, a mix of fresh and kibble, or a mix of fresh and freeze-dried.
In Total, Smalls Offers Nine Recipe Plans
With names like Total Moisture, Fresh Food Starter, and Balanced Convenience, each of these sampler boxes was developed with a different type of customer in mind.
So that I could try all three types of Smalls cat food, I chose the Healthiest Balance plan. It didn't include every recipe, but it would give my cats a taste of Smalls kibble, freeze-dried food, and fresh food.
After I placed my order, Smalls sent an email letting me know that they were working on the food and preparing to ship it. Smalls ships on Mondays and uses second-day air shipping to make sure your food arrives ice-cold.
The box arrived at my house on Wednesday morning.
Here's What Came In The Box
I was out all day and wasn't able to bring in the box until late that evening. When I opened the box, everything was still frosty-cold, packed in biodegradable insulation and chilled with dry ice.
Moral of the story: you don't have to take the day off work to wait for your package of Smalls cat food. Unless something goes wrong, the contents of the box will stay fresh and cold for a day on your porch.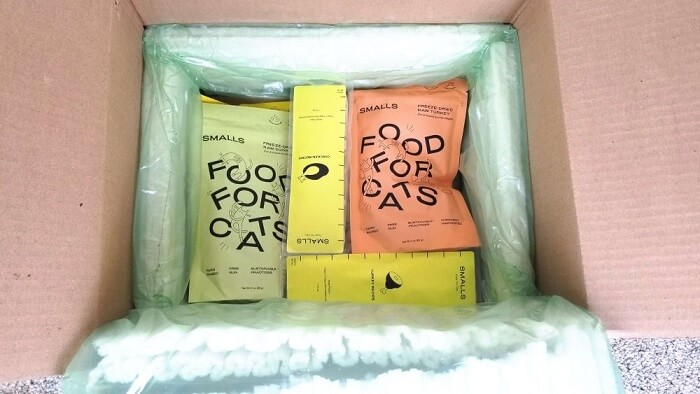 And the box didn't just contain the food I'd ordered—it also contained a bright yellow box tied shut with a ribbon. Inside was a bundle of free extras.
This box of free items comes with your first box of Smalls cat food. From the introductory guide to the food toppers, everything in this box helps you get started with Smalls.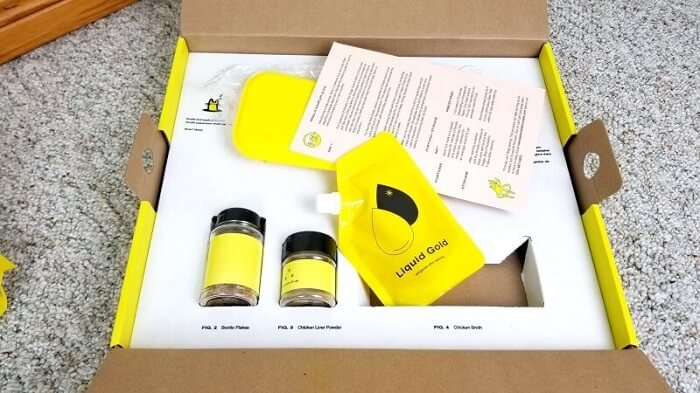 The broth, bonito flakes, and chicken liver powder help to make the food more palatable. The plastic tub—something the company calls Smallsware—is the perfect shape for a brick of Smalls fresh cat food and makes it easier to portion out and store.
Here's What Came In My Introductory Box Of Smalls Cat Food
We received chicken kibble, freeze-dried raw turkey, freeze-dried raw duck, freeze-dried raw chicken, and an introductory pamphlet explaining how to get started.
On the second row in the photo above, we have a cute little Smallsware tub, fresh chicken food, Gold Leaf (bonito flakes), Gold Dust (chicken liver powder), fresh turkey food, and Liquid Gold—also known as chicken broth.
In other words, there was a LOT in that box!
Was it the most exciting box of cat food I've ever opened?
Yes. It was.
What Did The Cats Think Of Smalls Cat Food?
Both of my cats liked Smalls cat food. Every variety went over well, but the freeze-dried recipes were a particularly big smash with Forest.
While I was photographing them for the review, Forest walked into the room, sat down, and started chowing down. She enjoyed every recipe from day one.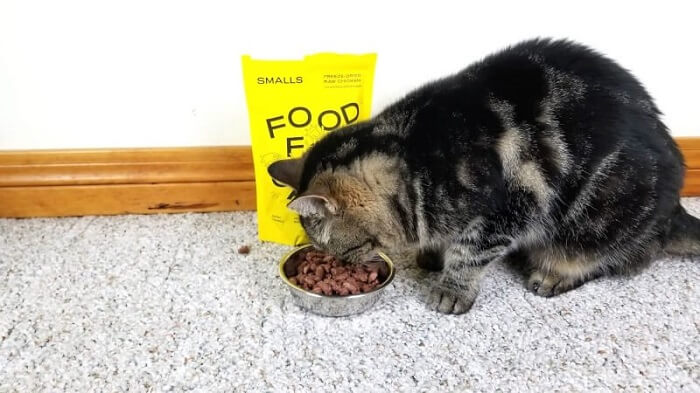 My other cat, Wessie, also liked the Smalls food, but he preferred the wet recipes. They have the smell and texture of Thanksgiving table scraps, which are his favorite treats.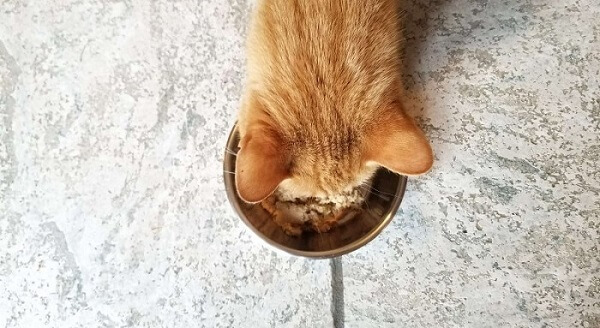 Let's Bite Into The Juicy Details
I'll be reviewing three recipes—Smalls chicken kibble, freeze-dried turkey, and fresh chicken. We'll discuss the foods' ingredients, species-appropriateness, and how each recipe went over.
Smalls Chicken Kibble Cat Food Review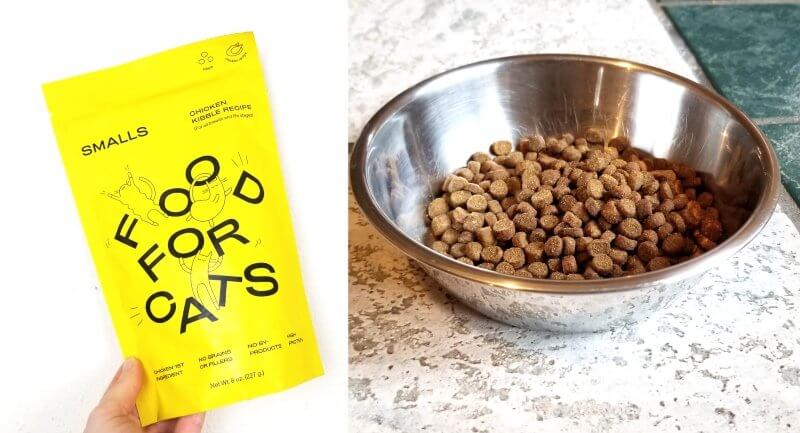 Guaranteed Analysis:
Crude Protein– 40% Min
Crude Fat– 17% Min
Crude Fiber– 4% Max
Moisture– 10% Max
Smalls Offers Three Kibble Recipes—Chicken, Fish, And Turkey
Though our cats eat a high-moisture diet, they enjoy dry food as an occasional treat. I decided to try the chicken recipe. The first thing I noticed about this food was its smell.
It was meaty and savory and the cats also reacted to it immediately. I offered both Wessie and Forest a bowlful and they dove right in. Forest even purred as she ate.
The kibble is extruded into small disc-shaped pieces. It's made with at least 35% dried meat, along with sweet potatoes, peas, and supplements. The food has two added fat sources—chicken fat and fish oil. They're both species-appropriate ingredients that nourish your cat as a carnivore.
The food is relatively low in carbohydrates compared to other dry foods, with 20.5% calories from carbohydrates.
Ingredients
Chicken, Chicken Meal, Sweet Potatoes, Peas, Egg Product, Pea Protein, Chicken Liver, Natural Flavor, Chicken Fat, Fish Oil, Lecithin, Sun-dried Miscanthus Grass, Yeast Culture, Calcium Carbonate, Choline Chloride, Sea Salt, Potassium Chloride, Yeast Extract, Fructooligosaccharides, Taurine, Dl-methionine, L-tryptophan, Tricalcium Phosphate, Cranberry Extract, Chamomile Flower, Fumaric Acid, Lactic Acid, Citric Acid, Malic Acid, Thyme Extract, Zinc Sulphate, Ferrous Sulphate, Zinc Proteinate, Iron Proteinate, Nicotinic Acid, etc..
Pros:
Relatively low in carbohydrates compared to other dry cat foods
Made from human-grade ingredients
Features animal-sourced fat
Doesn't contain artificial colors, flavors, or preservatives
Cons:
No dry food provides the moisture your cat needs
Expensive compared to similar dry foods
Carbohydrate content is too high for cats
Smalls Freeze-Dried Raw Turkey Cat Food Review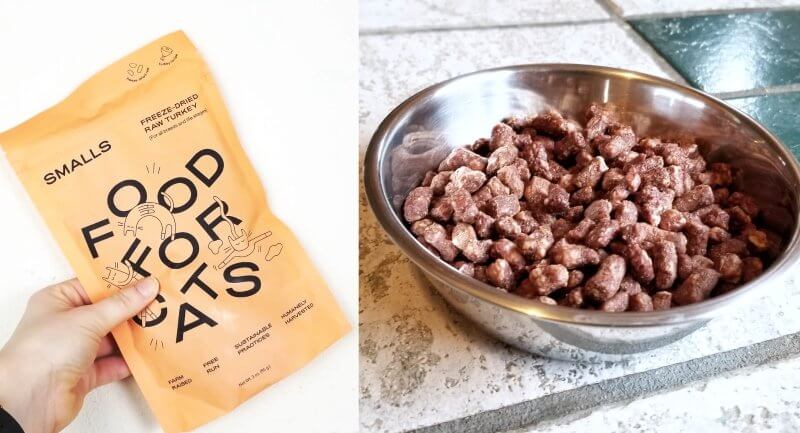 Guaranteed Analysis:
Crude Protein– 49% Min
Crude Fat– 17% Min
Crude Fiber– 3% Max
Moisture– 8% Max
Smalls offers three freeze-dried raw cat food recipes—turkey, duck, and chicken. My sample pack included all three of them. While Wessie and Forest both ate the freeze-dried food, they were Forest's favorite.
Unlike some freeze-dried food that comes in patties and is intended to be rehydrated, this food is formed into small pellets and is served dry. I tried rehydrating the pieces and they floated like cereal in milk.
Let's take a closer look at the freeze-dried turkey recipe. The food is formulated by Dr. Richard Patton, a professor of animal science. Though the food—like all Smalls freeze-dried foods—doesn't contain any synthetic supplements, it meets AAFCO nutritional guidelines for all life stages.
The food is made primarily from finely ground turkey with bone, turkey heart, liver, and gizzard, turkey egg, and goat's milk. The food also contains herring oil as a source of omega-3 fatty acids.
With plenty of nutrition from fresh meat, organs, and bones, the food is a species-appropriate product. It has the high protein content, moderate fat, and low carbohydrate content that are ideal for cats.
Ingredients
Finely Ground Turkey With Bone, Turkey Heart, Turkey Liver, Turkey Gizzard, Goat's Milk, Turkey Egg, Water, Egg Shell Membrane, Herring Oil, Mixed Tocopherols, D-Alpha Tocopherol
Pros:
Derives almost all nutrition from fresh, minimally-processed muscle meat, organs, and bones
Rich in readily-digestible protein
Features animal-sourced fat
Doesn't contain artificial colors, flavors, or preservatives
Cons:
With 511mg phosphorus per 100kcal, this food may have too much phosphorus for seniors and cats with kidney disease
Doesn't rehydrate well—a low-moisture food
Smalls Chicken Wet Cat Food Review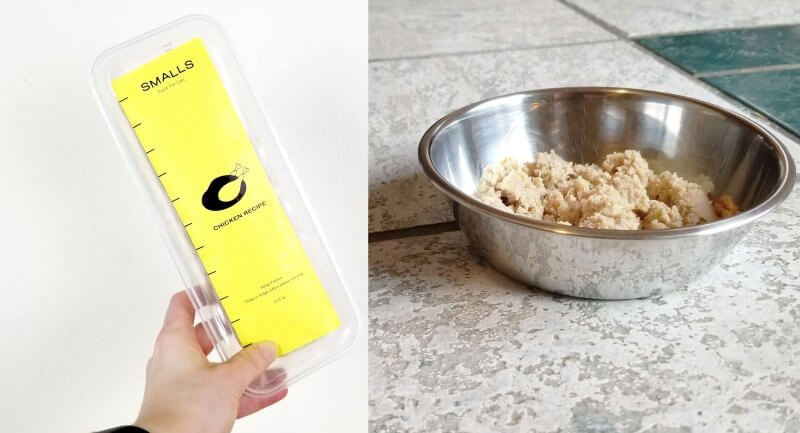 Guaranteed Analysis:
Crude Protein– 21.2% Min
Crude Fat– 8.05% Min
Crude Fiber– 0.4% Max
Moisture– 66.1% Max
Ash– 2.25%
Smalls offers three wet or fresh recipes featuring turkey, beef, and chicken as primary protein sources. Each is available in either a minced or paté texture. We tried two varieties—turkey and chicken. The chicken flavor had a slightly softer, flakier consistency and the cats seemed to prefer it. Instead of pouches or dishes, the food is formed into a slim brick in a plastic wrapper. The top peels off for easy access and is marked in 50-calorie increments, theoretically making it easy to portion out the right amount for your cat. This feature only has one flaw. When you lift off the top to access the food, you'll also obscure the measurement lines.
All Smalls fresh food recipes follow the same recipe blueprint. They feature muscle meat and organs along with a sprinkling of vegetables. A mix of added synthetic vitamins, minerals, and amino acids make the food nutritionally complete.
The chicken recipe features chicken thigh, breast, and liver as primary ingredients, along with a mix of green beans, peas, and kale. Unlike other Smalls recipes, it uses vegetable oil instead of animal-sourced fat.
Despite its use of vegetables, the food remains a low-carbohydrate product with 3.5% calories from carbohydrates.
Ingredients
Chicken Thigh, Chicken Breast, Chicken Liver, Green Beans, Peas, Water sufficient for processing, Chicken Heart, Kale, Vegetable Oil, Calcium Carbonate, Dicalcium Phosphate, Choline Bitartrate, Salt, Taurine, Magnesium Gluconate, Potassium Chloride, Zinc Gluconate, Ascorbic Acid, Copper Gluconate, Vitamin E Supplement, Manganese Gluconate, Ferrous Gluconate, Niacin, Thiamine Hydrochloride, Vitamin A, Calcium Pantothenate, Riboflavin, Pyridoxine Hydrochloride, Vitamin D3 Supplement, Folic Acid, Selenium,Dried Kelp, Biotin, Vitamin B12
Pros:
Features nourishing muscle meat and organs as primary ingredients
Minimal carbohydrate content
Made from human-grade ingredients
Doesn't contain artificial colors, flavors, and preservatives
Moisture-rich to keep your cat hydrated
Cons:
Contains several plant ingredients
Uses vegetable oil instead of animal fat
How Much Does Smalls Cat Food Cost?
The cost of Smalls cat food depends on which plan you choose. Fortunately, Smalls gives you the price of each box before you decide which one you want.
That's a welcome change—similar companies wait to drop the money details on you after you have something in your cart.
My Healthiest Balance subscription would break down to $2.90 per day or $90 each month, plus $10 shipping.
If I'd chosen their most cost-effective option—the Essential Kibble box—that cost would go down to a dollar a day or about $30 per month, again with shipping on the side.
And had I chosen the Balanced Convenience box for a mix of fresh and freeze-dried food, the monthly bill would be somewhere around $133.
Smalls cat food is more expensive than your average grocery store fare, but it's cheaper than comparable options.
The wet and freeze-dried foods are the best value, with slightly lower prices than many competing brands. The dry food, however, is about twice as expensive as similar kibble products.
| | | |
| --- | --- | --- |
| Product Name | Food Type | |
| Smalls Freeze-Dried Turkey | Freeze-Dried | $3.66 |
| Stella & Chewy's Tummy Ticklin' Turkey Dinner Morsels | Freeze-Dried | $2.53 |
| Darwin's Natural Pet Natural Selections™ Chicken Raw Cat Food | Frozen Raw | $2.40 |
| Smalls Chicken Wet/Fresh | Fresh Cooked | $2.89 |
| Nom Nom Chicken Chow Meow | Fresh Cooked | $3.18 |
| Weruva Paw Lickin' Chicken | Premium Canned | $3.10 |
| Fancy Feast Chicken | Economy Canned | $1.33 |
| Smalls Chicken Dry | Premium Dry | $1.00 |
| Wellness CORE Grain-Free Indoor Formula | Premium Dry | $0.46 |
| 9Lives Daily Essentials | Economy Dry | $0.10 |
Overall, Is Smalls Cat Food A Good Choice?
Smalls was a hit in our home. The ordering process was a pleasure, the customer service was prompt and accommodating, and the food was good, too. All of the recipes smelled delicious and the cats were happy to eat them.
Smalls cat food is an intriguing option for people who want homemade-style food but don't want to make their cat's food themselves.
You're getting ingredient and production quality that's almost unheard of in traditional cat food and, thanks to the subscription model, an added level of convenience.
Compared to other subscription-based cat food, you get a much wider variety, allowing you to satisfy cats of all tastes.
That said, Smalls cat food isn't a customized product. Though Smalls gathers information about your cat, your meals aren't custom-portioned. In fact, there's no indication that the details in your cat's account have any effect on the food you get. It just helps the system recommend a plan that might work for you.
So make no mistake—this is not customized cat food. Unlike some subscription-based foods, it's not specially formulated for your cat or measured out for his dietary needs. If you're looking for a customized cat food service, consider something like Nom Nom.
Here's How To Get Started With Smalls Cat Food
If you're interested in trying Smalls for yourself, head to the Smalls for Smalls website. Click on the "Get Started" button to set up your subscription. You'll receive 25% off and free shipping when you place your first order. In case your cat doesn't like it, Smalls cat food is covered by a money-back guarantee and you can cancel at any time.
Click here to get 25% off your first order of Smalls cat food.
* Use Code=LITTER2MONTHS and Win 2 Months of Free Litter