Best Cat Foods for American Shorthairs
American shorthair cats are quite affectionate and are able to adapt to new environments quite well. They can even adapt to new pets and homes with dogs in them.
This breed of cats is not high in energy levels, and that means that their dietary needs will be a bit different from more energetic cat breeds. We will take a look at what kind of food you need to feed them, what foods to avoid and what are the best brands to give your American shorthair cat.
Quick Links: Best Cat Foods for American Shorthairs
The Top 5 Best Cat Foods for American Shorthairs
Now that you know what to consider and what to avoid, let's look at some of the best cat food products on the market that are suitable for American shorthair cats.
Here are our top picks for the best cat foods for american shorthairs you should consider:
1. Stella & Chewy's Freeze Dried Food for Cat
Pros:
Made with wholesome ingredients.
Sourced ethically.
No grains.
Good for digestion and immunity.
It's pricey, but you are getting a lot of value for that price. These are succulent morsels that most cats really enjoy, and even the picky eaters usually love. Best of all, this dry food is very nutritious and has everything your cat needs in a single serving.
2. Weruva Grain-Free Canned Wet Cat Food
Pros:
Packed with whole, healthy chicken.
No grains or gluten.
No artificial flavors or additives.
This is another semi-expensive cat food, but it's not as pricey as the last one we listed. Once again, you are paying for quality food here, and this one comes with whole, unprocessed chicken. You won't find any gluten or grains in it, and it is made with natural ingredients.
3. Rachael Ray-Nutrish Indoor Complete Natural Dry Cat Food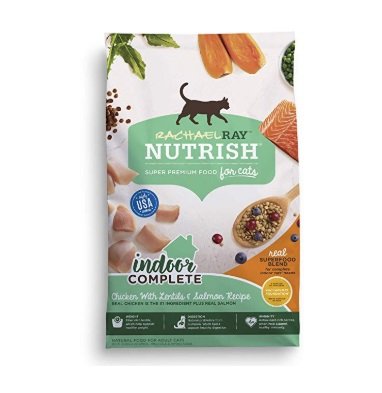 Pros:
Balanced nutrition.
Made without artificial components and additives.
Contains real meat.
Cons:
Contains some corn gluten.
This is an excellent food for sensitive cats and those with digestive or allergy problems. You are paying a bit more for the brand name and the high-quality ingredients, but not too much. It's still about average price for natural cat food. If you want something cheaper, you usually have to go for processed foods with artificial flavorings.
4. Hill's Ideal Balance Natural Cat Food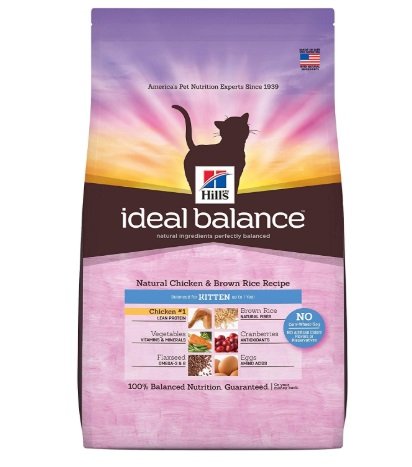 Pros:
Very affordable.
Made with nutritious, high-quality components.
Includes healthy fatty acids.
This one is a real money saver, but it doesn't skimp on the quality. You do get a lot more rice than you would with any of the other products we have reviewed though. That's a lot of filler, but it is still mostly wholesome meat. It offers decently balanced nutrients and most of what your cat needs to be healthy.
5. Royal Canin 549607 Feline Breed Nutrition American Shorthair Dry Cat Food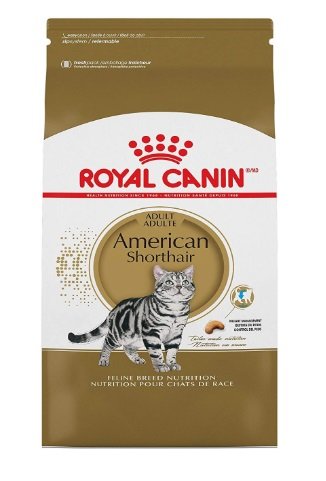 Pros:
Competitively priced.
Balanced nutrition.
Cons:
Some cats won't like it very much.
Can cause indigestion in cats with sensitive stomachs.
This one is a bit cheaper, and it is specially crafted for American shorthair cats. That means it is made to have all the nutrients your cat needs for a balanced diet. It's healthy for your cat's teeth and promotes a shiny coat.
Nutritional Requirements
You do need to be careful about what you feed your cat. This particular breed of cat needs little to no carbohydrates. If you were to feed this cat a lot of carbs, like most humans and dogs eat, then it would get fat and unhealthy very quickly.
It's body simply cannot handle carbs like we can and like many other types of animals can. Some cats can handle a little bit of carbs, but you should try to leave them out of your American shorthair's diet completely, if possible.
You want to make sure that your cat gets plenty of protein. It can get that from poultry, beef, pork, fish and other meat sources.
In fact, the majority of your cat's diet needs to be meat in order for it to be healthy. It cannot eat like a human would. Otherwise, it would lack the nutrients it is supposed to have.
You also have to be careful about how much fish you feed your cat, since it can become thiamine deficient if it is mostly eating fish as its protein source.
Your American shorthair needs lots of fat as well. This gives it the energy it needs to stay active. As your cat gets older, you can cut back on how much fat it gets, but it still needs a diet that is made up predominantly of protein and fat.
You also want to limit how many meals your cat has per day. Two full meals each day is plenty for the average cat, including this breed. When they are kittens, you can feed them three meals a day, as their body is growing so quickly. However, after about seven or eight months, you need to cut back to two meals and keep it at that.
What to Consider Before Buying Your American Shorthair the Best Food
There are some things you need to keep in mind as you try to buy food for your cat. Not every cat food will be ideal for your feline, so here are a few pointers before you buy any food:
Lots of Meat- It's really important that your cats eat plenty of protein. It is going to get that from meat, so check to see if the ingredients list meat as the primary component. Over 90% of any given meal should be meat.
Wet and Dry Variety- You don't want to give your cat all wet or all dry food all the time. It needs a mix of both, with more wet food. The wet food gives it water and other nutrients that it can't get from the dry food. The dry food is necessary, though, as it gives the cat added fiber and helps to strengthen its teeth.
High Fat Content- Your American shorthair needs a decent amount of fat in its food. Don't go for any low fat or diet items, as these are likely to starve your cat and make it even more of a low energy feline than it already is.
Price- You don't have to pay a lot to get a decent food product for your cat. There are some great options (as you will see on this review) that don't cost a lot.
What to Avoid
There are a few things that you never want to give your cat, or at least only give them rarely. Follow these guidelines for foods to avoid to ensure your cat stays healthy.
Carbs- It's not safe to give your cat many carbs with each meal. Keep these to a minimum by focusing on meat and fats for the majority of its meals. Carbs will just make it gain excess weight.
Milk- Your American shorthair can't digest dairy products very well. It's a common item given to cats, and while they may do like it, it is not very good for them.
Vegetables- This should be obvious for most cat owners, but your cat does not like vegetables. Not only that, but it doesn't get much nutritional value out of them. So, try to avoid foods that contain veggies of any kind for your cat. No matter how healthy they are for you, they don't do much for your cat.
Low Grade Grains- Just like veggies, there isn't much in grains that your cat can benefit from. Try to keep the grain content to a minimum. These are often used as fillers, and for most cats, that's all they will be- filler content with little to no nutritional value.
Final Purrs
As you care for your cat, keep in mind that it is not as energetic as other breeds of cats. It gets enough exercise through light play, but you usually won't find it running around like crazy all day. You don't need to make sure your cat exercises regularly for it to stay in decent shape, as this is normal with American shorthair cats. Just follow the dieting guidelines we have listed for you here, and you should have little trouble keeping your cat happy and healthy.
In case your cat is picky and won't eat the food you bought, just try another brand. Remember that not all cats like the same food, just like us humans. Just keep our dietary advice in mind and look for the next best option. Eventually you will find food that your cat will love.