Diggs Dog Crate Review
This page contains affiliate links. We may earn money or products from the companies mentioned in this post through our independently chosen links, which earn us a commission. Learn More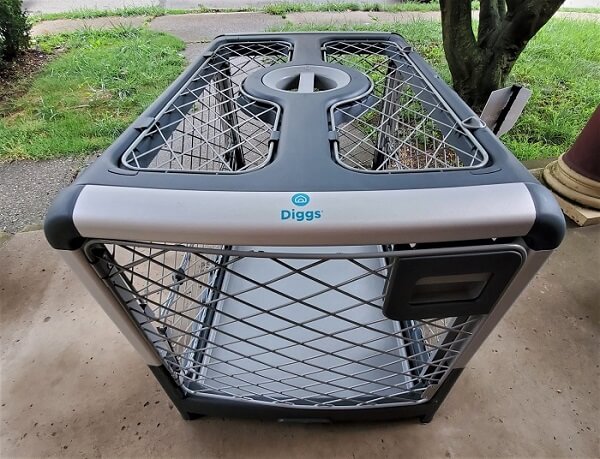 The Revol crate from Diggs comes fully assembled and ready to go.
The biggest responsibility any new dog owner has is training their dog. House training is the first concern, of course, but you also need to take the time to socialize your new dog and make sure he understands house rules and basic etiquette around other dogs and people.
When it comes to housetraining, many dog training experts agree crate training is the most effective method. Crate training, contrary to misconception, is not about punishment – it's simply a tool to reduce the risk of your puppy having an accident in the home.
The idea behind crate training is to supervise your puppy closely when you are at home and give him plenty of opportunities to do his business outdoors. The crate should only be used overnight and when you can't physically watch your puppy. To your puppy, the crate becomes his den – it plays on the instinct for dogs to avoid soiling the area where they eat and sleep. It won't completely prevent your puppy from having an accident, but it helps encourage him to learn to hold his bladder.
Dog crates come in all shapes and sizes, so it can be difficult to decide which one to choose – especially if you're a first-time dog owner. Though wire crates are the go-to for many dog owners, there's another option out there we think you should at least put on your list to consider.
We tested the Revol crate from Diggs ourselves to relay our experience and to tell you exactly what we think of it so you can decide for yourself if it's the best option.
Diggs Dog Crate
Diggs Dog Crate

Pros
Lightweight design, sliding parts are easy to collapse
Two doors, three access points with one-way latch
Rounded edges for safety, puppy divider included
Cons
Priced above average compared to many dog crates on the market
Doesn't fold down as flat as some wire crates
Pros
Lightweight design, sliding parts are easy to collapse
Two doors, three access points with one-way latch
Rounded edges for safety, puppy divider included
Cons
Priced above average compared to many dog crates on the market
Doesn't fold down as flat as some wire crates
Overview Of The Diggs Brand
The story of Diggs isn't exactly happy. According to the website, "Diggs began out of frustration with existing, poorly made pet products." When they realized nothing on the market met their stands for quality and safety, Digg's creators set out to make their own solutions.
At Diggs, the mission is to improve the safety, happiness, and health of pets through innovation and thoughtful design. With a team made up of passionate pet owners and pet lovers, every decision made at Diggs is made with the deepest care and consideration for pets and their people. Diggs is committed to solving real problems and nothing brings greater joy than seeing the happiness their products bring.
In addition to offering several products, Diggs also offers helpful resources for pet parents. From how-to videos and online manuals to e-books and more, Diggs makes it their mission to educate and equip pet parents everywhere to train their pets well.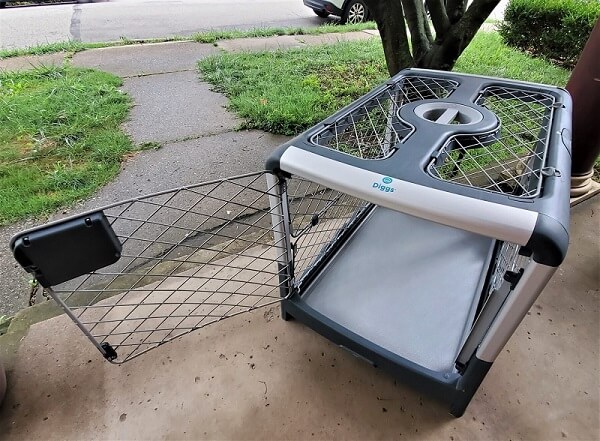 What Products Do They Offer?
When you visit the Diggs website, you'll find it very easy to navigate. The home page features the motto, "Life Together. Designed Better." It's clear Diggs is all about letting their products speak for themselves which means you don't have to sift through a ton of text or click around trying to find what you need. To view their products, simply click t he "Products" drop-down in the header menu.
Here's a quick overview of the products Diggs has to offer:
Revol Dog Crate – An attractive, collapsible dog crate that is easy to set up, transport, and store, the Revol dog crate also comes with a puppy divider.
Groov Training Aid – The first crate training tool of its kind, the Groov training aid is a popsicle-shaped training aid that attaches to the side of the crate for a little positive reinforcement.
Snooz Crate Pad – Diggs encourages you to let your dog "lounge in style and comfort" with this orthopedic crate pad made from CertiPUR-US certified memory foam starting at $75.
At the moment, these are the only products Diggs has to offer. If you'd like to stay up to date with the latest brand information, you can sign up for the newsletter using your dog's name and birthday as well as your email address for contact.
Is The Company Environmentally Friendly?
Our understanding of Diggs as a pet product company is that they like to keep things simple. Their Revol dog crate is designed to be easy to use and easy to store when not in use. The crate itself collapses down and doesn't take up as much space as other dog crates we've tried.
Because the crate folds down so easily, it helps cut down on the packaging needed to ship the Revol crate to customers. Our order arrived in a branded cardboard box packed with a little bit of foam padding and cardboard spacers to keep the crate from shifting.
While Diggs doesn't make any specific statements on their website regarding environmentally friendly practices, we were glad to see their packing materials are largely recyclable. The crate itself, however, is largely made from plastic materials, so take that for what it's worth.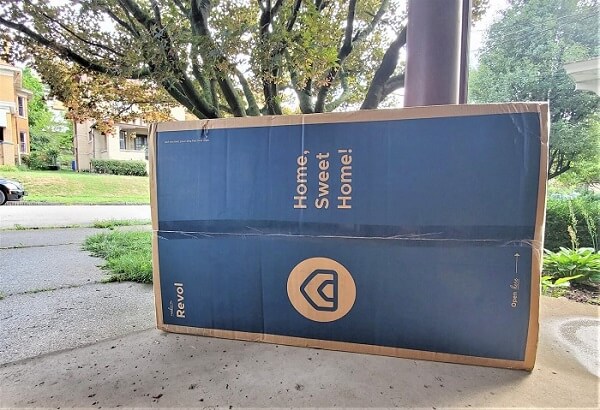 How Much Does It Cost?
The Revol dog crate from Diggs is not cheap, we'll say that much. If you're shopping for a standard metal dog crate, you can expect to spend about $30 for a crate made from coated wire, typically with a single door in the front. These crates typically fold flat for storage, but most don't come with a carrying case or have a handle that actually makes transport easy.
Priced at $245 for a small and $325 for a medium, the Revol dog crate is certainly more expensive than the typical dog crate. The most expensive crate we could find on Chewy was a 42-inch steel dog crate from ProSelect pictured with a Great Dane inside ($575). Other than that, crates at the higher end of the pricing spectrum fell around $200 to $250.
Because the Revol dog crate is fairly expensive, we were glad to see that financing is available through Affirm. You can make simple payments over 3, 6, or 12 months at rates of 0-30% APR.
What Did Our Test Dog Think?
The Revol crate from Diggs arrived in a very large box that was a little heavier than we expected. We were glad, however, that it came with a handle and everything was packaged with care to ensure that no damage came to the crate during shipping.
When we opened the box, we discovered that the Revol was already completely assembled, with the exception of the puppy get which was included. We removed the crate from the box and had very little trouble expanding it because we watched some of the how-to videos on the Diggs website. After folding out the two sides, we lifted the handle to fully expand the crate but found it a little difficult getting it to lock into place. It may simply be because it was the first use.
Overall, the crate was much sturdier than we expected, having seen that it was largely made with a plastic frame. The diamond mesh is metal, however, and the crate seems very secure. Our test dog Archie was fairly interested but once he realized the box wasn't full of food, he wandered away.
The size of the crate was just about perfect for Archie. He is technically a small-breed dog, but he weighs closer to 40 pounds than 20. We ordered the medium size with this in mind and the small definitely wouldn't have been the right choice.
The crate is a little snug for everyday use, but it seems like a good size for crate training. If you're going to use the crate long-term, we might recommend sizing up and using the puppy divider as needed during training.
Fortunately, our test dog Archie doesn't need to be kept in a crate very often. We used a crate for potty training, but he hasn't needed it since he was about 6 months old.
We like to keep a crate around for travel, however, and we love how lightweight and portable the Revol dog crate it. It may not fold as flat as other crates, but the package itself is fairly compact and easier to transport than a metal crate.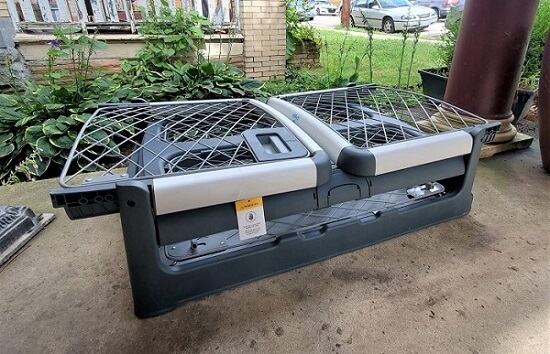 Is Diggs Really Worth The Cost?
When it comes to the Revol dog crate from Diggs, the biggest downside is the price – there's no other argument. For nearly $250 (for the small size), we'd expect the crate to be pretty much flawless. In testing the Revol dog crate for ourselves, we didn't have any major issues. We can, however, point out a few features that may make it a less-than-perfect choice for some dog owners.
For example, plastic is a primary component from which the Revol dog crate is made.
Our test dog Archie is a chewer, for sure, but he tends to focus his attention on plush toys and edible bones, not inanimate objects (thank goodness). For a crate marketed as a good option for puppies, however, we're a little concerned about the plastic materials. It's a pretty expensive risk to take if you're not sure whether your puppy is going to be a chewer or not. If your dog is already grown and you KNOW he has a tendency to chew, it would be hard to justify the $250 price tag.
Another possible issue with the Revol crate is the collapsed size. The crate is much more portable than others we've tried, but not specifically because of the size. Wire dog crates fold much flatter, but they aren't exactly easy to carry around. The Revol crate has a handle on the side specifically for transport.
If you're trying to decide whether the Revol crate from Diggs is worth the price, it really comes down to what you're look for. Here are some things to consider.
The Revol crate is good for pet owners who:
Want a permanent or long-term crate to keep largely in one place
Need a lightweight crate that can be used for travel
Have trouble collapsing and carrying metal dog crates
Need a crate for a puppy that can be divided as needed
Want to be able to use pee pads with the crate
The Revol crate may not work for pet owner who:
Plan to transport or store the crate more frequently
Don't have a lot of storage space to keep the crate when not in use
Have a puppy or adult dog who tends to chew or dig at the crate
Need something they only plan to use during the puppy phase
Now that you have a better understanding of the Revol dog crate from Diggs and its features, let's get down to the details starting with how you order it.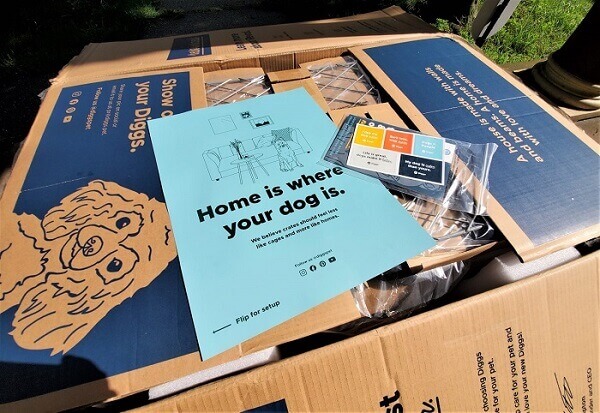 How Do You Order It?
If you've decided the Revol crate from Diggs is the right choice for you, ordering it is incredibly easy. If you live in the New York area, you may be able to find it in Petco stores. Otherwise, you'll need to order it online through the Diggs website.
Here's how to order online:
Visit the Diggs website and select the Revol Dog Crate
Choose from the Small or Medium size options
If you need the Large crate, click "Other Sizes" and input your email
Click "Add to Cart" then proceed to Checkout
Fill in your shipping, billing, and payment information
Pay by credit card or use your PayPal, Amazon Pay, or Shop Pay account
When you receive your Revol dog crate, you'll have 30 days to try it. If you decide within the 30-day trial that you aren't satisfied, you can return the crate in its original packaging. Keep in mind that shipping chargers are nonrefundable and returns or exchanges are not accepted if not in the original packaging.
Pros and Cons
Dog crates come in all shapes and sizes, made from a wide variety of different materials. Though they all serve roughly the same purpose, each crate is made with certain features in mind.
Many crates designed for puppies, for example, come with a divider or are made from sturdy materials to withstand chewing. Crates for larger dogs are understandably larger in size and may be designed more for temporary or occasional use, equipped with convenience features for travel and storage.
Every dog crate has its advantages and disadvantages, so it really comes down to what you're looking for. Review the pros and cons for the Revol crate from Diggs before making up your mind.
Here are some pros for the Diggs dog crate:
Lightweight design, sliding parts are easy to collapse
Two doors, three access points with one-way latch
Rounded edges for safety, puppy divider included
Removable tray for easy cleanup, use with pee pads
Here are some cons for the Diggs dog crate:
Very expensive compared to many dog crates on the market
Doesn't fold down as flat as some wire crates
Plastic may not stand up to heavy chewing and escape artists
We're not here to argue the pros and cons of crate training your dog. If you are using crate training for a new puppy, however, or you just need a comfy place for your dog to call home, the Revol crate from Diggs may be a good option to consider.
The Final Word
Overall, we really like the Revol dog crate from Diggs. We think the design is unique and we don't mind the look of it as a permanent fixture.
For dog owners whose dogs like to use the crate as a place to sleep during the day rather than just a mode of confinement, we prefer the look of the Revol crate to the look of standard wire crates. It is, of course, a matter of personal aesthetics.
In terms of use and application, we were pleased with the Revol dog crate and had no major issues. We found it sturdy, easy to collapse, and our test dog's favorite bed fit neatly inside.
We do have some concerns about the durability of the plastic materials, but fortunately Archie isn't a chewer.
At the end of the day, we recommend the Revol crate, but that recommendation should be taken with a grain of salt. If you're looking for a short-term crate to use during the puppy phase only, we're not sure it's worth the $250.
More importantly, if your dog has a known habit of destruction, we can't recommend taking such an expensive risk.
Frequently Asked Questions
How do I know what size my dog needs?
The Revol crate from Diggs is currently available in two sizes, Small and Medium (the Large is in development). The small crate is recommended for dogs up to 30 pounds, offering internal dimensions of 28Lx21Hx20W. The medium crate is recommended for dogs up to 50 pounds, with internal dimensions of 35Lx24Hx23W. You can always contact Diggs if you need help choosing the right size.
Does Digg offer returns?
Yes, Digg offers free shipping and free returns so you can try the Revol craft for 30 days risk-free The only requirement is that you keep the original packaging (including the filler) so you can return the crate. It also comes with a 1-year warranty.
What materials is the Revol crate made from?
The Revol dog crate from Digg is designed for durability as well as convenience. This crate features a unique diamond wire mesh with a removable tray, a ceiling hatch, and a puppy divider. The frame is made largely from plastic and many of the clips and latches are plastic too.
Is the Revol dog crate sold in stores?
Yes, Diggs sells their Revol dog crate in a small number of major pet retailers including Petco, though primarily in the New York area. The best place to purchase a Revol crate is online through the Diggs website. Just keep in mind that it may be on back order.
Was this article helpful?
Let us know what you think.