55 Powerful Animal Shelter Statistics
This page contains affiliate links. We may earn money or products from the companies mentioned in this post through our independently chosen links, which earn us a commission. Learn More

When you cuddle up on the couch with your furry friend, you can't imagine life without your cat or dog.
Unfortunately, not all pets are lucky enough to have a loving forever home. In fact, over 6.5 million animals enter the U.S. shelter system each and every year. These numbers are shocking but it's important to understand the issue and to raise awareness for the benefit of homeless pets everywhere.
Check out our animal shelter statistics infographic and keep reading to learn more!
The Top 15 Animal Shelter Statistics in the US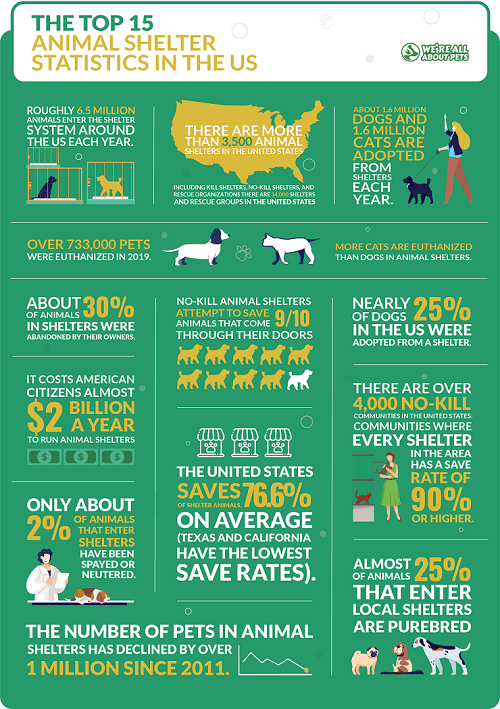 Roughly 6.5 million animals enter the shelter system around the US each year.
About 1.6 million dogs and 1.6 million cats are adopted from shelters each year.
There are more than 3,500 animal shelters in the United States.
Including kill shelters, no-kill shelters, and rescue organizations there are 14,000 shelters and rescue groups in the United States.
Over 733,000 pets were euthanized in 2019.
No-kill animal shelters attempt to save 9/10 (90%) animals that come through their doors (it is usually sick or elderly pets that are euthanized).
More cats are euthanized than dogs in animal shelters.
About 30% of animals in shelters were abandoned by their owners.
Nearly 25% of dogs in the US were adopted from a shelter.
It costs American citizens almost $2 billion a year to run animal shelters.
There are over 4,000 no-kill communities in the United States (communities where every shelter in the area has a save rate of 90% or higher).
The United States saves 76.6% of shelter animals, on average (Texas and California have the lowest save rates).
The number of pets in animal shelters has declined by over 1 million since 2011.
Only about 2% of animals that enter shelters have been spayed or neutered.
Almost 25% of animals that enter local shelters are purebred (with a documented pedigree).
The Top 10 Most Popular Breeds in Shelters
American pit bull terrier
Labrador retriever
German shepherd
Dachshund
Jack Russell
Chihuahua
Boxer
Beagle
American bulldog
American Staffordshire terrier
Abandonment, Adoption, and Reuniting Statistics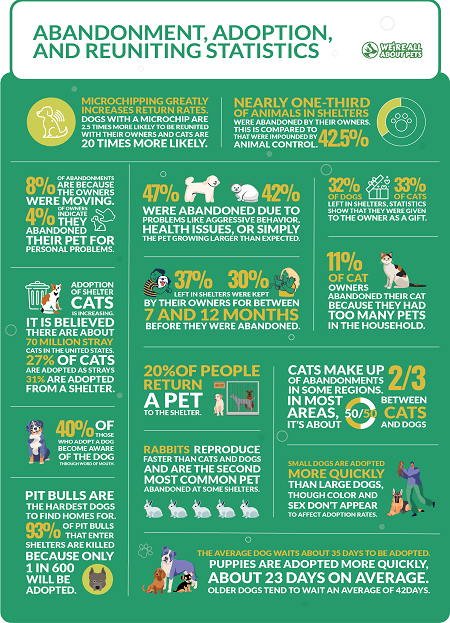 Nearly one-third of animals in shelters were abandoned by their owners. This is compared to 42.5% that were impounded by animal control.
Microchipping greatly increases return rates. Dogs with a microchip are 2.5 times more likely to be reunited with their owners and cats are 20 times more likely.
Nearly 47% of dogs and 42% of cats were abandoned due to problems like aggressive behavior, health issues, or simply the pet growing larger than expected.
About 8% of abandonments are because the owners were moving. Only about 4% of owners indicate they abandoned their pet for personal problems.
Around 11% of cat owners abandoned their cat because they had too many pets in the household.
Adoption of shelter cats is increasing. It is believed there are about 70 million stray cats in the United States. About 27% of cats are adopted as strays and about 31% are adopted from a shelter.
Pets given as gifts are the most likely to be abandoned. For 32% of dogs and 33% of cats left in shelters, statistics show that they were given to the owner as a gift.
Most of the pets in shelters have been owned for less than a year. Over 30% of cats and 37% of dogs left in shelters were kept by their owners for between 7 and 12 months before they were abandoned.
Only 20% of people return a pet to the shelter. Roughly one-fifth of people who adopt a pet from a shelter end up bringing it back.
Cats make up 2/3 of abandonments in some regions. In most areas, it's about 50/50 between cats and dogs.
About 40% of those who adopt a dog become aware of the dog through word of mouth.
The average dog waits about 35 days to be adopted. Puppies are adopted more quickly, about 23 days on average. Older dogs tend to wait an average of 42 days.
Small dogs are adopted more quickly than large dogs, though color and sex don't appear to affect adoption rates.
Rabbits reproduce faster than cats and dogs and are the second most common pet abandoned at some shelters.
Pit bulls are the hardest dogs to find homes for. Nearly 93% of pit bulls that enter shelters are killed because only 1 in 600 will be adopted.
Euthanasia in Animal Shelters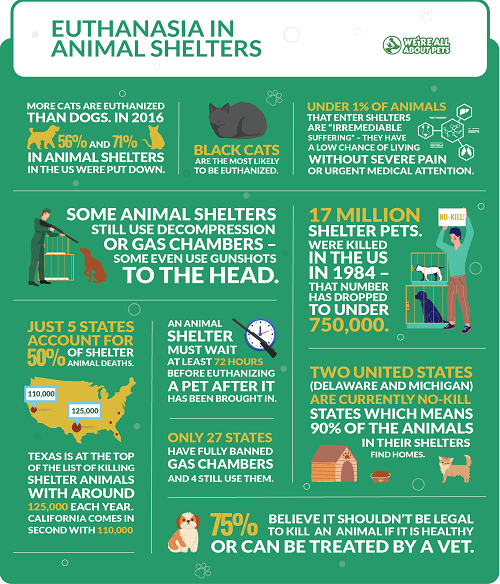 Over 99% of shelter pets are healthy and adoptable. Under 1% of animals that enter shelters are "irremediable suffering" – they have a low chance of living without severe pain or urgent medical attention.
The no-kill movement has been incredibly successful. Roughly 17 million shelter pets were killed in the United States in 1984 – that number has dropped to under 750,000.
More cats are euthanized than dogs. In 2016, about 56% of dogs and 71% of cats in animal shelters in the US were put down.
Euthanasia methods aren't always humane. Some animal shelters still use decompression or gas chambers – some even use gunshots to the head.
Only 27 states have fully banned gas chambers and 4 still use them. No-kill advocacy groups hope to achieve a ban in all 50 states.
Just 5 states account for 50% of shelter animal deaths. Texas is at the top of the list of killing shelter animals with around 125,000 each year. California comes in second with 110,000 followed by Florida, North Carolina, and Georgia.
Three out of four Americans are against euthanizing shelter animals. About 75% believe it shouldn't be legal to kill an animal if it is healthy or can be treated by a vet.
An animal shelter must wait at least 72 hours before euthanizing a pet after it has been brought in.
Black cats are the most likely to be euthanized. They are the least likely to be rehomed.
Two United States (Delaware and Michigan) are currently no-kill states which means 90% of the animals in their shelters find homes.
Spay/Neuter Statistics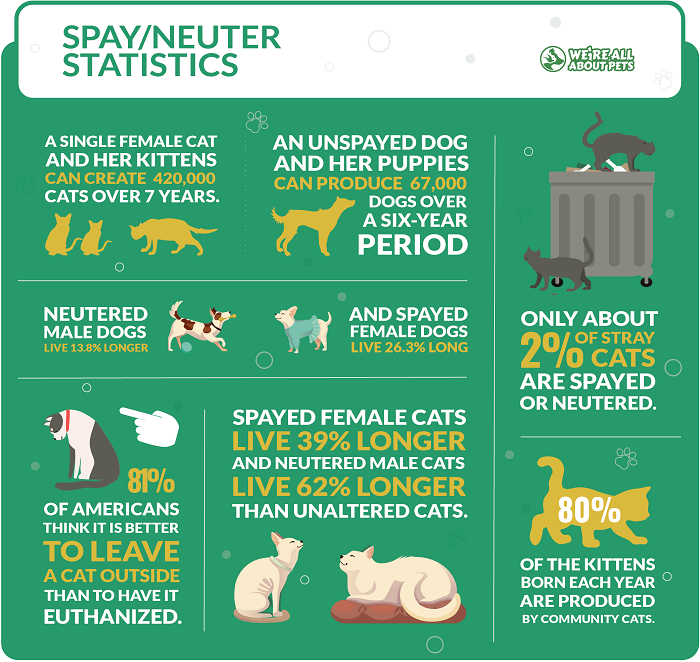 Only about 2% of stray cats are spayed or neutered. Overpopulation is the number-one reason for stray and abandoned animals.
An unspayed dog and her puppies can produce 67,000 dogs over a six-year period if left uncontrolled. A single female cat and her kittens can create 420,000 cats over 7 years.
About 80% of the kittens born each year are produced by community cats. Community cats are friendly stray or abandoned cats as well as feral cats.
About 81% of Americans think it is better to leave a cat outside than to have it euthanized.
The average lifespan of a spayed/neutered pet is much longer than an unaltered pet. Neutered male dogs live 13.8% longer and spayed female dogs live 26.3% longer.
Spayed female cats live 39% longer and neutered male cats live 62% longer than unaltered cats.
Other Pet and Animal Shelter Statistics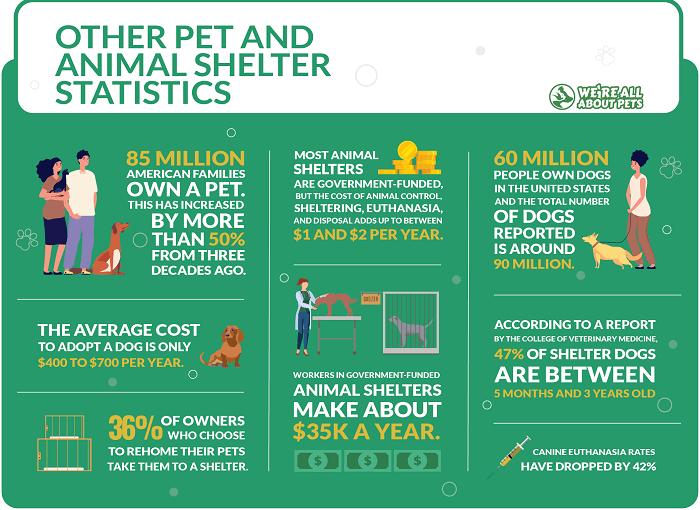 About 85 million American families (68% of the population) own a pet. This has increased by more than 50% from three decades ago.
Over 60 million people own dogs in the United States and the total number of dogs reported is around 90 million. This means many households old multiple dogs.
Most animal shelters are government-funded, but the cost of animal control, sheltering, euthanasia, and disposal adds up to between $1 and $2 per year.
Workers in government-funded animal shelters make about $35k a year, but volunteers at shelters and rescue groups work for free.
The average cost to adopt a dog is only $400 to $700 per year.
According to a report by the College of Veterinary Medicine, over 47% of shelter dogs are between 5 months and 3 years old – very few are over 8 years old.
Only about 36% of owners who choose to rehome their pets take them to a shelter.
Canine euthanasia rates have dropped by 42% in the last 10 years, largely due to increasing adoption rates and successful returns of stray dogs to their owners.
Was this article helpful?
Let us know what you think.