6 Important Tips For Grooming Your Rabbit
This page contains affiliate links. We may earn money or products from the companies mentioned in this post through our independently chosen links, which earn us a commission. Learn More
Rabbits are adorable animals and can be wonderful additions to most homes. They are generally very clean animals and spend a lot of time grooming themselves. Still, they need a little help once in a while in that department.
Just because a rabbit looks clean and healthy doesn't mean they don't need your attention when it comes to grooming. Regardless of the breed, rabbit owners need to pay close attention to things like their fur, nails, ears and teeth to keep them happy, comfortable and healthy.
The majority of rabbits do not like to be submerged in water, so bathing them is most likely something that you will ever need to be concerned about. However, there are several things that you will need to do on a regular basis to keep them well-groomed.
Most of these grooming essentials are not that complicated, and if done on a regular basis, will save you a lot of trouble down the road. So, in this article, we'll give you some tips and insights about how to properly groom your rabbits.
At A Glance: Things To Consider When Grooming A Rabbit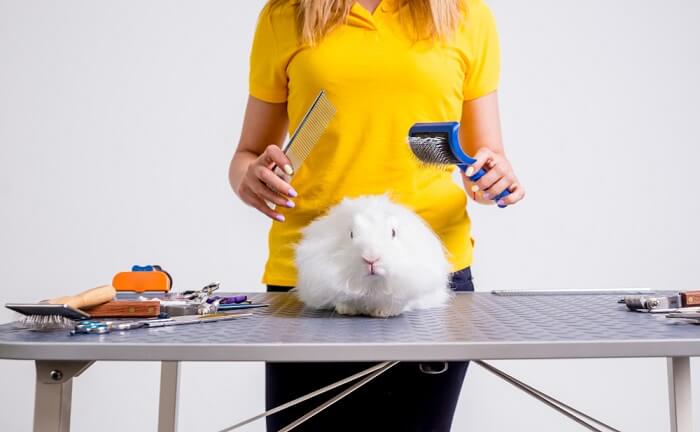 1. Fur Brushing
Rabbits need to be brushed on a regular basis to prevent mats and to get rid of excess fur. Mats can be uncomfortable for bunnies and difficult for you to remove, and excess fur can potentially lead to digestive and respiratory issues if swallowed or inhaled.
2. Nail Clipping
If a rabbit's claws get too long they can be uncomfortable and potentially snag on things in your home or their habitat. So it's important to check the length of your rabbits' nails and trim them regularly so they remain at a comfortable length.
3. Ear Cleaning
Rabbits are known for their gigantic ears, and so it can be easy for them to develop a build-up of wax, dirt and other debris. If overlooked and uncared for, dirty rabbit ears can lead to infections, hearing loss and even balance issues.
4. Oral Health
Rabbits' teeth never stop growing, and if not looked after, overgrown and ungroomed teeth can become very uncomfortable and painful for bunnies. So, it's important that you feed them the correct foods to help maintain good oral health.
5. General Cleaning
Though it's very unlikely that you will ever have to give your rabbit a bath, it's important that you check their tails, paws and bellies periodically and clean away any excess urine or droppings that have lingered.
6. Fleas, Mites and Parasites
Fleas, mites and parasites can potentially damage your rabbit's skin, in addition to making them very uncomfortable. So it's imperative to pay attention to any signs of an infestation, and get it treated immediately.
What To Keep In Mind With Rabbit Grooming?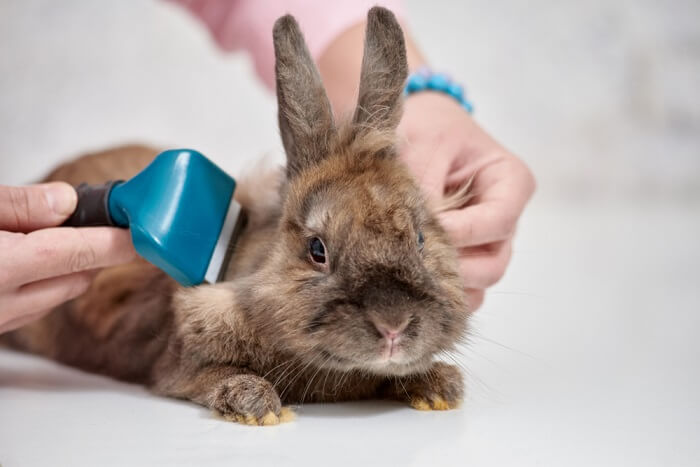 In this article, we'll expand on some of these important things to consider when it comes to rabbit grooming. Rabbits come in all shapes, sizes and breeds, so you may need to do some experimenting to figure out what works best for them, and what works best for you.
Either way, a well-groomed rabbit is a key ingredient to providing them with a happy and healthy life, as well as a happy life for you.
Rabbits Must Be Brushed Regularly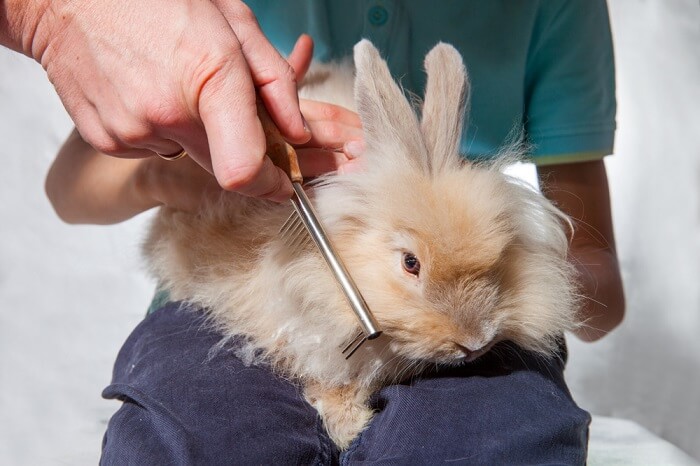 Rabbits have very soft and luxurious fur, but they also shed a lot. So, it's very important that you pay attention to the condition of a rabbit's coat, and brush them on a regular basis.
Bunnies are usually very meticulous when it comes to grooming themselves, but the more excess fur they have, the more problems it can create for them and you.
Excess fur on rabbits can lead to mats, which can be very uncomfortable and painful for them, as well as being a difficult task for you to remove. Also, excess fur on rabbits can be ingested and inhaled, which can lead to potential digestive and respiratory issues.
So, depending on the length of your rabbit's fur, you may need to brush them three-to-four times a week, or at least once a week.
A Rabbit's Nails Need Trimming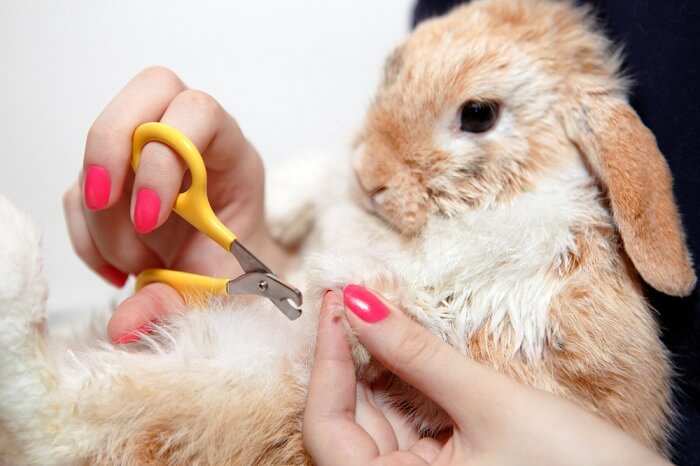 A rabbits' nails need to be trimmed now and then. If they get to long, they can snag on things in your home and in their habitat.
Also, ungroomed nails can become uncomfortable and even painful for rabbits if not properly managed. Sometimes it can be better to do frequent trimmings rather than waiting until a rabbit's nails get too long.
Either way, it's important to pay attention to the length of a rabbit's claws and to know when it's time to get them clipped. You may be able to find a veterinarian or groomer who can provide this service.
If not, it's something that you will have to learn to manage on your own.
Ear Cleaning Can't Be Overlooked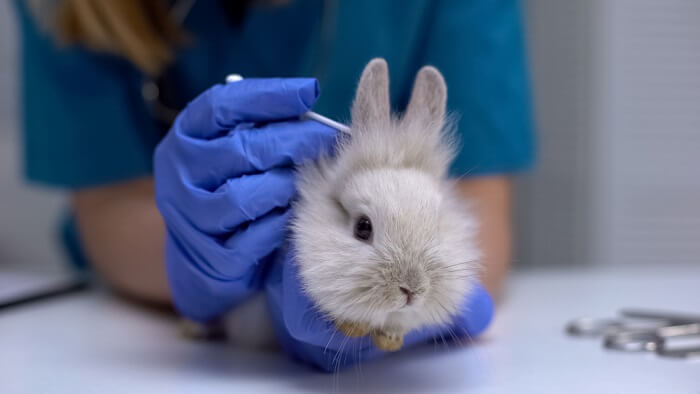 It's important to periodically check the insides your rabbit's ears for waxy build-up, dust, dirt or other debris. Rabbits will often scratch their ears to loosen up excess wax, which is perfectly normal, but it's still a good idea to check them often to make sure that they are clean.
Ears with excessive wax may require a vet visit or consultation. Otherwise, it's very easy to make cleaning your rabbits' ears a regular part of their grooming routine by gently cleaning them with a soft cloth and warm water once a month.
You can also use a cotton swab to get harder-to-reach places, just be sure not to push anything deeper into their ear canals.
Dental Health For Rabbits Is Essential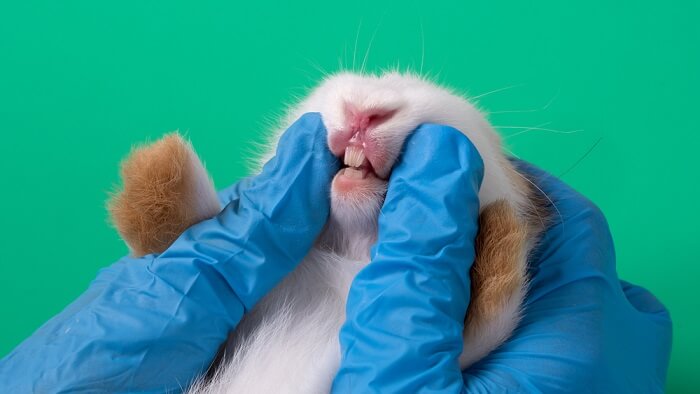 Rabbit's teeth are constantly growing, so it's very important to make sure that they are well-groomed and properly worn down. This doesn't mean that you will ever have to brush your rabbit's teeth, but a proper diet will help to encourage good oral health.
The best way to ensure that your rabbits' teeth are healthy is to feed them the right foods. In addition to being the most important part of a rabbit's diet, hay encourages lots of chewing, which helps to wear down their teeth. Also, leafy greens contain additional nutrients and calcium to help keep their teeth strong and healthy.
General Cleaning Is Important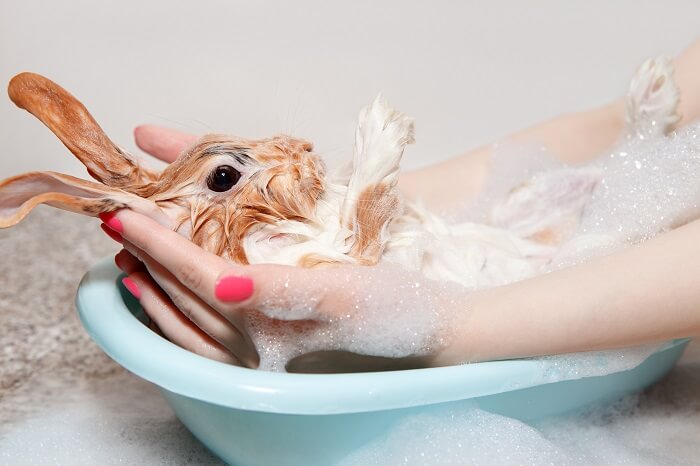 Although rabbits are typically very clean animals and spend a lot of time grooming themselves, it's still a good idea to periodically check their paws, tails and bellies for any signs of uncleanliness.
Rabbits have a tendency to lay in their litter boxes, which is a very common behavior. Still, it can lead to odors and dirtiness in their fur.
Gently pick up your rabbits every now and then and look at their undersides. If you find any signs of excess urine or droppings, a simple spot-cleaning with a soft cloth and warm water or baby wipes usually does the trick.
Check For Fleas, Ticks, Mites And Parasites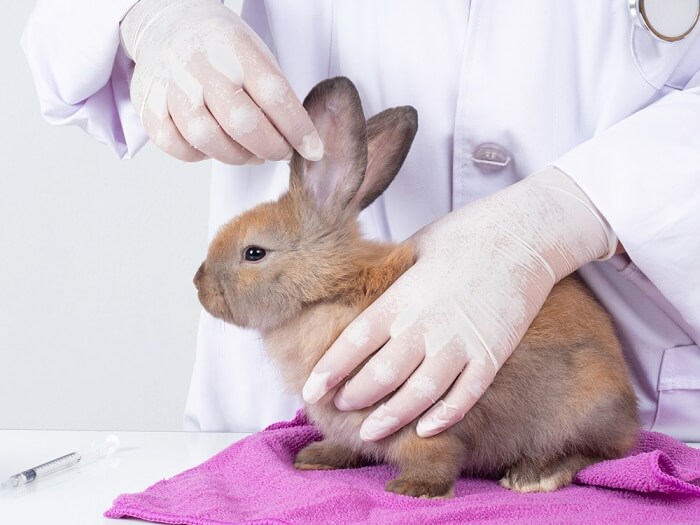 Even if your rabbits stay indoors all the time, they can still be prone to fleas, ticks, mites and parasites. Other indoor/outdoor animals in your home can carry these parasites into your home, and pet owners can inadvertently bring them in on their shoes and clothing.
Fleas, ticks and mites can usually be found when you do your regular brushing sessions. Parasites can be found on all parts of a rabbit's body, so if you see or feel anything unusual, using a flea comb can often help to get rid of any parasites.
But, if you feel that your bunnies' have a larger issue with a parasitic infestation, there are certain medications that can kill and prevent fleas, ticks and mites. Just be sure to consult a veterinarian before using them, nygoodhealth.com.
Final Thoughts
As wonderful and clean as rabbits can be, they can sometimes require a little bit of help when it comes to grooming. Rest assured, most of the time it isn't very complicated to keep them clean, happy and healthy.
Simply paying attention to their fur, nails, teeth and ears on a regular basis will help to keep your bunnies happy and healthy. Lastly, regular grooming session can be a good way to bond with your rabbit and turn it into an enjoyable experience for both of you.
Was this article helpful?
Let us know what you think.