Pretty Litter Review: Purchased And Tested
This page contains affiliate links. We may earn money or products from the companies mentioned in this post through our independently chosen links, which earn us a commission. Learn More
Is Pretty Litter worth it? Read our unbiased review to find out. 
Over the last month, I've been trying out Pretty Litter with my two cats, Wessie and Forest. I've taken notes on every aspect of the experience, from the ordering process to the health monitoring functionality to tracking and scatter. 
Pretty Litter Cat Litter
Brand
Pros
Easy to handle
Good Odor Control
Health monitoring system included
Cons
Not the cheapest option
Tracking and scatter were problematic
Pros
Easy to handle
Good Odor Control
Health monitoring system included
Cons
Not the cheapest option
Tracking and scatter were problematic
Before we talk about my experience, let's get some quick background on what Pretty Litter is and how it works.
Pretty Litter promises to make everything about your cat litter experience cleaner and more convenient. It's also a health monitoring product that gives you early insights into your cat's health. 
The first area in which Pretty Litter is different from the crowd? Shopping and shipping. 
Pretty Litter is a direct-to-consumer product that ships out to your house every month, so it's intended to make your litter shopping experience smoother than ever before. 
Secondly, the Pretty Litter itself is a silica gel crystal litter. 
Silica gel is an ultra-adsorbent material that dehydrates both liquid and solid waste, so you don't have to scoop out any urine until your next shipment arrives. That means you'll spend less time hunched over the litter box. 
But the most novel thing about Pretty Litter is its health monitoring feature.
 Pretty Litter is mixed with pH-detecting particles that cause the litter to change color based on the acidity of your cat's urine. In theory, this gives you a highly-visible sign that your cat may have issues like kidney tubular acidosis, struvite crystals, and more. 
Get 20% Off your first month + A Free Toy! Use code AFFTOY20 at checkout
Pretty Litter Review – My Experience
First, I ordered a bag of Pretty Litter through the Pretty Litter website.
I signed up on the site, opted for a single-bag subscription—enough for one cat for one month—and placed the order. The bag cost $22 with free shipping. 
It arrived six days later.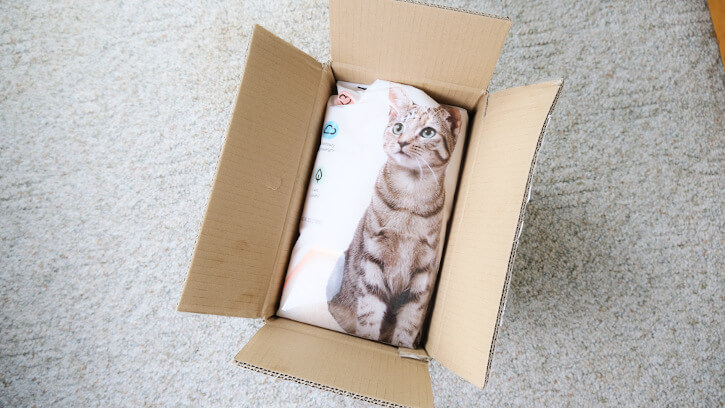 A one-month subscription for one cat includes a single 6-lb bag. The bag came tightly packed in a small box, along with a card explaining what all of the different colors mean and how the product works. 
When I ripped open the bag, I could see that the litter was fine-grained, resembling coarsely-ground salt. The glittery white litter is flecked with blushy peach-colored flecks, which are the pH detectors that give Pretty Litter its color-changing magic. It has a fine, gritty texture that felt comfortable in my hand.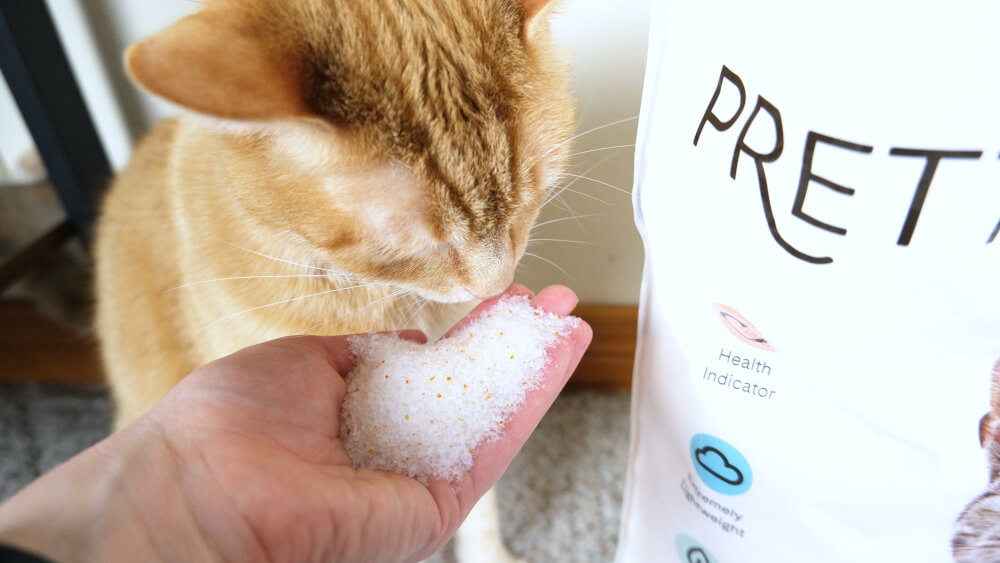 After I'd had a look at the Pretty Litter, it was time to put it to its first test. I poured it into the litter box and observed its dust production.
Like most silica gel litter, the Pretty Litter was relatively dusty. It created a lingering plume of dust as it went into the box. It's important to note, however, that the dust from silica gel litter isn't necessarily as harmful as the dust you'll get from a clay litter. Silica gel litter produces amorphous silica dust, which is considered nuisance dust. In contrast to crystalline silica, inhaling amorphous silica dust doesn't have a reputation for causing respiratory issues.
The card included with the bag of Pretty Litter features a ruler to help you ensure that you've filled the box 2 inches deep. One 6-lb bag of Pretty Litter reached just up to the 2-inch line in the Lucky Champ litter box.
What Did My Cats Think Of Pretty Litter?
My cats used the litter willingly and without hesitation. I was testing out another fine-grained silica gel litter at the time and my cats opted for the Pretty Litter box instead. 
As for tracking and scattering, the Pretty Litter didn't do particularly well in either area.
This litter is very lightweight and I paired it with a litter box with a very low front, so there was quite a lot of litter coming out of the box. I decided to switch to do a second experiment with a top-entry box and the experience was a bit different. Like any product in a top-entry box, there was no scatter and I didn't notice any tracking, either. 
Over the next couple of weeks, I noticed that the litter offered moderately good—but not excellent—odor control and was very easy to maintain.
I scooped out the dehydrated solid waste and stirred the box to distribute liquids. The litter lasted for about two weeks before it turned a deep yellow shade and was smelling rank.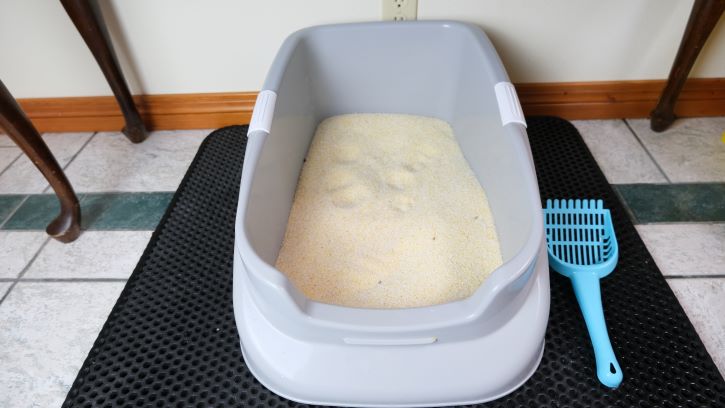 In other words, it appears that one bag will serve one cat for a month as promised, though I suspect that estimate may be closer to three weeks for many cats.
Now, what about the color-changing health monitoring functionality?
Fortunately, the litter's color remained within the healthy range when both of my cats were using it. A healthy cat's urine would sit around a pH of 6.0-6.5, creating a yellow color in the Pretty Litter. It appears that my cats' urine was somewhere around that range. 
I wanted to see how the litter would respond to different pH levels, so I did a loose experiment.
I poured three different solutions into samples of the Pretty Litter. My first solution was plain water, the second contained 5% acidity white vinegar, and the third contained a mix of baking soda and water.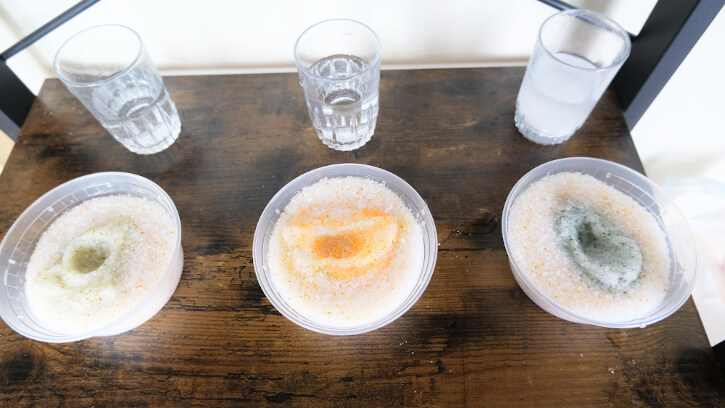 When I poured the water into the litter, it took on a light olive green color. Water has a typical pH of about 7, which is slightly more alkaline than a healthy cat's urine. 
The acidic solution turned the litter a dark yellow-orange color, representing a pH slightly lower than a healthy cat's urine. Orange color in the litter box might be indicative of metabolic acidosis or kidney tubular acidosis. 
And when I poured the baking soda water into the litter, it turned a cobalt blue. A color ranging from green to this type of blue would indicate a high urinary pH, which is associated with struvite crystals and other conditions. 
Pretty Litter can also detect blood. If there's blood in your cat's urine, the litter will turn red. Blood in the urine is indicative of a wide variety of health issues and is never a symptom to ignore.
Pretty Litter isn't considered a diagnostic tool, though, and it's recommended that you take all of these insights with a grain of salt. If your cat seems otherwise healthy, you may wait for a day to see if the color persists, then take your cat to see a veterinarian. 
Once I was done testing, it was easy to cancel the subscription from my user account.
I scrolled down to manage my account and hit cancel subscription. I had to click a link explaining why I wanted to cancel and Pretty Litter offered me a discount to encourage me to stay in the system, but I persisted and was able to cancel the subscription without too much hassle.
How Much Does Pretty Litter Cost?
Each bag of Pretty Litter costs $22 with discounts for multi-cat homes. If you have a larger litter box, you might need more than that each month for a single cat. Buying 3 bags a month would add up to $60 per month. That's pretty expensive compared to other products.
Overall, I Think Pretty Litter Can Be A Decent Option If You Have The Money For It, But It's Not A Complete Litter Box Solution.
Pretty Litter's performance was fair overall—tracking and scatter were problematic, the litter was dusty, and its odor control was moderately good. As a silica gel product, the litter was easy to handle and maintain, but that's not unique to the brand.
All things considered, the health monitoring system is the only thing about Pretty Litter that might make it worth the money. 
But before you take the plunge, remember that Pretty Litter is far from a litter box veterinarian. 
It only indicates a thin slice of the health issues your cat might encounter. It can't tell you if your cat has cancer, diabetes, kidney disease, or any other common health issues.
Monitoring your cat's urine output and behavior could tell you just as much or more than this color-changing litter. And even with Pretty Litter, you're still responsible for watching your cat's litter box habits.
With multiple cats, for example, you'll have to isolate your cats to identify which cat is having an issue. You might notice the problem before you would with behavioral monitoring alone, but it'll still take time and effort.
Was this article helpful?
Let us know what you think.