Petplan Pet Insurance Review
This page contains affiliate links. We may earn money or products from the companies mentioned in this post through our independently chosen links, which earn us a commission. Learn More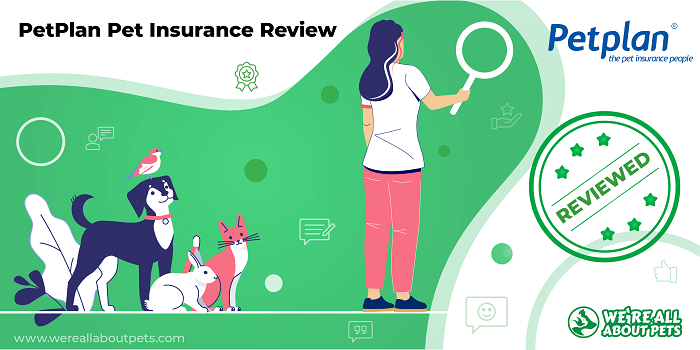 Owning a pet can be expensive, but many of the most significant costs can be anticipated. When you bring home a new puppy or kitten, you expect to take it to the vet for its first checkup and early shots.
If you're a responsible pet owner, you'll also have your pet spayed or neutered. After that first year, the biggest cost you can expect is your pet's food with a vet checkup every 6 months or so.
If you're lucky, you'll never have to deal with the heartache of your pet being sick and injured. Unfortunately, things happen, often when you least expect it.
Veterinary care can be pricey, especially emergency care, and the last thing you want is to have to choose between paying your rent and paying your pet's vet bills. That's where pet insurance comes in.
In this article, we'll take a closer look at Petplan pet insurance and why you might consider it. Read on to learn everything you need to know about Petplan to decide if it's the right option for you.
Petplan Pet Insurance
Brand

Pros
Fees Covered. Exam fees (including emergency vets) covered for illness/injury.
No Claim Limits. Choose your annual limit, no limit per claim/lifetime.
Holistic Coverage. Plan covers acupuncture, chiropractic, and homeopathy.
Fast Payments. Most claims are paid within 5 to 7 business days.
Cons
High Premiums. May be more expensive than some companies.
Annual Check-Ups Required. Pets may require an annual health and dental check-up to maintain coverage.
Processing Fee. Monthly and quarterly payments charged a $3.50 credit card processing fee.
Pros
Fees Covered. Exam fees (including emergency vets) covered for illness/injury.
No Claim Limits. Choose your annual limit, no limit per claim/lifetime.
Holistic Coverage. Plan covers acupuncture, chiropractic, and homeopathy.
Fast Payments. Most claims are paid within 5 to 7 business days.
Cons
High Premiums. May be more expensive than some companies.
Annual Check-Ups Required. Pets may require an annual health and dental check-up to maintain coverage.
Processing Fee. Monthly and quarterly payments charged a $3.50 credit card processing fee.
About Petplan Pet Insurance
The story of Petplan starts with a cat named Bodie. When Bodie's owners received a $5,000 vet bill, they were inspired to take action to protect pets and their owners from life's most unexpected moments. Today, Petplan is a company made up of passionate pet parents on a mission to create a better world for both pets and their people.
In addition to providing excellent service to their customers, Petplan partners with other organizations who share their vision to support peat health and animal welfare. The Petplan Charitable Fund is a philanthropic initiate through which Petplan shares their time and resources to build a better world for animals. They help fund everything from life-saving treatments to rehoming charities.
Here are some of the organizations Petplan has partnered with:
North Shore Animal League of America
Pets for Patriots
Morris animal Foundation
Blue Cross Blue Shield
The North American Veterinary Community
PAWS Animal Welfare Society
For their innovative approach to pet insurance, Petplan has been recognized by Forbes, Bloomberg and Inc. Magazine, Ernst & Young, Financial Times, and more. Read on to learn the basics about Petplan, their plans, and their coverage.
How Does Petplan Pet Insurance Work?
When you get sick or get in an accident, you rely on your health insurance to help cover your medical costs. Pet insurance fulfills a similar role for pets, with a few key differences. First and foremost, most pet insurance plans only offer coverage for accidents and illness – not preventive care. Second, most plans don't pay the provider directly but reimburse the policyholder for covered costs.
Petplan offers comprehensive coverage for pets of all ages (six week and older). They offer holistic and dental coverage which sets them apart from other companies, and they cover sick exam fees as well. Petplan says the following of their plans:
"When it comes to protecting pets, families everywhere trust Petplan to provide the most comprehensive coverage. Other providers can leave your pet without coverage when they need it most."
Here are the details you need to know for Petplan pet insurance:
Pet Insurance Plans
Petplan offers pet insurance for both dogs and cats 6 weeks and older. They don't deny senior pets coverage and they cover new conditions for all breeds. Their comprehensive plan offers up to 90% reimbursement on everything from diagnostic exams and testing to treatment and various therapies.
The Petplan pet policy covers the following major categories:
Illnesses and Accidents – This includes coverage for the reimbursement of vet fees due to injury and illness, including coverage for chronic and hereditary conditions.
Diagnostic Tests – Plans include coverage for laboratory and diagnostic testing, including bloodwork and specialized chemistry. Imaging and ultrasound are also covered.
Veterinary Exam Fees – Costs for exams conducted by licensed veterinarians (including emergency and specialty vets) to diagnose or treat an illness or injury are covered.
Prescription Medications – All medications prescribed by your veterinarian as a treatment for an accident or illness are covered, including nutraceuticals.
Cancer Treatments – Though many plans don't, Petplan covers veterinary oncology care and cancer treatments like radiotherapy and chemotherapy.
Non–Routine Dental Treatment – As long as your pet's teeth are checked within 12 months of the effective date, Petplan covers non-routine dental treatments such as broken teeth and periodontal disease.
Surgery/Hospital Stays – All surgical procedures or rehabilitation prescribed by a licensed veterinarian as part of the treatment protocol is covered.
Holistic Therapies – The plan covers holistic therapies like acupuncture, homeopathic therapy, and chiropractic treatment as long as it is carried out by a licensed vet.
Referral & Specialist Treatment – Petplan includes coverage for referrals and specialist treatment including surgery, oncology, cardiology, dermatology, dentistry, and more.
Petplan believes pets are family which is why they offer such comprehensive coverage. Like most pet insurance plans, however, they don't cover annual exams and preventive care. They do cover boarding fees if you end up in the hospital, but costs for grooming, elective boarding, and similar things aren't covered. Neither does Petplan cover pre-existing conditions or cosmetic procedures.
Here's a quick review of the coverage Petplan pet insurance offers:
Routine Vet Exam
Emergency Vet Visit
Specialty Vet Visit
Diagnostic Testing & Imaging
Veterinary Exams
X
X
X
 
Acupuncture
Chiropractic
Homeopathy
Physical Therapy
Behavioral Therapy
Alternative Therapies
X
X
X
X
X
 
Diagnostic Testing
Surgeries
Hospitalization
Nutraceuticals
Prescription Medications
Cancer Treatment
 
X
X
X
X
X
X
 
Prosthetics & Mobility Devices
Hereditary Disorders
Chronic Conditions
Pre-Existing Conditions
Dental Disease/Injury
Cosmetic Procedures
Others
X
X
X
X
Pricing
What Petplan claims is that they offer coverage for things other pet insurance providers won't. This includes exam fees for illness and injury, comprehensive dental protection, boarding fees during hospitalization, VirtualVet visits, holistic care, and coverage for chronic and hereditary conditions. Because their coverage is so vast, you may find Petplan a little more expensive than some plans.
The best way to find out how much Petplan costs is to request a quote. To give you an example of two different pets, we'll use a 3-year-old dog. Petplan doesn't require information about your dog's spay/neuter status or size when offering quotes.
Here's the breakdown of the dog plan pricing:
| | | | |
| --- | --- | --- | --- |
| Reimbursement % | Annual Reimbursement Limit | Annual Deductible | Monthly Premium |
| 70% | $5,000 | $250 | $49.52 |
| 70% | $15,000 | $300 | $63.01 |
| 70% | Unlimited | $500 | $76.15 |
| 80% | $5,000 | $250 | $55.36 |
| 80% | $15,000 | $300 | $70.57 |
| 80% | Unlimited | $500 | $85.36 |
| 90% | $5,000 | $250 | $66.97 |
| 90% | $15,000 | $300 | $85.59 |
| 90% | Unlimited | $500 | $103.70 |
Petplan does their best to keep coverage affordable. Not only will you be able to keep your current vet, but VirtualVet visits are covered at no additional charge. There are no sign-up fees (many companies charge up to $35) and you can pick a payment date that works for you. If your pet stays healthy, you'll get up to a 30% credit on your policy premium each year.
Waiting Periods
To prevent insurance fraud, most pet insurance companies require policyholders to complete various waiting periods before the plan becomes active. In other words, you can't wait for your pet to get sick then purchase an insurance plan to help cover the costs you already plan on incurring.
Petplan requires the following waiting periods:
15 days for illness, injury, or behavioral disorder
6 months for hip dysplasia, cruciate ligaments, and patellas
If you purchase an insurance plan on January 1st, your policy will become effective the following day on January 2nd. On January 17th, your pet's coverage for accidents and illness begins. Orthopedic coverage will start July 1st. Petplan also requires that your pet be seen by a veterinarian within 6 months prior to the effective date. If not, you'll have to pay to have him seen within 30 days of the effective date.
Claim Limits
Many pet insurance companies limit the amount they will pay out in any given year – some even set limits per claim. Petplan gives you the option to choose your annual payout maximum when you request your quote. Choose from a $5,000 or $15,000 annual maximum or no maximum at all. Keep in mind that increasing the payout maximum will increase your monthly premium.
Deductibles
A deductible is the fixed amount you pay for a service before you plan benefits apply – these charges are paid in addition to your monthly premium. With Petplan, you can choose your monthly deducible amount from $250, $300, or $500. Increasing your deductible will decrease your monthly premium.
Medical History Review And Pre-Existing Conditions
In order for your coverage to begin, you need to complete the 15-day waiting period. Additionally, your pet needs to have a veterinary exam on record within 6 months prior to the effective date of your policy. If he hasn't been, you'll need to have him seen within 30 days at your own expense. If you don't, your policy will be voided and you'll be refunded your premium.
Furthermore, Petplan notes the following:
"Additionally, any conditions that are related to, caused by or resulting from a medical condition(s) or clinical sign(s) observed or recorded at the first exam performed after the effective date of the policy are also excluded from coverage…. For the avoidance of doubt, if your pet does not receive its annual health check during a policy period of renewal coverage, the next examination will be used as the basis for determining any conditions which will be excluded from coverage."
A pre-existing condition is one which first occurred or showed clinical signs or symptoms before the effective date of the policy, or during the waiting period. Petplan makes a distinction between curable and non-curable pre-existing conditions. If your pet's pre-existing condition is ruled curable, he will be eligible for coverage after a 365-day exclusionary period.
Optional Coverage
Petplan doesn't offer any optional coverage at this time. Keep in mind that coverage, exclusions, limits, and waiting periods may vary from one state to another.
Pets Covered
Petplan only offers coverage for cats and dogs at this time. Their plans extend to pets at least 6 weeks of age and there are no exclusions for senior pets.
Petplan Customer Reviews
Before you sign up for an insurance plan, it's always a good idea to do your research to see what current customers think. Here are some positive reviews and negative reviews from real customers:
Positive Reviews
"I can't say enough about Petplan insurance. … They paid for cancer treatment for my golden retriever, treatment for heart disease for my sheltie (along with two surgeries) and for my lab mix to have surgery related to elbow dysplasia. … They even pay for ongoing medications and holistic treatment." – Tammi of Saint Petersburg, FL
"I got a pet insurance because I already know how expensive a dog can be. I have a roommate whose dog is in and out of the vet every other week because he's an older dog. They spend ridiculous amount on the most common things. After shopping around, I got the most bang for my buck with Petplan as far as how much they cover. They included some of the dental stuff. A lot of other pet plans don't include anything dental-related. It also was super affordable." – Corina of New York, NY
Negative Reviews
"I just got a new dog. I have Petplan and I used it once but I wasn't very satisfied with the outcome. My dog had something on his shoulder that had to get looked at. I submitted everything that happened. When you walk in, there's a $60 fee just for the dog to be seen. I know that Petplan isn't gonna cover that and something else that was on there. It came out to $300 and Petplan gave me $45 back. I could have not used the pet insurance at all. What's the point of having insurance if they aren't gonna cover what my dog is being seen for?" – William of Baltimore, MD
"I got a trial month and I didn't feel like doing another waiting period if something was to happen to my puppy, so I stuck with Petplan. I knew I wanted dog insurance because one of my friends had a horror story about her dog falling off of a bed, breaking his leg right when they got him home. I did not feel like having the risk, but as of now, it's not that valuable. I'm paying a lot of money per month and I feel like I'm throwing away money. It might be a better idea to do more of a health savings account option, where you're paying into it but the money that you're paying could be used to cover if they have problems in the future and possibly roll over into the next year. I would be okay more with that option." – Katherine of Avon Park, FL
How Do You Sign Up?
Pricing for pet insurance varies depending on the type of pet you have, its age, and some other factors (depending on the company you choose). To find out how much a pet policy will cost, you simply have to provide some basic information to get a quote online.
Here's the information you'll need to provide:
Your pet's name and sex
Your pet's species (dog or cat)
Your pet's breed and age
Your zip code and email address
After providing your pet's information, you'll be taken to a quote page. The quote is typically set at an 80% reimbursement rate with a $300 annual deductible and $15,000 maximum annual payout limit. You can customize your quote to see different deductibles, payout limits, and reimbursement rates up to 90%. When you've made your decision, simply click "Next" to complete the enrollment process.
Is Petplan Pet Insurance Worth It?
At the end of the day, it's your choice as a pet owner whether you think pet insurance is worth it. It's important to consider your pet's current health and their risk for serious problems down the line.
You can't predict when an accident might happen, but certain breeds are prone to serious health issues which may make it worth your while to get a pet insurance plan early before pre-existing conditions kick in. Again, it really depends on your situation whether it's worth the monthly premium.
Regarding Petplan in particular, their coverage is very comprehensive and they're one of the few companies that cover exam fees. You'll pay a higher monthly premium for it, but your annual limits are pretty high (depending which option you choose) and waiting periods are fairly straightforward.
Overall, Petplan is a decent company if you're shopping for pet insurance. There are fewer restrictions than with other plans, but there are still exclusions to consider.
Review the details carefully before you make your choice, whether you go with Petplan or another pet insurance company.
Click Here to Get A Quote on PetPlan Pet Insurance
Frequently Asked Questions
Who owns Petplan pet insurance?
Petplan is based in Philadelphia, PA, founded by Chris and Natasha Ashton. The parent company is Allianz Insurance PLC and it is underwritten by XL Specialty Insurance Company in the United States.
How to cancel Petplan pet insurance?
You can cancel your Petplan policy at any time by contacting the company over the phone. Keep in mind that if you cancel before your policy is due for renewal, you may have to pay the premiums for the remainder of the current insurance period.
Does Petplan pet insurance cover cremation?
No, Petplan doesn't cover cremation or burial. Petplan does offer reimbursement on the price you paid for your pet, however, if an injury or illness results in death.
Does Petplan pet insurance cover hip dysplasia?
Yes, Petplan offers coverage for hip dysplasia in pets of any age, as long as it isn't a pre-existing condition.
Does Petplan pet insurance cover allergy testing?
Yes, Petplan offers coverage for testing which includes allergies, as long as it isn't a pre-existing condition. It may also fall under the coverage for a referral to a specialist.
Does Petplan pet insurance cover blood work?
Yes, Petplan offers coverage for diagnostic testing which includes bloodwork, advanced chemistry, imaging, and x-rays.
Does Petplan pet insurance cover dental?
Yes, Petplan offers coverage for comprehensive dental care related to disease and injury. Pets must be checked by a veterinarian within 60 days prior to the effective date and carry out any recommended treatment before dental coverage will be valid.
Does Petplan pet insurance cover emergency visits?
Yes, Petplan offers coverage for emergency vet visits including specialty vets.
Does Petplan pet insurance cover neutering?
No, Petplan doesn't offer coverage for routine and wellness care including spay/neuter surgery.
Does Petplan pet insurance cover medication?
Yes, Petplan offers coverage for prescription medication as long as it has been prescribed by the treating veterinarian for an illness or accident. Vitamins and heartworm/flea prevention are not covered, but nutraceuticals are with a vet's prescription.
Does Petplan pet insurance cover prescription food?
No, Petplan doesn't cover the cost of prescription food.
Was this article helpful?
Let us know what you think.