175+ Names For Cats With Green Eyes
This page contains affiliate links. We may earn money or products from the companies mentioned in this post through our independently chosen links, which earn us a commission. Learn More
It can be tough to choose the right name for your cat, especially if they have a distinctive feature like green eyes. Here are some suggestions for naming your green-eyed feline.
Male Names For Cats With Green Eyes
Denver– This strong name actually means green.
Woody– Ut evokes the idea of a woody forest while actually being a common name.
Patrick– This name reminds us of St Patrick's Day.
Elmer– A fun play on the tree elm.
Clover– Here is a lucky name for your green-eyed cat.
Mossy– We like how this name reminds us green grassy, plants.
Elf– This is a good one for smaller cats with green eyes.
Marine– Perfect for the tougher cats.
Green Beret– Or you can use this for the really tough cats.
Leo– This is short for the ninja turtle Leonardo.
Mikey– Save this ninja turtle name for cats the love to have fun.
Raph– or you can try this one for more serious cats.
Donnie– The ninja turtle name is good for green-eyed cats.
Herb– This is a pun name that doubles as a common made and a green plant.
Jolly– Named after the Green Giant food brand.
Li Shou– This is the name of a Chinese cat god.
Ovinnick– This is a Polish cat god.
Leonidas– You could give your cat a regal Greek name.
Tiger– A strong animal name works very well.
Panther– Save this one for black cats.
Jafar– This is perfect if your cat's eyes make him look mysterious.
Jayden– A play on the name Jade.
Hunter– You could name your cat something strong.
Wolf– Strong animal names work well for some cats.
Khan– This name recalls a classic literary tiger character.
Tom– You could try an old standby.
Silver– Great for grey cats.
Midnight– A classic name for black cats.
Hercules– Perfect for a larger cat.
Tarzan– This is what you might want to name an adventurous cat.
Zabu– You could name your cat after the Marvel sabretooth tiger.
Sabretooth– You could also opt for a straight up ferocious name.
Han– You could name your cat after the famous Star Wars loner.
Vader– Or try this one for darker cats.
Spock– The Star trek character does have green blood.
Alvern– Meaning spring if he reminds you of the green spring meadows
Bredbeddle– Means the green knight in Scotland
Celadon– Reminds you of the greenish Chinese ceramics
Cypress– This evergreen tree makes a perfect name for your green-eyed cat
Fir– This evergreen coniferous tree makes a lovely name for a green-furred cat
Forest– Perfect name for an outdoor cat who loves to hunt
Glaisne– Means green in Irish
Hulk– Name him after this Marvel superhero with green skin
Jungle– The jungle is always green, suits an outdoor cat
Legolas– Meaning green leaves
Irvine– Means green in Welsh
Kale– After your favorite rich green vegetable
Kadir– Of Arabic origin meaning green
Malachite-Reminds you of the bright green stone
Mantis– Suits a cat who likes to jump
Neon– A vibrant bright green
Odran– Means pale green
Oleander– This small green flowering plant will make a mystical name for your cat
Ozzy– Inspired by the Emerald City of Oz
Peridot– A yellowish-green gemstone, suits a beautiful cat with shining green eyes
Saguaro– The saturated cactus looks green
Seafoam– This reminds you of the pale green bubbles of sea surf
Seaweed– Inspired by the underwater green plant
Tale– Egyptian name meaning green
Teal– A shade of greenish-blue
Tawnya/Tawnee– Irish name meaning Greenfield
Uaithne– Means green in Irish
Vardam– Means from the green hill in French
Verde– Italian name meaning green
Vermont– Means Green Mountain
Vernell – A French word meaning green
Virid– A bright shade of green
Yarkona– Hebrew name meaning green
Yaxha – A name of Spanish origin meaning blue-green water
Zeleny– Means green in Ukrainian
Female Names For Cats With Green Eyes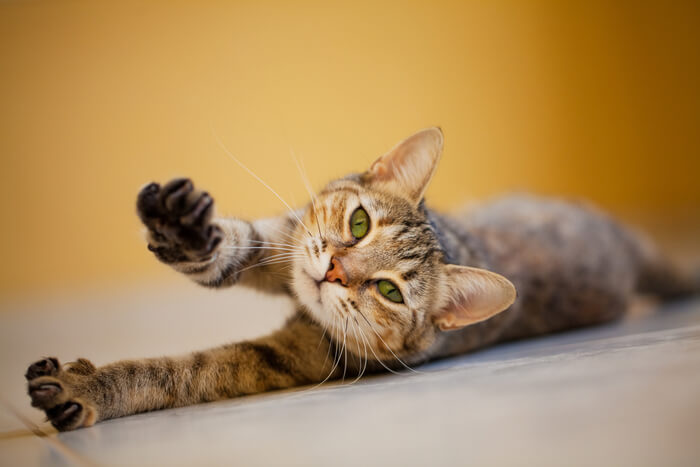 Chloe– A classic name that actually means green.
Jade– We have to include this classic green name.
Jada– You could try this more feminine form.
Emmy– This is a common name that can also be short for emerald.
Esmeralda– This exotic name sound similar to emerald.
Wanda– We think magic-sounding names are great for cats with green eyes.
Maggie– This is short for "magical".
Glenda– This is a good one for Wizard of Oz

fans.

Elphaba– This uncommon name is actually the real name of the wicked witch of the west from

The Wizard of Oz.

Verdi– A great name for green-eyed cats.
Fairy– Forest and magical names work very well for green-eyed cats.
Hazel– This is named after the green-leafed tree.
Mya– This feminine names means "green".
Midori– This is a Japanese name meaning green.
Lotus– You could name your cat after the lovely flower.
Holly– This name makes us think of Christmas.
Christmas– Of course, you can give your cat a very festive name.
Belladonna– This one reminds us of the green Louisiana bayous.
Cookie– You could just give your cat a cute name.
Hecates– This mythological cat name works well too.
Bastet– Here is another mythological cat.
Freyja– A Norse cat goddess.
Caridwen– This was a Welsh cat goddess.
Iris– This is another classic cat name.
Izzy– We love cute, common names for felines.
Lex– This is a common favorite name for green-eyed cats.
Rose– Try this for your sweet cat.
Jewel– Skip Jade and Emerald and go straight to this name.
Siren– We love how mysterious this name sounds.
Ursula– We love the mythological connotations of this name.
Vixen– A perfect name for a sleek, slender cat.
Foxy– try this one for your feline friend.
Cheetah– Jungle cat names work well for any feline.
Xena– Name your cat after the warrior princess.
Violet– A good name for darker cats.
Princess– This name is great when your cat thinks it is royalty.
Shanna– Try this name for cats with the jungle in their blood.
Aileen/Aileana– A lovely name for a green meadow
Abeytu– Refers to green leaf
Aquamarine– A shade of greenish-blue
Blerta – Albanian name meaning green
Chartreuse– Inspired by pale green liqueur made from aromatic herbs
Chufa– After the pale green tuber-like grass
Cyan– A shade of greenish-blue
Emma– Emerald, a precious green gemstone
Esme– A lovely French green gemstone
Fahey– Means from the green field in Irish
Fern– This evergreen plant reminds you of the lovely forest
Fey– Meaning dwelling in the beech tree
Flora– Like the green grass
Haritha– Hindu name meaning green
Heather– This small green shrub grows in rocky grounds, suits a determined cat
Ivy– The name reminds you of the evergreen creeping plant
Jadzia-A version of a green gemstone, jade
Juniper– Inspired by the lovely evergreen shrub
Kelly– A strong shade of yellowish-green
Laurel– Suits a victorious cat
Meadow– A perfect name for an outdoor cat
Midori– Means green in Japanese
Mikaia– Means God's green earth
Nana– Means green vegetables in Japanese
Ntasuab– Meaning green
Obharnait – Irish name meaning the color of olive
Okra– A tasty vegetable with edible green pods common in Southern America
Orna/Odran– Irish name meaning little pale green
Parakeet– This small parrot has green plumage
Patty– Inspired by the green-themed holiday of St Patrick's Day
Pilisi– Refers to a green branch
Philis-An old fashioned name meaning green dough
Phyliss– Meaning green leaf
Ruellia– Reminds you of the lovely perennial evergreen flowering plant
Sura– A cool name meaning green leaf
Tea– This pale green beverage always calms you down
Verna– Refers to springtime characterized with green grass and leaves after winter
Willow– This green tree makes a perfect name for a strong green-eyed cat
Zarqa– Suits a cat with bluish-green eyes
Zelenka– Means the little green one
Unisex Names For Cats With Green Eyes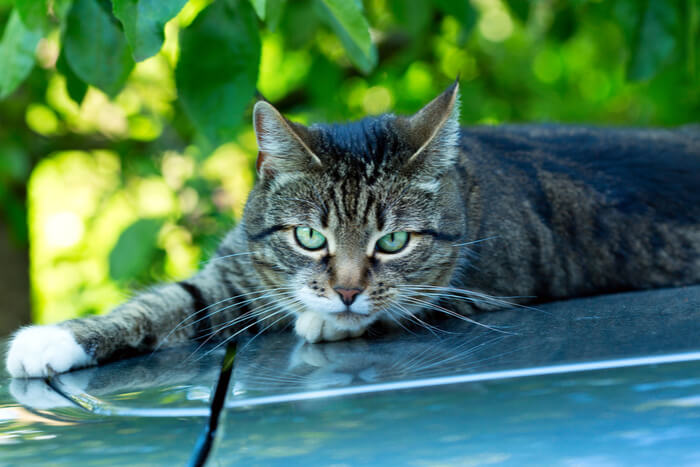 Sage– We love how mysterious this name sounds.
Eco-Warrior- This fun name keeps the green theme going.
Oz– The name is perfect for

Wizard of Oz

fans who think of the Emerald City when they see their cat's green eyes.

Pine– Tree names work really well for green-eyed cats.
Mint Leaf– This cute name is original and lovely.
Pea– This cutesy name comes from the legume.
Beryl– This is the name of a light green stone.
Algae– If you want something different, then this name is for you.
Whiskers– This classic name is always a winner.
Buttons– Good for cats with spots on their fur.
Parsley– Green herbs are great names for this kind of cat.
Dewdrop– This one definitely has natural, forest vibes to it.
Vegetable– Another silly name.
Celery– It's so silly it might work.
Fluffy– The classics are always good ones.
Francis– A sweet unisex name for any cat.
Grape– Why not name your cat after a fruit?
Watermelon– This fruit works just as well.
Cabbage Patch– You could choose the popular doll brand for your cat's name.
Jaguar– save this for fierce cats.
Puma– This is another strong cat name.
Raptor– Give this name to a fierce cat.
Pouncer– Try this one for cat that likes to jump.
Pebbles– Classic cat names often work well.
Phantom– This name has an air of mystery.
Catastrophe– This is good for clumsy cats.
Winter– This name is ideal for lighter-colored cats.
Vanilla– Another good name for light-furred cats
Snowflake– Here is a classic for lighter cats.
Furball– Go with this one for fuzzy cats.
Fizzy– Try this if your cat is furry and prone to run and jump all over the place.
Peach– Save this name for a very sweet cat.
Pumpkin– This is another very sweet name for your cat.
Conclusion
Did one of these names stand out to you? We certainly hope so, and we hope you enjoy many years of fun and friendship with your jade-eyed pet.
Was this article helpful?
Let us know what you think.