Comparing Small Pets: Hamster Vs. Gerbil
This page contains affiliate links. We may earn money or products from the companies mentioned in this post through our independently chosen links, which earn us a commission. Learn More
Small rodents are a common type of pet, and can be very rewarding. They are an especially popular pet in families with small children. Hamsters and gerbils are both small rodents, although from different family groups. But which is best in the comparison of gerbil vs hamster? Here we discuss some thoughts for potential pet owners of these small pets.
What's The Difference?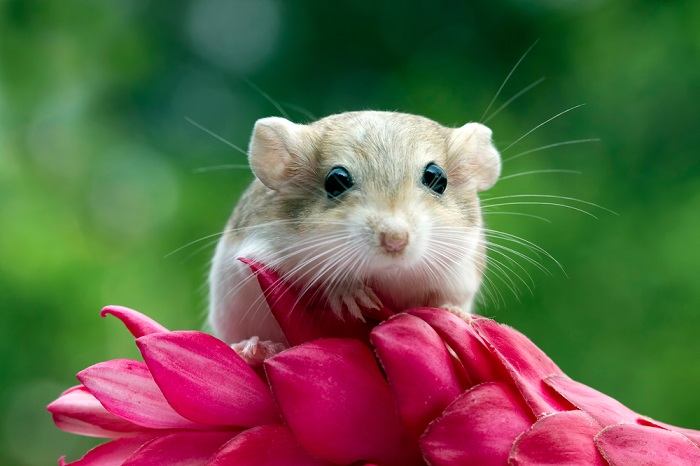 When deciding on which makes the better pet between gerbil vs hamster, it's handy to know which is which! There are a few main differences which may help you decide on the best pet for you.
There are many types of gerbil and hamsters. The most common found in pet stores are the dwarf, Syrian and Chinese hamster and the fat-tailed or Mongolian gerbil.
Body Shape And Looks
Physically, pet hamsters are shorter, with stubby tail, short nose and back legs. Depending on the species of hamster, they are also smaller, with dwarf hamsters averaging about 3 inches long and Syrian hamsters around 6 inches. One of the big differences between hamsters and gerbils is that hamsters have cheek pouches in which they can hoard food. These hoarders have round and wide faces.
Gerbils are generally longer all over, with long noses, narrow faces and long tails. They also have strong hind legs which they often stand up on when curious. Pet gerbils are usually around 6 inches long, with their long gerbil's tail adding another 3 to 4 inches.
These popular pets both come in different colors, which may be important to young children!
Personality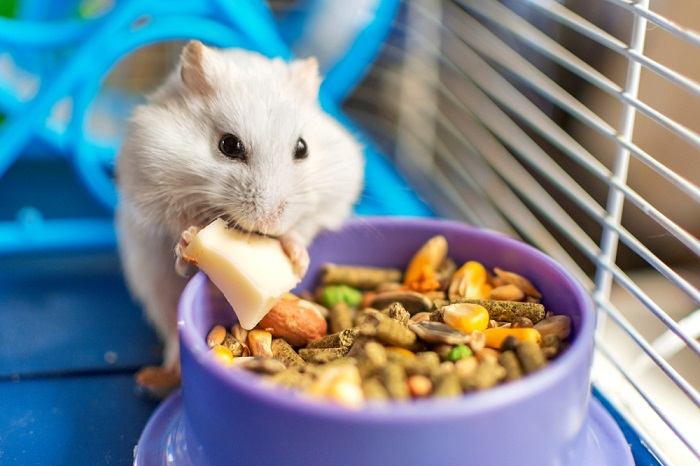 Hamsters are nocturnal, and this sleeping pattern may make them less suitable for small children. They are best handled in the evenings and early mornings, and can be grumpy if woken in the day. This sleeping pattern also means they can be noisy at night.
Their personality depends a little on the type of hamster: dwarf hamsters are explorers whereas Syrian hamsters are the more interactive of these small rodents. Hamsters are usually solitary animals as they are very territorial. Dwarf hamsters can live in pairs as long as they have enough space and separate resources such as different areas for their hamster food, water bottles and exercise wheels.
Most species of gerbil are active, inquisitive and curious with people. Pet gerbils are social animals, and need to be handled and played with daily. They make great pets as they are so interactive, but need a good amount of attention. Gerbils are active and enjoy playing with toys, digging and being in a group. They also love to dig and gnaw. Gerbils are social animals and enjoy being in groups.
Care
Gerbils and hamsters both need a good sized, clean and ventilated cage with a solid base. There are many enclosures available, but a glass aquarium type is often recommended for gerbils as they can often chew through cage bars. Hamster cages need around 3 feet of floor space. Read more about gerbil cages and hamster cages.
Both animals also need plenty of burrowing material and bedding, fresh food and a water bottle and an exercise wheel. An 8-inch exercise wheel is suitable for both of these critters. Gerbils need lots of stimulation so it is recommended that they have plenty of suitable gerbil toys. Hamsters like to build extensive burrows in which to sleep and hoard food, so need plenty of good bedding material.
Nutrition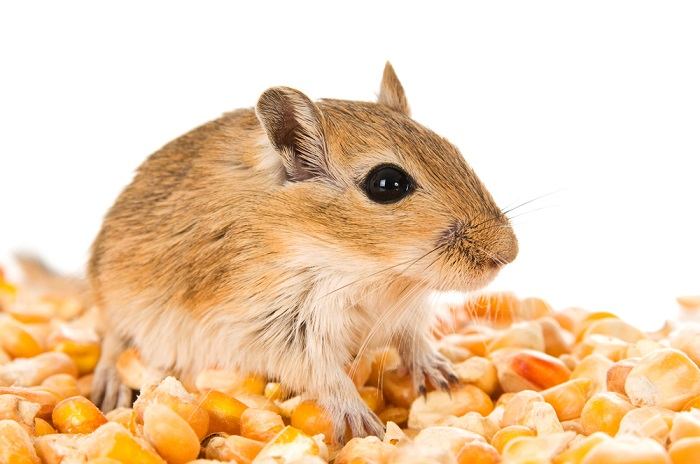 Seeds and grains are the dietary mainstays for both types of common pet. Hamster food needs to be slightly higher in protein, at around 20% compared to gerbils at around 15%. Both gerbils and hamsters can have small portions of fruit and vegetables, but too much of this can predispose gerbils to some health issues such as diarrhea. Check out some gerbil food and hamster food.
Lifespan
Hamsters typically only live around two years, with a gerbil lifespan slightly longer at around three years. The short lifespans are typically for small rodents, although some can live to around four years.
Whichever side of the hamster vs gerbil debate you come down on, these small critters can make great pets. Whether you choose a pet gerbil or hamster, you can have a rewarding and fun experience of a small pet.
Frequently Asked Questions
Which is better, a hamster or a gerbil?
Either of these critters can make good pets. The sleeping pattern of a pet hamster may make it more difficult with small children.
Do gerbils like to be held?
Gerbils are social and inquisitive and relish human interaction. They need to be handled regularly.
Are gerbils friendly?
Gerbils are well known for being social animals, and are very curious and friendly which makes them great pets.
Why should I not get a gerbil?
Gerbils require more space than you might think for a small pet. They need regular handling and maintenance so can be quite time-consuming and as they are social, need to be kept in a pair or group.
Was this article helpful?
Let us know what you think.