175 Cute Christmas Cat Names For Your Winter Kitten
This page contains affiliate links. We may earn money or products from the companies mentioned in this post through our independently chosen links, which earn us a commission. Learn More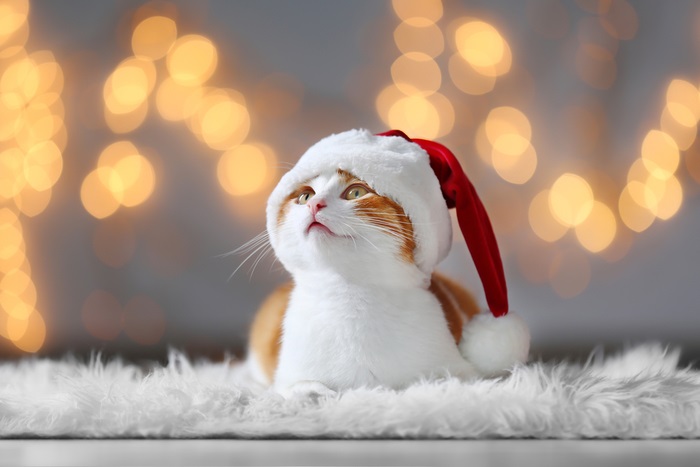 Christmas happens to be one of the long-awaited seasons by most of the people all over the globe. This is the season characterized by joy and celebrations where family members gather to catch up. This also happens to be the season where many tries cooking various dishes. You can make the season even better by acquiring a cat that may bring joy to the family.
With such moments and season that only happen once a year, you will need to retain the memories by giving your cat a name that will capture the season. By calling your cat by name, he or she will react accordingly. Whatever name you give it will define it from that point on. That's why you have to give your cat a great name that will sound nice even in the ears of the public.
Most Popular Christmas Cat Names
Christmas happens to be the most popular day that's celebrated everywhere. During this festive season, you can name your cat according to the weather of the season, different dishes served, religious meaning attached to the season, or feelings and activities done throughout the day. To help give you some ideas, we have provided a list of 100 great Christmas cat names down below.
Gabriel – For cats that brought some good news
Bethlehem – For the reminder of where Jesus was born
Bell – To remind you of the season
Angel – For cats that are amazing
Candy – For the lovers of candies
Cherubim – To show the angelic appearance
Cherub – For innocent cats
Cheer – To commemorate celebratory mood
Chocolate – For pleasant cats
Christian – If you're a Christ follower
Candy cat – A cat that will remind you your love for candy
Joy – For cats that came during cheerful moments
Blessing – For cats that brought prosperity and joy in life
December – To remind you of the month that Christmas is celebrated
Dove – For peaceful and innocent cats
Dancer –For jovial cats
Crystal – For white cats
Eve – Female name for cats got a night before 25th of December
Evergreen – For cool and pleasant cats
Feliz Navidad – For the love of the song by Jose Feliciano
Faithful – For trustworthy cats
Frankincense – For the love of the these spices
Fruitcake – For those who love this cake
Gloria – Female cat name for pretty cats
Glory – For beautiful cats
Glitters – For bright cats
Grace – For cats that brought favor to your family
Happy – For jovial cats
Holy – For blameless cats
Honor – For trustable cats
Hope – To express that hope you get in every Christmas
Jerusalem – For the love of the capital of Israel
Jingle bells – To remind of that awesome Christmas melody
King – For majestic cats
Magic – For powerful and mysterious cats
Magical – For extraordinary cats
Mary – Female cat name after the mother of Jesus
Merry – For joyful cats
Nazareth – For the love of the city
Olive – A cat name that reminds you of various dishes during Christmas
Peace – For calm cats
Pumpkin – For large and plump cats
Santa Cruz – For the love of father Christmas
Shepherd – For cats that take good care of things
Silver bells – For silver furred cats
Spice – For the love of this ingredient that give food sweet taste
Tuttle – For humble and submissive cats
Miracle – For cats that are extraordinary powerful
Teddy bear – For adorable and amazing cats
Mars – For cats that are brightly furred
Romeo – For loving and adorable cat that comes when you call
Sebastian – A great cat name after your belief
Candle – For bright and white cats
Midnight – For a cat that came during the night
Snowy – For white and grey cats
Snowflake – A cat that will always remind you of winter
Carol – A cat that will remind you of Christmas carols
Blizzard – A cat that is full of game
Charity – A cat name that will remind you of the giving season
Jesus – For the friendly and sweet cats
Joseph – A name that will remind you of Jesus' father
Buddy – For those cats that are your close friend
Sugarplum – For the sweet and loving cats
Star – Perfect name for white cats
Myrrh – For cats are gifts
David – To remind you this king of Israel, a descendant of Jesus
Sugar – Sweet and tasteful. Your cat will always remind you of this occasion.
Vanilla – Cat name for vanilla lovers
Brandy – Cat name to remind you of that trendy and fashionable look on Christmas
Winter – For white cats that came during this snowy season
Ebenezer – A cat name that will remind you of God's faithfulness
Baby – For cute and innocent cats
Caspar – For cats that understand things easily and fast
Cinnamon – A cat name for this spice
Coal – Cat name to remind you of the warmth and heat produced by coal during winter
Drummer – For playful cats, great name for kittens
Emmanuel – To remind you that God is always with us
Forest – For quiet and thick with furred cats
Gift – For a cat that is a present from someone
Love – For a cat that is emotionally and physically attached to you
Lucy – For female cat, meaning the lucky one
Malachi – To remind you of a certain message
Rosemary – For very beautiful and attractive cats
Snowball – For cats that kids like playing with
Ribbon – For attractive cats
Starlight – For brightly furred cats
Stocking – For female cats
Twinkle – For cats that have shiny eyes and fur
Yule – For cats born at Christmas day or festive season
Wish – To remind you the promise you made to someone
Kris – For cat lovers who are Christians
Mistle – A name that reminds you of mistletoe
East – To remind you where the wise men saw the star
Jingles – For male cats born on eve of Christmas
Spirit – For powerful cats
Donor – For cats that are helpful
Bows – To remind you of the food served on Christmas
Mince – For cats are owned fully by a person
Tash – For kittens that were born on Christmas
Noelle – For cats that were born during Christmas
Christmas Male Cat Names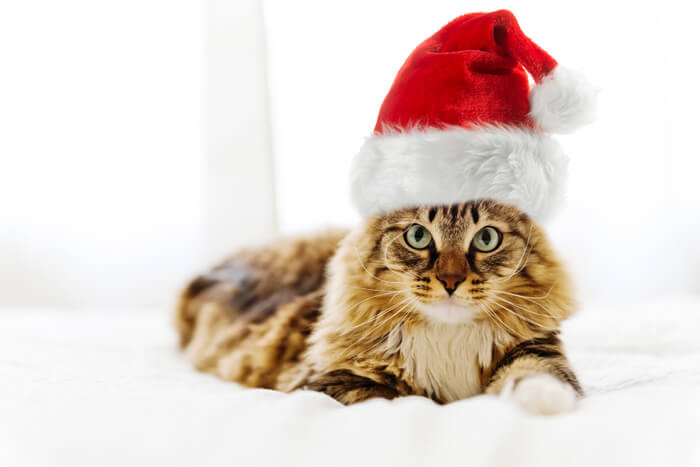 Blanco– Spanish word meaning white like the Christmas winter season
Balthazar– One of the wise men who brought Baby Jesus gifts
Blitzen– The king among the reindeers and one of the Santa Claus flyers
Claus– Suits a brave and victorious cat
Cracker– Suits your loud and noisy cat who was given to you as a gift
Crosby– Bing Crosby, singer of the song White Christmas
Dickens– Author of the Christmas carol story, Charles dickens
Donner– Inspired by one of the joyous reindeers who loves singing
Elf-Inspired by the movie of the human raised by Santa Elves of the North Pole
Felix– Means happy in Latin, exactly what the Christmas season is all about
Frio– Means cold in Spanish
Frosty– Reminds you of the happy snowman in the song Frosty the Snowman
Jack Skellington– Name him after a character in the The Night Before Christmas
Icicle– Suits a lovely cat with a sparkling white coat
Jul– Swedish word meaning Christmas
Kris– Another name for Santa Claus, Kris Kringle
Neige– Means snow in French
Nicholas– Saint Nicholas also referred to as Santa Clara
Nieve– Means snow in Spanish
North– Inspired by the chilly North Pole
Nutmeg-For a seasonal spice used in holiday desserts
Olaf-Inspired by the snowman created by Elsa, suits an outgoing and friendly white cat
Pancho– Tex-Mex Santa Claus first name
Rudolph-Name your lovable cat after the red nose reindeer
Santa– The father of Christmas who brings gifts
Snowman-Christmas without building a snowman is boring
Wencaslas– Reminds you of the Christmas coral Good King Wenceslas
Zima– Czech name meaning winter synonymous with the Christmas season
Christmas Female Cat Name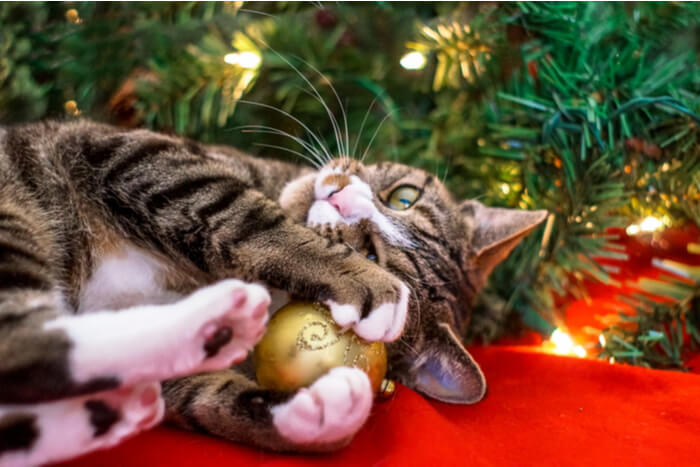 Alaska-Inspired by beautiful Alaska mountain ranges
Aspen– After Colorado town famous for its ski slopes
Brisket– Inspired by a traditional Hanukkah dish
Canela-Spanish name for cinnamon, a popular spice during Christmas
Charlie Brown– If you love the Charlie Brown Christmas show
Chicory-The bitter greens consumed during Christmas
Chilly– Inspired by the cold winter season of Christmas
Christmas– A lovely name that reminds you of the excitement that comes with the season
Clarence– The angel in the film It's a Wonderful Life
Cookie– Suits an adorable and sweet cat
Comet– Santa's ever-smiling and laidback reindeer
Cupid– One of Santa's reindeer who spreads love with lots of happiness
Dasher– The Santa's reindeer who loves sports, suits an athletic cat
Eggnog– Great cat name if you love this flavored drink popular during Christmas
Epiphany– Suits a cat born on the festive Christmas season
Figgy– Reminds you of the treat in We wish you a merry Christmas song
Garland-Reminds you of the leaves decorations during Christmas
Glacier– Inspired by the ice masses in the south and north Poles
Gingerbread-Reminds you of this delicious Christmas treat
Griswold– Inspired by the Christmas vacation of the family from National Lampoon
Holiday-The Christmas season brings everyone together
Holly-The holly plant used for decorations during this festive season
Hyme– These melodious Christmas songs fill the air during the Christmas season
Igloo– Inspired by the houses built using snow
Joy– Suits a cheerful cat that uplifts your spirits
Kugel– After the sweet Hanukkah's pudding dish
Latke– Based on the yummy Hanukkah potato pancake
Luge-For the love of this winter sledging sport
Moritz– After the Switzerland city, St Moritz where winter Olympics were held
Mittens– These gloves are worn during the cold Christmas season
Marzipan-This sweet confection makes a perfect name for a darling cat
Oslo– The capital of Norway which hosted winter Olympics
Paloma– Spanish word meaning dove, a symbol of peace
Partridge– If you love the song Partridge in a Pear Tree
Persimmon– Name her after this fruit used in pudding during Christmas season
Prancer-Inspired by the movie Prancer suits a kind and caring kitten
Poinsettia– Based on the lovely red plant seen during the Christmas holiday
Polar– Relating to the cold North Pole
Pudding-This heart-melting dessert makes a lovely name for a charming cat
Quince-This fruit is popular during the early winter season
Rummy– A popular card game played during Christmas
Sapporo– Inspired by the Japanese city which held winter Olympics
Scrooge– The main character in A Christmas Carol
Stockings– For your cat who reminds you of the gifts that are given during Christmas
Tinsel– Inspired by the tiny decorations on the Christmas tree
Tundra– Refers to frozen arctic, suits a white-haired cat
Vixen– Name your cat after one of Santa's reindeer
Final Thoughts
The name you give to your furry friend should be easy and short. Being creative is the way to go in naming it so make sure to capture the real festive mood of Christmas when giving your cat a name relevant to it. There are a 100 Christmas cat names above to get some inspiration and start naming!
Sources