Cat Person Cat Food Review
This page contains affiliate links. We may earn money or products from the companies mentioned in this post through our independently chosen links, which earn us a commission. Learn More
Shopping for cat food can be overwhelming, especially with so many different options out there. Each brand has its own take on flavors – sometimes the names have nothing to do with the ingredients, making it even more difficult to decipher them. Cat Person is different.
Cat Persons follows the tagline, "Real cat food made simple."
Their recipes are made with high-quality ingredients including real animal proteins and their names are simple and accurate. Cat Person cat food contains at least 50% more protein than the industry standard and every recipe is clear, straightforward, and full of real meat flavor your cat will love.
We tested a wide variety of Cat Person's dry food and wet food products as well as their digestive supplements to bring you this comprehensive brand review. Keep reading to see what we thought!
Overview Of The Cat Person Brand
Cat Person
Brand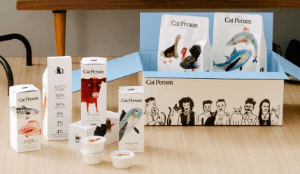 Pros
High-quality cat food made with real, straightforward ingredients
At least 50% more protein than the industry standard
Real animal proteins, no grains, and low in carbohydrates
Cons
Dry foods contain some plant protein concentrates
May be more expensive than some cat foods of similar quality
Pros
High-quality cat food made with real, straightforward ingredients
At least 50% more protein than the industry standard
Real animal proteins, no grains, and low in carbohydrates
Cons
Dry foods contain some plant protein concentrates
May be more expensive than some cat foods of similar quality
Every pet food brand makes lofty promises about the quality of their products, but Cat Person is true to their word. This company claims "cats are our thing" which is why everything they do is done with the health and wellness of your cat in mind.
Here's what Cat Person has to say about their approach to pet nutrition:
"We consider everything about a cat's body and mind in order to create solutions that improve the quality of their life and therefore, your co-existence."
Cat Person began shortly after the co-founder Lambert started fostering kittens for a local shelter. Lambert found himself wondering why cat products were always hidden away at the back of the pet store and why cat food labels were so hard to decipher.
Lambert teamed up with co-founder Jimmy, a fellow cat lover, to create a new experience for cats and cat owners. They started with the essentials: high-quality wet and dry foods, wellness treats, bowls, beds, and irresistible cat toys.
Here are some of the promises Cat Person makes about their products:
At least 50% more protein than the industry standard
Grain-free and low in carbohydrates
Clear, straightforward, and healthy ingredients
Full of real meat flavor your cat will love
Convenient monthly deliveries and custom meal plans
Today, Cat Person is a small team of cat lovers working to make every cat owner's life with their feline friend more awesome than it already is.
Cat Person is dedicated to transparency. Their products are kept simple (as are their product labels) and what you see is what you get. Cat Person recipes are made with at least 50% more animal protein than AAFCO industry standards and each formula contains just 1 or 2 animal proteins. This brand offers high-quality nutrition for cats, plain and simple.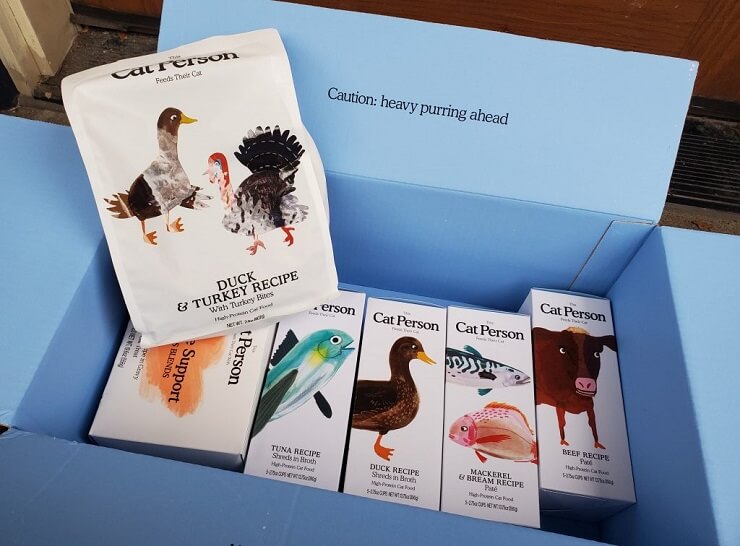 Where Are The Products Made?
The Cat Person brand was launched by the startup incubator Harry's Labs as a direct-to-consumer brand. This company was designed as an e-commerce site, so the brand doesn't technically have a brick-and-mortar home. That being said, the company headquarters are listed in New York City.
When it comes to the manufacture of their products, Cat Person does what many pet food brands do: they outsource. Rather than manufacturing their own products, Cat Person relies on co-packers in the United State and Thailand. Their wet foods are manufactured in Thailand and their dry foods in the United States.
Here's what they have to say about it:
"We're proud to say that we searched the world to find the best manufacturers for our high-quality, environmentally responsible, cat-first products. That's why our wet food and dry food are actually made in different places."
Cat Person wet food is manufactured by a company in Thailand that functions primarily as a human food supplier. This means that Cat Person food is held to high standards for quality. The manufacturer cares greatly about sustainable ingredient sourcing, and all of their seafood is MSC (Marine Stewardship Council) certified.
Cat Person dry food is made in the United States by a food ingredient provider who follows high standards for both pet food and human food. Their dehydrated meat and fish ingredients are ethically and responsibly sourced and their facility uses solar powdered energy.
What Cat Products Do They Offer?
What makes Cat Person different from other cat food brands is that they offer more than just food. This brand offers a wide variety of wet cat foods and a small selection of dry foods as well as treats. They also have an extensive lineup of cat beds, bowls, toys, and other accessories.
Cat Person wet food can be divided into two categories: shreds in broth and pate.
All Cat Person wet cat foods are sold in 2.75-ounce cups, typically in packs of 5. Each recipe features one or two premium animal proteins like poultry or fish.
Here's a list of the wet food recipes Cat Person has to offer:
Chicken Shreds in Broth
Tuna Shreds in Broth
Mackerel & Bream Shreds in Broth
Salmon & Tuna Shreds in Broth
Turkey & Chicken Shreds in Broth
Duck & Chicken Shreds in Broth
Duck Shreds in Broth
Beef Shreds in Broth
Salmon & Tuna Pate
Chicken Pate
Tuna Pate
Turkey & Chicken Pate
Mackerel & Bream Pate
Duck & Chicken Pate
Duck Pate
Beef Pate
Cat Person's dry cat food features high concentrations of premium-quality animal protein. These recipes are made with dehydrated proteins like duck, turkey, chicken, and fish. Cat Person dry food is sold in 2-pound bags to ensure optimal freshness.
Here are the three dry food recipes Cat Person has to offer:
Duck & Turkey Kibble
Salmon & Tuna Kibble
Chicken & Turkey Kibble
In addition to these dry and wet cat food products, Cat Person offers five different nutrient-rich purees marketed as treats, though they can also be used as meal toppers or mixers. Cat Person Goodness Blends come in the following five formulas: Digestive Support, Skin & Coat, Bone & Joint, Immune Support, and Cognitive Health.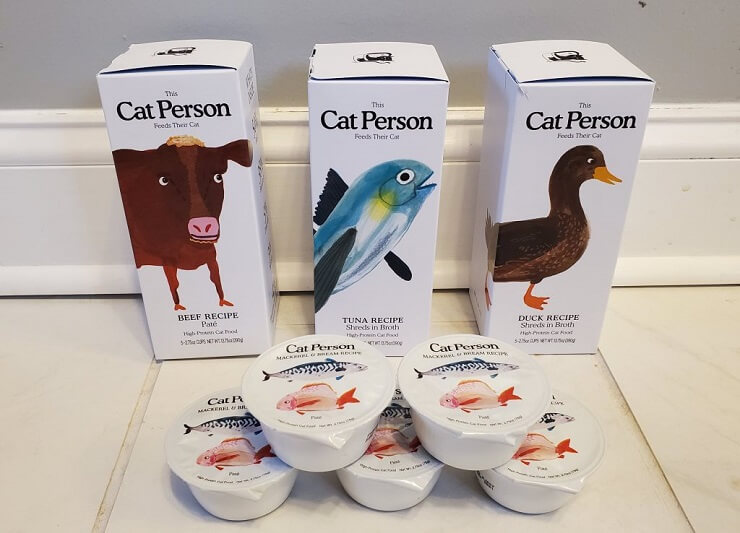 How Much Does It Cost?
When shopping for cat food, it's important to consider the cost. No one wants to spend a fortune to feed their cat, but it's not wise to shop by price alone. A high price tag is not a guarantee of quality.
Cat Persons is a very affordable brand of cat food that comes with the added bonus of being a subscription service. Not only do you have a wide variety of options to choose from, but they are sent right to your door in regular deliveries for an affordable price.
Cat Person wet food is sold in 5-packs of 2.75-ounce cups priced at $7.25 – this averages out to about $0.53 per ounce. Their dry food costs $11 for a 2-pound bag, which comes to about $5.50 per pound.
Check below to see how Cat Person stacks up against other cat food brands for cost:
Premium Cat Food Price Comparison

Food Type
Brand
Average Price
Price Per Pound/Oz.
Dry Food
Canidae PURE Grain-Free
$29.99 for 10 pounds
$2.99/pound
Wet Food
Castor & Pollux Organic
$53.76 for 24 (5.5oz) cans
$0.41/ounce
Freeze-Dried Raw
Stella & Chewy's
$39.99 for 18 oz.
$2.22/ounce
Dehydrated
The Honest Kitchen
$45.99 for 4 pounds
$11.50/pound
Fresh Food
Smalls*
$108 for 4 weeks
$27.00/week
Fresh Food
Nom Nom*
$62.71 for 2 weeks
$31.36/week
Wet Food
Cat Person
$7.25 for 5 (2.75oz.) cups
$0.53/ounce
* Cost varies depending on subscription
What Did Our Test Cat Think?
To review Cat Person, we ordered a selection of their wet and dry cat food products. We ordered several different recipes of both their Shreds in Broth and Pate wet foods as well as their Duck & Turkey recipe dry food and Digestive Support Goodness Blends.
Our order arrived in a branded cardboard box with minimal padding, which we appreciated. What we really found unique, however, is that the box itself was more than just a shipping container – it also doubled as a cat toy. Cat Person boxes are designed to be reused for play. It came with simple instructions to fit the two longer flaps together to create a cardboard cat house.
In terms of the cat food itself, we found Cat Person held true to their claims of keeping things simple. The packaging was all-white with a clear picture of the primary proteins in each recipe along with a detailed ingredients list, guaranteed analysis, and feeding guidelines.
When testing Cat Person food, we found our test cats Bagel and Munchkin enjoyed it thoroughly. These two tend to prefer wet foods that come with some sort of sauce or gravy, but even Munchkin was happily chowing down on a cup of Mackerel & Bream Pate.
Overall, we were pleased with Cat Person and our test cats were too. We appreciated the variety of flavors, particularly the fact that most were made with a single source of animal protein.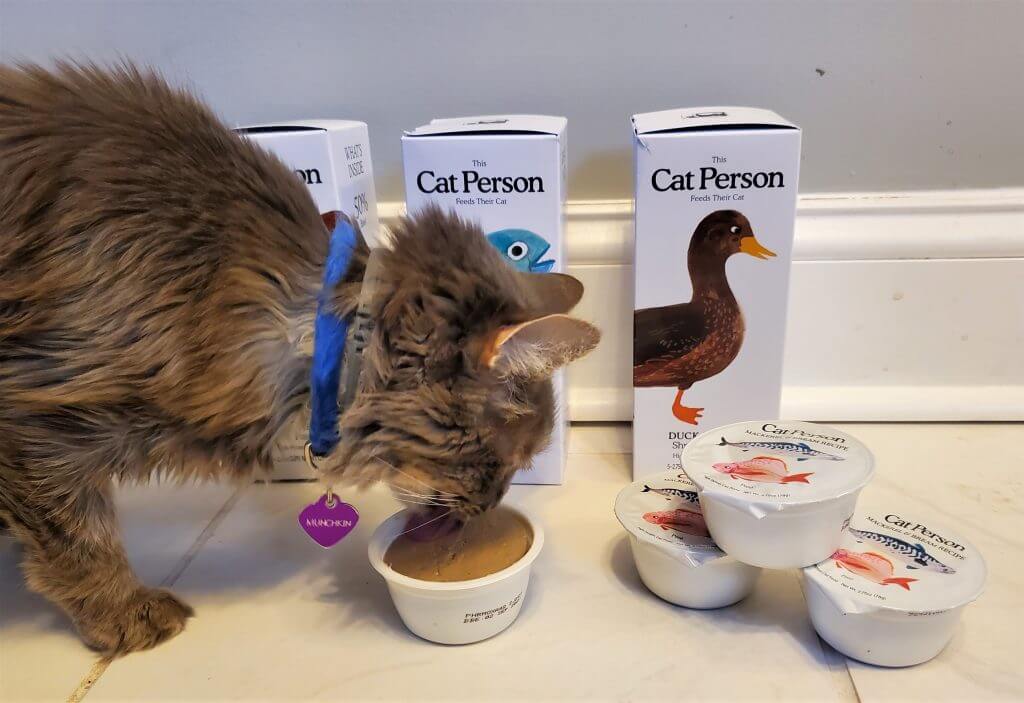 Cat Person Cat Food Recalls
Before choosing a cat food brand, it's always a good idea to do some research into the brand's history. Product recalls are common, but especially among low-quality manufacturers and companies that outsource production. Fortunately, we didn't find any evidence that Cat Person has been involved in any recalls, as of January 2021.
Is Cat Person Really Worth the Cost?
When shopping for cat food, many cat owners are concerned about price. While it's important to choose a product you can consistently afford, you have to understand that it may be well worth it to spend a little bit more on a product that offers quality nutrition.
The quality of your cat's diet is extremely important for his long-term health and wellness. Your cat has specific nutritional needs and if they aren't met, he could be at risk for developing nutritional deficiencies and other chronic health problems.
In other words, feeding your cat cheap food may save you money in the short-term but could lead to expensive vet bills down the line.
Here are some additional benefits of feeding your cat premium cat food:
Improved and regulated digestion, less gas and diarrhea
Reduced stool volume and odor
Healthier coat with less shedding
Increased energy levels and vitality
Healthy weight loss (when needed for overweight cats)
Improved dental health and oral hygiene
Better urinary health, reduced risk for urinary tract infections (UTIs)
To keep your cat happy and healthy for as long as possible, we always recommend feeding him the highest quality diet you can consistently afford. There are plenty of options out there, but if you're looking for a nutritious cat food to improve your cat's diet, Cat Person is a brand you should consider.
Keep reading to learn more about our experience with the Cat Person brand.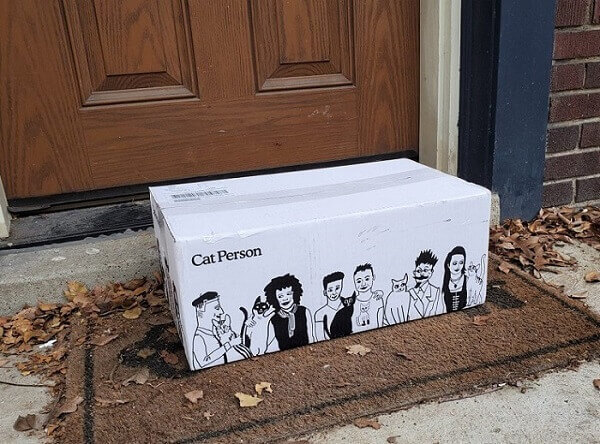 How Do You Order It?
Cat Person is a cat food brand that gives you two options for purchase. You can either purchase wet and/or dry cat food in amounts of your choosing or you can complete a quiz with your cat's information to have Cat Person create a custom meal plan for you.
If you're curious to see what Cat Person is like, you can place a one-time order for a select number of products. If you want to customize your cat's diet according to his unique nutritional needs, a Cat Person meal plan might be the way to go. Even if you choose the meal plan, you'll receive a 2-week Starter Box before your first monthly order just to make sure you love it.
Here's how you start a subscription online:
Select the "Meal Plan" option at the top of the home page
Click "Get Started" to begin the quiz
Indicate how many cats you have (1, 2, 3, or 4+)
Provide your cat's name and describe his current diet
Indicate your cat's protein preferences
Indicate how much you feed your cat daily
Provide your email address
Review your Starter Box and Meal Plan
Provide your shipping and payment information to check out
To purchase Cat Person without creating a subscription, simply click on the "Shop" button on the homepage menu. From there you can select Wet Food or Dry Food and brose the options, adding products to your cart. When you're finished, simply check out to complete your order.
Customer Service
When you order Cat Person, you'll find the process quick and easy. Even so, you'll be glad to know Cat Person has plenty of options available to contact customer service with questions or concerns.
You can always contact Cat Person by phone or text at (855) 918-2287. Their customer service team is also available via email at [email protected]. They do not have a chat function at this time.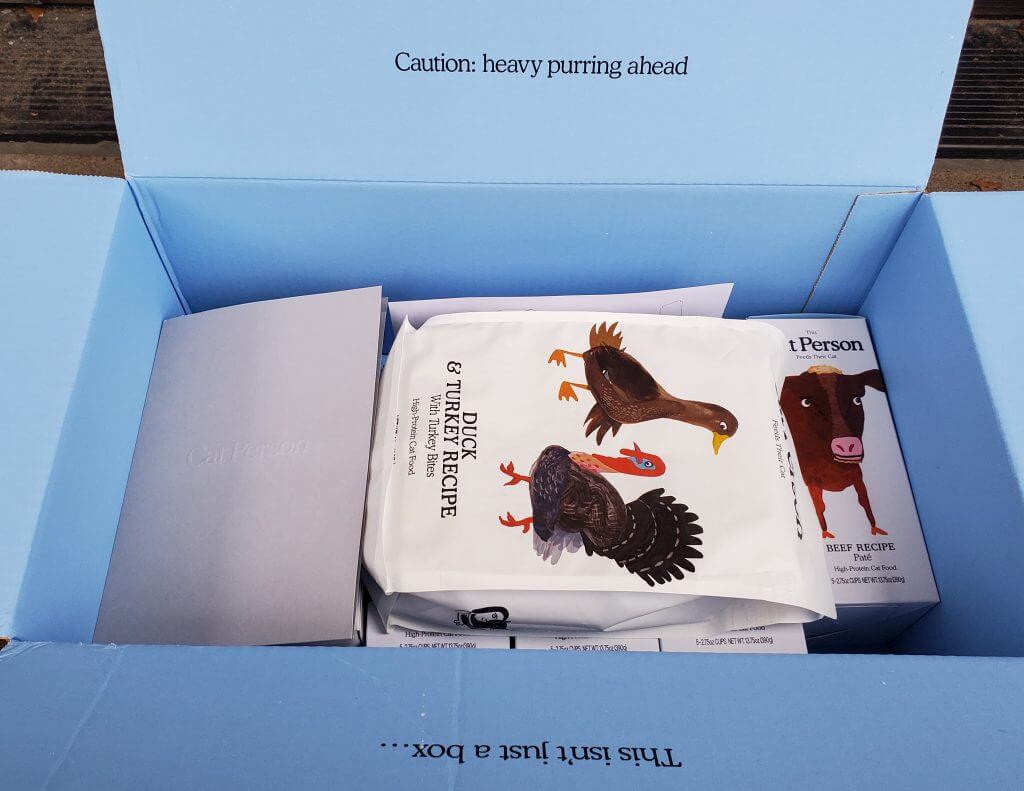 Tips For Making The Transition
Many cats have sensitive stomachs, so switching your cat's diet too quickly could result in digestive upset. To help prevent that from happening, Cat Person offers Starter Boxes.
The Starter Box from Cat Person is designed to help your cat transition onto the new food over a period of two weeks before your first meal plan is shipped out. It includes two sleeves (10 cups) of wet food along with one 2-pound bag of dry food. The flavors will be determined by your quiz responses.
When you receive your Starter Box, you'll also receive a paper insert that includes step-by-step instructions to transition your cat onto the food.
Here's what Cat Person recommends for transitioning your cat:
Days 1: Add a small scoop of Cat Person to your cat's normal diet
Days 2 thru 5: Slowly increase the proportion to 50% Cat Person food
Days 5+: Mix the foods together, gradually increasing to 100% Cat Person food
Every cat is different, so yours might the transition more quickly. On the other hand, he might need to spend an extra day or two adjusting. If your cat develops loose stools, go back to the previous step for another day or two before moving on to the next one.
Pros and Cons
Before switching your cat's diet, it's a good idea to consider all of the options and to compare the pros and cons for each. Every brand has its pluses and minuses, so it's up to you to decide whether the good things outweigh the bad things. Cat Person offers a number of benefits to their customers, but there are a few things you should keep in mind when making your decision.
Here are some of the things you need to know about Cat Person:
Pros for Cat Person:
High-quality cat food made with real, straightforward ingredients
At least 50% more protein than the industry standard
Real animal proteins, no grains, and low in carbohydrates
Make a one-time purchase or subscribe for monthly deliveries
Simple packaging, easy to decipher ingredients lists
No low-quality grains or fillers, free from artificial additives
Cons for Cat Person:
Dry foods contain some plant protein concentrates
May be more expensive than some cat foods of similar quality
Meal plans don't include custom-portioned meals
As you're well aware, every pet food brand has its advantages and disadvantages. It's your job as a responsible cat owner to weigh them and decide whether Cat Person is the right option for you.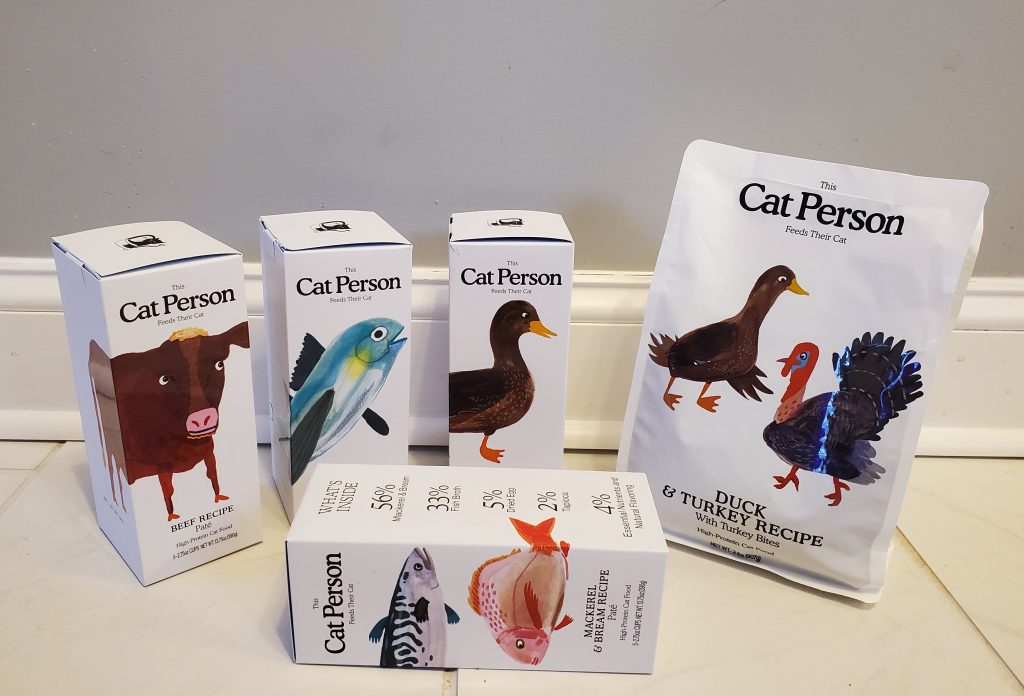 The Final Word
Overall, we were pleased with our Cat Person experience. We found the website very easy to navigate and appreciated having the option to make a one-time purchase versus signing up for a subscription. The pricing was very clear and all of the information you'd want about the products is readily available on the website without having to create a profile.
Our Cat Person order shipped quickly and arrived with no wasted packaging. We appreciated that the box was designed for reuse as a cat toy and we appreciated the additional information that came with our order explaining the transition process.
When testing Cat Person products, we weren't surprised that our cats seemed to enjoy it. We found it interesting that our cats, normally fans of shredded food or morsels in gravy, even enjoyed the pate recipes. We were particularly pleased that Cat Person offered so many single-source protein recipes. Our primary criticism about the ingredients relates to the use of plant protein concentrates in their dry food. The carbohydrate content of the dry food was higher than for the wet food as well.
If you're looking for a high-quality, protein-rich diet for your cat, we can recommend Cat Person in good faith. It may not be the cheapest brand out there, but you get what you pay for: high-quality animal protein and other simple ingredients.
Click Here To Check All Cat Person Products
Frequently Asked Questions
Has Cat Person Cat Food ever been recalled?
No. To our knowledge, Cat Person has never been recalled.
Is Cat Person Cat Food grain-free?
Yes, all of Cat Person's recipes are free from grains and low in carbohydrates.
Is Cat Person Cat Food organic?
No, Cat Person does not use organic ingredients.
Is Cat Person Cat Food raw?
No, Cat Person offers conventional dry food or kibble and wet food in pate and shreds.
How many calories per cup for Cat Person Cat Food?
The calorie content of Cat Person food varies depending on the recipe. Their dry foods average about 465 calories per cup and their wet foods around 100 calories per 2.75-ounce cup.
Can I cancel my Cat Person Cat Food subscription?
Yes, you can change or cancel your subscription at any time by logging onto your account.
Where can I buy Cat Person Cat Food?
The only place to purchase Cat Person food is online through the company's website.
Can you heat up Cat Person Cat Food?
Cat Person food is designed to be served at room temperature but you can warm it up by adding warm water or broth, if desired.
Was this article helpful?
Let us know what you think.