The 20 Best Probiotics for Cats
This page contains affiliate links. We may earn money or products from the companies mentioned in this post through our independently chosen links, which earn us a commission. Learn More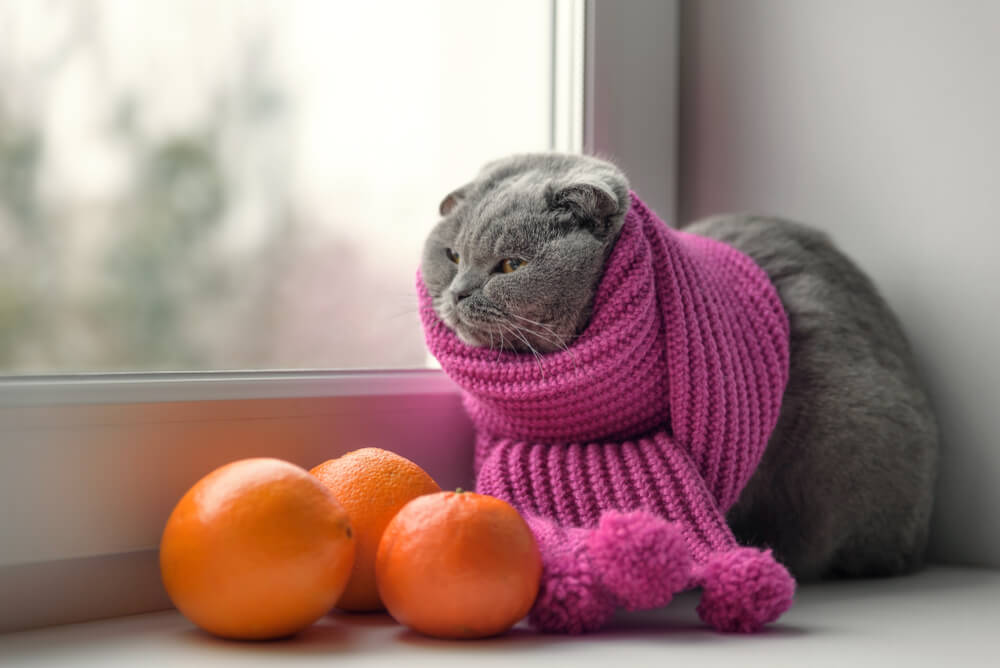 The best probiotics for cats are packed with living bacteria, focus on beneficial strains, and adhere to stringent quality standards.
Because it's a human-grade probiotic backed by the latest research, we recommend Nom Nom's full-spectrum probiotic as the best probiotic for cats. But there's no single probiotic supplement that's right for every cat or every budget.
We've sifted through the world of probiotic supplements for pets and found 20 of the best probiotics you can give your cat.
At a Glance: Best Probiotics for Cats To Buy
We highly recommend looking at the comparison table we have below where we highlighted the features of each product. You'll also find more detailed information about each product later in the article.
How Do You Choose The Best Probiotics For Cats?
Probiotics are microorganisms—residents of the microbiome—that are beneficial to the host. They're usually bacteria. Some are yeast. They come in different species and strains and are developed from different sources. All of them confer benefits by supporting and fortifying the population of friendly microorganisms already existent in your cat's body.
Indeed, the word "probiotic" is a combination of the Latin preposition pro, meaning "for", and the Greek adjective βιωτικός (biōtikos), meaning "fit for life" or "lively".
Probiotics promote life—at least in theory. In reality, the world of probiotics is just as sticky and troubled as that of any other supplement. Keeping a few factors in mind will help you to wade through the exploding probiotic market and find a product you can trust.
The Best Probiotics For Cats Are High-quality Products That You Can Trust.
Like most health supplements, probiotics are prone to overzealous marketing and inconsistent product quality.
Bacteria are often dead on arrival, meaning that the probiotics you get aren't the probiotics the label promises. When Labdoor tested thirty-seven leading probiotic supplements, they found that about half the products contained amounts of viable bacteria that differed from their label claims by 50% or more.
Pet probiotics have even more problems. Pet probiotic producers can get away with inaccurate CFU counts, high percentages of dead bacteria, and worse. One study found that of twenty-five of the most popular pet probiotics, three of them claimed to contain bacterial species that didn't even exist.
Because there's so little understanding of which probiotics cats need and how what works best, there's almost no standardization in the pet probiotic world. They don't always mention viability on the label, contain a smorgasbord of bacteria that may or may not help cats, and make claims that aren't backed up by any research.
While there's no comprehensive database of cat probiotics to tell us which supplements are and aren't top-notch, we can learn about the company's background, find out how the products are formulated, and run customer reviews through the analyzer at FakeSpot.com. Additionally, look for companies that are on the National Animal Supplement Council (NASC) list of preferred suppliers.
And of course, if you want to get a great probiotic with a history of reliability, don't be afraid to give your cat a supplement made for people.
Are Human Probiotics Safe For Cats?
Almost 100% of the time, human probiotics are as safe for cats—or safer—than those marketed for pets. Most cat-oriented probiotics are based on human microbiome research anyway, so there's little risk of human probiotics giving your cat the wrong species of bacteria. The only drawback is that human probiotics don't contain the meaty flavor additives found in some cat-oriented probiotics.
Though Research On The Feline Microbiome Is Limited, We Do Know That A Few Bacteria Species Are Essential.
The best probiotics for cats include well-researched species of bacteria with known benefits for cats. Though other, less-known, species and strains may be beneficial, only a few have demonstrated positive effects in cats.
Lactobacillus acidophilus: This probiotic organism has beneficial immunomodulatory effects, potentially helping cats with allergies and other inflammatory issues. It also helps to support a healthy balance of bacteria in the intestinal tract.
Bifidobacterium animalis: Two strains of B. animalis have been studied extensively in both humans and animals, showing an ability to control diarrhea and improve gastrointestinal health.
Enterococcus faecium: This bacteria has been shown to reduce diarrhea in cats. 
Saccharomyces Boulardii: This yeast has a well-documented history of benefits for people, cats, and other animals with diarrhea.
In General, The Best Probiotics For Cats Provide Between 1 Billion And 5 Billion Cfus (Colony Forming Units) Per Day.
CFUs or colony-forming units is a term referring to viable (living) cells. A higher CFU count translates to more living microorganisms going into your cat's body.
As a general rule, probiotics for cats should deliver at least 1 billion CFUs. From there, it appears that healthy cats will get benefits from CFU counts ranging between one and five billion, while higher doses may help cats with serious health issues. High doses of certain species can help to prevent and treat antibiotic-related health issues, IBD, and other problems.
Remember that the CFUs in the bottle aren't the same as the ones that will eventually populate your cat's gut. A good probiotic will thrive and multiply inside of your cat's colon. Too many CFUs of too many different strains and species could be less effective than a single-strain, relatively low-CFU supplement. Not all bacteria play nicely together and dilution is a real concern.
Prebiotic Fiber Is Also Important.
Prebiotic fiber is a type of fiber that feeds friendly bacteria in the gut. Sources of prebiotic fiber include inulin, chicory root, and fructooligosaccharides (often abbreviated as FOS). You'll find prebiotics in many commercially-available cat foods. They're also added to many probiotic supplements.
When a probiotic supplement contains prebiotics in addition to fiber, it's called a synbiotic—a synergized blend of bacteria and the food it needs to thrive.
Best Probiotics For Cats: Our Top 20 Picks
This probiotic supplement is formulated by the Nom Nom veterinary nutrition and microbiology team, which is involved in cat microbiome research.
Using the latest research as a guide, this probiotic features four of the best-known probiotics, each of which has benefits for cats. The probiotics are synergized with FOS, a prebiotic that enhances probiotic activity in the gut.
Nom Nom's probiotic supplement is made from human-grade ingredients in FDA-registered facilities, then independently-tested for product integrity.
This supplement is relatively weak in terms of viable organisms—it has only 500 million CFU per serving and only one strain of bacteria—but it's one of the most trusted supplements you can give your cat.
With its blend of vitamins, added taurine, and ultra-palatable flavor, the powder uses multiple tools to help cats feel their best.
It's one of the top vet-recommended supplements and receives almost universally positive customer reviews.
This probiotic contains five well-known bacteria strains and encases them in a tiny easy-to-swallow pearl-style capsule. The probiotic has a timed-release delivery system that releases the probiotics over 8-10 hours, ensuring that they bypass stomach acids and safely reach the colon. The tiny capsule has a beef flavor, making it palatable and easy to mix into your cat's food.
This supplement comes from Jarrow, one of the best-respected names in the industry. Jarrow's Pet Dophilus powder features five of the most trusted probiotic strains and is synergized with the prebiotic inulin. It also contains Metabolin®, a powder derived from the fermentation of beneficial bacteria. Metabolin® works synergistically with the probiotic bacteria.
Though it's not the cheapest on the market, this probiotic is reasonably priced compared to other pet probiotics. It's a good option for those who want to give their cat a solid pet-oriented probiotic supplement on a budget.
This human-grade probiotic contains a combination of Lactobacillus acidophilus, Bifidobacterium longum, and Bifidobacterium lactis, three types of bacteria that have demonstrated benefits for feline immune and digestive health.
For cats with allergies and other inflammatory issues, this is a good probiotic to consider. At $14.00 for 120 capsules, this is one of the most affordable probiotic supplements you can buy for your cat.
The probiotic yeast S. boulardii has a well-documented history of treating and preventing diarrhea in both humans and animals. It's one of the world's most-studied probiotics. Since 1982, hundreds of peer-reviewed articles have been published on this probiotic.
Whether your cat has inflammatory bowel disease, antibiotic-associated diarrhea, or diarrhea without a known cause, this yeast can help to bring your cat's digestion back to normal.
This supplement isn't marketed for cats. Instead, it's a well-respected supplement intended for human use.
This probiotic supplement from Dr. Mercola is one of the most diverse products on the market. It contains fourteen strains of bacteria and probiotic yeast. It's unclear whether such a varied probiotic is a good or a bad thing—some say that so many different strains will compete with one another and dilute your benefits.
That said, if you want to get as many probiotics into your cat as possible, you might want to try this supplement. It's a top-rated supplement that receives almost universally positive reviews, with customers saying that it helped to relieve digestive problems, ease the effects of antibiotics, and more.
Especially for cats who are having trouble eating and won't eat a supplement mixed into their food, it's sometimes easier to administer probiotics with a syringe. Bene-Bac is a well-respected probiotic gel. Each gram of the gel contains 20 million CFUs of seven different probiotic species.
Six species of beneficial bacteria appear in this supplement, all of which are relatively well-regarded for veterinary use. Each scoop has 1 billion CFUs of bacteria and is guaranteed viable for up to one year after manufacture. The probiotics are synergized with inulin.
Customer reviews are almost universally positive.
Because it's marketed specifically for cats, contains E. faecium, and comes in packets, this probiotic is a popular alternative to Purina's ever-popular FortiFlora probiotic. Unlike FortiFlora, this supplement contains prebiotics to help the probiotics do their job and has a higher CFU count.
This probiotic supplement from Tomlyn contains a mix of some of the best-known probiotics for cats. Each sachet offers at least 4 billion CFUs of beneficial bacteria.
If your cat refuses to eat flavorless probiotic supplements, consider this probiotic from Probios. It's made with cats in mind, featuring dried chicken liver as its first ingredient. Added flavor helps to make this supplement more appealing to sensitive cats. The supplement also contains sugar, which shouldn't be a regular part of your cat's diet.
Each sachet contains 200 million CFUs of four probiotic strains, all of which have benefits for cats. The probiotic has earned the NASC's quality seal, which suggests that it's one of the safer and more consistent products you can buy.
Advita's probiotic powder contains four probiotic strains, is synergized with inulin, and contains supplemental vitamins E and C plus taurine. The powder is flavored with dried poultry liver for increased palatability, making it a good option for cats who refuse to eat typical unflavored probiotic supplements.
Dr. Formulas' Nexabiotic probiotic supplement is one of the top-rated probiotics in the human space, coming in 7th on Labdoor's list of the best probiotics. Their feline-specific equivalent should be similarly high-quality.
It contains a staggering 23 different probiotic strains, which is good for those who want to expose their cat to a diverse variety of organisms. The company says that the supplement is clinically shown to reduce the duration of diarrhea, adding that it will also support regularity and digestive health in general.
You can give the capsules to your cat as pills or break them open to sprinkle over your cat's food.
This probiotic supplement is geared towards cats with kidney failure. Friendly bacteria in the gut might help to remove toxins and bacteria from the gut and bloodstream, easing the burden on the kidneys.
It's not clear whether or not Azodyl and other probiotics achieve this enteric dialysis effect, but it is clear that it won't hurt. Probiotics can help cats with kidney disease feel better, so whether you choose something like Azodyl or another generic probiotic, these supplements are a good idea for CKD patients.
Here's another high-variety probiotic that gives you twenty different species. Unlike some of the other probiotic supplements on this list, which combine a vast variety of probiotic species and a high CFU count, this supplement has a relatively low 5 billion CFUs per scoop. The label doesn't tell you how much of each species you're getting, but chances are that the numbers are relatively low. If you're looking for a big punch from a single strain, this isn't the product for you.
Nevertheless, this probiotic gets great customer reviews, with 76% of 1,711 Amazon reviewers giving it 5 out of 5 stars.
This USDA-certified organic probiotic supplement was formulated by a veterinarian and contains 12 strains of probiotic bacteria and yeast. In addition to being certified organic, the company is a member of the NASC and claims to be committed to keeping the highest quality standards.
These probiotic capsules contain eight of the best-known, most thoroughly-researched strains of beneficial bacteria. The probiotics are synergized with FOS as a prebiotic. The capsules are relatively large, but you can break them open and sprinkle the powder into your cat's food.
This is a vet-formulated, vet-recommended probiotic supplement that's been approved by the NASC. It contains four probiotic strains, all of which are relatively well-known and beneficial for cats. The probiotics are synergized with FOS, prebiotics that help beneficial bacteria flourish in the gut.
While their benefits are not as consistent or widely-accepted as probiotics, digestive enzymes may be able to support digestive health. This supplement contains a mix of both enzymes and probiotics, promising to keep your cat's GI tract at its best. With a synergistic blend of four probiotic bacteria species, digestive enzymes, and prebiotics, this supplement is marketed as a total digestive health solution.
This supplement contains a mix of digestive enzymes, probiotics, and prebiotics. Each serving delivers 5 billion CFUs of three probiotic species, along with protease, amylase, cellulase, lipase, and other digestive enzymes.