The 5 Best Natural & Biodegradable Cat Litters
This page contains affiliate links. We may earn money or products from the companies mentioned in this post through our independently chosen links, which earn us a commission. Learn More
From time to time, your furry little tigers litter box may not smell all that good, and what they leave behind in the litter-box can be very unpleasant to have in your house. This is where Organic and Biodegradable Cat Litter could prove to be super effective.
Not all cat litter is going to provide decent odor control, but eco-friendly cat litter does a better job than most cat litters on the market today.
At a Glance: Best Natural and Biodegradable Cat Litter To Buy
IMAGE
PRODUCT

Incredibly absorbent
Lengthy odor control
Flushable

VIEW LATEST PRICE →

Uses natural components to block out odors
Leaves little dust for you to deal with

VIEW LATEST PRICE →

BEST NATURAL CLUMPING CAT LITTER

Natural formula
Biodegradable
Clumps well

VIEW LATEST PRICE →

Lots of litter for the price
Clumps quickly, making for some easy cleaning
No dyehttps://wereallaboutpets.com/recommends/tidy-cats-lightweight-free-clean-unscented-clumping-cat-litters or fragrances

VIEW LATEST PRICE →

Super low price
Mostly dust free
Natural formula

VIEW LATEST PRICE →
We would like to recommend  a few natural cat litter products that can help you get those odors under control.
The Different Types of Organic and Biodegradable Cat Litter are:
Walnut
Grass
Corn
Paper
Wood
Wheat
What to Consider before Buying Organic and Biodegradable Cat Litter
There are a few things you should know about buying cat litter before you make your purchase:
Use attractants– If you are struggling to keep your cat's interest in the litter box, then  using an attractant to draw your cat in might come in handy. No matter what kind of litter you are using, you can use an attractant to get your cat to use the litter box.
Avoid deodorized or perfumed litter– These kinds of litter, according to PetFinder.com, may be unwelcoming to your cat. You may have to experiment to find something that your cat will be happy with.
Health and dietary needs– Sometimes, the issue is not the litter or the litterbox, but rather your cats own needs. Regular trips to the vet can help you catch these problems before they become too serious.
Watch for fragrances- Many cat litter products come with a fragrance that is used to kill unpleasant odors, but your cats may not like the fragrance all that much. You want to do everything you can to keep your cats interested in using the litter box, and that sometimes means using a litter that is not too harsh for their olfactory senses.
We have picked out the cat litter products that we believe will be the best for you. We hope you find something here that can help you stop bad cat odor and have a pleasant-smelling home.
The 5 Best Natural & Biodegradable Cat Litter
Here are our top picks for the best natural & biodegradable cat litter you should consider:
1. ökocat Natural Wood Cat Litter, Clumping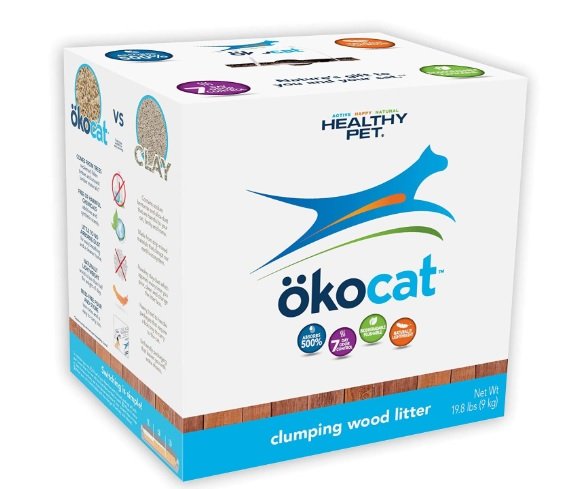 Pros:
Incredibly absorbent
Lengthy odor control
Flushable
Cons:
Rather costly when compared to the competition
This is one cat litter that won't leave any dust behind and that clumps very well. On top of that, it is something that is safe to flush and that will degrade naturally in the environment. That makes it so easy to deal with. You can either toss it in the toilet, put it in your trash can or simply throw it outside.
The odor control should last you for a week, even if you have multiple cats. The use of natural ingredients also makes this a good choice for sensitive cats and for those cats with health problems that you have to be careful what kind of chemicals you leave around them.
2. Arm & Hammer Naturals, Multi-Cat Litter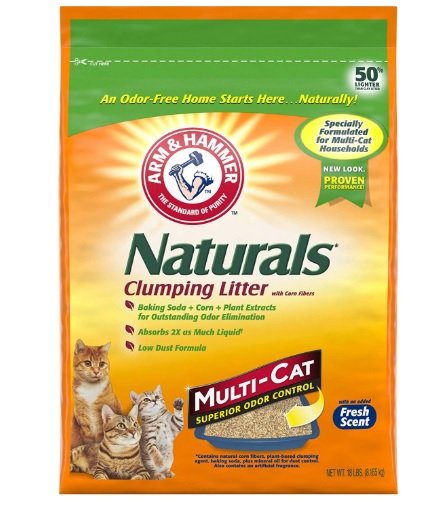 Pros:
Uses natural components to block out odors
Leaves little dust for you to deal with
Cons:
Doesn't block odors as well as some of the competition
Doesn't clump as well as many other litters
If you want something safe and natural for your cat, then Arm & Hammer has designed this cat litter for you. The natural components make for a very pleasant litter that doesn't leave you with a lot of smells, but it isn't going to block out odors as well as something with some stronger chemicals in it would.
It also has trouble clumping properly, but it won't leave a lot of dust, so it may be perfectly agreeable to you and your cat. You will just have to test it out for yourself, and thankfully, Arm & Hammer sells this in a small enough box that you can give it a shot without committing a lot of money to it.
3. sWheat Scoop Multi-Cat All-Natural Clumping Cat Litter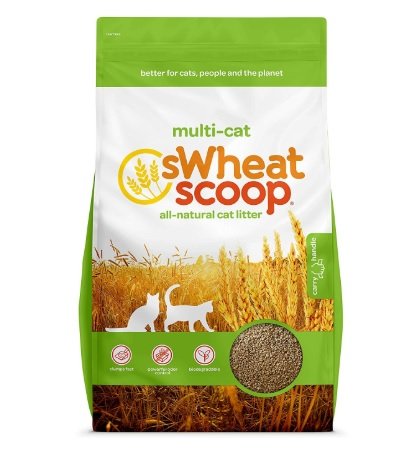 Pros:
Natural formula
Biodegradable
Clumps well
This is another natural product that has a lot going for it. It is made from components that should be safe for your cat, even if your cat is allergic to a lot of things or has sensitive smelling. One of the best things about this litter is that it degrades naturally, so you don't have to worry about it harming the environment, and you can toss it out pretty much anywhere.
4. Purina Tidy with Charcoal
Pros:
Lots of litter for the price
Clumps quickly, making for some easy cleaning
No dyes or fragrances
Cons:
Can create dust that cats track through the house
Purina does an excellent job of producing decent cat litter with great odor control that is priced very reasonably, which is why they are one of the leading cat litter brands. You won't find any fragrances or dyes in this litter, so it is ideal for cats that have very sensitive smelling or that suffer from allergies. It also won't create lingering scents in your home that become overpowering and annoying to you.
5. Nature's Miracle Premium Clumping Corn Cob Litter Tough Odor Formula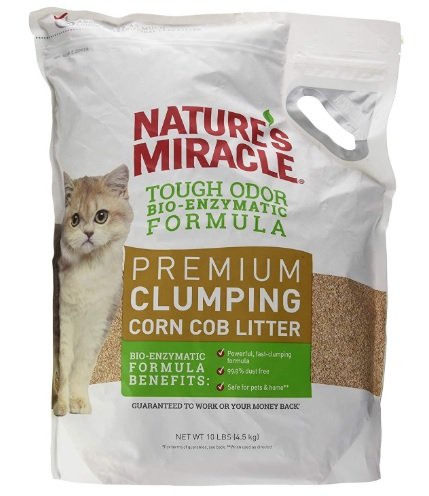 Pros:
Super low price
Mostly dust free
Natural formula
Hypo-allergenic
Cons:
New formula may not be as effective as the old one
The formula used in Nature's Miracle litter is designed to keep moisture from reaching the bottom of the litter box and pooling. That means that it is unlikely to create an unpleasant smell, and that allows your litter to last longer. This isn't quite as dust free of a litter as the previous one on our list, but it comes pretty close to being completely dust free.
Those concerned about the effects of certain kinds of litter on their cat should be pleased to know that this is a hypoallergenic formula that is made from natural ingredients. However, the new formulation is different from the previous one, and it can be less effective than what consumers are used to getting.
6. Feline Pine Cat Litter
Pros:
99.9% dust free
Kills odors quickly
Unscented to be gentle on your cat's nose
Cons:
Can have trouble clumping sometimes
More expensive than most of the other options
Feline Pine Original Litter has created a litter that is designed to destroy the bacteria that causes bad odors among cats. On top of that, it is made with an unscented set of ingredients that will be easy on your cat's nose. Many cat litter products can be kind of harsh, driving your cat away and keeping it from using the litter box like it is supposed to, but not this one.
The large bag gives you a lot of product, but you will pay quite a bit for it. You'll probably want to compare it to the other choices to see if it is worth your money. Some customers report that their cat tracks dust through the house when using this litter, since it does not always clump together like it should, but your personal experience may differ.
7. SmartCat All Natural Clumping Litter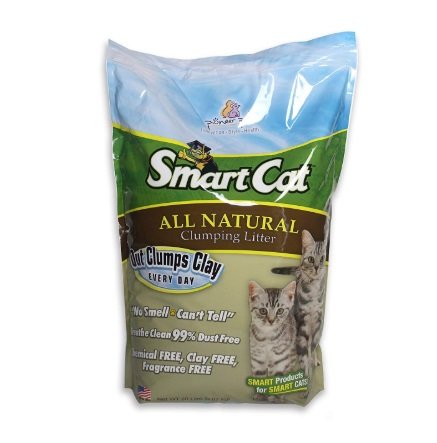 Pros:
Great price and value
Won't leave dust behind
Designed for long-lasting odor protection
Cons:
Strong smell that may be unpleasant for you or your cat
This is one of the most value-oriented cat litters available. It's a massive 20-pound box with hard clumps that won't leave any dust for your cat to track throughout the house. It's priced affordably too, which makes it a good deal for cat owners, no matter how many felines are in your home.
Best of all, the odor protection is guaranteed for at least full week, but that can come at a price. How well this one works for you will depend on your cat's sensibilities, but most consumers are really happy with this purchase.
8. Purina Tidy
Pros:
Powerful odor control
Clumps easily to prevent moisture buildup
Lots of value for the price
Cons:
Strong scent may discourage cats from using it
New formula doesn't clump as well as before
While Purina is in the top cat product manufacturers, changes to their cat litter have not pleased all their customers. This litter still clumps very well, but not as well as it used to. The potent scent is always going to be a problem for some cats, but most of them won't mind it at all. The best thing about this cat litter, however, many be the powerful protection against odors, as it offers round the clock odor guard. You also get a lot of litter for a very reasonable price, which is sure to make most people happy.
9. Only Natural Pet Fast Clumping Cat Litter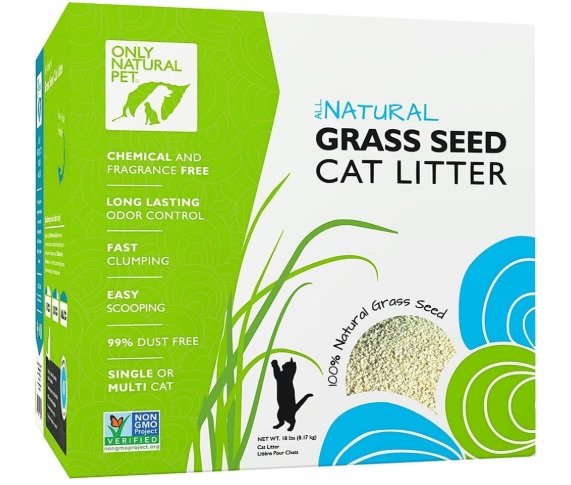 Pros:
Fragrance only releases when it is needed
Ideal for sensitive cats
Litter stays fresh longer, thanks to multiple bags
This high value product provides the customer with four separate bags at a good price. The different bags allow consumers to keep the litter fresh and only open a small portion at once. This prevents wastage and locks in odor protection. The fragrance released by Fresh Step's litter is only activated when the litter box is in use, so you don't have potent, lingering smells through your house.
That's great for people and cats with sensitive noses. This litter can be a little bit on the dusty side, though, and according to Consumer Search, that may be a problem.
You want to be careful about the mess the litter can make and about how your cat feels about stepping on a litter that doesn't clump very well. Not all cats are going to be happy with that.
10. Blue Buffalo Naturally Fresh Cat Litter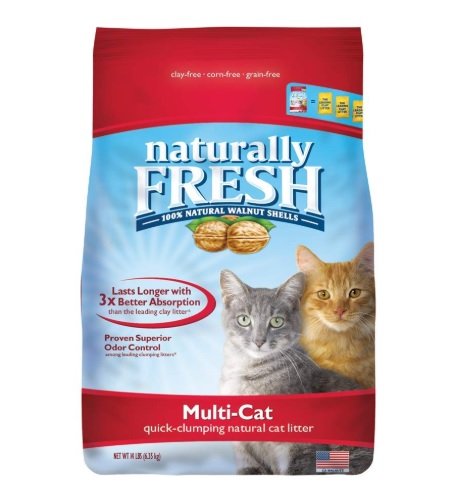 Pros:
Convenient size for changing out litter brands
Great value
Clumps well, making it easy to clean up
Cons:
Sometimes it clumps in the wrong way and becomes hard to get out
You can purchase this in a small, 14-pound beg, so it's perfect for consumers who want to try something new and see how their cat adjusts to it. Experts at Cat Behavior Associates warn against making drastic changes to your cat's litter, so it's a good idea to start off with a small box and see how your cat adjusts to it.
Having the Febreze in the cat litter is great for getting rid of odors, but some cats are going to have an allergic reaction to it. If you know your cat is sensitive, you probably want to avoid this one. The clumping action is usually decent with Fresh Step, but depending on certain factors, it may not always clump like it is supposed to.
Final Thoughts
We hope our list of the best natural, organic and biodegradable cat litter will help you make an educated choice on which cat litter is best for your cats, and that at least one of the cat litter products mentioned in the article does the trick and keeps your cat loving household smelling awesome.