What's The Best Fresh Cat Food Delivery Service?
This page contains affiliate links. We may earn money or products from the companies mentioned in this post through our independently chosen links, which earn us a commission. Learn More
Interested in trying a fresh cat food delivery service and wondering whether Nom Nom or Smalls is the better option?
After spending hours researching Nom Nom and Smalls, evaluating their ingredients, and trying both of these food delivery services with our own cats, here's how we think each of these cat food delivery services compare.
Both brands have strengths that make them a better candidate for different homes, but  Nom Nom comes out on top with stronger customer service and a more consistent experience.
Let's put these two brands head-to-head to determine which does better on key factors like ingredient quality, nutrition, customer experience, price, and more.
Before we compare Nom Nom and Smalls, let's get to know each of these brands individually.
Overall Best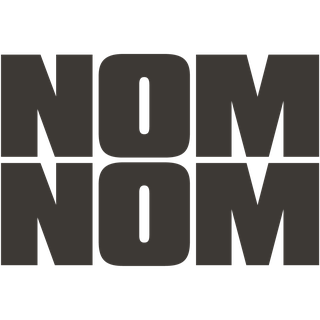 Product Info
Weekly Price: 8/10
Ingredient Quality: 10/10
Recipe Variety: 9/10
Options for Customization: 10/10
Environmentally Friendly: 10/10
Pros
Plenty of options for customization
Made from human-quality ingredients
Manufactured according to stringent quality and safety standards
Outstanding customer service
Offers 50% off your first order
Cons
Only offers two recipes
Expensive
Here's What You Need To Know About Nom Nom's Fresh Cat Food Meal Delivery Service.
Nom Nom's fresh cat food meal delivery service dates back to 2015, when the company was launched as a dog food company. Then called NomNomNow, the company catered to canines only, producing a line of human-quality, homemade-style food for dogs. In 2018, the company launched its line of cat food.
Formulated by a veterinary nutritionist and guaranteed complete and balanced for all life stages according to the AAFCO's nutrient profiles, Nom Nom cat food has a good nutritional foundation.
Their two recipes both feature fresh animal ingredients without a lot of plant ingredients. They're simple, species-appropriate, and free of artificial additives that might irritate your cat.
The company oversees all stages of the food production process, sourcing restaurant-quality ingredients that meet standards for human food and manufacturing the products in USDA-inspected facilities. Nom Nom foods are shipped fresh, not frozen, directly to consumers' homes anywhere in the lower 48 states.
Customization is a vital part of Nom Nom's model. When you sign up for your subscription, Nom Nom will develop a meal plan and portion sizes based on your cat's calorie needs. Your delivery schedule is flexible, ranging from a shipment each week to once a month.
The food comes in custom-portioned single-serving pouches that are easy to peel open and serve.
Premium Pick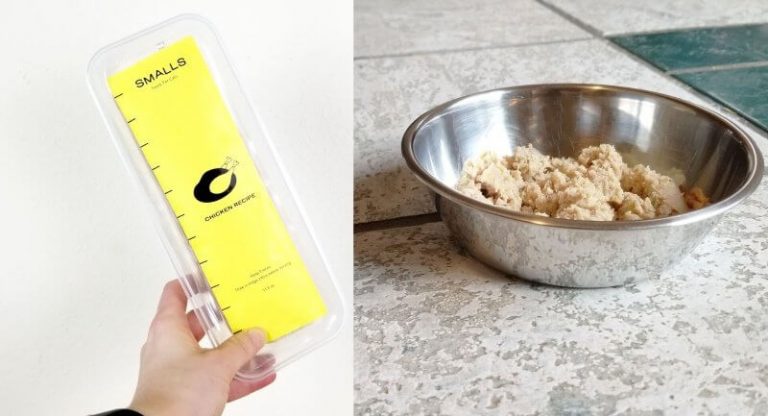 Product Info
Protein: 21.2% Min
Fat: 8.05% Min
Fiber: 0.4% Max
Moisture: 66.1% Max
Caloric Content: 550 kcal/package
Pros
Offers a wide variety of recipe options
Fully human-grade food
Your first order comes with an assortment of additional goodies
Offers 25% off your first order
Cons
Doesn't offer any customization
Customer service is inconsistent
Here's What You Should Know About Smalls Food For Cats
Founded in 2017, Smalls is a cat food delivery service that makes and sells human-grade food for cats. Its original product was homemade-style fresh cat food. The company has since expanded its selection to include kibble and freeze-dried recipes in addition to a diverse range of fresh wet foods.
Smalls cat food is formulated by certified animal nutritionists and prepared in a USDA-inspected facility in Chicago, Illinois. Whether wet or dry, Smalls foods are a few meat ingredients ahead of the competition. Their foods are meat-rich and generally species-appropriate for your carnivore. Once you've signed up for the Smalls delivery service, you'll receive a shipment once a month.
Though Smalls does recommend meal plans based on your cat's needs, the company doesn't offer any further customization. The foods aren't custom-portioned or formulated for your cat's unique needs.
Customer service is the area where Smalls loses the most points. While the Smalls cat food gets rave reviews from most of its feline customers, the human experience isn't quite as consistent.
For starters, the site is more maze-like than it should be, with a limited customer portal. And once you've set up your subscription, getting in contact with the company doesn't always go as smoothly as hoped. I've tried Smalls several times and the customer experience is hit-or-miss.
Here's How Each Of These Brands Compares In Key Areas
Which Offers Better Ingredient Quality And Nutrition?
Product quality and superior nutrition are core parts of both company's selling propositions. 
The recipes from both companies are formulated by animal nutritionists and meet the nutrient requirements set by AAFCO's profiles for all life stages. Both are made from human-grade ingredients and manufactured in USDA-inspected facilities. 
This round is a tie. Both Nom Nom and Smalls offer excellent ingredient quality and nutrition. 
Which Has A Better Selection Of Recipes?
If you want variety or have a cat with special dietary needs, Smalls is the obvious choice. The brand offers nine recipes in multiple formats. With limited-ingredient foods, novel proteins, and a wide variety of textures on the menu, Smalls has something to satisfy everyone.
Nom Nom, on the other hand, offers just two recipes and both contain common allergens. If your cat can't eat chicken or fish, you'll have to consider another option. 
Winner: Smalls
Which Brand Offers A Better Customer Experience?
When you're signing up for a cat food meal delivery service, great customer service should be a part of the package. 
Nom Nom is the clear victor in this round, offering excellent customer service and a personalized experience at every turn. From a user-friendly website to custom-portioned food to responsive staff and the option to send Nom Nom your cat's medical history for customized nutrition advice, Nom Nom pulls out all the stops.
With no real product customization, a confusing website, and a customer support team that's only reachable by text or email—those who prefer to talk on the phone are out of luck—, the Smalls shopping experience just doesn't feel as premium or as personal.
Winner: Nom Nom
Which Brand Is More Affordable?
While your monthly expenditure on both brands will vary depending on your cat's diet and needs, Smalls looks like the cheaper option overall. 
If you choose a dry-only Smalls diet, your daily feeding cost could be as low as $1 a day. A more expensive meal plan costs over $4 per day, while a mid-range plan might sit somewhere around $3 daily. 
Nom Nom, in contrast, starts around $3 for a typical cat, with prices moving up towards the $5-a-day zone for larger cats and more frequent shipments. 
Both companies offer incentives for first-time buyers, with Nom Nom offering 50% off your first shipment and Smalls 25% off of your first two weeks. Both are covered by a 30-day 100% money-back guarantee. 
Winner: Smalls
Nom Nom vs. Smalls: In Summary
| | | |
| --- | --- | --- |
| | Nom Nom | Smalls |
| Recipe Options | Chicken Cuisine, Fish Feast | Fresh Chicken, Fresh Turkey, Fresh Beef, Simply Cooked Chicken, Simply Cooked Fish, Freeze-Dried Raw Chicken, Freeze-Dried Raw Turkey, Freeze-Dried Raw Duck |
| USDA Certified? | Yes | Yes |
| Customization | Custom-portioned, suggested meal plans | Suggested meal plans |
| Delivery Options | Weekly, Biweekly, Monthly | Monthly |
| Packaging | Single-serving pouches | Multi-portion pouches with portion size lines, custom storage trays |
| Meal Plan Price | Averages between $2.74 and $4.63 per day | Averages between $1.00 and $4.33 per day |
| First Box Offer | 50% off your first box | |
| Money-Back Guarantee | 100% money-back guarantee | 100% money-back guarantee |
In Conclusion, Each Of These Brands Will Appeal To Different Buyers.
Though Nom Nom is our overall winner, it's not the best option for every household. 
Nom Nom's customization and reputation for consistent, high-quality service make it a stronger choice for those who crave a deeply-personalized experience.
But for all of that personalization, Nom Nom only offers two recipes and can't satisfy cats who need protein sources other than chicken or fish.
While Smalls doesn't offer the same level of customization, it's the clear winner for those who need a variety of protein sources, textures, and flavors. It can also be a more budget-friendly option. 
With both companies offering money-back guarantees, it won't hurt to give both of these brands a try to see which one your cat prefers.

Was this article helpful?
Let us know what you think.