175+ Awesome Names For Bengal Cats
This page contains affiliate links. We may earn money or products from the companies mentioned in this post through our independently chosen links, which earn us a commission. Learn More
Our Top 101 Bengal Cat Names
The name you are giving your kitten will be with it forever, therefore you must ensure that it is something unique and suitable. It is always advisable that you spend some time with your feline friend before giving it a name. That's because it helps you identify their behavior and temperament so that you pick the best name for it.
Ladli – meaning loved one and the best choice
Brand – meaning a mark or spot, name for spotted cats
Gaangi – the name means sacred or pure
Aghor – meaning earth
Maalini – meaning fragrant
Arthur – it means a strong rock
Laashya – if your feline friend love that special dancing this is the name for your cat
Maalibad – meaning swiftness
Taz – originates from Arabic meaning word cup
Tao – it means beautiful
Gaganadipika – your cat may be glowing with brightness like the lamp of the sky hence this is the name for it
Aadarshini – meaning idealistic
Boggle – for cats that overwhelm you as the owner
Blaze – if the cat breed has a striking color
Ariela – for female cats that are like a lioness
Laina – reflects the beauty of the sun rays
Laghu – if your cat is quick then this is their name
Noah – means comfort or rest
Astras – Hindu powerful weapon
Simba – meaning a lion, give it to a brave cat
Millo – the name of a movie actor, Milo, and Otis
Arun – it means sun, for bright cats
Maadhav – it means as sweet as honey
Bagheera – name for black cats
Laalitya – if you have that beautiful cat that is graceful and love then this is the name for her
Daisy – meaning beautiful and healthy
Zeus – means a very expensive cat
Baijayanti – meaning flag
Daama – it means lightning to express brightness or fastness
Bongo – meaning drums, if your cat is funny
Rajah – means a tiger, if they look like a tiger
Ali – it means a bee, give it to those cats that are busy
Bengal – if she or he is of spotted breed
Saber – attributed to saber-toothed cats
Jasmine – it is a tropical plant that has fragrant flower
Laasak – the name means a dancer
Freckles – for darker spotted cats
Aadhrika – it shows your cat is unshakable
Bon-Hwa – for glorious cats
Badal – means monsoon
Nimbus – meaning a ring or halo usually appearing above divine head
Maalika – let her be your queen
Macchiato – it's a name for the spotted cats
Daakshi – your cat must be wise and ac-knowledgeable to give him this name
Daakshya – it means brilliance
Maalav – meaning musical raga or song
Gaalav – meaning worship
Shiva – give the name to the cat if you value and honor them highly
Jot – the oldest cartoon program, if your cat is old
Yi-yang – a renowned "Chinese philosopher"
Butterscotch – a cat with golden far
Mia – means mine, to show ownership
Laavanya – this name means epitome beauty and grace
Gaatha – this is another name for a cat
Annika – if the cat is a goddess to you
Garjra – meaning a garland of flowers expressing beauty
Prada – meaning a high-end brand
Maala – meaning garland
Atul – meaning incomparable, if the cat is unique
Abhoy – for fearless cats
Garrey – meaning a spear
Pollock – name for an "American artist known for his paintings"
Anupama – for beautiful cats
Maalavi – means your cat is a princess
Tora – means tiger in Japanese
Aabharana – it expresses an aspect of shining
Daarshik – this is the name expressing perfection
Ayanna – meaning innocent, for innocent cats
Osiris – means a star in Arabic
Puntito – meaning little point, for kittens
Lichtenstein – if you are a lover of pop music
Gami – meaning God in Japanese
Maahi – it means a union of heaven and earth
Dice – small squire used in gaming and gambling
Amber – for those cats that are golden colored
Banshari – means a flute
Alas – for a cat that endures or suffers
Ananya – for extraordinary cats
Maahir – it means your cat is an expert or brave
Geisha – cat breed from Asia origin
Nala – the lion, for brave cats
Panda – for cats that are nationally recognized
Leopard – means strong and ambitious
Harley – it is a renowned Bengal motorcycle, for excellent cats
Scooter – meaning a crazy cool cat
Ocelot – dwarf leopard, a cat that's small
Alex – if your cat is defending give her or him the name
Lajita – means a modesty cat
Laghun – means quick
Gaganasindhu – it means sky
Mowgli – means from the jungle
Beth – meaning the house of the lord
Farrar – for cats with fair looks
Alisha – meaning kind or a cat of a noble sort
Ayla – for huge cats
Anjali – meaning attribute
Daandam – meaning efficiency
Gadadhara – meaning a warrior
Laayak – shows that your cat is fit and capable
Aabha – it means luster and also glow
Geisha – cat breed from Asia origin
Male Bengal Cat Names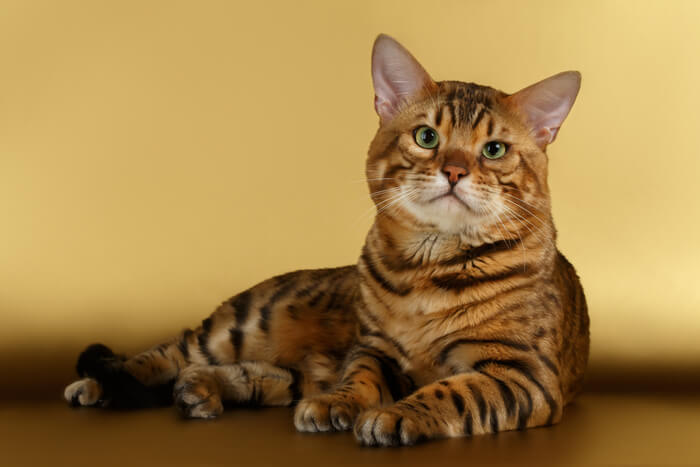 Archie– Meaning true and bold
Arnie: The protector of Linton Zoo's newborn, Arnie the Cat
Aslant– Suits a kind and virtuous Bengal cat
Apollo– Mythological Roman god of music, poetry, dance, the sun and light
Apu– Inspired by the Simpson character famous for the phrase '' Thank you, come again"
Atlas– Meaning one who endures
Azrael– Refers to the angel of God in Hebrew
Billy– Inspired by the famous American comedian, Billy Eichner
Boomer-As in Boomer the Bengal cat, the skimboarding champion
Boots – Inspired by the clever knight in Pussy in Boots
Buttons – Suits a playful and cute cat
Chad– Suits a guard cat
Copper– Ideal for a wild Bengal cat with a soft heart
Eddie– Meaning fortunate guardian
Evan– Reminds you of how Yahweh is gracious
Everest – The tallest mountain in the world, for a cat who pushes you to the peak of your dreams
Einstein– Albert Einstein, theoretical physicist, suits a smart cat
Elvis– Inspired by the musical Bengal cat by the same name
Ernie– The famous orange Muppet in Sesame Street
Felix– Suits a funny cat like the iconic Felix the cat
Figaro– Inspired by the famous Spanish barber, for a cat with well-groomed hair
Flynn– Ideal for your super-active cat
Fleckie– Suits a cat with spots
Harlequin– For a funny cat with lovely harlequin hair
Hunter– For your big Bengal cat who likes to hunt for their prey
Jasper– Perfect name for a gorgeous and intelligent cat
Loki– For a mischievous Bengal cat
Makalu– Inspired by the world fifth largest mountain
Nicky– Suits a cat with a shiny coat
Oli– Short form of Oliver, suits a peaceful cat
Oscar– A prestigious name for a golden coated cat
Paprika– For a cute cat with a reddish coat
Pepper– For a tough cat with a dark spotted coat
Rocky– Suits a tough and playful Bengal cat
Sylvester– Inspired by the much-loved dark-spotted Looney Tunes character, Sylvester the Cat
Sable-Suits a Bengal cat with a white patch on the throat
Tango– For a social and friendly cat with moves
Tawny– Perfect for a cat with an orange-brown coat
Tigger– The playful character from Winnie the Pooh
Wanda– Reminds you of the superhero and avenger in the Comic books with reddish hair
Female Bengal Cat Names: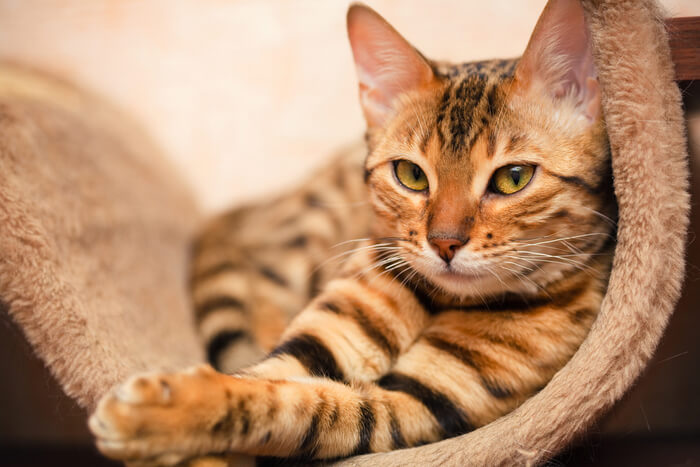 Belle– Inspired by the The Twilight Saga film, suits a cat with dark brown long hair
Cayenne– For a feline friend with a reddish coat that resembles Cayenne pepper
Cinnamon– For a cat who spices up your boring life
Cherry– Suits a cat with a red coat
Cheetah– Ideal for a swift Bengal cat
Chocolate– For a sweet dark-coated Bengal cat
Cotton– Suits a cat with soft white hair
Cookie– This sweet biscuit makes a perfect name for a dark brown Bengal cat
Darling– For An adorable and lovable Bengal cat
Doritos– This brand of American tortilla chips suits a cat with a bright orange coat
Fifi– Ideal for a playful and adventurous Bengal cat
Ginger– This spice root makes a lovely name for a yellow-orange haired cat
Glitter– Suits a cat with a beautiful bright coat
Gracie– Beautiful name for a gracious cat
Honey– Suits an adorable, sweet, and warm cat
India– Suits a wild large Bengal cat
Kiki– For a social and friendly cat
Lotus– Name her after this lovely flower that symbolizes purity
Lulu– Meaning pearl in Arabic
Lunar– For a cat with a shiny silvery coat
Lynx– For wild Bengal cat with a short tail and long whiskers
Margay– Suits a small cat with black and brown spots
Minnie– Suits a beautiful and playful cat
Muffin-We all love this domed cake
Oreo– Suits a cat with black and white spots
Patches– A wonderful name for a cat with a unique patterned fur
Peanut– This favorite groundnut makes a perfect name for a small cat with a light brown coat
Peaches-This pinkish-yellowish juicy fruit makes a lovely name for cat with a soft tender heart
Penny– Perfect name for a Bengal cat with a shiny reddish-brown coat
Queenie– For a cat with royal bearing
Ruby– An all-time favorite name for an orange-haired cat
Saffron– An exotic name for a wild Bengal cat
Shere Khan– The smart and sophisticated Bengal tiger in Jungle Book
Sunset– Suits a warm and beautiful cat with an orange coat
Willow– Suits a graceful cat
Zelda– The beautiful princess in The Legend of Zelda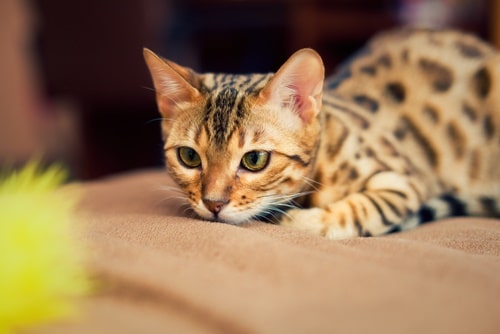 Final Thoughts
Whether you want to name your cat according to their color, size, looks, temperament, character or any other feature, the above names are great. Remember that the name should be simple for the cat to identify with. The list of the names as shown above are suggestions with a brief explanation of what it means. That is only to help your pick the right name for your pet.
Was this article helpful?
Let us know what you think.