Quality ingredients
100% human-grade food freshly-cooked and measured out just for your dog.
Balanced for all dogs
Ollie's veterinarian-formulated recipes are nutritionally complete and balanced for all ages, breeds, and sizes.
Convenient delivery
With custom delivery schedules and reliable two-day shipping, you'll never have to run out of dog food again.
FEEDING YOUR DOG WELL HAS NEVER BEEN SIMPLER.
Your dog is unique, so choosing the right diet is essential. But researching, sampling, and measuring your dog's food takes a lot of time. Ollie makes giving your dog the right diet simpler than ever before.
Ollie uses information about your dog's needs to create a custom meal plan just for them. Because each food is made-to-order, gently-cooked, and then measured out in custom portions, you'll know that your dog is getting the right food for their needs.
So if you're used to worrying that your dog's eating too much or too little, you can breathe a little bit easier. Ollie's experts have your back.
HERE'S WHAT YOU GET IN EACH BOX:
Food packs
Each pack contains fresh food made-to-order for your pup. The pouches are easy to open and make serving a cinch.
Feeding guide
To help you get started with Ollie, you'll receive a feeding guide customized to your dog's unique needs.
Pup-tainer
Your order includes a free container to lock in freshness...and keep curious pups from snagging an extra bite.
Scoop
To help you get just the right portion, you'll also get a handy scoop.
HERE'S HOW IT WORKS
1
Tell Ollie a little bit about your dog.
First, take a quick quiz about your dog's needs. Enter details about your dog's breed, age, activity levels, and more. Ollie uses this information to create a customized meal plan.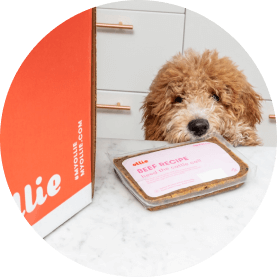 2
Place your order (and get 50% off!)
Ollie automatically applies your 50% discount as soon as you reach the checkout. The Ollie team will start preparing your dog's order and ship your two-week starter box. This box includes all the food you need for two weeks, pre-portioned and ready for your pup to enjoy. You'll unpack the box, pull out the feeding guide, and start transitioning your dog onto a fresh diet.
3
See the benefits of a fresh, custom-portioned diet.
During your two week trial, you may start seeing changes in your dog's health, like smaller stools, a shinier coat, and more energy. If you're happy with the trial period, you'll continue to receive regular shipments of Ollie food. You can easily change, pause, or cancel your subscription at any time.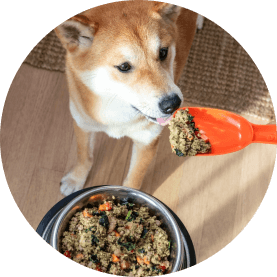 HOW MUCH DOES IT COST?
Your price will vary depending on your dog's unique needs, like how much Ollie they eat and how much they weigh. Assuming that you have a mutt who only eats Ollie, here's a rough estimate of how much you'll be paying each month for your regular subscription:
15-lb dog: $112- $128 per month
55-lb dog: $236 - $264 per month
95-lb dog: $384 - $424 per month
THIS IS HOW DOG FOOD SHOULD BE.
While other dog food is loaded up with mystery meats, artificial colors, and preservatives that could make your dog sick, Ollie recipes are different. Each veterinarian-formulated recipe is made from recognizable ingredients and perfectly-balanced to keep your dog's tail wagging day after day.
Human-grade ingredients
From blueberries to chicken breast, Ollie dog food starts with USDA-certified ingredients that meet the same standards applied to products used in human food.
No artificial flavors or colors
Great food should stand on its own—no need for dyes and artificial flavors. Instead of covering up with artificial additives, Ollie foods highlight the flavor, texture, and color of fresh meat and veggies.
Minimally-processed
When you peel open your first pouch of Ollie food, you'll notice that it looks and smells just like the type of fresh food you might have for dinner. That's because Ollie is gently cooked—never rendered or extruded—to preserve the nutrients, texture, and flavor of its fresh ingredients.
Made in a human food facility
Ollie foods are made in a USDA-regulated kitchen, meaning that every step of the process is held to the same standards as human food. The end result is a dog food that's safe enough for both you and your furry friend.
FOUR RECIPES TO CHOOSE FROM
Beef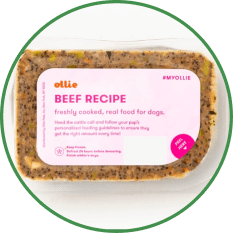 This recipe features USDA-certified beef and beef heart for a meat-rich feast. It also includes sweet potato as an excellent source of fiber, along with spinach, blueberries, and fish oil for an omega-3 boost.
Chicken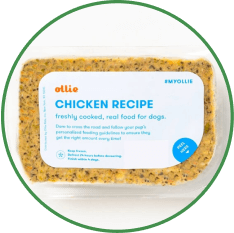 With chicken muscle meat and gizzard its first two ingredients, this food goes heavy on poultry-based nutrition. Inspired by a fresh chicken pot pie, the food also contains carrots, peas, and other nutrient-dense veggies.
Turkey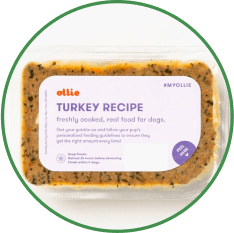 Rich, heart-healthy turkey takes center stage in this recipe, with powerhouse ingredients like carrots, blueberries, kale, and chia seeds rounding out the nutritional picture.
Lamb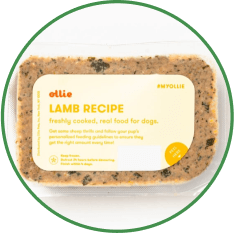 Ideal for dogs with allergies and food sensitivities, this lamb-based recipe gives your dog all the nutrition they need while also helping them avoid common irritants. In addition to lamb and lamb liver, the food contains nutritional power players like butternut squash, kale, and chia seeds.
WHAT DO CUSTOMERS HAVE TO SAY ABOUT OLLIE?
I have recently ordered Ollie for my rescue. After weeks if not months of trying to figure out what Buddy did or didn't like, I decided to try Ollie. Best decision ever! He literally gets excited to eat now, and no joke licks the bowl clean! Their site is easy to navigate if you want changes to their meal plan from quantity, delivery date, recipes, whatever the case is. Not to mention it takes a lot of stress off myself being a business owner and not having to worry to take time and cook his meals anymore. It shows up as scheduled, packaged perfectly, and I live in Florida with this heat I cant always make it home ontime to receive the package and yet it still comes frozen without any worries. Not to mention you even get a text message saying it was delivered so if possible you can make arrangements for someone to grab your package if you dont want it sitting outside. As for his health, it's only been a month or so, but his digestion is on track and his overall appearance with his coat he just looks and feels so much better. All in all, Ollie really covered everything! Thank you for a great product and great service and you have a customer for life. Buddy and I thank you guys very much!
GET OLLIE NOW
Average rating
My dog, Oliver, absolutely loves Ollie's chicken recipe. He can't wait for meal time. It's super easy to portion out. I love the new scoop and container! Oliver was malnourished as a pup before I got him and his stomach can't tolerate a full portion. Ollie makes its super easy to adjust the delivery schedule so I don't have too much.
Ollie is fantastic dog food. Before giving my dogs Ollie I used canned and dry food, and my girls would have diarrhea all the time. After about a year of giving my girls Ollie can't remember last the time either of them had a diarrhea episode.
I do not love the whole pricing process, it is complicated - seems scammy to me. It's also a serious investment and not cheap. With this being said, I do love the actual product. Before Ollie, I was feeding my dog Purina sensitive skin and stomach recommended by my VET for my dog's skin issues. It did absolutely nothing for him. He's a pitty/bulldog mix and constantly had ear infections, itchy skin, itchy paws, scabs everywhere. Putting him on Ollie changed EVERYTHING. His shedding is minimal, all his scabs and irritation are gone. His paw pads are even softer! Also - there was a short period I stopped feeding him Ollie for about 2-3 months because I couldn't afford it at the time, and he went back to irritated skin and shedding. Literally one week into getting him back on it it was all better. If your dog has skin issues, and you can spare the money, it is an incredible investment. I was spending the same amount of money on vet visits because of allergies and ear infections as I do on Ollie - it's worth it! Customer service has always been good too. If I had an issue, they'd get back to me within 24 hours and provided fair feedback.