Quality ingredients
Restaurant-quality ingredients are carefully prepared and portioned out just for your dog.
Balanced for all dogs
Formulated by a veterinary nutritionist, Nom Nom's recipes are nutritionally complete and balanced for all ages, breeds, and sizes.
Convenient delivery
With custom delivery schedules and reliable shipping, you'll never run out of dog food again.
NOM NOM MAKES IT EASY TO GIVE YOUR DOG THE BEST.
You know that fresh food helps you feel your best. Your dog also thrives on a whole, fresh, natural diet. But finding the right food? That's difficult. Nom Nom aims to make it effortless to give your dog the very best.
Nom Nom's fresh dog food delivery gives you gently-cooked, human-quality foods, made to order and shipped straight to your door. Nom Nom foods arrive fresh, never frozen, so they're ultra-fresh and packed with the authentic nutrition of real meat and veggies.
With custom portion sizes and a delivery schedule optimized for your needs, Nom Nom is built for your dog and your lifestyle. Giving your dog the best has never been simpler.
Not sure which recipe your pup will enjoy? Try a sampler pack of all four Nom Nom recipes—no subscription necessary. It's the best way to see what Nom Nom has to offer before taking the plunge on a full subscription.
WHAT COMES IN YOUR VARIETY PACK
All Four Recipes
Each variety pack contains pouches of all four Nom Nom dog food recipes, so your dog can sample a range of flavors.
Easy-Open Pouches
You won't get custom portion sizes until you sign up for a subscription. Instead, each pouch in the variety pack contains 150 grams of Nom Nom fresh dog food. Peel it open to get your dog's tail wagging.
Jerky Treats
Each variety pack comes with a sample of Nom Nom's chicken and jerky treats. Dogs love these chewy, additive-free treats.
The Benefits of a Fresh Diet
As your dog tries out the variety pack, you may start seeing changes in their health, like smaller stools, a shinier coat, and more energy. If you're happy with the variety pack, sign up for regular shipments of fresh, custom-portioned food.
HOW DOES NOM NOM DOG FOOD WORK?
1
Set up your two-week trial (and get 50% off).
You'll begin with a quick quiz. Answer a few questions about your dog's breed, age, activity levels, and more. Nom Nom uses this information to create a customized meal plan. Once you're happy with the subscription, head to the checkout. Nom Nom will automatically apply a 50% discount to your order.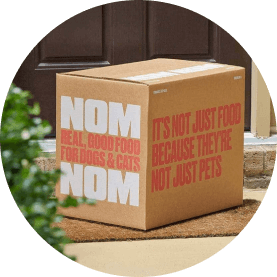 2
Open up the box and get your dog's tail wagging.
Shortly after your order, Nom Nom will prepare your dog's food and ship it to your doorstep. The food arrives fresh, never frozen, and comes in an insulated box so that it's cold and ready to serve. Your first box contains all the food your dog needs for the next two weeks, custom-portioned and packed just for your dog. The included feeding guide will help you to make a smooth, easy transition.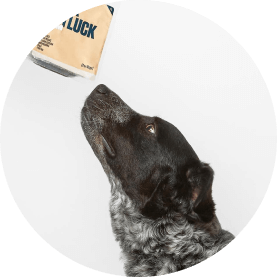 3
Get regular deliveries of fresh dog food and see the benefits.
Once your dog is eating Nom Nom exclusively, you may start noticing changes in their health. Look for enthusiasm at mealtime, brighter eyes, healthier skin, and smaller stools. You'll continue to receive shipments of Nom Nom dog food according to a custom schedule. Change, pause, or cancel your subscription anytime.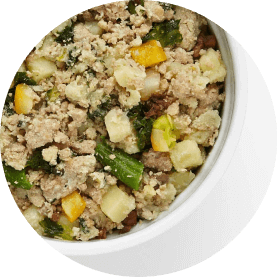 THIS IS DOG FOOD, REIMAGINED.
You're probably used to seeing dog foods loaded with artificial colors, preservatives, and fillers. Nom Nom is different. Formulated by a board-certified veterinary nutritionist, each recipe features human-grade, fresh ingredients that are good enough for both you and your dog to eat.
Formulated by a veterinary nutritionist
Nom Nom employs one of the United States' less than 100 veterinary nutritionists to ensure that each recipe meets your dog's dietary needs. Nom Nom foods meet the nutritional guidelines established by the AAFCO for all life stages, meaning that they have what it takes to help your dog thrive, from puppyhood to the senior years.
No artificial flavors or colors
Gently-cooked and made without any artificial preservatives, colors, or flavors, Nom Nom's food is naturally delicious. There's simply no need to change the perfection of fresh meat and veggies.
Made from restaurant-quality ingredients
While other pet food companies use low-quality animal by-products and rendered meals, Nom Nom works with restaurant ingredient suppliers to obtain high-quality ingredients like fresh chicken, pork, and beef.
Made with care
From sourcing to cooking to mixing and packing, Nom Nom oversees every stage of the manufacturing process. Never outsourcing to a third party means that Nom Nom can inspect every ingredient, test rigorously, and carefully pack each meal just for you.
FOUR FRESH RECIPES TO CHOOSE FROM
Beef Mash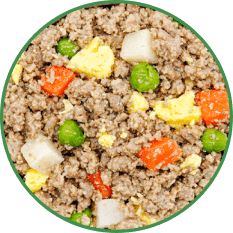 Nom Nom's Beef Mash recipe features fresh, USDA-certified beef, mixed with human-grade russet potatoes, eggs, carrots, peas, and a splash of fish oil.
Chicken Chow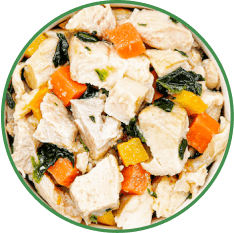 Each pouch of Chicken Chow contains gently-cooked chicken, diced and tossed with sweet potatoes, yellow squash, and spinach for a colorful, nourishing feast.
Turkey Fare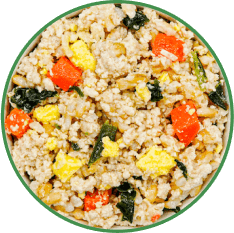 Ground turkey takes the spotlight in this meal, with eggs, brown rice, carrots, and spinach rounding out each bite.
Pork Potluck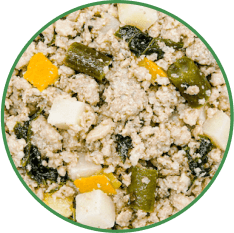 This recipe features fresh ground pork mixed with russet potatoes, green beans, yellow squash, brown mushrooms, and a bit of kale.
WHAT DO CUSTOMERS HAVE TO SAY ABOUT NOM NOM?
I went with NomNomNow after reading reviews. I liked the idea of the fresh food, too. I have two German Shepherds and they are about two and a half years old. Since using it, we've noticed that in one of them the hair has gotten softer. There is also a little bit of weight on her where she was having trouble with, and her energy levels went through the roof. I feed them three formulations: beef, pork and chicken. NomNomNow is everything everybody says on the reviews. It works great, and we have been recommending it.
TRY NOM NOM NOW
Average rating
Oliver loves his meals. He always cleans his bowl. That is the most important thing to me. He is an active, happy puppy dog. His vet visits have also gone well. Nom Nom now has found the winning formula. Thank you.
My dog has been eating Nom Nom for about 9 mo and is doing very well on it. She is healthy and happy and likes the food. We had an issue with the Chicken meals that didn't agree with her and they immediately substituted another formula at no extra charge. They are very responsive when contacting them for any reason.