Top 10 Best Vacuum Cleaners For Pet Hair
This page contains affiliate links. We may earn money or products from the companies mentioned in this post through our independently chosen links, which earn us a commission. Learn More
If you have a pet dog or cat, then your household is no stranger to hair shedding. When pet hair accumulates on carpets, hardwood floors, rugs, and sofas, it becomes a nuisance.
It gets into your nostrils, mouth, food, clothes, furniture, and just about everywhere. You get fed up – it's not just the mess, but the added issue of dander carried by the pet hair, which causes a lot of discomfort to people with allergies.
You are probably used to battling the furry mess with your vacuum cleaner. But pet hair is fussy and not easily sucked up by all units. In order to solve this issue, vacuum brands have rolled out models that are specially made to pick up pet hair.
In this article, we review some of the best models that can help you keep your house habitable while enjoying the company of an indoor pet.
At a Glance: Best Vacuum Cleaners For Pet Hair To Buy
We highly recommend looking at the comparison table we have below where we highlighted the features of each product. You'll also find more detailed information about each product later in the article.
IMAGE
PRODUCT

Light in weight for easy handling
Very inexpensive
Easy to assemble and use

VIEW LATEST PRICE →

The suction power is exceptional
Has LED lights, so you can see well in badly-lit areas
Sealing is complete, so no dust can escape

VIEW LATEST PRICE →

Very powerful and has great suction
Assembling is very easy
Has a long cord

VIEW LATEST PRICE →

Very light and easy to maneuver
Takes up less closet space
Very reasonable price

VIEW LATEST PRICE →

Very light in weight
Charge lasts long
Vacuums quietly

VIEW LATEST PRICE →
The Top 10 Best Vacuum Cleaners For Pet Hair
We have chosen 10 vacuum models that are great bargains. While all units differ in features, there is a great pet-hair vacuum cleaner for every budget. Find out which one is the right fit for your household.
Here are our top picks for the best vacuum cleaners for pet hair you should consider:
1. Hoover T-Series WindTunnel Pet Rewind Bagless Upright Vacuum UH70210

Pros:
Light in weight for easy handling
Comes with a reusable HEPA filter that is easy to wash and dry
Very inexpensive
Very quiet
Easy to assemble and use
Cons:
Hose is too short
Power cord is short
Hoover's T-series WindTunnel Pet Rewind Bagless Upright is a great model for those looking for a lightweight vacuum.
The unit weighs not more than 19 pounds and is also very user-friendly. Since it has a folding handle, it is easy to store and works great for homes with limited storage space.
Instead of winding the 25-foot cord outside, there is a cord rewind feature that can be activated with a pedal to neatly pull it into the vacuum. Carpet height can be adjusted in 5 positions for effectively cleaning all flooring types. This unit also has a WindTunnel Technology that does not lose suction and minimizes scatter.
The accessories that come with the unit help with different kinds of cleaning jobs. The Air Powered Pet Hand Tool gets rid of pet hair on floors, while the Pet Upholstery Tool helps get pet hair off furniture. An Extension Wand of 12 inches and a Crevice Tool also aid in removing pet hair from tight spots. All of this is backed up with a 2-year limited warranty.
2. Shark Rotator TruePet Upright Corded Bagless Vacuum with Powered Lift-Away Hand Vacuum and Anti-Allergy Seal (NV752)

Pros:
The suction power is exceptional
Has LED lights, so you can see well in badly-lit areas
Sealing is complete, so no dust can escape
Filter is very easy to empty and wash
Cord is extra-long
Cons:
It tips over easily when in Lift Away mode
It is quite heavy
The Shark Rotator Powered Lift-Away TruePet Vacuum is a 2-in-1 full-sized vacuum weighing 15.4 lbs. This unit comes with an advanced swivel steering, so it is easy to reach difficult spots. Also featured is a detachable canister for deep-cleaning areas that are usually hard to reach.
This is done without obstructing power delivery needed to keep the brush-roll spinning. The fingertip controls allow switching from hard floor to carpet cleaning modes very easily. Also, with the help of the Hard Floor Hero, this corded vacuum offers superior bare floor cleaning.
To list pet-related features, the TruePet Motorized Brush and the Pet-Multi Tool allow it to extract dust, allergens, and dirt from pillows and other surfaces. In addition to these, there is an Anti-Allergen Complete Seal Technology and a HEPA filter for trapping dust and allergens inside the vacuum. This vacuum also features LED lights on the handle and nozzle for discovering dirt, debris, and pet hair in dark areas.
3. Eureka AS2113A Airspeed One Bagless Upright Vacuum

Pros:
Very powerful and has great suction
Very light in weight, hence easy on your back
Assembling is very easy
Has a long cord
Very easy on budget
Cons:
Very loud
The upholstery attachment isn't very good, some complaints about it not locking into place
The vacuum's plastic body does not feel durable and gets dusty easily
Eureka has designed the AirSpeed One Bagless Upright for deep cleaning. Due to its AirSpeed technology, this vacuum has more airflow for better suction and deeper cleaning. Also featured is a multi-cyclonic system that effectively separates large debris from fine dust for cleaner and longer filtering. There are 5-setting height adjustments on the floor nozzle, so you can properly clean different types of carpets ranging from low pile to high plush carpets.
This sturdy vacuum has a PET Power Paw mechanism for deep cleaning pet hair found on carpets, as well as upholstered furniture. It also has a washable allergen filter, 1.25 dry quarts dirt cup capacity, and a 29-foot power cord. At 8 lbs., it is very light in weight and so is easy to maneuver. Finally, this unit comes with a 1-year limited warranty.
4. Shark Rocket TruePet Ultra-Light Corded Bagless Vacuum Converts to Hand Vacuum (HV322)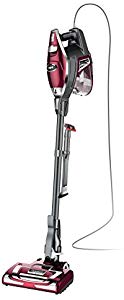 Pros:
Very light and easy to maneuver
Takes up less closet space
Very reasonable price
Comes with a long cord
Cons:
Air is vented behind the vacuum cleaner and may be too hot
It is top-heavy so does not stand up on its own
If you want a hand-held unit that can get pet hair off curtains, upholstery, and stairs, Shark's Rocket TruePet Ultra-Light Corded Bagless Vacuum is a good choice.
This versatile model converts from an upright unit to a hand-held vacuum, allowing you to easily clean from the floor to the ceiling. It can glide around sharp corners and furniture due to its ultra-light weight body of less than 9 lbs. and Advanced Swivel Steering system.
The model also features a Pet Multi-Tool for picking pet hair from any surface. The XL-capacity dust cup stores more dust, hence allowing longer cleaning without the need to pause.
There are powerful LED lights on the hand vac and nozzle of this vacuum, so you can see pet hair, dust, and debris in dark spots. Another feature is the Hard Floor Hero, which provides advanced bare floor cleaning by removing stuck-up and surface debris. This unit is also very easy to assemble and easy to use.
5. Dyson V8 Animal Cordless Stick Vacuum Cleaner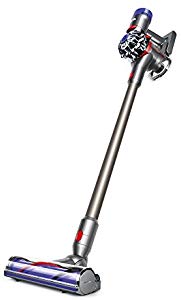 Pros:
It is cordless
Very light in weight
Charge lasts long
It is very easy to use
Vacuums quietly
Cons:
Quite expensive
The trigger has to be held down while you are vacuuming
The vacuum's head does not vacuum the part very close to the baseboards
The Dyson V8 Animal Cordless Stick Vacuum is another option for a pet-hair vacuum that converts to a hand-held unit. It has a powerful motor located in the brush bar that drives stiff nylon bristles deep into the carpet pile to remove deep-seated dirt, as well as pet hair. Also, this vacuum features 15 cyclones arranged in a parallel form across 2 tiers. This ensures better airflow while capturing fine dust.
Moreover, the MAX power mode allows up to 7 minutes of increased suction, to get rid of pet hair from difficult spots. When not using a motorized tool, the lithium ion batteries allow this cordless unit to run without fading for up to 40 minutes. Another feature for homes with pets is the whole machine HEPA filtration system that sucks up allergens and dust while expelling fresh, clean air.
6. Dyson V8 Animal Cordless Stick Vacuum Cleaner

Pros:
Very easy to assemble
Very easy to empty the bin
Has excellent suction
Light in weight
Cons:
The wand is hard to use
The hose is too short
The Ball Animal 2 Upright Vacuum Cleaner from Dyson specializes in cleaning pet hair with its strong suction and tangle-free turbine tool. The powerful motorized brush bar deep cleans surfaces, while the self-adjusting cleaner head seals suction across all types of flooring. A special radial root cyclone technology makes sure it removes even the finest dust easily.
More features of this USA-made vacuum cleaner include a cord length of 35 foot, and a bin volume of 55 gallons. The long-reach hose and wand will easily release in one smooth action so that you can clean any part of your house from top to bottom.
The HEPA filtration system traps allergens inside the machine for asthmatic and allergic people's comfort. Finally, Dyson assures buyer protection with a 5-year warranty.
7. INSE Cordless Vacuum Cleaner Powerful Suction Stick Vacuum Lightweight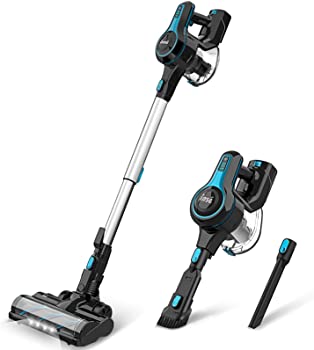 Pros:
Very quiet and powerful
Comes with an adjustable handle
Very light and easy to move around
The suction can be adjusted with the power button
Automatic cord rewind
Cons:
Power cord is too short
Hose is difficult to attach to the body of the vacuum
Dust container is too small and requires frequent emptying
INSE Cordless Vacuum Cleaner Powerful Suction Stick Vacuum Lightweight specially for plush carpets. It comes with a 21-feet cord, an 8-feet hose, and a telescopic wand that can clean up to 33 feet. Also featured are a power brush roll switch and 3 levels of height adjustment for easy cleaning on all floor types.
The cyclonic system will guarantee consistent suction power when you need it. There is also an option to adjust the suction power and reduce it for the purpose of cleaning more delicate things like curtains.
Other tools that make this vacuum even more versatile are the crevice tool, dusting brush, upholstery nozzle, and bare floor nozzle. This unit also comes with a motion control system, which comprises a low center of gravity and large rear wheels for easy maneuvering.
The vacuum is light in weight, compact, easy to store both vertically and horizontally, and comes with automatic cord rewind. A premium washable HEPA filter collects most dust, irritants, and allergens to ensure a cleaner home. The dust cup comes with an opening at the bottom to reduce the amount of dust that escapes into the air while emptying. In addition, it takes one touch of a button for the brush roll to self-clean and untangle itself. The 5-year warranty will set your mind at ease while you use this unit.
8. Dirt Devil Razor Pet Steerable Bagless Upright Vacuum D70355B

Pros:
It is light in weight
Emptying the bin is very easy
Has excellent suction
Very easy to push around and maneuver
Affordable
Cons:
Long hair gets easily tangled
Hose is quite short
The Dirt Devil Razor Pet Steerable Bagless Upright has a low-profile design for easy cleaning around tight corners and under furniture.
The Spin4Pro brush-roll will remove pet hair and dust from carpets and hard floors. It does not lose suction, so the cleaning is thorough in every part of your house. The hose extends to 10 feet and has a removable wand attached.
Additionally, there is a Turbo Claw pet tool to get rid of hair on the stairs and furniture. A 2-in-1 crevice and dusting tool and a powered stair or upholstery tool also come with the unit. Moreover, this vacuum has a 3-stage filtration system that extends its lifespan and improves its performance.
9. Hoover PowerDrive Pet Bagless Upright Vacuum UH74210PC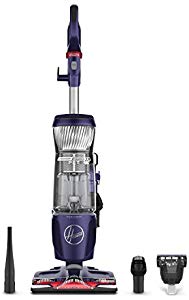 Pros:
It has great suction
Very easy to assemble and empty
The LED light feature is helpful in discovering dirt, fur, and dust
The wand is easy to remove from the canister
Cons:
It is heavy
The canister does not detach
The Hoover PowerDrive Pet Bagless Upright Vacuum easily cleans around furniture. It uses the new Advanced Action Brush Roll to effectively tackle dirt and hair deeply set in the carpets.
This brush roll comes with an on/off feature that allows easy transition when cleaning hair from different floor types. The hose of this vacuum cleaner extends to about 13 feet, while the swivel steering makes it easy to maneuver.
Moreover, this vacuum features a multi-cyclonic technology that makes sure there is no loss of suction. Another feature, the WindTunnel Technology, completely removes deep-rooted dirt. While it cleans up the house, it also captures allergens and dust particles. This unit also has an extra-large dirt cup , so you need to empty it less often.
10. Bissell 20431 Powerglide Lift Off Pet Plus Upright Bagless Vacuum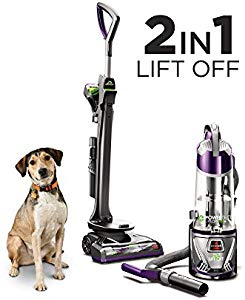 Pros:
Comes with a lift-off canister
Has a very long power cord
Very easy to clean
Cons:
It is quite heavy
Does not come with directions for assembling
The Bissell Powerglide Lift-Off Pet Plus Upright Bagless Vacuum has a triple-action brush roll that loosens, lifts, and removes pet hair and dirt from different surfaces. The SmartSeal Allergen system is great for capturing very fine dust, as well as other allergens and trapping them inside the vacuum. You can use it inside your home as well as out – after all, even the best dog house will need a clean from time to time.
This vacuum cleaner also comes with a unique feature – the Febreze Pet Odor Eliminator Filter. You can choose to use this to freshen up the air and eliminate pet odors.
Furthermore, the Lift-Off Technology allows you to carry the unit around and reach pet hair on curtains and sofas. Also featured is an extension wand with a long reach, as well as a Pet TurboEraser Tool that reduces tangle around the brush while cleaning.
Key Considerations When Buying the Best Vacuum for Pet Hair
A vacuum for pet hair can be a great way to keep the issue of shed fur at bay. However, you should keep these key considerations in mind when making a purchase.
Suction power – The suction power of a vacuum is probably the most important factor in determining its performance. Since pet hair is not easy to get off rugs and fabrics, you will want a vacuum with strong suction. While you can get an idea of the suction power from customer reviews, you can also find the actual rating in air watts among product specifications.
Versatility – Pet hair gets everywhere. Not only does it embed in your carpet and fly in tufts across the hardwood floor, but also clings to curtains and your cat's favorite chair. What you need is a vacuum that is versatile across surfaces and can clean all of these.
Maneuverability – Since you have to pick up pet hair from sofas, curtains and around the awkward furniture corners, you need a unit that you can easily move around. This includes mobility on the floor, as well as options for detaching the canister for difficult to reach areas.
Weight – This may or may not be a factor to consider, based on your needs. If you are a senior or have difficulty moving heavy objects, then you might want to go for a lighter unit that is easy to move around.
Dirt capacity – If you have a large space to clean, then having a large dirt capacity is going to save you a lot of time. You don't want to pause every now and then to empty the bag or dirt cup.
Allergen filter – Many models now have an anti-allergen filter that cleans the air of the smallest of particles that can cause allergies. This is important as it gets rid of pet dander, which is an allergen and an irritant.
Special brushes/tools – Look for special brushes or tools that can help you with vacuuming pet hair. These may include special attachments for cleaning on particular surfaces or for reaching tight spots.
Final Thoughts
Whether you live in an affordable Denver apartment or a huge suburban home in San Francisco, it doesn't matter, pet hair is a burden. That's why cleaning up pet hair calls for a vacuum that has strong suction, is versatile across surfaces, does not tangle, and has a suitable filter. We have reviewed some of the best brands for you while keeping these key points in mind.
Of course, budget is a key factor in every purchase you make. With this in mind, our review has items from every price range. Going through it will give you an idea of what bargains are worth your dollar and what will suit your specific needs.