Best Indoor Cat Litter
From time to time, your cat may not smell very good, and what they leave behind in the litterbox can be very unpleasant to have in your house.
It's not always something wrong with the cat, though. In fact, if you are smelling a bad odor from your cat's litterbox, then you probably have the wrong kind of cat litter. Not all cat litter is going to provide decent odor control.
We would like to recommend  a few awesome cat litter products that can help you get those odors under control.
We have picked out the cat litter products that we believe will be the best for you. We hope you find something here that can help you stop bad cat odor and have a pleasant-smelling home.
Quick Links: Best Indoor Cat Litter
The Top 5 Best Indoor Cat Litter
Here are our top picks for the best indoor cat litter you should consider:
1. Ever Clean Extra Strength Cat Litter, Unscented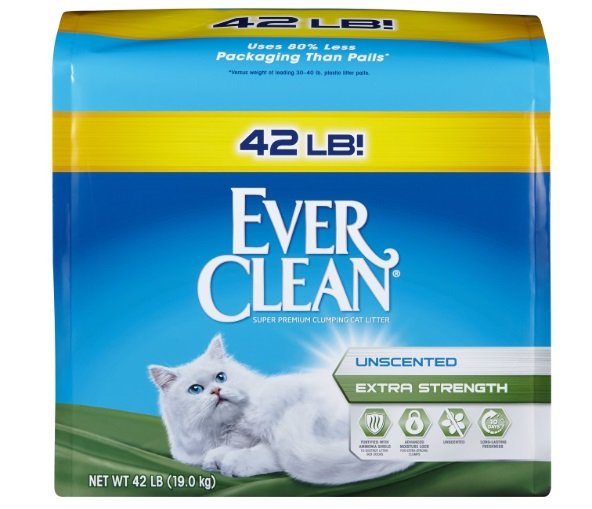 Pros:
Large bag
Kills odors quickly
Unscented to be gentle on your cat's nose
Cons:
Can have trouble clumping sometimes
More expensive than most of the other options
Ever Clean has created a litter that is designed to destroy the bacteria that causes bad odors among cats. On top of that, it is made with an unscented set of ingredients that will be easy on your cat's nose. Many cat litter products can be kind of harsh, driving your cat away and keeping it from using the litter box like it is supposed to, but not this one.
The large bag gives you a lot of product, but you will pay quite a bit for it. You'll probably want to compare it to the other choices to see if it is worth your money. Some customers report that their cat tracks dust through the house when using this litter, since it does not always clump together like it should, but your personal experience may differ.
2. sWheat Scoop Multi-Cat All-Natural Clumping Cat Litter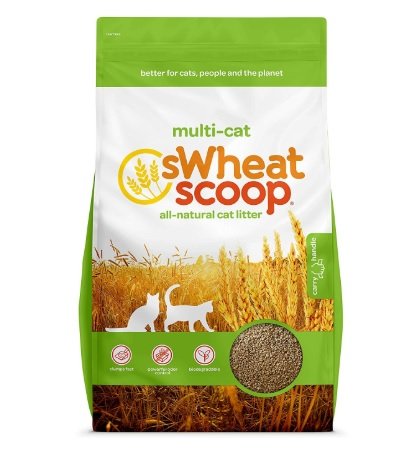 Pros:
Natural formula
Biodegradable
Clumps well
This is another natural product that has a lot going for it. It is made from components that should be safe for your cat, even if your cat is allergic to a lot of things or has sensitive smelling. One of the best things about this litter is that it degrades naturally, so you don't have to worry about it harming the environment, and you can toss it out pretty much anywhere.
3. Arm & Hammer Multi-Cat Clump & Seal Clumping Litter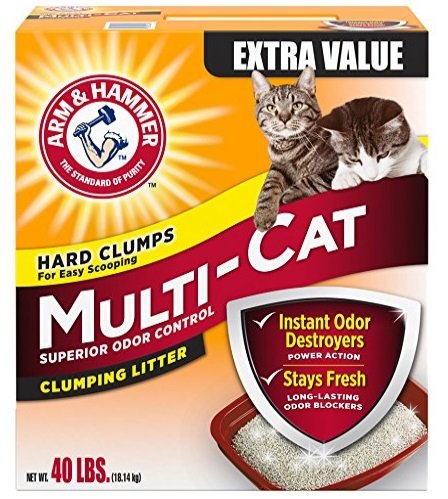 Pros:
Great price and value
Won't leave dust behind
Designed for long-lasting odor protection
Cons:
Strong smell that may be unpleasant for you or your cat
This is one of the most value-oriented cat litters available. It's a massive 40-pound box with hard clumps that won't leave any dust for your cat to track throughout the house. It's priced affordably too, which makes it a good deal for cat owners, no matter how many felines are in your home.
Best of all, the odor protection is guaranteed for a full week, but that can come at a price. You will have to deal with the strong lemon scent, and not all cats are going to find that scent appealing. How well this one works for you will depend on your cat's sensibilities, but most consumers are really happy with this purchase.
4. Dr. Elsey's Cat Ultra-Premium Clumping Cat Litter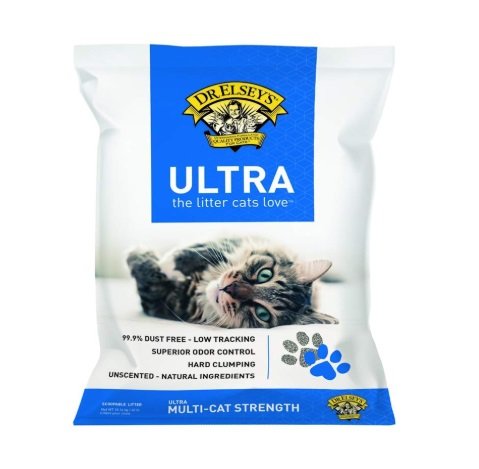 Pros:
Super low price
Mostly dust free
Natural formula
Hypo-allergenic
Cons:
New formula may not be as effective as the old one
The formula used in Dr. Elsey's litter is designed to keep moisture from reaching the bottom of the litter box and pooling. That means that it is unlikely to create an unpleasant smell, and that allows your litter to last longer. This isn't quite as dust free of a litter as the previous one on our list, but it comes pretty close to being completely dust free.
Those concerned about the effects of certain kinds of litter on their cat should be pleased to know that this is a hypoallergenic formula that is made from natural ingredients. However, the new formulation is different from the previous one, and it can be less effective than what consumers are used to getting.
5. Purina Tidy
Pros:
Powerful odor control
Clumps easily to prevent moisture buildup
Lots of value for the price
Cons:
Strong scent may discourage cats from using it
New formula doesn't clump as well as before
While Purina is in the top cat product manufacturers, changes to their cat litter have not pleased all their customers. This litter still clumps very well, but not as well as it used to. The potent scent is always going to be a problem for some cats, but most of them won't mind it at all. The best thing about this cat litter, however, many be the powerful protection against odors, as it offers round the clock odor guard. You also get a lot of litter for a very reasonable price, which is sure to make most people happy.
What to Consider before Buying Cat Litter
There are a few things you should know about buying cat litter before you make your purchase:
Stay away from citrus smells– According to The Happy Cat Site, citrus smells can be too pungent for your cat and its sensitive olfactory nerves, and your cat may not even use the litter box if it doesn't like how it smells. The most common way this scent gets into the litterbox is not through the litter itself, but through the cleaners that you use.
Buy a large enough bag– Top cat litters needs to be changed out weekly, and if it starts to smell bad, then you want to change it that day. You are going to go through a lot of litter, especially if you have more than one cat, so make sure you are buying a large enough bag.
Avoid deodorized or perfumed litter– These kinds of litter, according to PetFinder.com, may be unwelcoming to your cat. You may have to experiment to find something that your cat will be happy with.
Know your cat's health and dietary needs– Sometimes, the issue is not the litter or the litterbox, but rather your cat's own needs. Regular trips to the vet can help you catch these problems before they become too serious.
Final Thoughts
We hope our list of Best Cat Litter For Indoor Cats will help you make an educated choice on which cat litter is best for your cats, and that at least one of the cat litter products mentioned in the article does the trick and keeps your cat loving household smelling awesome.