The 6 Best Hamster Wheels
This page contains affiliate links. We may earn money or products from the companies mentioned in this post through our independently chosen links, which earn us a commission. Learn More
Since their introduction to the pet trade in the late 1930s, hamsters have been a very popular choice of pets. Hundreds and thousands of households report owning at least one hamster. They're small, require very little specialized gears and don't take up much space.
They are not like dogs or cats. Therefore, understanding those requirements and purchasing the right equipment is the key to maintaining a happy hamster.
While food and housing are the most obvious necessities, toys are also important. Choosing the best hamster wheel involves understanding hamster behavior and then finding safe products to keep them hooked.
At a Glance: Best Hamster Wheels To Buy
IMAGE
PRODUCT

Multiple colors and sizes available
Free standing or can be clipped to the side of a wire cage

VIEW LATEST PRICE →

Easy to clean
Sturdy built

VIEW LATEST PRICE →

All-plastic built
Easy to clean and maintain

VIEW LATEST PRICE →

Thick disc design
Available in multiple sizes

VIEW LATEST PRICE →

Multiple sizes available
Can be used free-standing or attached to a wire cage

VIEW LATEST PRICE →
The Top 5 Best Hamster Wheels For Hamsters Reviewed
We look through the market and provide some suggestions for the best hamster wheels available. Below are five hamster wheels that your pet will surely enjoy using.
Here are our top picks for the best hamster wheel for hamsters you should consider:
1. Kaytee Comfort Exercise Wheel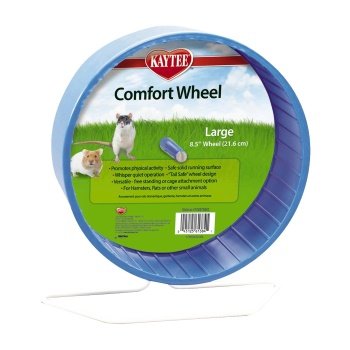 Pros:
Multiple colors and sizes available
Free standing or can be clipped to the side of a wire cage
Cons:
Requires a large enclosure for permanent installation
Can be difficult to remove from the wire stand
The Comfort Exercise Wheel by Kaytee is made from solid plastic, giving it a solid, textured running surface. It can attach directly to the wire cage or to a wire-base that's in the package. The wheel mounts to the base via a 2-way clip in the middle of the wheel's flat back. The wheel's textured running surface is safe for fragile feet and tail. Furthermore, it gives ample space for your pet to move about.
2. Exotic Nutrition Silent RunnerPet Exercise Wheel + Cage Attachment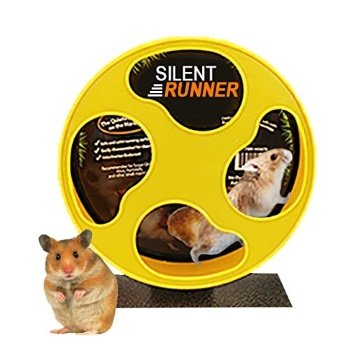 Pros:
Easy to clean
Sturdy built
Cons:
Can wobble against the side of the cage
Requires large enclosure
The Silent Runner Pet Exercise Wheel by Exotic Nutrition is of thick sturdy plastic material and has a partially open surface on one side. It also has a black smooth surface on the other. Your pet gets to enter the running track through one of four bean-shaped openings on the face of the unit.
This wheel has a solid textured running track that measures about 2.5 inches wide. Compared to some other units, it is a smaller space. Although you are supposed to use the wheel outside of the cage,  an attachment is available for inside use. However, this is sold separately.
3. Ware Manufacturing Flying Saucer Exercise Wheel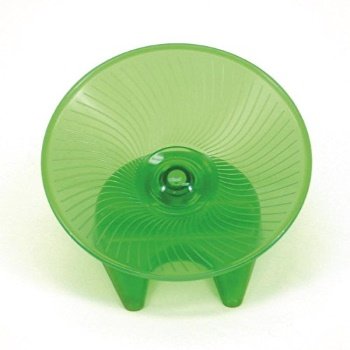 Pros:
All-plastic built
Easy to clean and maintain
Cons:
Functions only as a stand-alone unit
Light-weight makes it easy to topple over
The Flying Saucer Exercise Wheel by Ware Manufacturing features a one-piece plastic construction and a solid textured running surface. Its structure is a bit differently than the traditional wheels. The wheel is tilted on its stand to give your pet a larger running surface.
Furthermore, the drawback of using a tilted running surface is that this unit only functions as a stand-alone. It can't be attached to the side of a cage. If the cage size is sufficient, you could place it at the bottom of the cage.
4. Love Hamster Wheel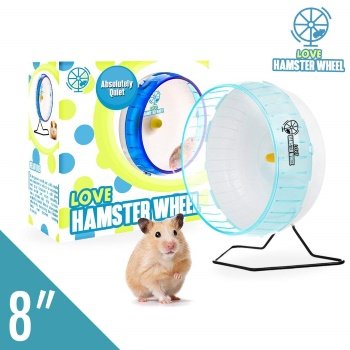 Pros:
Thick disc design
Available in multiple sizes
Cons:
For small hamsters only
Base could be more stable
The Hamster Wheel by Love is of thick durable plastic material, with a non-slip solid running surface. There is also a closed back. Love manufactures wheels of three different diameters. These wheels come in 5 inch, 7 inch, and 8-inch diameters.
The whole unit is very lightweight and weighs just below 16 ounces. Furthermore, this hamster wheel is a standalone unit. Since this hamster wheel is lightweight, the unit should be secured to a stable surface to prevent tipping over.
5. Kaytee Silent Spinner Exercise Wheel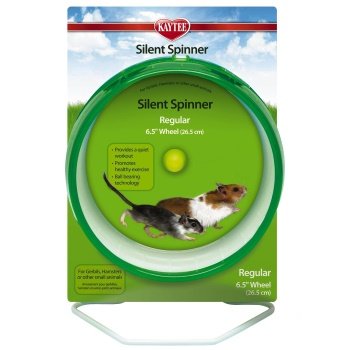 Pros:
Multiple sizes available
Can be used free-standing or attached to a wire cage
Cons:
Doesn't function without any noise
Some people complain that the build should be better
The Silent Spinner Exercise Wheel by Kaytee is from a colored plastic rim attached to a white base. It's available in three sizes which are mini, regular and giant. Each wheel allows nearly four inches running surface. This is no matter the size. Furthermore, the spinner hub is enclosed to reduce sound. This wheel functions as a free-standing apparatus or you can attach it to the side of a cage. A seam runs along where the colored rim attaches to the white base.  However, there has been some complaints of this causing irritation to the pet's feet.
6. Exotic Nutrition 9" Silent Runner Exercise Wheel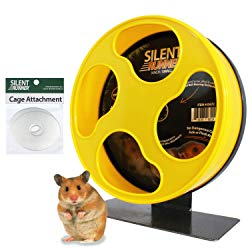 Pros:
Large 9" diameter enables gerbils to run safely
Silent-spinning design with innovative technology
Disassembles easily for cleaning and maintenance
Cons:
More expensive than other models
May be too large for some gerbil cages
Exercise is extremely important for gerbils but some wheels are too small or too noisy. This Exotic Nutrition Silent Runner Exercise Wheel measures a full 9 inches in diameter which enables your gerbil to run while keeping its back straight for safety. It also features a silent design with innovative dual ball-bearings for a smooth glide. It may cost a little more, but you'll find that it is well worth the investment.
Importance of Exercise
Exercise is very important for your hamster's physical and mental well-being. Hamsters that have readily available exercise equipment are happier and exhibit less negative traits compared to those without it. Furthermore, exercise helps your hamster develop strong bones and muscles. It also maintains a healthy weight. It additionally encourages your hamster to perform its natural activities such as burrowing, chewing and running.
When Are They Most Active?
Hamsters are nocturnal rodents with poor eyesight. However, they have an excellent sense of smell and ability to hear.
They dig large burrows underground and take over the abandoned underground residences of other animals. In the wild, they spend most of their time underground, surfacing only at dawn and dusk to scavenge for food. Since these are nocturnal species, they sleep all through the day or at least most of the day. With that in mind, don't be surprised if they exercise often at night.
Lifestyle and Activities
As we mention above, hamsters spend a lot of time running and digging. Wild hamsters run several miles through tunnels at night. They're much more adept at digging than climbing. This is probably because of their weak eyesight. Most species of hamster prefer to live alone rather than with a mate. Some breeds are extremely aggressive towards their mates so make sure you don't out two same-gender hamsters in one cage.
Choosing Proper Exercise Equipment
You should choose the exercise equipment based on the animal's natural behaviors we describe above. Take into consideration its safety and durability. Boldly colored equipment isn't necessary because of hamsters' poor eyesight. However, equipment should be safe to chew on since hamsters love to gnaw away. Many kinds of wood and plastic pieces are also available for hamster cages. Make sure to avoid highly aromatic materials such as cedar and pine because the oils irritate their respiratory tract.
Hamsters are most interested in equipment that facilitate the following activities:
Exploring and foraging throughout their enclosure for new items or creating new tunnels.
Hiding and nest building within existing structures.
The ability to use a shredded material to create new nests.
Gnawing on specific items left in the cage for that purpose.
Hamster wheels isn't a new concept, although the materials they're built with hamsters. Wild hamsters will use it only if it is near the entrance of its habitat.
USING TRADITIONAL WHEELS
Exercise wheels used to be small and made from thin metal with a mesh running through its surface. With that sort of hamster wheel, foot and spine injuries were common.
Furthermore, hamsters were also prone to scraping their feet because of the wire. In worse situations they got their legs caught between the mesh openings. Moreover, small wheels forced hamsters to hunch their backs as they ran causing back and leg problems later in life. Therefore, traditional wheels are a bit problematic to use.
USING MODERN WHEELS
Today's wheels are made from plastic and have a solid running surface. The running surface is usually textured to give the animal added stability. Also, the plastic equipment has no sharp edges that could injure your pet. Exercise wheels come in a variety of sizes that measure by the wheel's diameter. Furthermore, although it's tempting to buy a small one that fits inside of a cage, hamsters benefit from using a larger wheel. This lets them fully stretch their bodies. Getting a larger wheel can mean giving your pet extra time outside its enclosure.
Final Thoughts
The best hamster wheel is one that provides for the needs of your hamster specifically. Dwarf hamsters, Roborovski hamsters, and Syrian hamsters are all different species with unique needs. Take what you've learned here and put it to use in choosing the best hamster wheel for your hamster.
If you're still not sure where to start in looking for hamster cages, try out one of the best hamster wheel we've reviewed above. Good luck!