Best Hamster Cages
Hamsters are small animals. This is what makes them great pets to have. They don't create too much of a fuss and are somewhat easy to take care of.
However, when you get a hamster, you need to make sure that they are comfortable in your home. The best way to do this is to buy a hamster cage that is sturdy, durable, and spacious enough for your pet.
Quick Look at Our Top Picks:
IMAGE
PRODUCT

Very stable and sturdy
It has a lot of space for putting accessories
The wide doors make it easy to clean the cage

VIEW LATEST PRICE →

Has a lot of space for the pet
Cheaper to buy
Easy to assemble

VIEW LATEST PRICE →

It is easy to clean and maintain
You can carry it easily
The deep pan comes fully continued

VIEW LATEST PRICE →

Easy to remove and clean
It is not expensive
The wheel is quiet and adjustable

VIEW LATEST PRICE →

Very easy to clean
It has options for expansion
Good quality and durable

VIEW LATEST PRICE →
The Top 5 Best Hamster Cages
Hamsters are small adorable pets that are loved by both kids and adults. These pets don't require a lot of attention and are great animals to have around the house.
They require the basics like food, water, regular cage hygiene and love for them to grow and thrive in your home. Also, setting up a great environment is what can make the difference between a happy to a sad hamster. So, choose one of the cages from the list below.
Here are our top picks for the best hamster cages you should consider:
1. Midwest Critter Double Unit with Stand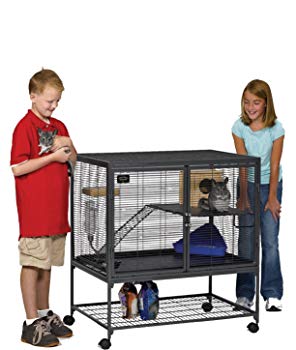 Pros:
Very stable and sturdy
It has a lot of space for putting accessories
The wide doors make it easy to clean the cage
Cons:
It is quite expensive
The cage is a bit heavy to lift
It sometimes has missing parts
This hamster cage comes with a ramp, a cove, a resting shelf and a removable base cover for easy cleaning. The full-width doors help you to easily clean and feed the hamster. Furthermore, for the safety of your hamster, the cage comes with a critter-proof dual locking door latches for maximum security.
2. Living World Deluxe Habitat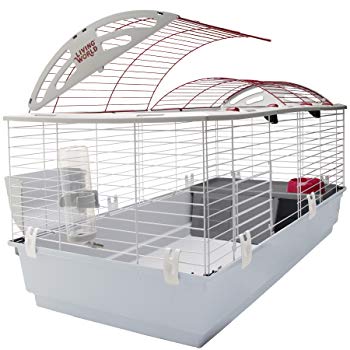 Pros:
Has a lot of space for the pet
Cheaper to buy
Easy to assemble
It is very sturdy
Cons:
Hard to clean the cage
Has a big hole that pets can pass through
It is difficult to carry
This cage comes with a complete access ramp for exercise. You can put deep bedding on the deep bottom tray without the fear of them falling off. Moreover, you can gain access to the cage by opening the top part. This hybrid case is of an upper wire frame. Furthermore, the plastic bottom base provides a safe, well ventilated and comfortable place for small pets. Additionally, it has a balcony with an access ramp and a tip-proof food dish that secures to the balcony floor.
3. Ferplast Hamster Cage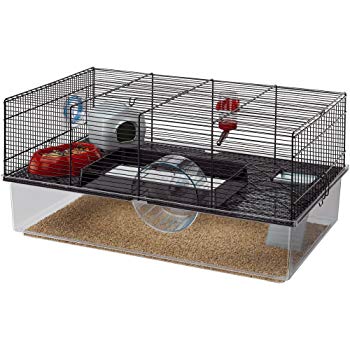 Pros:
It is easy to clean and maintain
You can carry it easily
The deep pan comes fully continued
Cons:
The water bottle is too high to be used
Sometimes the bottom floor may brake on transit
This is a double-floored structure. Moreover, it has the top floor for eating and sleeping, while the ground floor is for playing and exercising. The top is of robust, durable plastic and the bottom is a transparent base. It also has a small door at the top and you can separate the two floor when cleaning. This cage has two floors. Moreover, it measures 23.6 x 14.4 x 11.8 inches.
4. Habitrail Cristal Hamster Habitat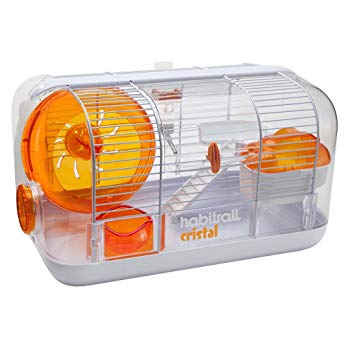 Pros:
Easy to remove and clean
It is not expensive
The wheel is quiet and adjustable
Cons:
Durability of the cage is in question
The cage is small limiting movement
This is cage is mostly of clear durable plastic material with wire mesh for adequate ventilation. Furthermore, it comes with a chew-proof water bottle and a quiet exercise wheel. It also has a lookout observation desk and a secure door lock. Therefore, it this makes it an accessory-packed cage.
5. Kaytee Critter Trail 2-Level Habitat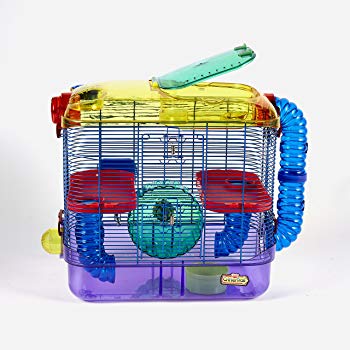 Pros:
Very easy to clean
It has options for expansion
Good quality and durable
Very easy to move around
Cons:
It is cumbersome to assemble
The top part sometimes doesn't lock well
Some of the pets chew on the plastic
This is cage is especially for smaller hamsters. It comes with 2-level living space with easily secured side lock latches and an integrated front access door. Furthermore, it comes with a complete exercise wheel, food dish, water bottle and a petting zone. This critter trail has a ¼ inch bar spacing suitable for small animals. Also, it has a look-out tower, exterior extreme wheel, and front access door. It also features two levels of living space and a removable petting zone for interaction.
6. Kaytee Critter Trail Triple Play 3 in One Habitat for Hamsters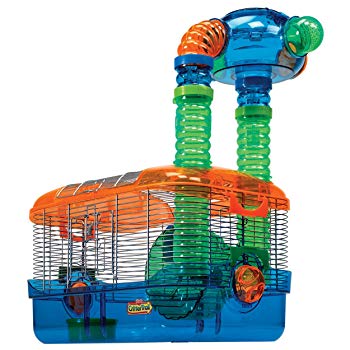 Pros:
Easy to assemble
Very easy to clean
The wheel is not noisy
Cons:
There are missing pieces
It is difficult to connect and disconnect the tubes
This critter trail triple play offers a three challenging environment to your pet. Moreover, it has a tower, arch and tunnel habitat, which are just right for your hamster. The product also has narrow wire spacing and spring-loaded door locks to prevent your pet from escaping. It also comes with a wheel, water bottle, and food dish.
7. Lixit Animal Care Savic Hamster Heaven Metro Cage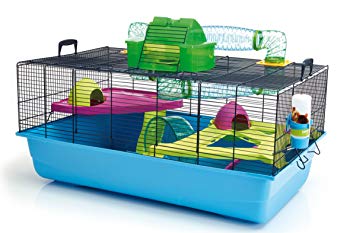 Pros:
Easy to clean
Spacious enough
Good quality
Cons:
It is a bit expensive
Some part arrive broken
This hamster cage comes complete with tunnels, platforms, slides, houses, exercise wheel, toilet, food bowls and drinking bottle. Furthermore, it is an extra-large hamster cage measuring 31 1/2x20x20 inch which has adequate space. It is also of quality plastic material and easy to assemble.
8. AmazonBasics Pet Habitat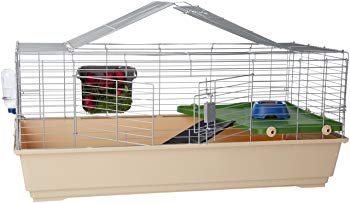 Pros:
Is not expensive
Easy to access and clean
Plenty of space to exercise
Cons:
The plastic is brittle and it cracks
Some say the balcony is not stable
Its sides don't fit properly
This cage is an Amazon brand which measures 40.2 by 21.3 by 19.7 inches (LxWxH); weighs 15.6 pounds with an Amazon Basics limited 1-year warranty. Moreover, this cage comes with a non-drip water bottle, hay guard, and balcony with access ramp and a tip-proof food dish.  It has a hide-away space underneath the balcony for privacy. It also has an iron wire upper frame and a PP plastic base, a large top and front opening for easy access.
9. IRIS Hamster Cage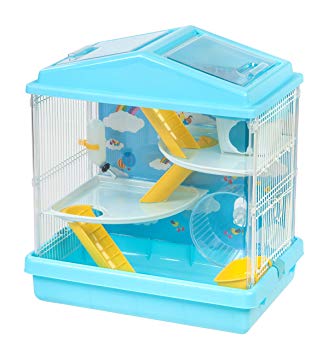 Pros:
There is a quiet wheel
Good quality
It is easy to clean
Cons:
The water bottle is too small
The wheel is small
Hamsters chew on the plastic
This cage is made of a beautiful design with a tree level pet habitat measuring 17.72 x 12.20 x 19.29-inches. The cage is great for small animals and critters. Moreover, it comes with a wheel, water bottle, and a food dish. It has three levels that the pet can explore and climb. Furthermore, it provides safe, well-ventilated fun and is a comfortable place for your pet.
Key Considerations When Buying a Hamster Cage
While amateur pet owners might think getting any cage is good enough for their pets, this is not true. You cannot just purchase a random hamster cage and expect your hamster to be happy. There are specific features you need to consider before buying. Therefore, to get a better idea, look at the following points below.
Size of the cage – Hamsters may be small creatures but that doesn't mean that they should be locked up in a place that hardly has any room. Just like any animal or human, nobody enjoys have little space to move around. For that reason, you should make sure that the cage is big enough for your hamster to live in. Of course, every hamster is different, but many owners recommend the minimum size of a hamster cage to be around 360 square inch. Hamsters are animals that love to have separate chambers for different things. They have their own space for sleeping, for eating, and for going to the bathroom.
Type of cage – There are plenty of cages out in the market. There is a total of four different types that you can consider, however, the most common and popular ones are wire or plastic cages. To give you a better idea of what these various types are, we explain in detail down below.
Ease of clean – As a hamster owner, you need to be ready to clean the cage regularly. This is where your hamster will be urinating and pooping, so it can smell and get dirty quite easily. For this reason, you need to get a cage that is convenient for you to clean as well. Any cage that requires more effort than simply removing the bedding means that it is too complicated.
Ventilation – Even though your hamster may be small and at times, with your busy schedule, you may forget about it (especially if the cage is left in a corner somewhere in your house), you must remember: it is an animal. This means that the cage that you get should have good ventilation. Air should be able to pass through easily, and the space between the bars (if it is wired) should be big enough for your animal to breathe.
Strong bars – Hamsters tend to chew on the bars frequently. For this reason, you need to make sure that whatever your cage is made of is safe for them to chew on, but also durable. If they are able to chew through the bar, they can escape, and this will be very problematic later on.
Ability to climb – Hamsters also love to climb. This is their way of having fun after all. So, finding a hamster cage that has areas for the hamster to climb up and down will make this cage feel like 'home.'
Shape/Location – While this does not relate specifically to the hamster cage in general, it is an important factor to consider when purchasing a cage. The reason for this is because where you put the cage will largely determine how it lives. Thus, considering the location to put the cage in your home is very important and should be a priority. Once you know, you can determine the shape and size of the cage itself.
Where to Place the Hamster Cage
Once you have purchased the right hamster cage, the next important thing is knowing where to place the cage. Usually, we recommend owners to decide the location before purchasing, but if you haven't then make sure to consider the following:
Safety – This should be the top priority. You do not want to place your hamster in a location where things might fall on top of it or people might accidentally topple on. The cage should be somewhere that is free of furniture and in an open space.
Temperature – People recommend that the ideal temperature for hamsters to be living in is anywhere from 65-75 degrees Fahrenheit. You should not place the cage anywhere where there is a strong heat, such as sunlight or stove.
Noise – Hamsters are animals that are very active at night. They do their exercising during this period. So, if you are somebody that wakes up easily to noise, make sure not to put them in your bedroom. But, at the same time, make sure this doesn't make you place them somewhere nobody knows of.
Odor – There are a lot of owners that place their hamster cage near the kitchen since they think it is the most easily viewable location. The problem with this is that, if a cage gets dirty, the odor that comes from it can be very upsetting. So, make sure that it is placed in a spot that won't chase away guests.
Types of Hamster Cages
While the most popular options are usually plastic and wire, there are actually three different types of hamster cages for owners to consider. They all serve different functions and have their individual pros/cons.
Wire cages – This is probably the most common type of cage that people purchase. Just as the name implies, it is a coated wire that goes over a plastic base. Usually, these cages are split into two floors (sometimes 3-4, depending on the size), which allow the hamster to roam around freely. You should make sure to find a cage that is spacious enough, but also not too extremely tall. There should be a half-inch or less space between the bars. The major pros are that it is easy to clean, but the bad side is that very small hamsters do have some room to squeeze through space. Or even worse, small children tend to put their fingers in between and can get bitten.
Plastic cages – These cages are another option to the wired ones. They are moderately easy to clean and are less likely for the smaller hamsters to escape from. However, the one thing that many users complained about is the lack of good ventilation. Another thing about plastic cages are, generally, they are a bit smaller than the wired ones.
Aquarium cages – These cages are called aquariums because of the fact that they usually have a solid or plexiglass case that slides open. The ventilation is not as great as the wired cages, however, there is an added protection for the hamsters and small children that come by. Furthermore, you'll obviously have less noise coming from the cage. But, since everything is contained inside a glass, there is more possibility of odor and bacteria building up – so be sure to clean it regularly.
Final Thoughts
In conclusion, when it comes to getting the best cage for your hamster, it is important to consider all the features that will make your pet comfortable. To make the best choice out of the many different products in the market, we have provided you with a list of recommended hamster cages that will guide you in choosing the one best suited for your pet.